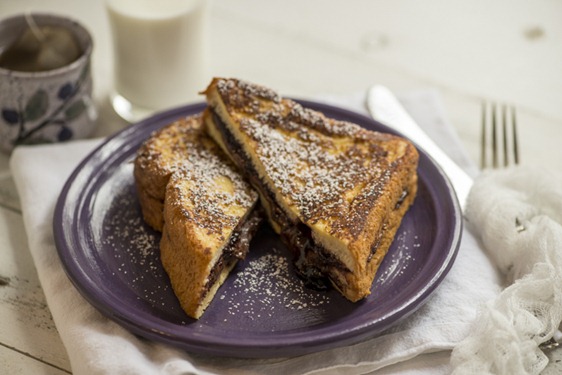 In my last post, I mentioned that I was going to be doing a "Breakfast in Bed" cooking class; on the menu was Chocolate Covered Cherry Cordials, Glazed Grapefruit, Sunrise Champagne Cocktail and this French Toast. My 'adopted' grandkids loved this, as a matter of fact they ate more than McGyver and I did!
What made them such a hit? The French toast is reminiscent of a kids favorite sandwich, peanut butter and jelly and a kids favorite treat, chocolate. Nutella and jam stuffed French toast. No syrup needed, all the sweetness is inside. The youngest one really liked that he could pick up the French toast with his hands and eat it.
If you've ever had breakfast in bed, as nice as it sounds, it can be a bit awkward. Stuffed French Toast is easy to eat, even with a fork (and sans syrup makes a little more bed friendly also). The fact that it's reminiscent of childhood, makes it feel just as nostalgic as luxuriating in bed. You know, when you thought you had all the time in the world…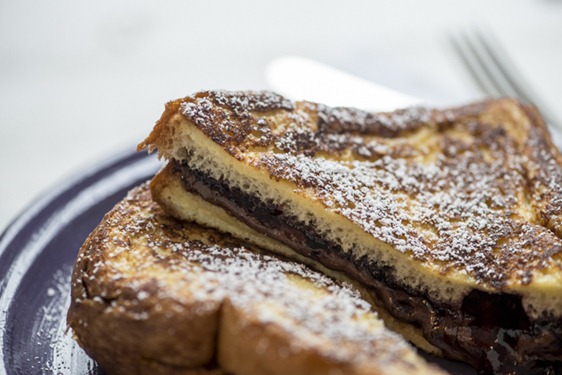 Besides the tastiness of this dish, it's the technique for making the French toast that ensures a perfect custardy, creamy but not soggy French toast. It's not my method, I adapted it from Alton Brown although I use my own tired and true French toast recipe. Somehow setting the soaked bread on a cooling rack allows the custardy goodness to soak in and allows excess to drip off, resulting in a perfect French toast.
I'd also like to introduce you to our newest member of the family. Some of you may know that last year we lost our beloved Becca dog, one of the sweetest, bestest dogs every to walk this earth. Becca was a rescue dog, and although she was high maintenance due to medical issues she was a delight.
With such a positive experience, we again got, as McGyver calls her, a "used" dog. This is Sadie. She is a yellow lab (like our Becca) and she has a little medical condition which requires daily medication. But that's okay, we're experienced parents.
Now, to the tune of the Brady Brunch theme:
Here's the story of a lovely Sadie
who was full of very different looks, each one a pearl
she has fur, the shade of gold, just like her mother.
not a single one with curls.
Here's the story of a family named Adkins
Who was living with a lovely Summer dog.
They were only three living all together
yet they were all alone
Till the one day when Sadie met this family.
And they knew that it was much more than a hunch,
That this group must somehow form a family,
That's the way we all became one happy bunch.
One happy bunch, one happy bunch.
That's the way we became a happy bunch.
If you've ever seen the Brady Bunch, you'll probably recognize that the unintentional picture arrangement above was my inspiration for this take on the original theme song.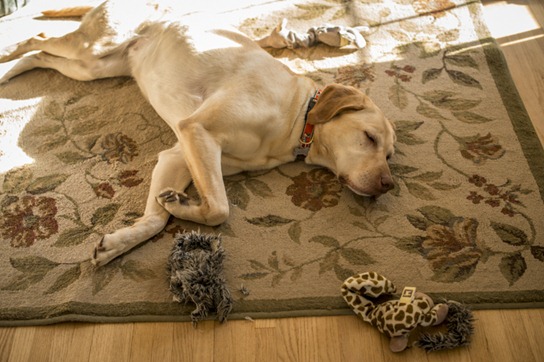 After just over one week she has managed to demolish every stuffed toy, played fetch approximately 5,000 times, slobbered over anything and everything and has given 100% of her love. It's exhausting to be a lab.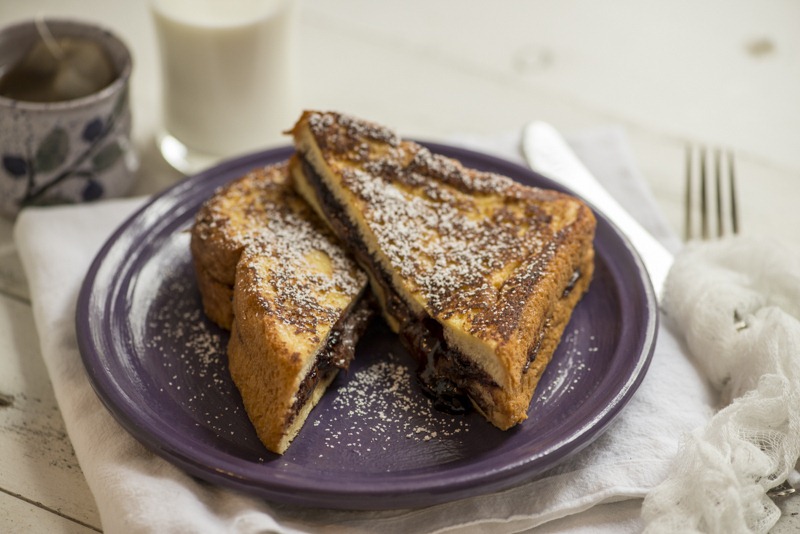 Stuffed French Toast
2016-06-10 20:37:50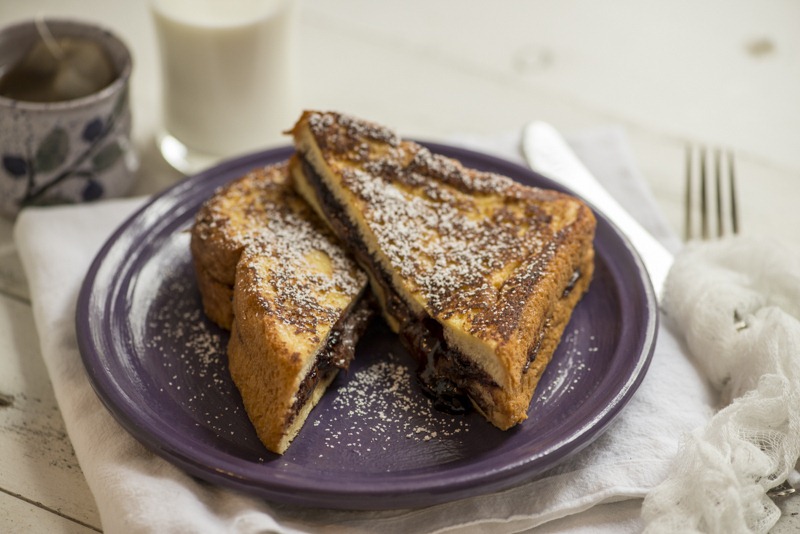 Serves 4
Ingredients
8 slices Texas toast or other thick sliced bread
1 cup whole milk
3 large eggs
¼ teaspoon salt
1 teaspoon vanilla
2 tablespoons butter
Nutella
Jam
Powdered sugar (garnish)
Instructions
Whisk together milk, eggs, salt and vanilla. Pour into a shallow dish, like a pie tin. Spread one slice of bread with a thin layer of Nutella and another slice with a layer of jam. Place together like a sandwich. Soak each slice of the sandwich for 30 seconds. Place on a cooling rack fitted over a pan to set for 1-2 minutes.
Heat a griddle over medium heat, or 350°F for an electric griddle. Melt the butter in the pan. Griddle the stuffed French toast for 2 to 3 minutes or until golden brown. Sprinkle with powdered sugar if desired. Serves 4.
The Kitchen Witch http://www.thekitchenwitchblog.com/