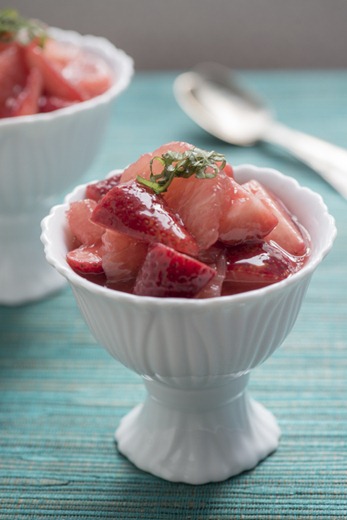 This is the last in my series of recipes for Breakfast in Bed. In my opinion, I saved the best for last. But then again, it's no secret, my love for all things citrusy. It's a simple easy dish, there are very few ingredients that make up this dish, which is always a winner in my book. The most difficult part of the entire thing is the grapefruit prep, but even that is not so difficult if you know the proper technique (see video).
Normally when McGyver and I have grapefruit, we eat 1/2 each sprinkled with a little salt (yes, we are THAT kind of people), except when we have it glazed like this. Before we know it, we've each eaten an entire grapefruit plus whatever else fruit I've put in it. It can also be used as a topping for pancakes, French toast, custard, and ice cream or put it in a prebaked tart crust.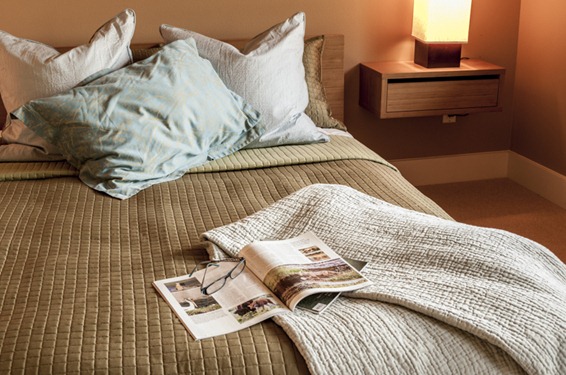 Let's get to the breakfast in bed part. I'm going to share with you some of my tips for making it a best ever breakfast in bed experience.
My number one piece of advice is: NO SURPRISE breakfast in bed! I know how that sounds, but here is my reasoning (based on idealistic views that have been deflated many times):
You are making a surprise breakfast in bed and your partner hears you rattling around in the kitchen, smells breakfast and gets up. Surprise ruined, even if you send them back to bed, it's not like they are going to go back to sleep, nor are they surprised even if they do.
You are making a surprise breakfast in bed, you stealthily sneak into the bedroom, 'hey honey, look I made you breakfast in bed". Although the person is grateful and thinks its super thoughtful, they weren't done enjoying their zzzz's. For non-morning people like me, the thoughtful breakfast in bed can actually make you grumpy (I'd rather sleep, thank you very much).
You are making a surprise breakfast and the kids wake up, "what are doing?" you respond "making breakfast in bed for mommy". Next thing you know the kids are jumping all over their sleeping mommy and announcing that she's about to get breakfast in bed. So much for sleep and the kids are so excited, that no way could you actually eat breakfast in bed.
Folks, this is real life and nothing wrong with it. I purpose that you announce it the night before, "hey babe, how would you like it if I made you breakfast in bed tomorrow?". Can you imagine going to sleep knowing that you get to wake up to breakfast in bed the next morning? If you have children, let them know too and recruit them to help, it'll be fun and much more successful.
Of course, this is just my personal experience and it may be totally different for you and your family. Maybe you enjoy being woke up with breakfast, and your kids actually have some self containment, or you have enough sense to stay in bed, even when you smell breakfast being cooked in the kitchen. If so, lucky you.
Other than no surprises, here are a few other general tips that should always apply:
Make sure there are enough pillows, so that the receiver of this fabulous breakfast in bed can sit up right easily (unless you have one of those cool beds that adjust).
Use a tray with legs, balancing a tray on your lap is nearly impossible, and definitely awkward (click on photo for source and pricing). Plus it gives you room to adjust you legs.
Apply the KISS (keep it simple stupid) principle, skip the condiments, at least on the tray. If they like cream and sugar in their coffee, do it for them. Add salt and pepper, etc. before hand. The tray should only have the essentials. Trust me, the tray doesn't have as much room as you think it does.
Don't over fill your beverage cups. Even if you are an expert at carrying a tray without spilling a drop, beds are soft and shaky. It's a disaster waiting to happen. Breakfast in bed stops being fun when you have to wash the sheets afterwards. Unless it's for a totally different reason…
On the beverage note, use regular glasses. Champagne flutes and other stemmed glasses look nice, but topple over easily. Again, washing the sheets….
Don't serve anything that requires peeling, cracking or intensive cutting. Like oranges, lobster or steak It's no fun to fight with your food when it's on your lap.
Don't serve anything that produces crumb explosions. While I love a super crisp on the outside, flaky croissant, I don't want to clean up the crumbs afterwards.
If you serve something 'drippy', like cereal or this grapefruit salad, serve it in a bowl that can easily be picked up and brought to the mouth. We want to lounge in our PJ's and not have to hop out of bed and change immediately or worse, sit through breakfast with wet milk spots or sticky syrup.
Don't let all my suggestions deter you from making breakfast in bed. Just remember to apply the KISS rule, use an appropriate tray, think about the mess and NO SURPRISES.
What's your experience with breakfast in bed, Is it a yay! or a no way?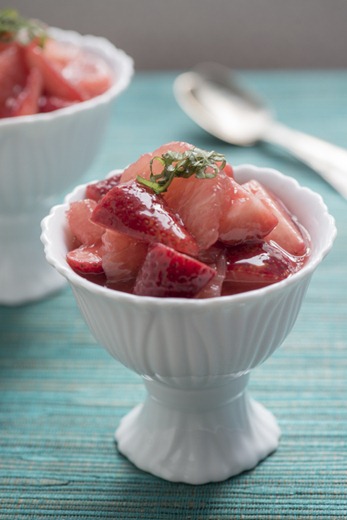 Glazed Grapefruit and Breakfast in Bed Tips
2016-06-10 20:33:29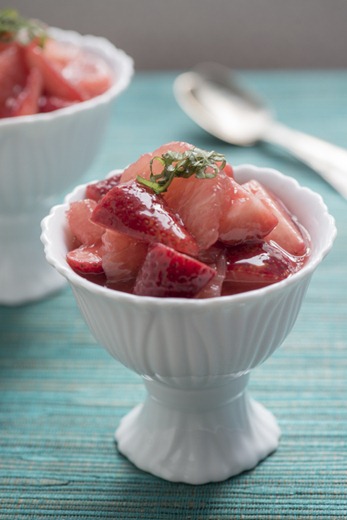 Serves 2
Ingredients
2 grapefruit, peeled and sectioned (juice retained, about ½ cup)
1 pint strawberries quartered (or other fruit of your choice)
½ cup orange juice or more
¼ cup maraschino cherry juice
Pinch of salt
1 tablespoon cornstarch
Fresh herbs (basil, mint or thyme) optional
Instructions
Measure grapefruit juice, add enough orange juice to equal 1 cup, add maraschino juice, salt and cornstarch. Whisk together.
Add juices to a small saucepan, bring to a boil, whisking frequently. Boil for 1 minute. Turn heat to low, and simmer until thickened another couple of minutes. Remove from heat, let cool slightly.
Pour glaze over fruit and toss to coat. Add herbs if desired. Makes two hearty servings, or 4 side servings.
The Kitchen Witch http://www.thekitchenwitchblog.com/

I hope you all have a Happy Valentine's Day!