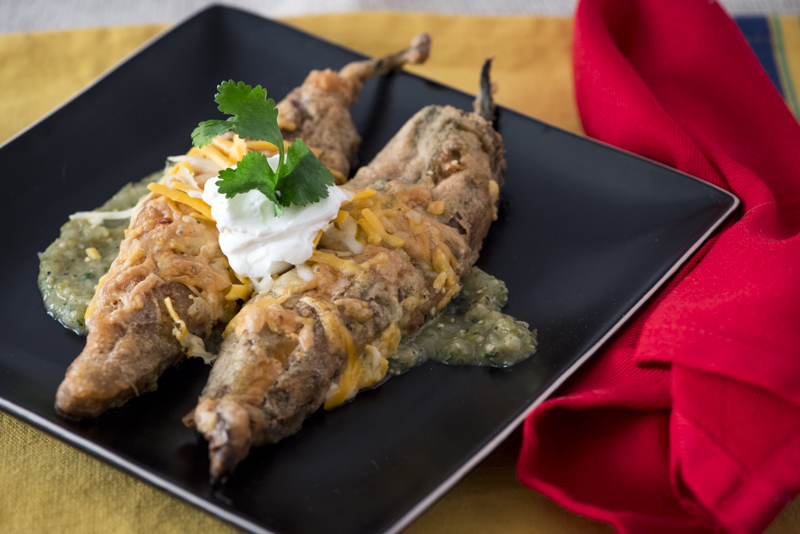 In my post on Monday, I shared that I really wanted to make Jen's Chile Relleno's for SRC, but it was a guest post on someone else's blog so I went with her "Dad's Homemade Pizza Crust". My reason for wanting to make the rellenos are that they are McGyver's all time favorite Mexican food.
Chile Rellenos is the dish by which my husband judges a Mexican restaurant by. According to him, there is nothing better than a good chile rellenos. Personally I am was indifferent to them. We've been together 12 years and I am just now making his favorite Mexican dish (despite the fact that I do quite a bit of Tex-Mex cooking).
You must be wondering why? First off, they aren't weren't that impressive to me, secondly, they seemed a bit intimidating to make. You know, hard to make, like more work than they're worth. I changed my mind a few weeks ago when McGyver and I went to a local Mexican-ish restaurant that we haven't tried before.
Of course the hubby ordered his fav chile rellenos. When it arrived all snuggled between the beans and taco, it was rather, errr, umm, phallic looking. We giggled, but funny looking food is not one to stop us. Then he tried it, then I tried it. It lacked any semblance of flavor, it was coldish and greasy. McGyver declared it the worst chile rellenos that he's ever had in his life, and considering how many he's had, that's saying something.
That's when I promised him that I would try and make him a good chile rellenos since there isn't a single restaurant in town that can do it. Now I felt challenged. Right after that I got my SRC assignment and with a blog assignment that has a name 'Juanita's Cocina', you can guess what the first recipe was that I looked for.
Yes, they took a little work, but not so complicated as I thought. And the flavor? To die for. I was like, "hey, I love chile rellenos!" . Turns out that I've never had a good one before. I made a few small adaptations to Jen's recipe, scaled it down for two, made homemade salsa verde, I used a combo of Pepper Jack and Cheddar and I baked the rellenos on top of the salsa verde rather than under so they would stay crunchy.
Now that I've conquered the chile rellenos, I have a feeling this will be a regular request at our household now.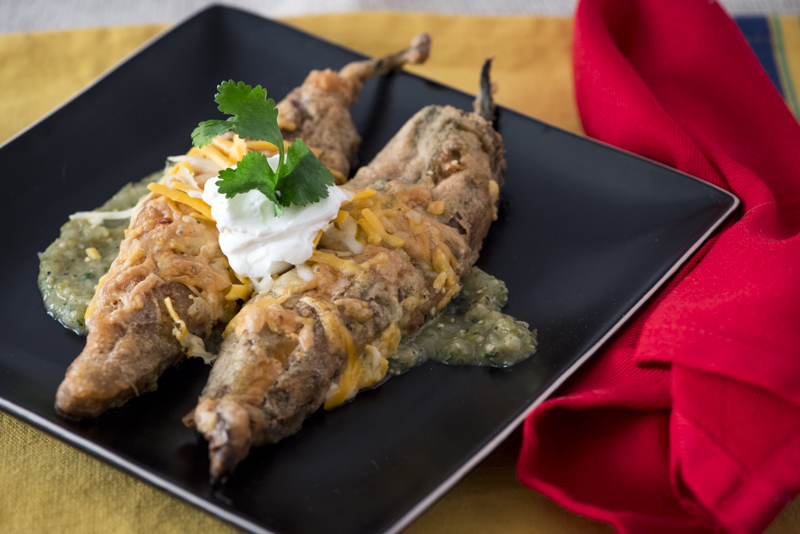 Chile Rellenos
2016-06-10 20:22:34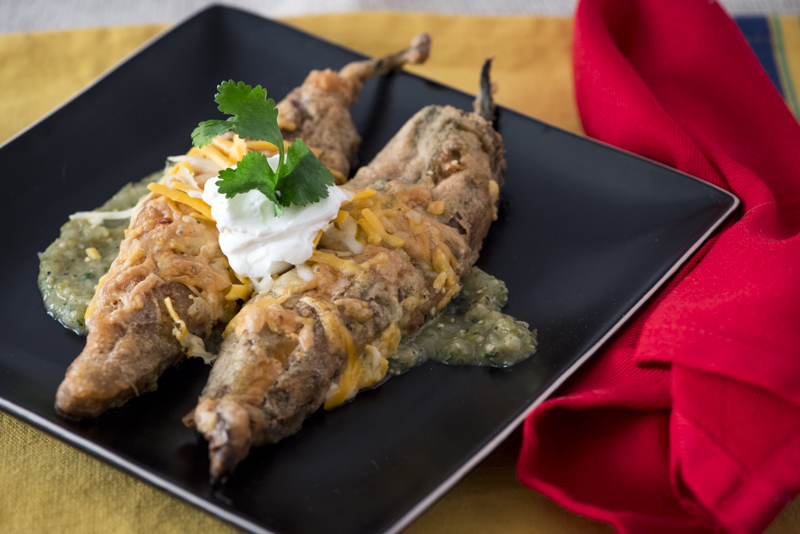 Ingredients
4 Hatch or Anaheim Chile Peppers
1 cup shredded Pepper Jack or Monterrey Jack Cheese, divided
1 cup shredded sharp cheddar cheese, divided
2 eggs, divided
Salt and pepper
1/2 cup flour
½ cup canola oil for frying
Salsa Verde
1 ½ pounds tomatillos
1 onion cut into 8 wedges
2 jalapenos
2 cloves garlic
1 tablespoon olive oil
Kosher salt and fresh ground black pepper
¾ cup chopped cilantro
Juice of ½ lime (about 1 tablespoon)
Instructions
Salsa: Peel and wash tomatillos, cut into halves and place cut half down on a rimmed baking sheet. Add onion wedges, whole jalapenos and garlic. Drizzle with olive oil and generously salt and pepper.
Broil for 4 minutes, turn ingredients over and broil for an additional 4 minutes. Let cool slightly. Place broiled ingredient in a large food processor fitted with a steel blade, add cilantro and lime juice. Pulse 10 times or until blended well but not pulverized. Taste for additional seasoning.
Rellenos
Roast chile peppers under the broiler of the oven (on both sides) until pepper skins blacken.
Once roasted, remove the peppers from the oven; place them in a bowl with a lid or a paper bag, 15-20 minutes.
Remove the skins of the peppers (carefully) and with a knife, cut a small slit up the side of the pepper to allow you to stuff it with cheese. Leave the stems on the peppers.
In a large bowl, beat the egg whites with a mixer until they come to soft peaks. Whisk the egg yolks together in an alternative bowl. Fold the egg yolks into the egg whites, being careful not to deflate the whites. Season the egg mixture with salt and pepper.
Preheat the oven to 375°F. Meanwhile, heat a large skillet with enough oil to cover the bottom of the skillet over medium high. Place flour in a shallow bowl. Mix the pepper jack and cheddar cheeses. Stuff each pepper with enough cheese to fill the pepper while still allowing enough room to close the seam of the pepper. Dredge each stuffed pepper with flour.
Immediately dredge the floured peppers in the egg mixture and place in the heated oil. Fry each pepper on both sides for approximately 1 ½ to 2 minutes, or until the egg coating has browned and begun to crisp.
In a casserole dish large enough to hold the peppers, pour in ½ the Salsa Verde. Place the fried peppers on top of the salsa and sprinkle with cheese. Bake in the oven for 15-20 minutes, or until the cheese has melted and the rellenos is warmed through.
The Kitchen Witch http://www.thekitchenwitchblog.com/