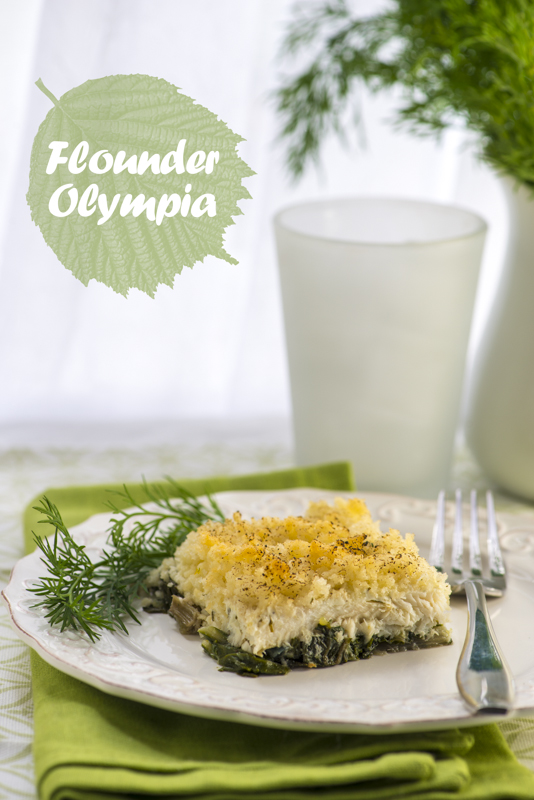 Recently I came into an obscene amount of dill! I mentioned in my last post (Deviled Ham Stuffed Eggs) that I had been preparing so many dishes with dill that I thought that perhaps McGyver and I might end up being pickled. I even tried my hand at pickling some radishes and carrots (we'll have to wait to see how that one plays out).
With so much dill on hand and my irrational fear of wasting anything, I posted on my Facebook page a call for dill recipe ideas. Someone immediately chirped up and boy am I glad! Michelle suggested a dish called Halibut Olympia, she recommended using lots of shallots and mix a bunch of dill with a mayonnaise sour cream mix.
As fate would have it, I did not have lots of shallots, nor did I have halibut, nor did I have sour cream. Which meant the recipe was perfect. You know how us bloggers roll, we would change everything any ways. I did have flounder, and I had red onion and plain Greek yogurt, all no brainer substitutes.
I did a quick search on the internet for Halibut Olympia to get some portion and cooking time frames, I found this blog post which inspired me to use a panko topping and saute the onions. In my organic basket there was also a bunch of Swiss Chard which I thought would make a nice bed for my flounder (plus healthify it). I halved the amount of yogurt mayonnaise mix because flounder is not a thick hearty fish like halibut. I cooked up some new red potatoes and tossed them with butter and dill, then added a salad with a dill vinaigrette which completed the meal.
I don't know the origins of Halibut/Flounder Olympia, and a quick Google search came up with nothing. Olympia is a derivative from the Ancient Olympic Games which happened every 4 years, or an Olympiad (which became a unit of time). I happen to have been born in Olympia, Washington so I already felt a kindred connection to the dish. And who knows, maybe some chef in Olympia invented the dish and named it after the city. Sounds plausible to me. Based on the name's history I think it even more fitting that I substituted the Greek yogurt for the sour cream. Or perhaps I'm inventing connections that aren't even there.
Once this dish hit the table, McGyver and I were full of moans, and yums and lip smacking. I think McGyver had about 3 helpings and snacked on it later COLD, and declared it still delicious. Hey if fish is good cold and leftover, you know it was a winner to begin with. The yogurt dill sauce kept the fish moist, the sharpness of the chard went so well with the tang of the dill and the panko adding that bit of texture that this dish needed.
I can assure you that I will not be waiting an Olympiad to make this dish again. This would be an excellent company dish as you can prepare it a little early then pop it in the oven. But don't wait for company either, you are missing out if you don't make this soon.
Flounder Olympia with a Panko Crust
2016-06-10 19:30:10
Serves 4
Ingredients
1 Tablespoon Olive Oil
1 bunch Swiss chard, chopped (stems and leaves divided)
1 red onion, halved then thinly sliced
Kosher Salt and Pepper
Non-stick cooking spray
1/2 cup plain Greek Yogurt
1/2 cup Mayonnaise
1/4 cup chopped fresh dill
1 pound flounder fillets (fresh or frozen)
All-purpose seasoning salt
1/3 cup butter, melted
1 cup panko bread crumbs
Instructions
Preheat oven to 375°F.
In a large saute pan, heat olive oil over medium heat. Saute onions and chard stems for 2 to 3 minutes. Add the chard leaves and salt and pepper, continue to saute until the leaves are wilted and the onion is tender.
Spray a 2 quart casserole or 9 x 9 baking dish with non-stick spray. Cover the bottom evenly with the onion chard mix. Layer the fish on top and season with the seasoning salt.
In a small bowl, mix the yogurt, mayonnaise and dill, spread that over the top of the fish ensuring that all the fish is covered.
Combine the melted butter and panko bread crumbs. Spread out evenly over the top of the yogurt dill mix. Place in the oven on the middle rack and bake 30 to 45 minutes (depending on if the fish was frozen or fresh) or until the fish is cooked through and the panko turns a light golden brown.
The Kitchen Witch http://www.thekitchenwitchblog.com/