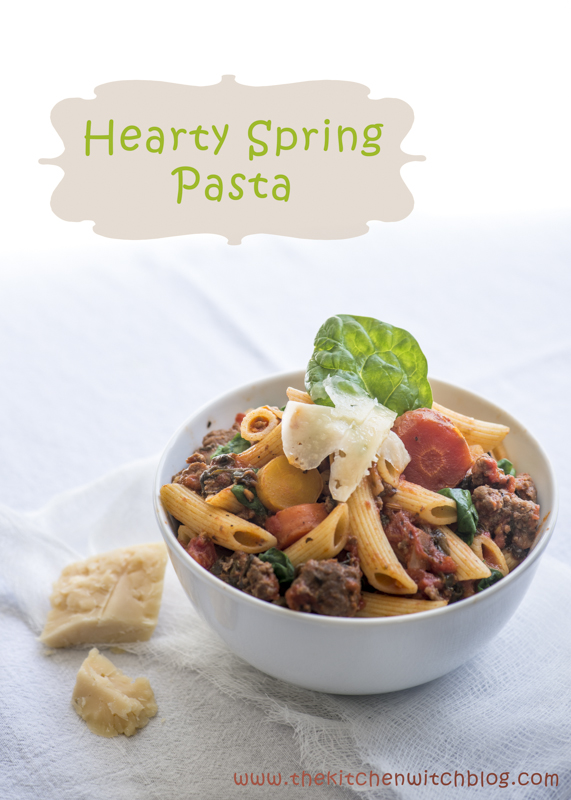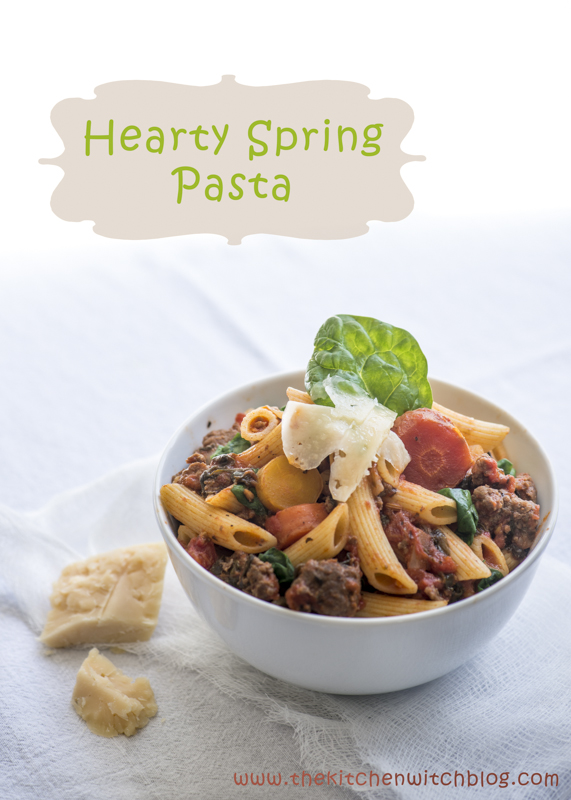 I've decided that Mother Nature is either a manic depressive or severely PMSing during the spring. She's definitely a moody one, especially in Montana. Maybe it's because she loves us so much that it incurs this severe differences in our days (you know the saying, you hurt the ones you love the most). For example, Sunday before last it was a gorgeous beautiful spring day, by Tuesday there was 6 inches of snow on the ground. Moody, moody, moody!
If Mother Nature PMS's all spring, then I must have become in sync with her living in Montana over the years. Just as quickly as the weather changes so does my mood. If I wake up and the sun is out, so am I. I become an amazing production machine; whether it's yard work, house work or 'real' work. I feel like I have boundless energy and can conquer the world.
Then the grey clouds move in and I am grey, lethargic, a virtual waste. I want to do nothing but watch old black and white movies and nap on the couch. Snacking in between or getting back into to that winter comfort food. Just like our winter clothes, the winter food never really gets put away in Montana.
Fact: it's been documented to snow in every month of the year in Montana.
I may not wear a parka this summer but I can promise you that I'll have to wear a coat at some point. And so it was with my pasta, it was like putting on a coat in spring. On a cold dreary Mother Nature ultimate PMS day I wanted something hearty..yet kind of spring like, something to match my mood.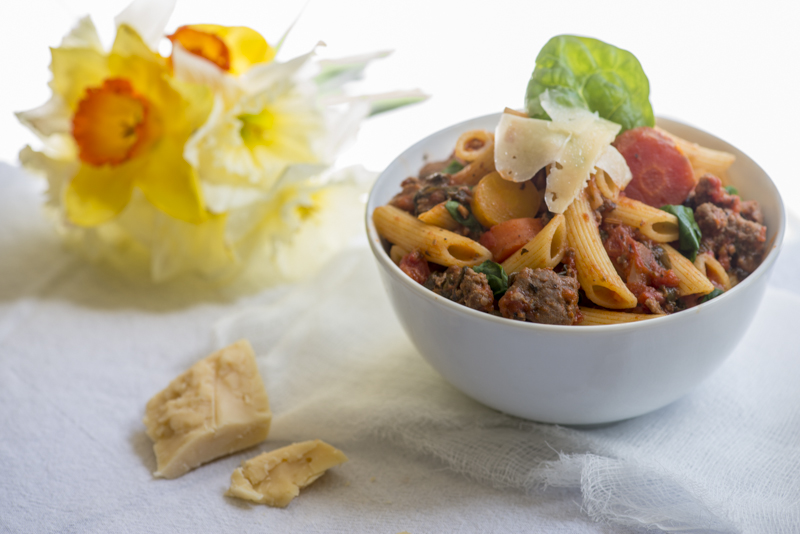 Pasta is the perfect base for any mood and a refrigerator stocked with colorful carrots and baby spinach spoke spring. Canned tomatoes, dried herbs and some hot venison sausage from the freezer fit the comfort bill to a 'T'.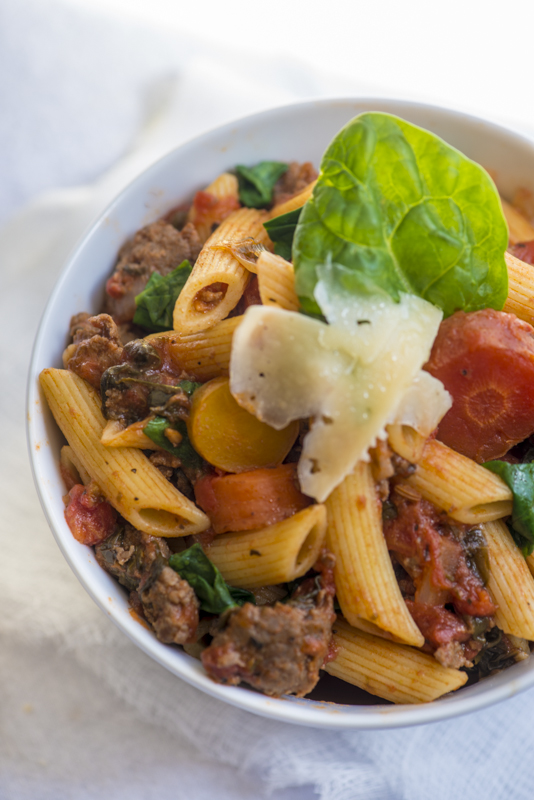 I realize other parts of the country are already picking some early ripe tomatoes and have fresh herbs right out their doorstep. If you do, sync with Mother Nature in your area and replace the canned tomatoes and dried herbs with fresh and maybe swap out the hot Italian venison (pork) sausage for turkey sausage or maybe shrimp.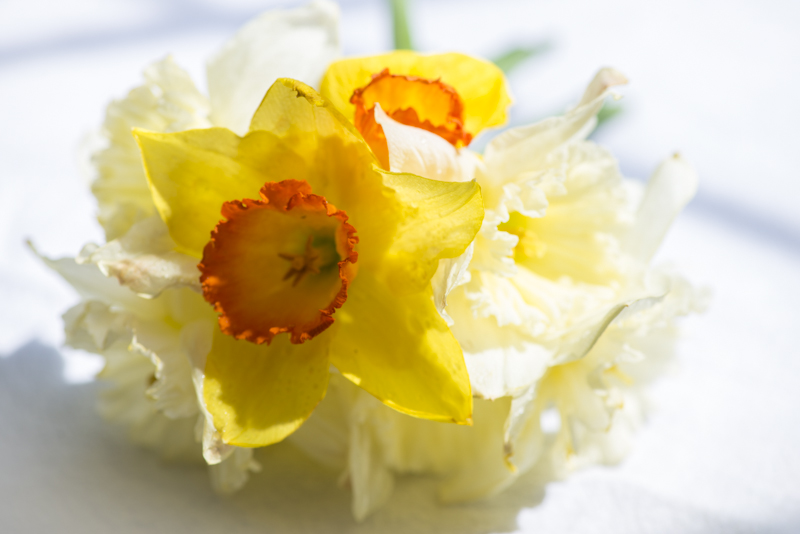 No matter how you prepare it, it will definitely put you in a good mood. Now if someone could send Mother Nature some über strong prescription Midol so we can get on with spring, I'd appreciate it.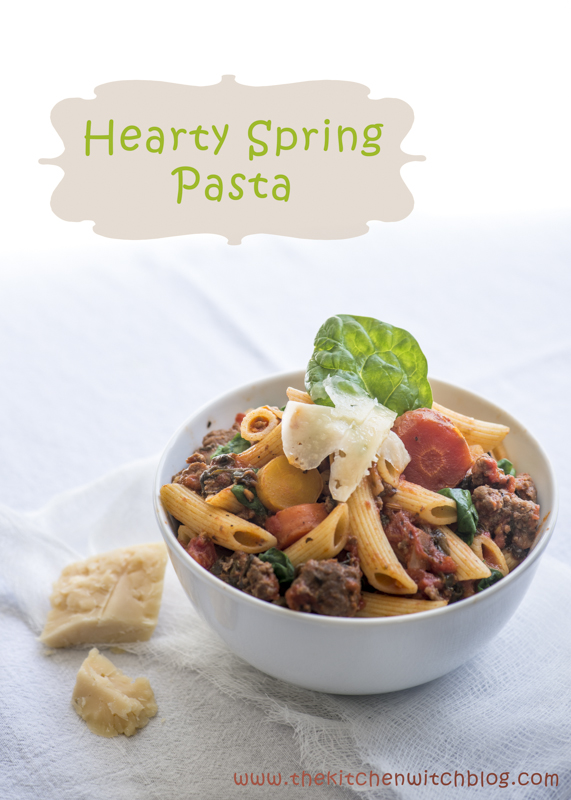 Hearty Spring Pasta
2016-06-10 19:07:33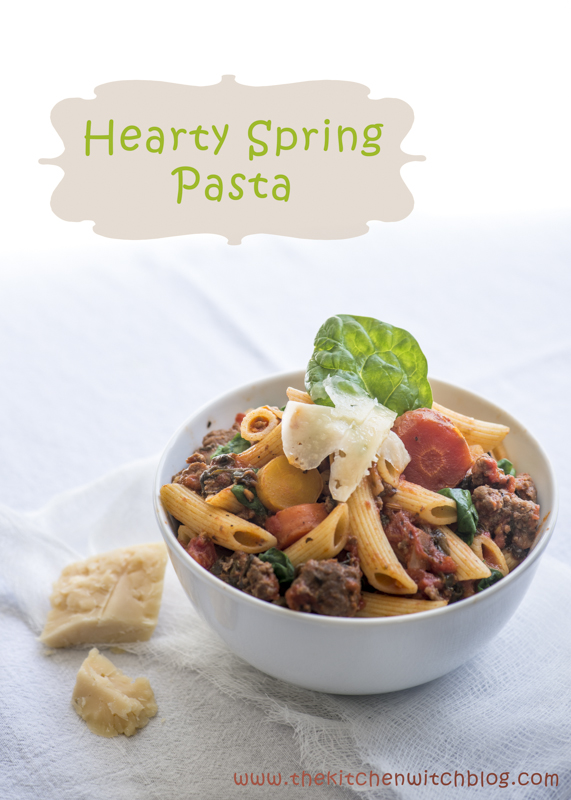 Serves 8
Ingredients
1 pound hot Italian venison sausage (or other suitable substitute)
1 onion, diced
4 cloves garlic, minced
6 small carrots, scrubbed and sliced (peel if not organic)
1 (28 ounce) can peeled whole San Marzano Plum tomatoes (do not drain)
1 (14.5 ounce) can diced tomatoes (do not drain)
1 teaspoon salt
1/2 teaspoon pepper
1 tablespoon dried Italian Seasoning
4 cups baby spinach, chopped
1 (16 ounce) package penne pasta
Shaved or fresh grated asiago cheese
Instructions
In a Dutch oven or other large heavy bottomed pot, brown the Italian sausage over medium high heat breaking it up as it cooks. Drain off all but 1 tablespoon of fat (if needed), add onions, garlic and carrots. Cook until the onions and carrots start to turn tender.
Add the entire can of whole tomatoes, diced tomatoes, Italian seasoning, salt and pepper. Using a spoon, break up the whole tomatoes into smaller pieces. Turn the heat down to low and simmer 30 minutes or more.
Cook the pasta according to package directions for al dente. Strain pasta but retain some of the pasta water. Toss pasta with the sauce, add the spinach and 1/2 cup pasta water and continue to cook until the spinach is just wilted. Taste for seasoning and adjust. Serve immediately topped with asiago cheese.
Notes
This makes a lot of pasta! For an easy dinner the next night put the leftovers in a casserole pan and top with cheese, cover with foil and bake it at 350°F for 30 minutes or until it's hot and bubbly.
The Kitchen Witch http://www.thekitchenwitchblog.com/