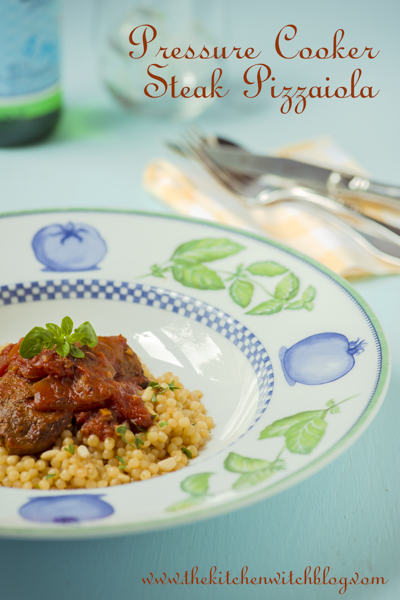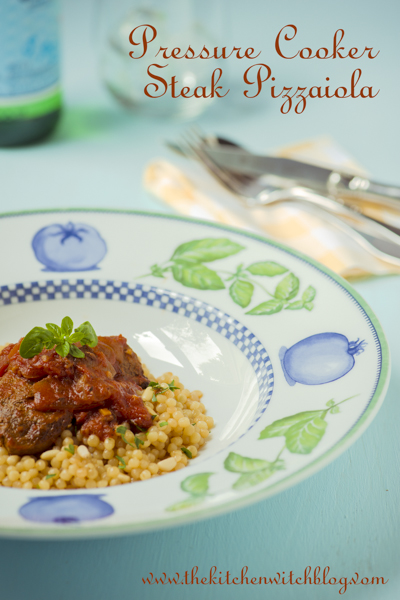 Last month for Secret Recipe Club I got Mangia! an Italian blog. I was so excited, any excuse to make Italian food is fine with me. Then I made Double Chocolate Almond Joy Pretzel cookies. So not Italian, but oh so delicious.
For my assignment this month I got Cookin with Moxie, Jamie lives in Boston and is from a big Italian family! Quelle Chance! Wait that's French, anywho, woohoo! I put my blinders on to all her other great looking recipes and stuck to her roots (you know that's typically my thang).
I did the usual Secret Recipe Club lurking throughout the month, trying to make the difficult decision of what to make. Then Jamie posted a recipe for Steak Pizzaiola and I knew instantly that it was the ONE. How could you go wrong with steak and pizza(iola) in the title?
So I planned to cook it last Wednesday, but I ended up with some leftover ingredients from my grilling class the night before, so I grilled pizza for us and Steak Pizzaiola slipped my mind…
Thursday I afternoon I was typing up my post for Friday and then boom it hit me, like I a V-8 moment; I need to make my SRC recipe. Only I had a banquet to go that night and then for the weekend we were camping with the Boy Scouts.
"That's a fine mess you've got us into, Ollie!"
Anyone know who that quote is from?
I had all the ingredients on hand (I already had planned to use elk instead of beef), but time wasn't on my side. Enter the pressure cooker! Any recipe that calls for braising is a perfect pressure cooker recipe.
A quick side of pearl couscous (my newest obsession) and dinner was ready in less than an hour. That meant the Baby boy and McGyver had dinner for the night and didn't have to fend for themselves. Plus the Baby boy was set for the weekend while we were away!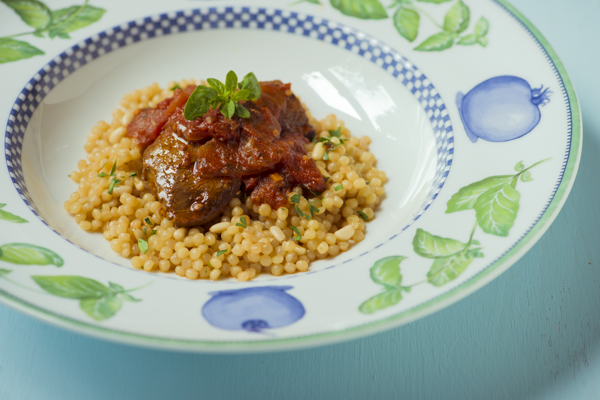 Even though I had a banquet to go to that night, you know I couldn't help but try it. The steak is super tender, so tender in fact that I had a hard time lifting a piece out of the cooker with out it falling apart. The tomato sauce with the herbs and crushed red pepper, well, it tasted uncannily similar to pizza sauce. It was perfect served over a bed of pearl couscous that I toasted first and added some toasted pine nuts. The couscous added a nice textural element to the dish.
I used fresh herbs versus dried since I have them available in my garden (yay), if you want to use dried herbs you can refer to Jamie's original recipe. Because there are so few ingredients in this dish I highly recommend that you use a high quality whole canned tomato product like Cento brand or some type of San Marzano tomato.
Jamie, thanks for my Italian fix!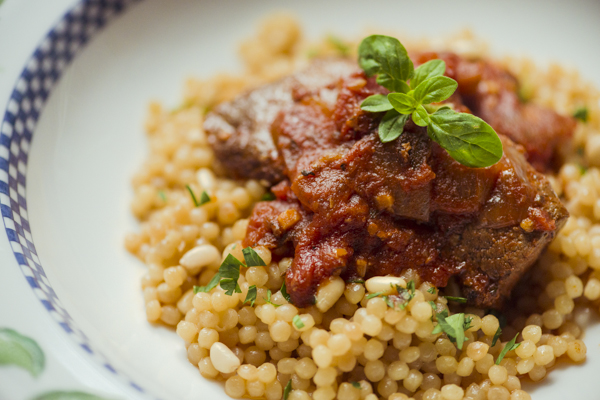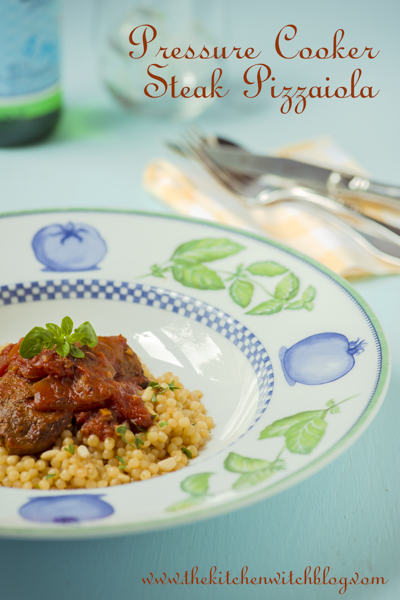 Pressure Cooker Elk Steak Pizzaiola
2016-06-09 20:46:51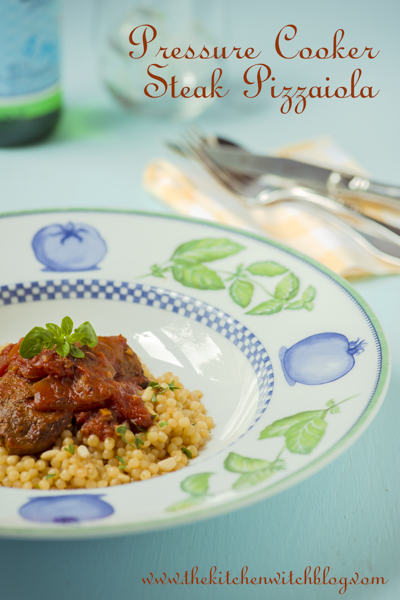 Ingredients
3 pounds elk round steak
1 teaspoon coarse salt
Freshly ground black pepper
2 tablespoons extra-virgin olive oil
1 ½ red onions, cubed
6 garlic cloves, minced
A few sprigs oregano
A few sprigs thyme
1/4 teaspoon crushed red pepper flakes
1 tablespoon tomato paste
1 28-ounce can whole tomatoes, with juice
Instructions
If using an electric pressure cooker, turn cooker on to browning mode. Otherwise heat a large ovenproof skillet over high heat and add olive oil. Season the meat on both sides with salt and pepper. Brown the meat on each side, approximately 2 to 3 minutes per side, cooking in batches if needed. Remove elk and set aside.
In the same pan or the pressure cooker, lower heat to sauté. Add the onion and the garlic, sauté until the onions starts to become tender and translucent. Add oregano, thyme, red pepper flakes, tomato paste, and whole tomatoes. Using the back of a spoon break up the whole tomatoes into smaller pieces. Return the meat to the cooker and nestle into the sauce, spoon the sauce over it, and lock the lid into place.
Pressure cook under high pressure with natural release for 20 to 25 minutes. Uncover and cook for an additional 30 minutes, until the sauce has thickened up if needed (my sauce was thick enough straight out of the cooker). Taste for seasoning.
The Kitchen Witch http://www.thekitchenwitchblog.com/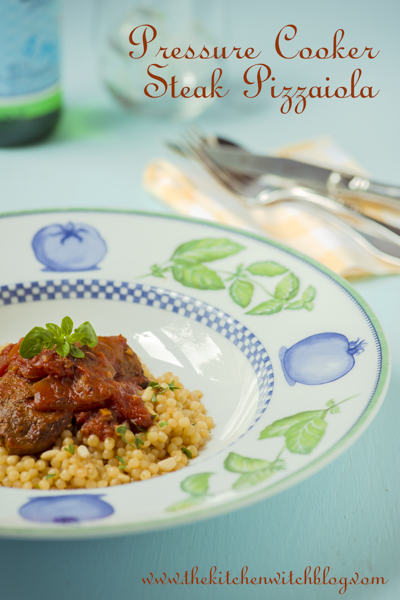 Toasted Couscous with Pinenuts
2016-06-09 20:49:44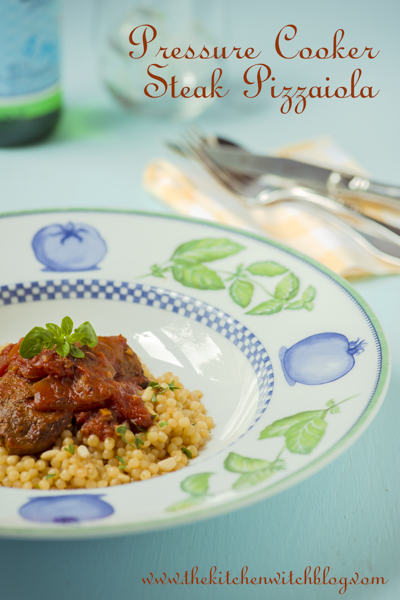 Ingredients
1 tablespoon olive oil
1 cup pearl couscous
1 ¼ cup chicken or vegetable broth
½ cup toasted pine nuts
¼ cup chopped fresh parsley
Salt and pepper to taste
Extra virgin olive oil for drizzling
Instructions
Heat oil in a medium pot over medium high heat. Add the pearl couscous, toast until golden brown, stirring frequently about 1 to 2 minutes. Add broth and bring to boil. Cover and reduce heat. Simmer 10 minutes or until liquid has been absorbed. Stir in nuts, parsley and salt and pepper. Finish with a drizzle of extra virgin olive oil.
The Kitchen Witch http://www.thekitchenwitchblog.com/

Please me and sure to check out all the great recipes from Group C, hosted by Debbi.

FYI, I won't be participating next month, I'm going back to Washington State to visit family, I'll be back after that but I'll be thinking of my Group C-ers.