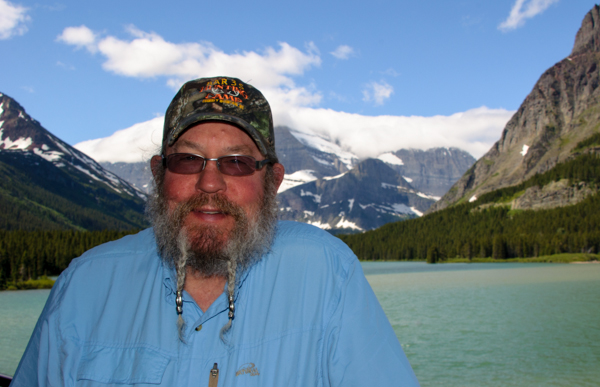 10 years, he's kept me around for 10 years! That's a record for us, we've both been married not once but twice before.  Seems like that old adage is true "third times the charm".
To celebrate a momentous milestone we decided to ride the Harleys through Glacier National Park, one of the most pristine and nearly untouched parks and then end at the famous Fort Benton Union Hotel.  The anniversary was supposed to be a nod to our honeymoon trip which was done on a Harley, 11 countries in 10 days (which you can read about here, here, and here) and our 5 year anniversary trip which included the grand Tetons, Yellowstone and Sturgis (you can read about it here).
But mother nature was bringing the June rains and biking was not in the cards.  Not to be deterred and on the positive side I could pack all my camera equipment, we pressed on.  Oh what a time!
We started off at the Glacier Park Lodge and Resort
Look at the inside…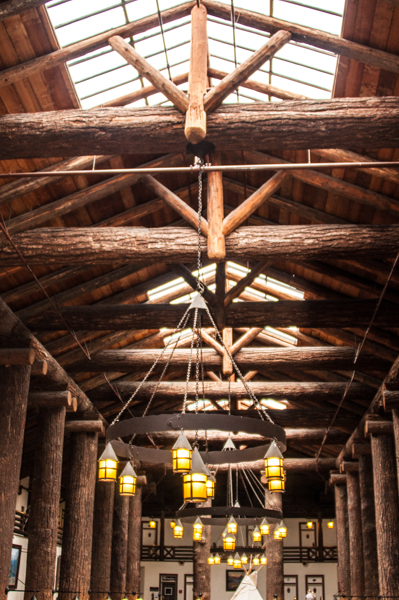 Built in 1913…yep 100 years old the week we were there!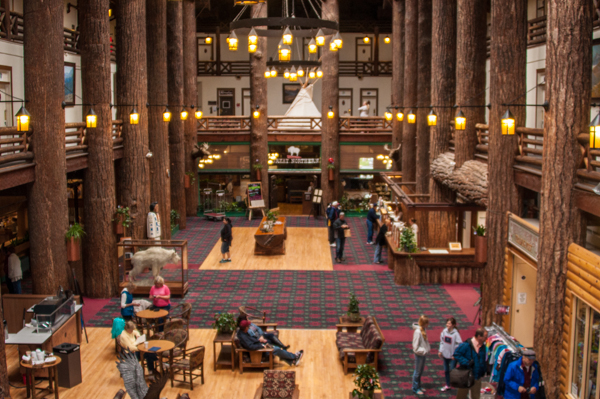 Our first day out we say these babies at Two Medicine River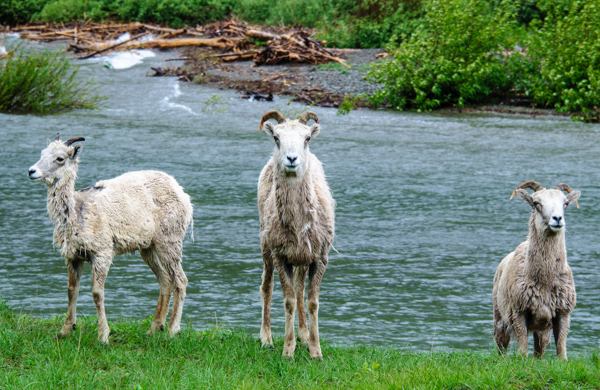 Then we took a drive up to Bowman Lake, where McGyver and the Boy Scouts had spent a week doing a service project for the park.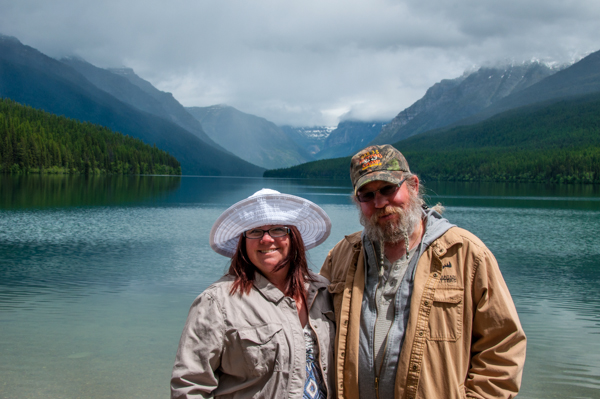 We saw this guy on the way up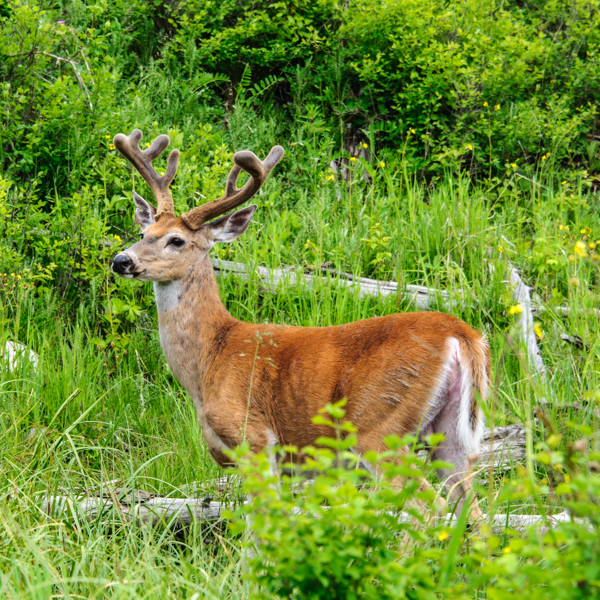 while hiking we saw a black bear!  see the bush/tree laying over onto the river he was right there swimming across.  of course I couldn't get the camera ready fast enough…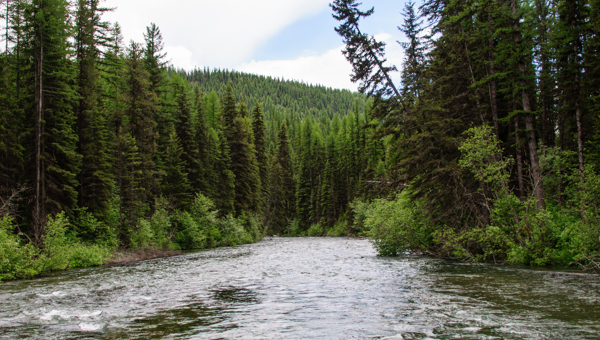 as we went along and I admired the flowers and foliage I start thinking about how close the bear was to us.
Me: "McGyver did you bring the pepper spray?"
Him: "No, it's in the car"
Me: "You have your handgun on you, riiight?"
Him: "No, it's in the car"
Me: "Aren't you worried about the bear?"
Him: "No, I can run faster than you"
umm, the flowers don't look so pretty now…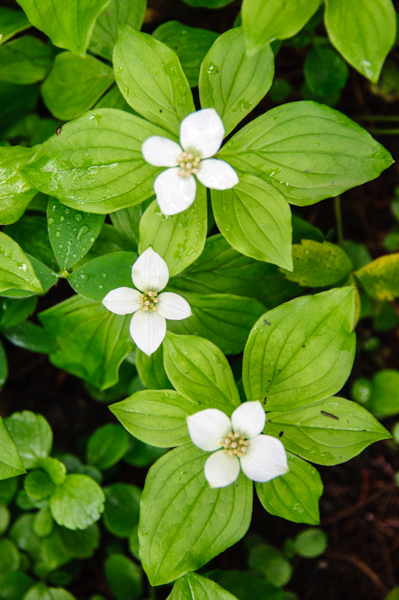 Obviously the bear was more concerned with finding a picnic basket, whew!  McGyver and I stopped at the Ranger's station and reported it.  Evidently this was getting to be a habit for this black bear.
On the way down we stopped at this fun little place in Polebridge.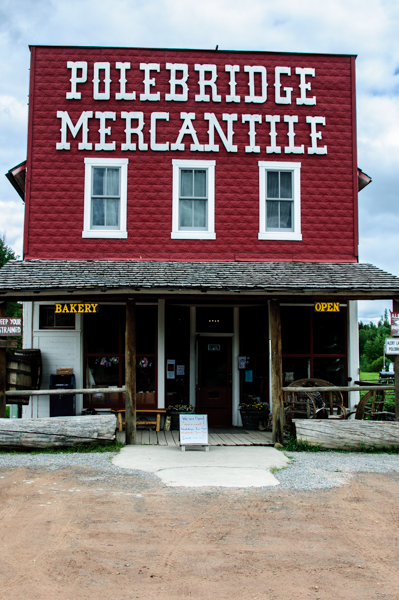 We grew up on Rainer beer…ahh, the memories…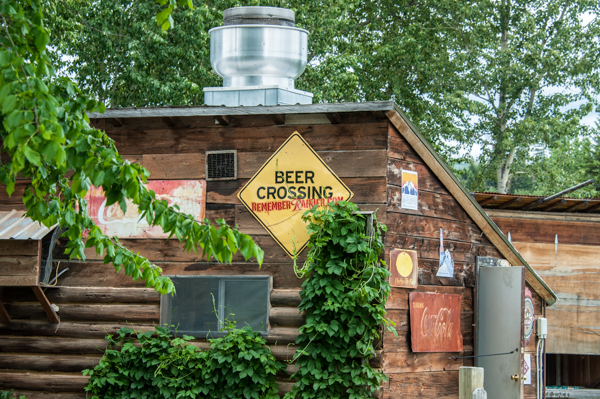 We picked up a drink and some fresh baked treats and then headed back to the lodge.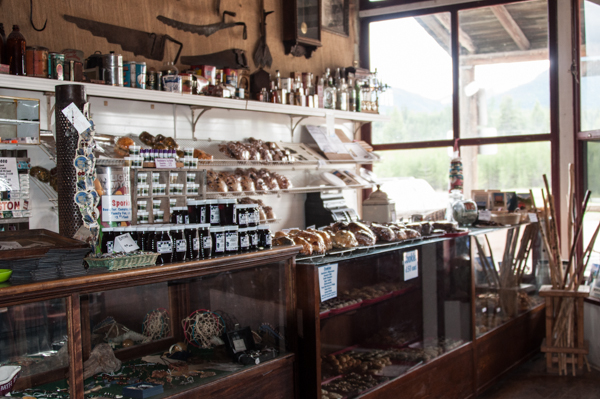 Our next stay was Many Glacier, we got super lucky and they opened the Going to the Sun road that very day so we were able to go from East Glacier to West Glacier on one of the most beautiful roads you could ever hope to travel.
The run off from the melting snow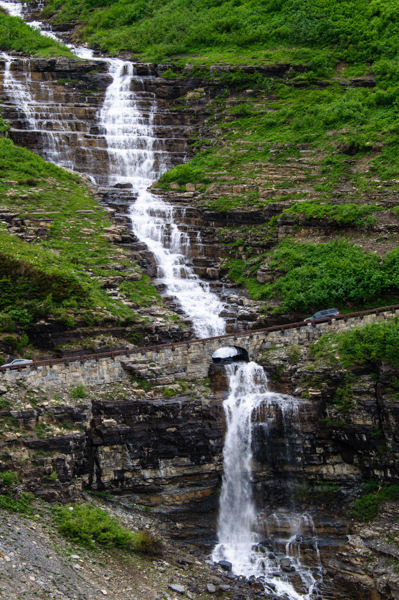 McGyver drove the Jeep right under one!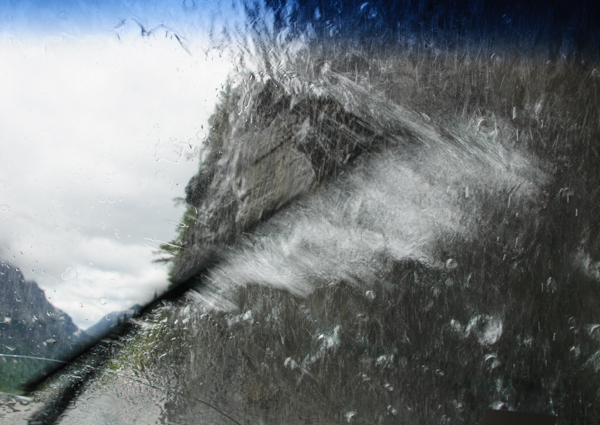 at the top, Ranger station and most importantly a bathroom!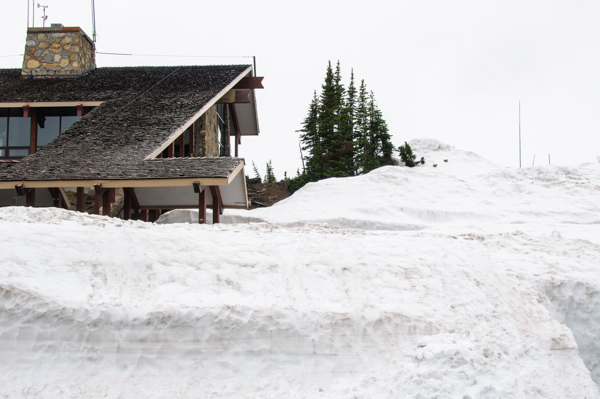 We were way up, all the way to the clouds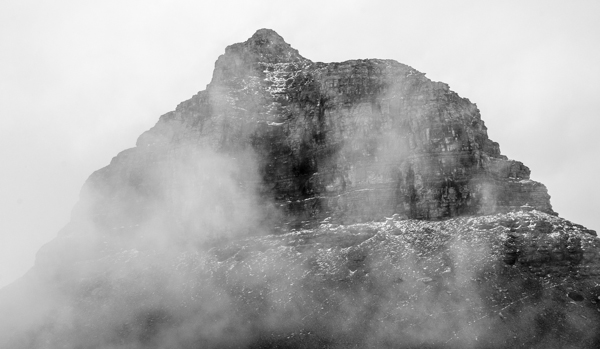 up and over, the snow wall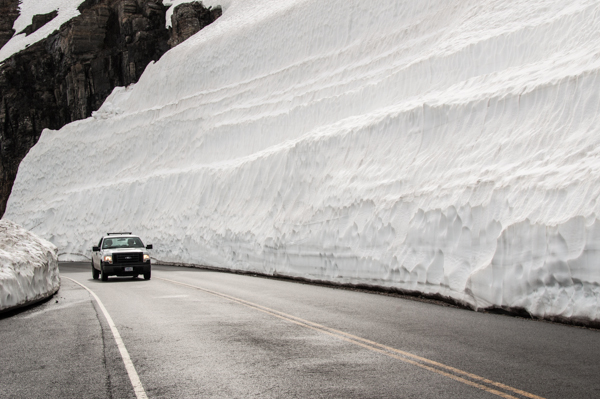 we went all the way to Many Glacier where we stayed at a Swiss Alps inspired hotel.  At one time Glacier National Park was touted as the Alps of America.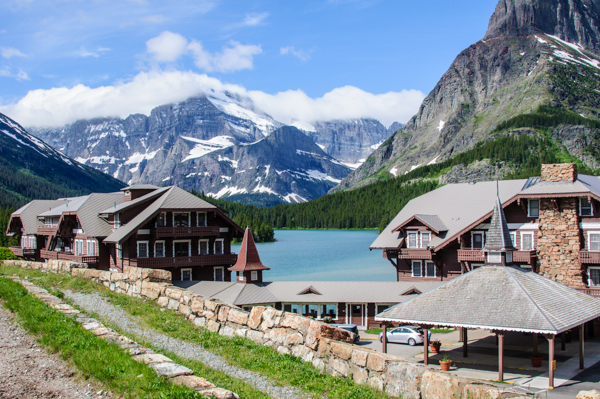 inside…oh neither place we stayed at had elevators and we were on the third floor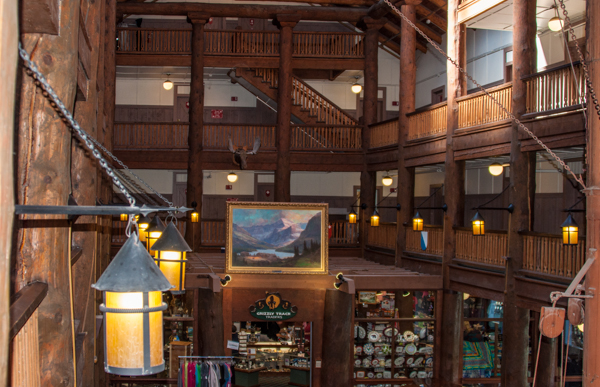 we hiked around the lake and went canoeing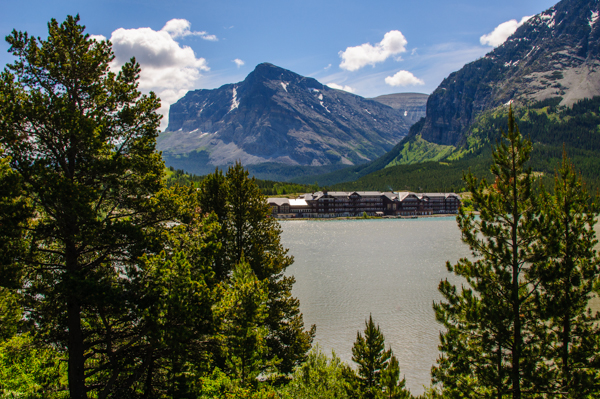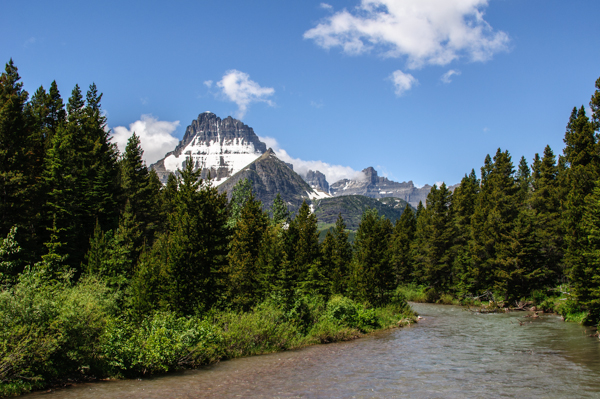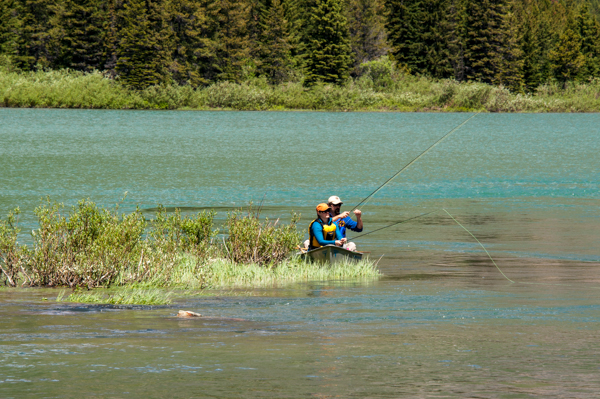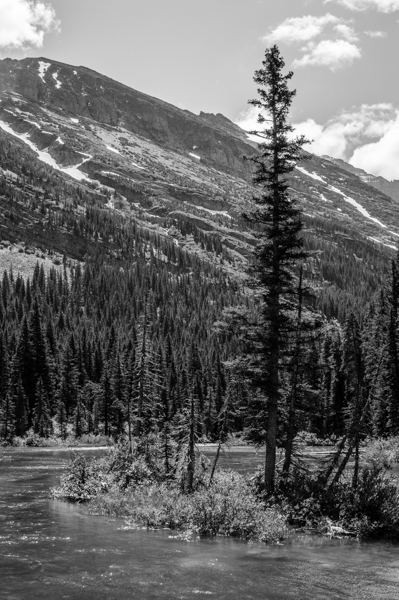 as you can see the weather got better, which makes for terrible photography
so one morning, very early morning, after a night of drinking, McGyver and I got up to catch the sunrise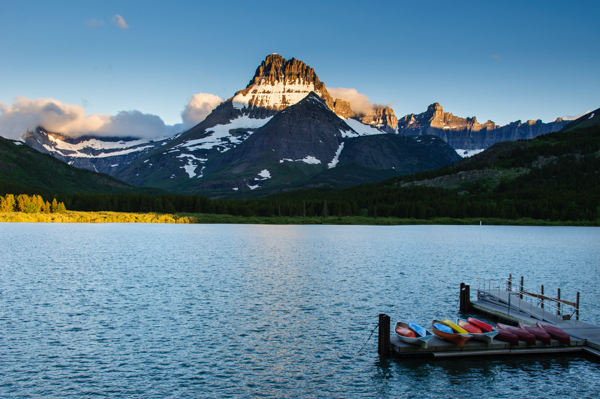 We had a great time and oh so many stories I could tell, like how we were treated like royalty because the staff dug McGyver's braided beard, or stormy weather in a canoe, or the one about the waiter but it's time to head to Fort Benton.
on the way we saw this very coyote pooping along side the road (photo post poop by McGyver)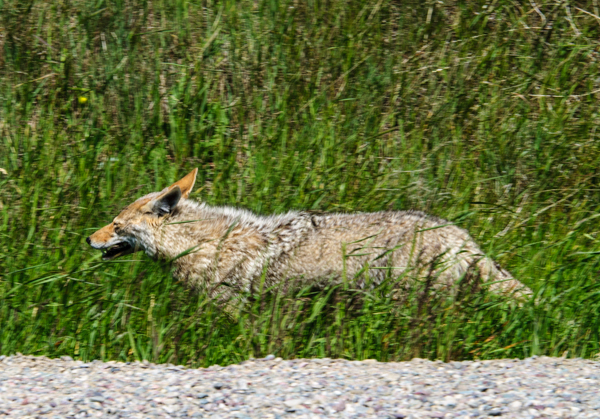 at a place called Two Dog Flats
now we call it Two Dog Craps
after Two Dog Craps we stopped in West Glacier and I bought some local honey in an adorable jar
you'll probably see it someday 😉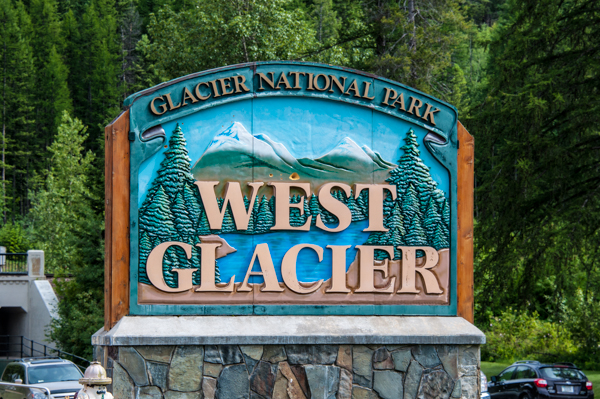 Then onto Fort Benton "The Birthplace of Montana"…
I knew nothing about Fort Benton so I looked it up on my iPhone
Did you know it used to be the largest inland port, of course you didn't!
That some famous people are from Fort Benton!
The one that caught my eye from Wikipedia was:
Eleanor Dumont, (1834-1879), also known as Madame Moustache, professional card dealer and gambler
Her life should be a movie, or a book.  If you have time read the link, it's a short bio but full of good stuff, gambling, succesful business woman, whores, love lost and suicide
Now the Union Hotel!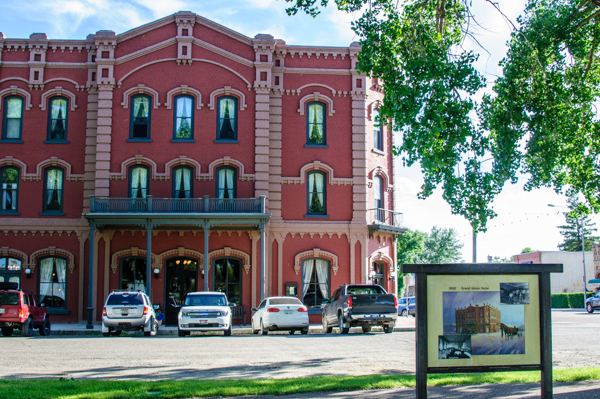 I had no idea that McGyver had booked the best room in the hotel!
(photos from iPhone)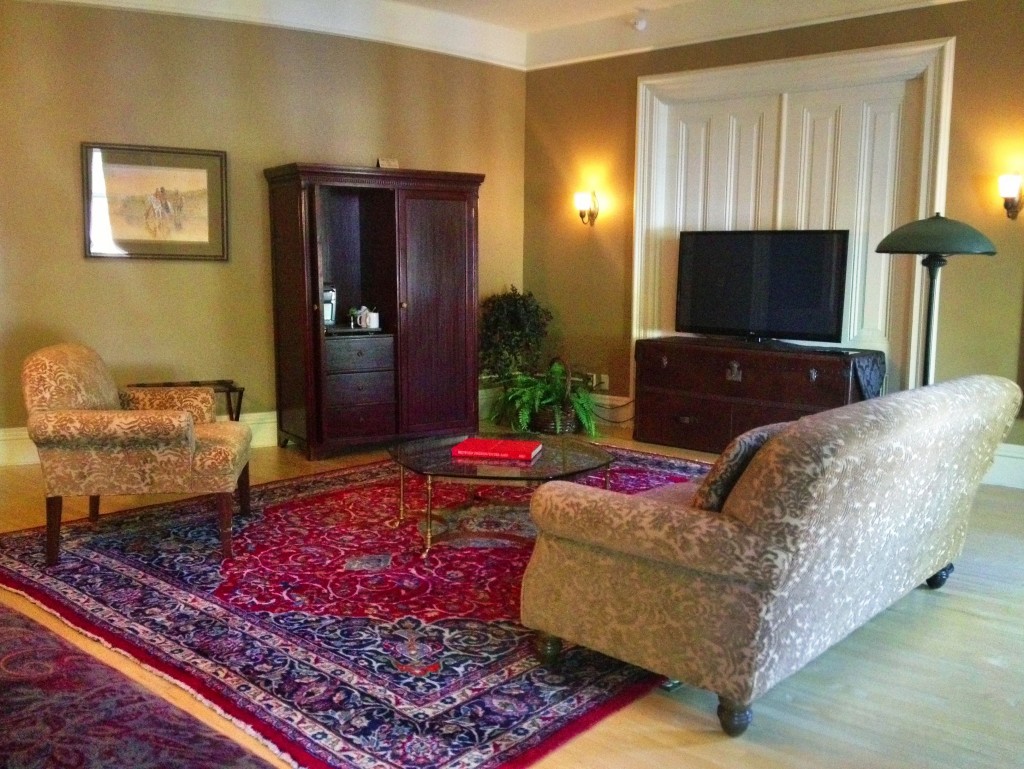 Check out the tub, McGyver had a hard time staying up in it.  It was so big that he kept slipping down!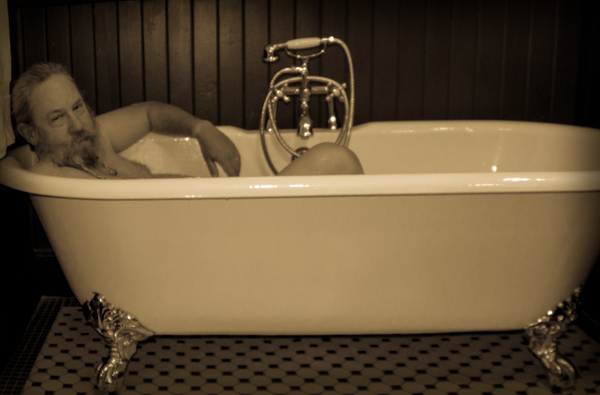 it just so happens that it was a super moon the night we stayed there, only it wasn't so super, it was cloudy
and I don't shoot the moon, I really needed my friend Carolina to advise me
haha, I don't shoot the moon, hehe
why is that funny? shoot the moon?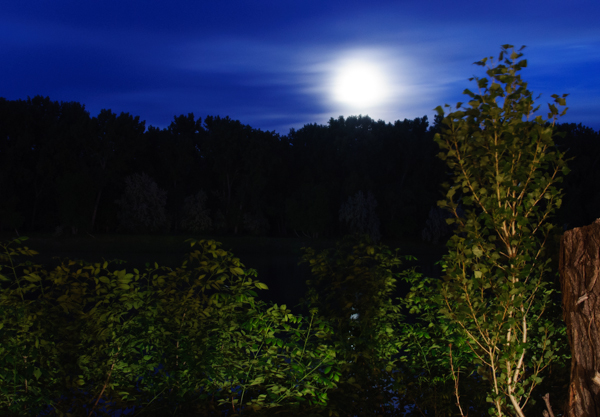 I kept trying though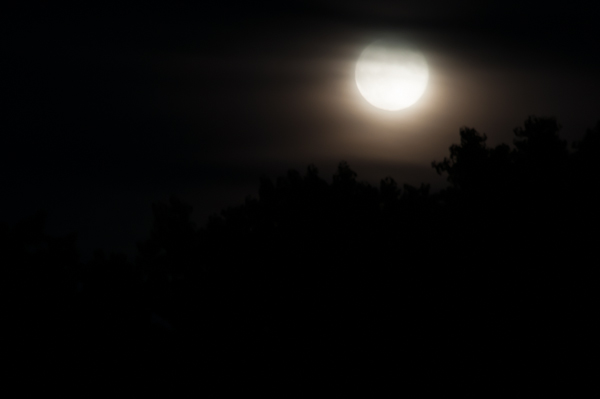 I gave up, did a 180 and photographed their railroad bridge, turned into a walking bridge instead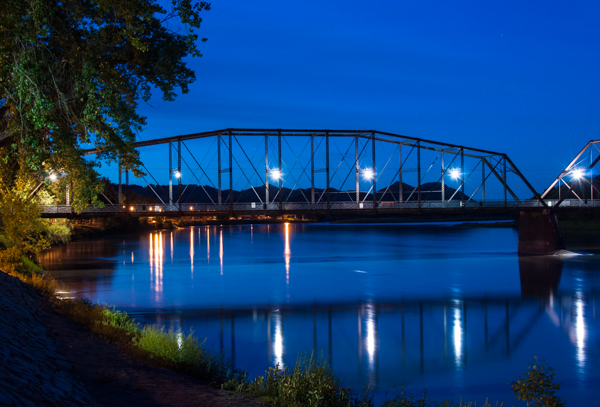 what I really wanted to see was this statue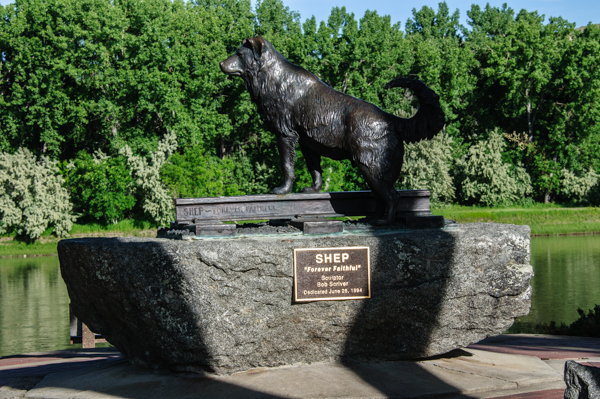 it's one of the greatest dog love stories, me being a dog person and all, just had to see it
here's the story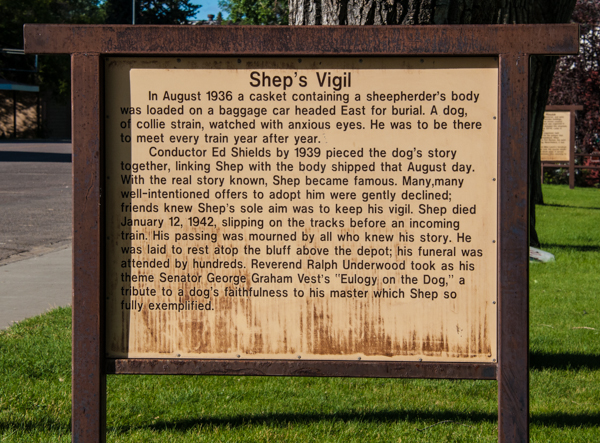 all of these photos were taken steps from the hotel, if you ever get a chance come see Fort Benton its small but full of history and the hotel is wonderful with an outstanding restaurant
I am truly blessed to have been married for 10 years to such a wonderful, hard working, caring man with an awesome beard and rides a Harley and treats me like a queen (mostly) and built me a cabin and, and I could go on and on!