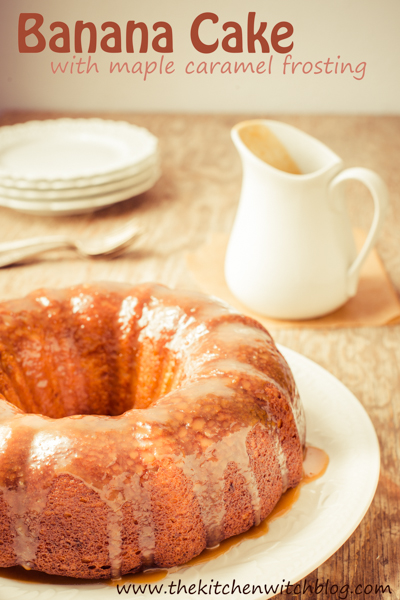 This past week has been all about catch up. It's great to take some time off and travel but many things build up while your gone. This week has seemed like an endless array of laundry, email and yard work. The weeds, gah, they seemed to be prolific…how do they know when the cats away?
We've had so much to do and not just from being gone but also from a myriad of procrastination. The garages, the house, paperwork…it just doesn't seem to end. No matter how much time we put into maintenance and projects, it seems like nothing gets finished.
We even skipped going to the cabin this weekend, so much got done and yet I feel the heavy weight of things not done. The list of to-do's is infinitesimally longer than the time allotted. I'm still waiting for that magic wand that I can wave and get everything done and relax without guilt.
Speaking of catch up, I needed to post something on the blog and didn't have anything particular in the hopper. I dug around my photos and landed on this Banana Cake with Maple Caramel Sauce. I made and photographed it in February, a time when I must have had been busy cooking and photographing and not running around like the proverbial chicken with it's head cut off.
I made it for one of our Great Falls Camera Club meetings and it was received with rave reviews. It was cake and banana bread rolled into one and then topped with a decadent maple caramel sauce. I can't believe that it got pushed back into the archives.
In the spirit of catching up, I'm posting this decadent cake that I made from an indulgent splurge on a Donna Hay Magazine. At $10 a magazine; it felt more like buying a cookbook, but the photography inspires me and after making this cake and hearing the yum, yums from the club members, it made it worth it.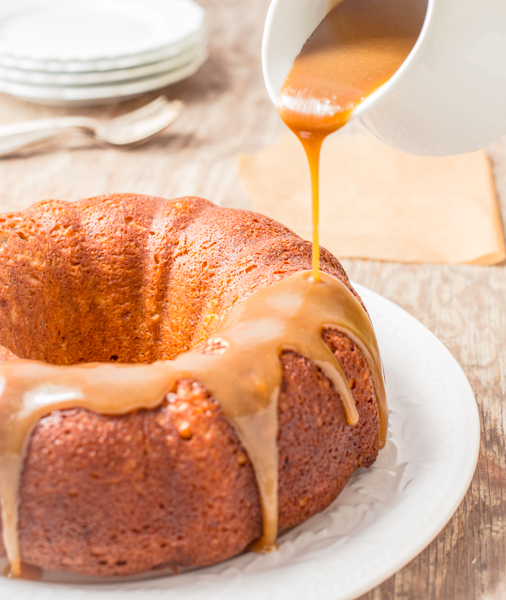 After spending the last 7 days trying to catch up, I'm still behind but this too shall pass, right? Right?
I guess I should look on the positive side, I'm never bored! And all work and no play makes for a boring Kitchen Witch. Although I don't think I'll catch up this week with two articles due, photo judging for our fair, my dog having a tooth pulled, a doctor's appointment, teaching a cooking class, minutes from my last board meeting to do, a house to clean, gardening, my Downtown Chicks meeting and living life, I'll probably barely keep my head over water…
Life is good and I'm living it to the fullest, albeit sometimes a little too full.
I hope you all are living your life to the fullest but not too full to stop and eat a piece of Banana Cake with Maple Caramel Sauce.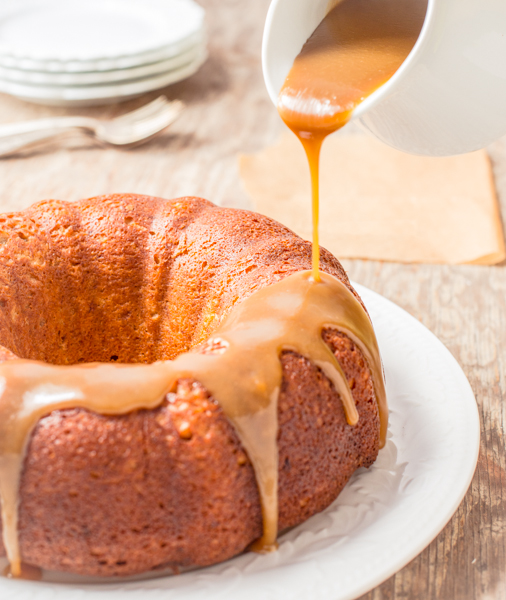 Banana Cake with Maple Caramel Sauce
2016-06-09 20:34:03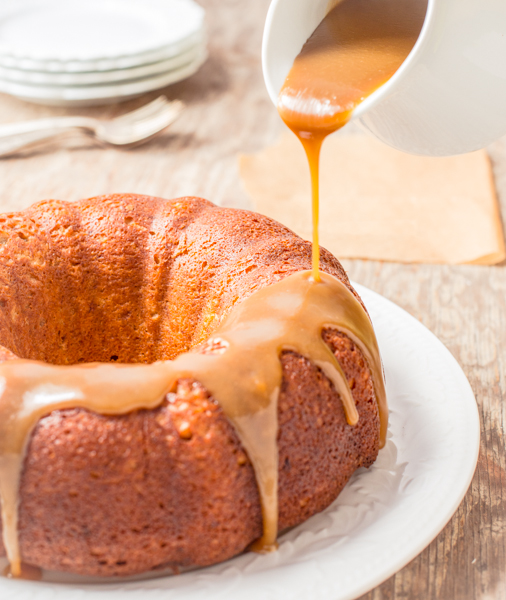 Cake
10 tablespoons unsalted butter
1 cup granulated sugar
1/2 cup brown sugar
3 eggs
2 cups all-purpose flour
2 teaspoons baking powder
1 teaspoon gound cinnamon
3/4 cup sour cream
1 1/2 cups mashed banana (approximatly 3 or 4 bananas)
Caramel Icing
3 1/2 ounces unsalted butter
3/4 cup brown sugar
1/2 cup maple syrup
1 cup heavy cream
Instructions
Preheat oven to 350°F.
In an electric mixer, beat butter and sugars for 8 to 10 minutes or until pale and creamy. Slowly add eggs and beat well. On low speed gently mix in the flour, baking powder and cinnamon. Add the sour cream and mashed bananas, stir to combine.
Pour batter into a greased bundt pan and bake for 45 to 50 minutes, or until done (test with a cake tester or wooden pick, it should come out clean). Allow to cool in the pan for 10 minutes, then turn out onto a cooling rake to finish cooling.
To make the icing, add the butter, brown sugar, syrup and cream to a saucepan. Cook over medium heat stirring until the sugar dissolves. Turn the heat up and bring the mixture to a boil, continue cooking on a low boil for 12 to 15 minutes or until thickened. Cool to room temperature before pouring over the cake.
Adapted from Donna Hay Magazine Issue 65
Adapted from Donna Hay Magazine Issue 65
The Kitchen Witch http://www.thekitchenwitchblog.com/