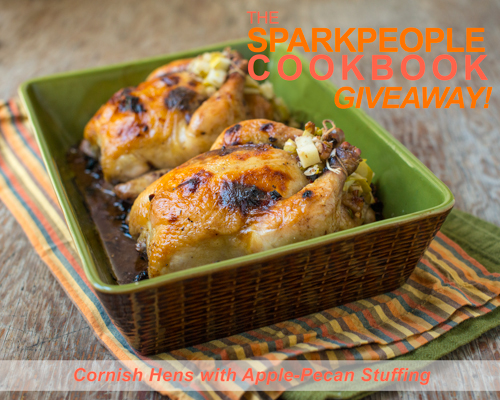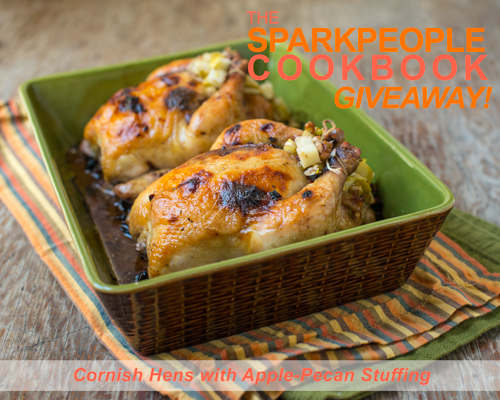 /As most of you know, certainly those who stop by regularly know, I don't do a lot of giveaways. In fact I've only done a few, I also don't do many product reviews. I'm mostly about the recipes and ramblings, but every now and then there is something that you just love that, well, you are happy to share the love. When Stepfanie from Spark Recipes contacted me to see if I'd like to do a giveaway for their cookbook 'The Sparkpeople Cookbook' I jumped at the chance.
I use Sparkrecipes.com all the time, one of my favorite features is the recipe calculator which gives you the nutrition information (and you can share your recipe). There are many, many recipe sharing sites, what makes Sparkrecipes.com different is the fact that it's based on healthier recipes. I search recipes there instead of Google so I'm not tempted by the unhealthy versions (well not as often). Spark Recipes and Spark People are such nice sites that it's no surprise that their cookbook is just as fabulous.
To call this just a cookbook, is a bit inaccurate because it is a motivational and an informative book along with all its recipes. You'll find inspiring weight loss stories (which I'm a sucker for just as much as a hot modern romance), there's menus, tips for getting kids to eat healthy, kitchen, pantry and food tips also. All that is great but my favorite parts are the little tips throughout the cookbook on nearly every recipe for example their "Slim it Down" tips, which suggested skipping the breading in the Parmesan Chicken with Tomato-Basil Salad (it'll save you 125 calories)…you don't even have to look it up, they did all they work!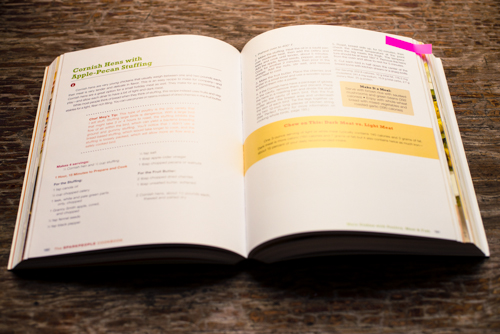 They also have tips for "Make It a Meal", if I added on whole-wheat breadsticks and roasted garlic it would be 450 calories or with whole-grain bread and margarine is 450 calories for the whole meal. Those tips are so helpful for meal planning! Sprinkled throughout the book are also little tips like the one with the Cornish Hens with Apple-Pecan Stuffing.

And then they have these little icons that tell you if its kid friendly (smiley face) multiple servings of fruit and veggies (carrots), good for company (fork), 30 minutes or less (clock), etc. I know I'm rambling on about the cookbook but Chef Meg Galvin (World Master Chef and Healthy Cooking Expert) and Stepfanie Romine did such a great job that I can't help but toot their horn.
Little Note: Stepfanie was my roomie along with my daughter Leah (Leftovers for Lunch) at the FoodBuzz conference in San Francisco way back in 2009….
So I'm super happy to do this giveaway and share one of their outstanding recipes!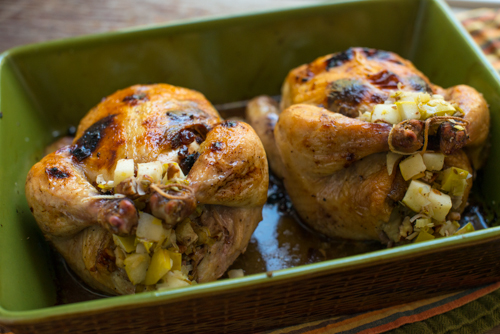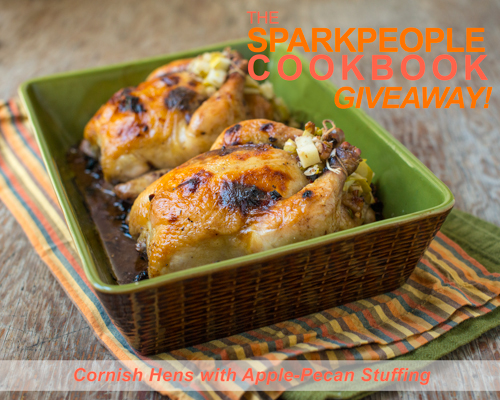 Cornish Hen with Apple and Pecan Stuffing
2016-06-09 20:00:55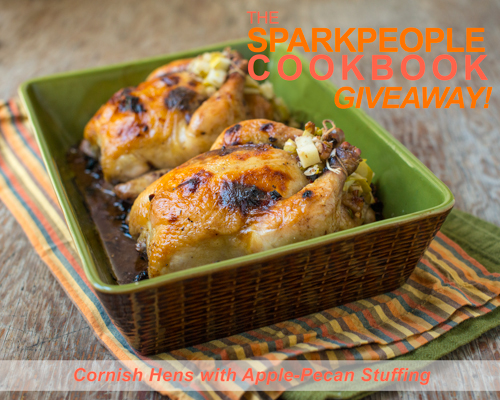 Serves 4
Ingredients
2 Cornish hens, about 1 1/2 pounds each, thawed and patted dry
Salt and Pepper
Stuffing
1 teaspoon canola oil
1/2 cup chopped celery
1 leek, white and light green parts only, chopped
1 Granny Smith apple, cored and chopped
1/2 teaspoon fennel seeds
1/4 teaspoon black pepper
1/4 teaspoon salt
1 tablespoon apple cider vinegar
1 tablespoon chopped pecans or walnuts
Fruit Butter
2 tablespoons chopped dried cherries
1 tablespoon unsalted butter, softened
Instructions
Preheat oven to 400°F.
Salt and pepper the inside and outside of the hens, set aside.
Maker the stuffing. Heat the oil in a large saute pan over medium heat, then add the celery and leeks and cook until tender, about 5 minutes. Add the apple, fennel seeds, pepper and salt. Cook for another 2 minutes, then pour in the vinegar. Add the nuts, stir well, and remove from heat to cool.
Make the fruit butter. In a small bowl, mix the cherries and butter with a wooden spoon to blend into a paste.
Place hens in a roasting pan, divide the stuffing between the two hens (there will be more than enough). Rub the fruit butter over the skin and under the breast skin. Tie legs together with some kitchen string.
Roast breast side up for approximately 50 minutes. Check the temperature with a meat thermometer where the leg meets the thigh. The internal temperature should be 180°F. Remove from oven and rest for 5 minutes.
Cut each bird in half down the center of the breast bone with kitchen shears or a sharp knife, serve with the stuffing.
Adapted from The SparkPeople Cookbook
Adapted from The SparkPeople Cookbook
The Kitchen Witch http://www.thekitchenwitchblog.com/
Enter to win!