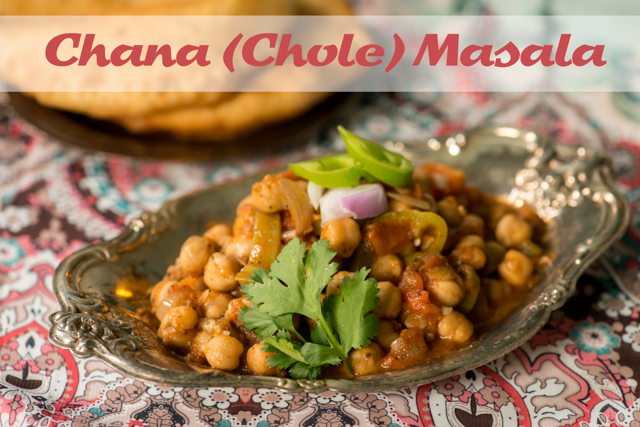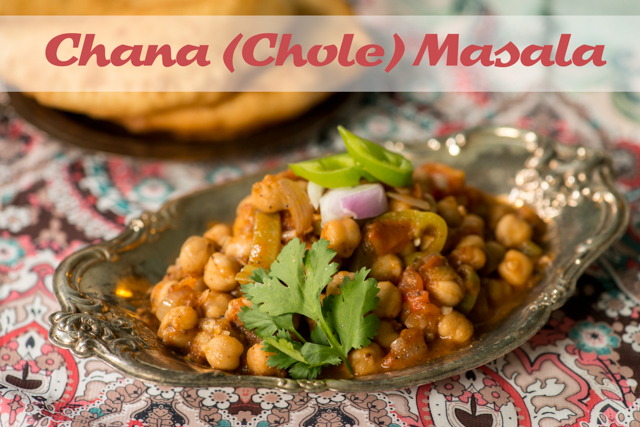 This past week was spent at the cabin; hunting season (rifle) has started here in Montana. I'm no huntress; I'd rather be Martha Stewart of the Mountains than go out and sit in the cold or tramp through the woods. But McGyver loves hunting, he loves to take his wife hunting, he loves to buy his wife rifles and customize them to fit her short arms, tailors them, places scopes on them, etc. In other words I'm an excuse to buy more gun stuff and it diminishes my excuses for not going. In many ways I'm a very lucky lady, my husband actually likes to do things with me, I'm his best bud. But I'm not a huntress.
That being said on a day that is warmish, just right for a light weight jacket, and it's the afternoon and not the but crack of dawn I find myself feeling a little differently about hunting. When we take the ATV out and head up, ascending the mountain, I find myself converting into huntress mode. Dressed in camouflage with hunter orange accessories, grasping my customized AR 15 in my hand, my eyes start scanning, searching, and looking. A heightened awareness permeates my every fiber, did something move in that grove of trees, is that a stump, are those branches or antlers? My hyper senses catch every breath the wind takes, movements ever so slight seem large, sounds echo throughout my ears, listening, waiting, poised and ready to spring.
Eventually we reach "Skyfall" 6,500 feet above the world. You have to pause and take it all in. Although it is fall, there is very little to distinguish it from late summer. The grass has long been brown, dried from the aridness of the Rockies, seas of green firs and pines lie endlessly before you just like spring and summer. The only exceptions are a bush or a few aspen, the only visual indicators that the season has changed. This grand vista is one to behold. The rise and falls of the mountains are kissed with the amber setting sun; it's the golden hour of the evening. Yet even as my eye soaks in the glories of nature, it never stops scanning and looking…the hunt is on.
I am not a huntress but I get this glimmer, an insight if you will, of the order of life. It's this basal sense of being, this primal need to find food. To look to the land and nature to provide and sustain our lives, it seems unquestionable right.
I'm not a huntress but somehow, miraculously I was successful!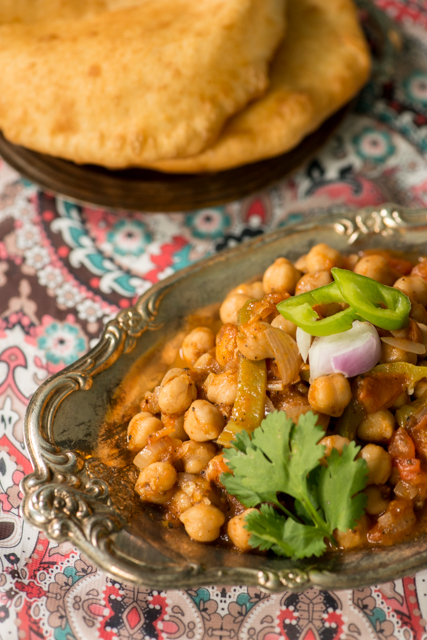 To celebrate, I'm sharing a vegetarian/vegan recipe (I'm quirky that way) that is so delightfully layered in flavors, that you won't miss the meat at all. Last week I posted my Secret Recipe Club Simply.food recipe for Bhatura, an easy India fried bread. The traditional dish served with Bhatura is Chana Masala (Chole = Chickpeas). I melded two recipes together, partially from Simply.food and partially from Veg Foods of India and a little of my own touch. There are many types of Chole Chana Masala but this one is from the Punjabi region.
Because there wasn't any commercially available chana masala seasoning, I made my own, for my peppers I used dried arbol peppers and I used both green and black cardamon.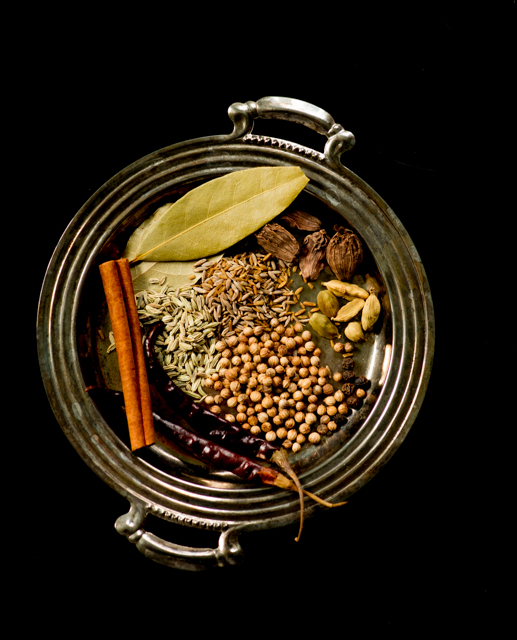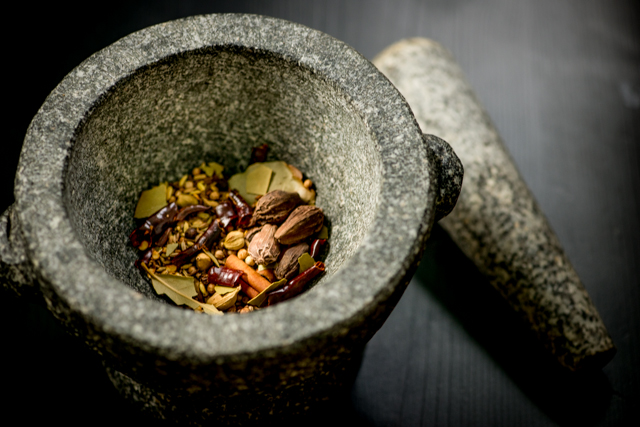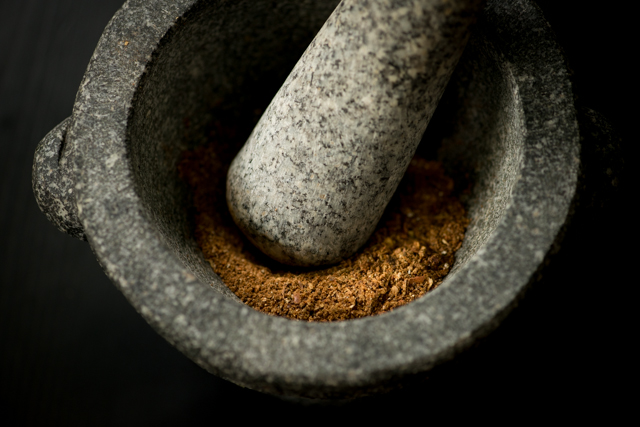 The chickpeas are swimming in this "gravy" that is made brown by simmering the chickpeas in tea! You could probably skip this step and have a more red sauce if you preferred. The whole family loved this, it had just the right amount of heat to warm you up, a perfect meal for fall and after hunting!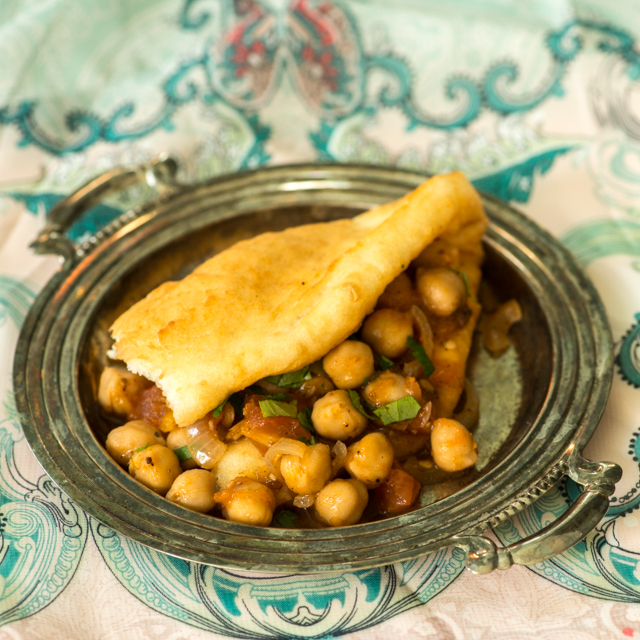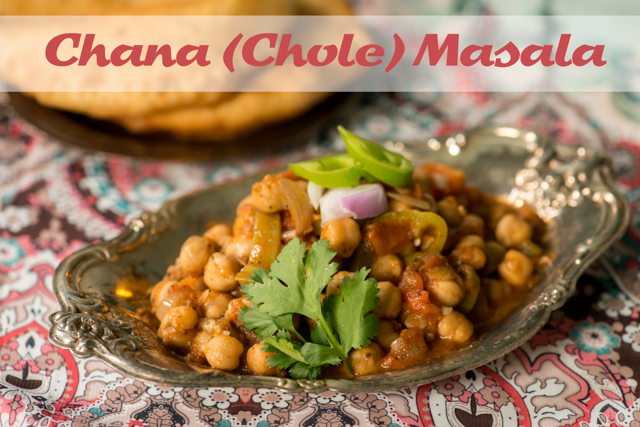 Chana (Chole) Masala
2016-06-09 19:48:58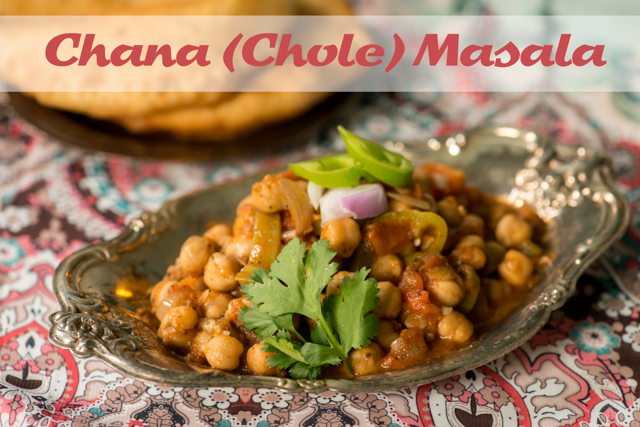 Spice Mix
6 green cardamon
5 black cardamon
6 black peppercorns
3 cloves
2 Bay leaves
1" piece of cinnamon
2 dried red chiles
1 1/2 teaspoon cumin seeds
1 1/2 teaspoon coriander seeds
1 1/2 teaspoon fennel seeds
Chole
2 large tomatoes
2 (16 ounce) cans chick peas
1 tea bag
1 tablespoon oil
1 large onion, chopped
1 teaspoon finely grated ginger or ginger paste
1/2 teaspoon garam masala
1/2 to 1 teaspoon cayenne pepper
1 teaspoon amchur or 1 tablespoon finely minced dried mango
1/2 teaspoon salt
2 green chiles, split (I used Anaheim because that was all that I had, so I sliced them)
Instructions
In a small non-stick pan, toast spices over medium heat for a couple of minutes or until they start to brown and become very aromatic. Let cool. Grind spices with a mortar and pestle or spice grinder.
Bring a medium large pot of water to boil. Add tomatoes, boil for one minute. Remove with a slotted spoon and set aside to cool. Add drained chickpeas to the water along with the tea bag. Bring to a boil, then lower to a simmer. Simmer for 5 minutes. Meanwhile peel, de-seed and chop the tomatoes. Drain the chickpeas retaining 1 cup of 'tea'.
In a large saucepan heat the oil over medium heat. Add the onions, saute until translucent, stirring occasionally, about 2 minutes. Add ginger and cook, stirring constantly, for another 30 seconds. Add tomatoes, chile peppers, dried mango and salt. Turn heat to low, break tomatoes down with a wooden spoon until mostly broken down.
Add chana masala spice, garam masala and cayenne pepper. Simmer for 10 minutes. Add more 'tea' for a saucier chana masala if desired. Serve with Bhatura and garnish with chopped cilantro.
The Kitchen Witch http://www.thekitchenwitchblog.com/
CONGRATULATIONS to Melissa Leany on winning the the new look giveaway!