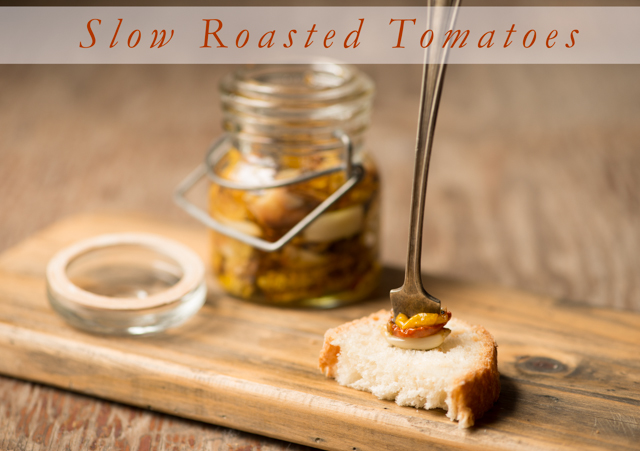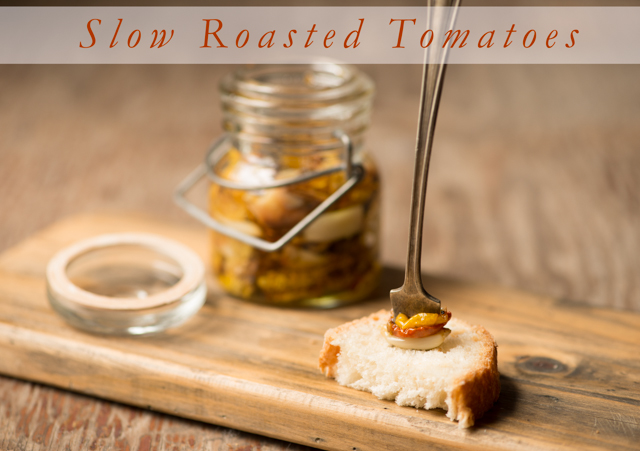 This was it, the very last remnants from my garden (other than a few hardy herbs). My little pear tomato plant was the wonder of my garden this year. I started it from a wee little seed, I only had a couple of them, so I did a germination test. Only one seed sprouted. I carefully took my sprout and lovingly placed it in a small peat pellet that had been watered and puffed up to size. Down to the basement it went where I had my little table set up with a grow light. The timer was set to give my little babies (I had my other plants growing also) were scheduled about 16 hours of light. I mothered my little seedlings, not to dry, not to wet. I cooed and wooed them, sending them all my good vibes. Not all my seedlings were healthy, although this tomato wasn't exactly unhealthy; it wasn't super hardy looking either.
Truth be told, I wondered if I should even bother planting it when the time came! I'm a softy and unable to ditch plants that show any signs of life, so in my raised bed it went. My gardener neighbor (she's amaaazing) commented on how much shade we get and how she just didn't think that poor tomato would grow. I concurred. I knew the baby plant wasn't strong and I planted it in a spot that, well any good tomato that knows what it needs, wouldn't grow.
But I thought to myself, what the hell, I have other tomato plants that have a nice sunny home, so one tomato plant, more or less won't matter. After all, I never expected the seeds to germinate in the first place. Somehow there must of have been something in that little seed, a fight in its soul, a desire to grow and live despite its scrawny beginnings. Despite the poor sun conditions and despite the Baby boy not watering it when it's mama was away. Now, it took its sweet ol' time growing, although it didn't have enough sun it did have good soil and got compost tea regularly, and of course little loving words.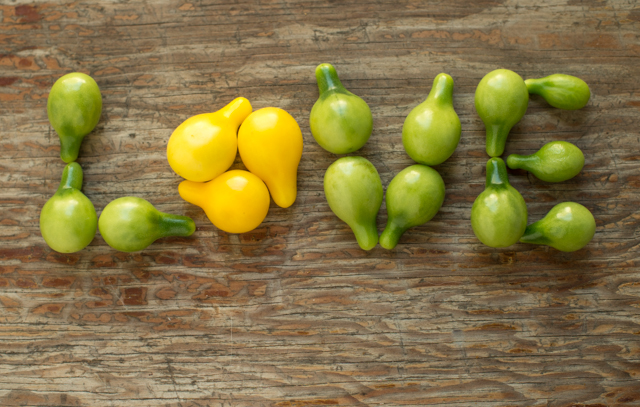 Like most kids they seem to do their best when their parents aren't looking. After one of my longer trips away I came home to a ginormous plant with little green pear tomatoes of all sizes, and blooms from top to bottom.
What?
My little baby suddenly grew up! It seems like only a blink of an eye, how does that happen?
In the end my plant grew to over 7 feet tall and had some branches that were 3 to 4 feet long. My tallest tomato cage couldn't support it. Without proper support a couple of interesting things happened. I had a tall branch that broke, buckled under the pressure, but survived…not even a leaf died. It rested its laurels on the cage and relied on the younger stronger branches below to hold it up enough to sustain its life line. It also seemed to rely on the nearby plants for help, "hello bean poles, do you mind if I snake myself around you and take a little rest?" "Why thank you Mr. Cucumber, I didn't realize you Bostonians were so hospitable, wrapping you're tendrils around me is soooo supportive."
I'm not sure all gardeners' end up anthropomorphizing their plants like I do, I guess it doesn't matter, to me each of my plants has a little personality of its own. Of course I'm easily entertained…
Right up to the end, this plant kept producing. For a while there it seemed to have super tomato powers! We had our first real hard freeze come in last month and I was so sure that would spell the end for my baby all grown up, especially with a shady North side facing yard. Would you believe, and I mean this really seems like a miracle, that nearly everything got some kind of frost damage except that darn tomato plant? Even my neighbor who shares the alley with me, with the south facing yard, had lots of evidence of the freeze; but not this giant of a plant that produced these tiny pear tomatoes.
I kept harvesting the green tomatoes, by now the days were too short for any ripening to happen. Into a basket they went (far away from Sadie Dogs reach…we learned that she can't resist tomatoes), to sit and wait for me to do something with. My plan was to make pickled green tomatoes, but I was waiting for that darn plant to stop producing. Like the energizer bunny it kept going. While the green tomatoes were languishing in the basket, they do what tomatoes are kin to do, they started ripening. In the end I had more ripened tomatoes than green tomatoes.
Time to switch gears, I wanted to preserve my tomatoes, give them a longer life. It only seemed fitting for a plant of such distinction. Next to raw, roasted vegetables are my favorite; the roasted seems to intensify their flavors, giving you a lot of bang for your buck. Another fitting way of treating my lovely tomato plant, it was like a memorial to royalty. I slow roasted the tomatoes, added some cloves of roasted garlic that I already had and packed it into a jar with olive oil.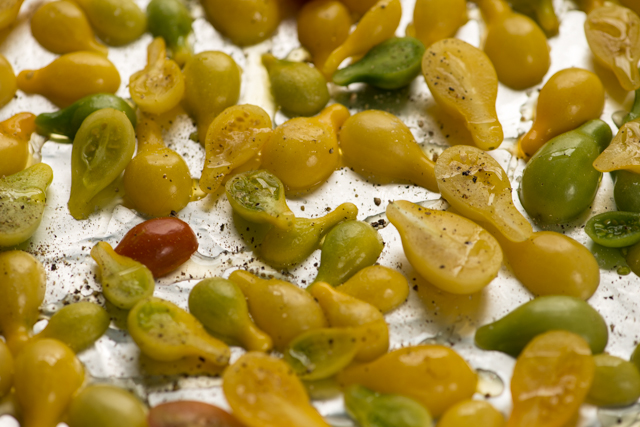 The tomatoes will find their way into salads, chopped up with olives for a tapenade, added to sandwiches, maybe even mixed in with some pasta. Then I will be left with roasted tomato and garlic infused olive oil which will also find many uses. The tomato plant that just kept on giving…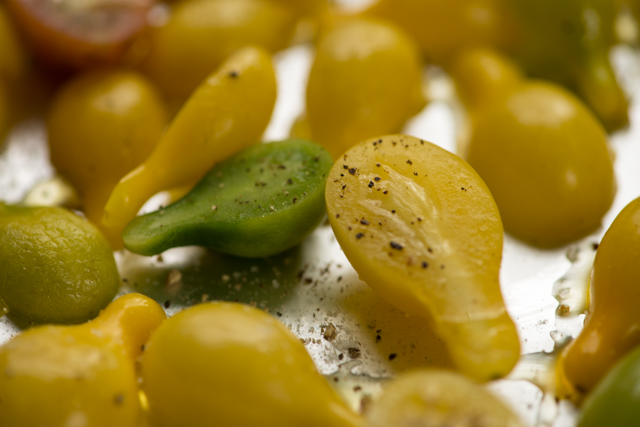 It looks like there are a few life lessons learned from this tomato plant
Even poor beginnings can have happy endings
Never give up
Just because things aren't ideal, doesn't mean you can't make the best of them
Don't micro-manage, give them what they need, than leave them alone to do what they need to do
If the burden is too heavy, and you are at the breaking point, it's okay to rely on those younger and stronger for support
Just because someone is different, it doesn't mean that they don't have something to offer
Even when bad things happen to those around you, you don't have to let it affect you
It's not over till it's over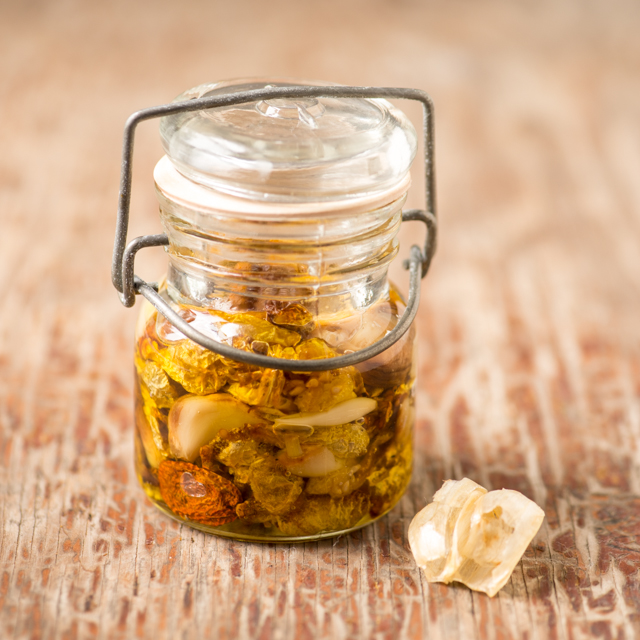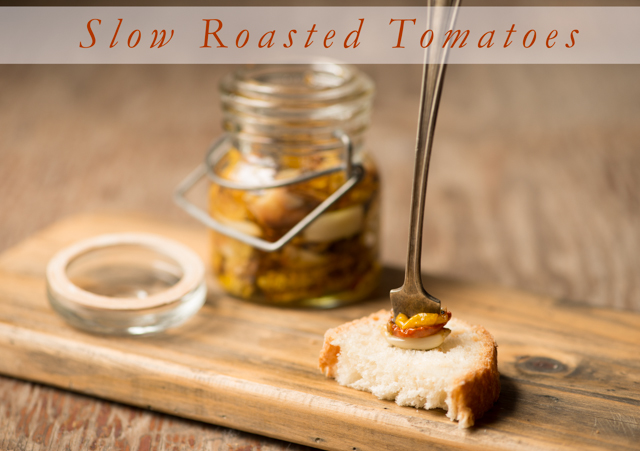 Slow Roasted Tomatoes
2016-06-09 19:44:25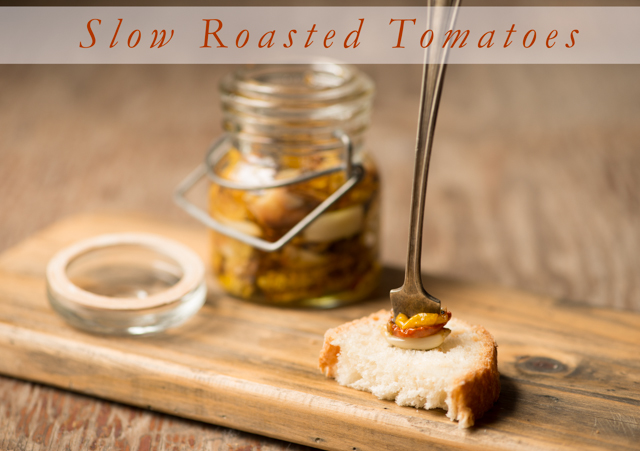 Ingredients
1 pound tomatoes
Olive oil
Kosher salt
Fresh Ground Black Pepper
Instructions
Preheat oven to 250°F.
For large tomatoes, slice at least a 1/4" thick, for smaller tomatoes, halve. Line baking sheets and arrange tomatoes in a single layer. Drizzle with olive oil and generous salt and pepper the tomatoes.
Roast tomatoes for 2 hours, the tomatoes should still be slightly moist and partially dried out. Pack in a jar or other container and cover with olive oil. Keep refrigerated for longest life span, about 2 weeks. Bring to room temperature before serving.
Notes
You can also add fresh herbs while roasting or unpeeled cloves of garlic.
The Kitchen Witch http://www.thekitchenwitchblog.com/