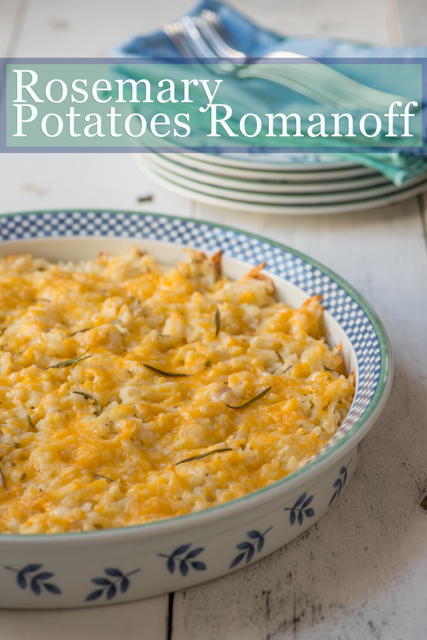 /I see on Facebook many of my friends are listing something they are grateful for, some of it is important and some is silly like "I'm grateful for cornflakes" but the sentiment is what's important. Maybe saying you're grateful for cornflakes sounds silly, but shouldn't we always be grateful to have food to feed us? Shouldn't we be grateful that we didn't have to go out and milk the cow first? Shouldn't we always be grateful that we have so much in life? Obviously it's not as easy as it sounds; let's face it, we all take things for granted never thinking twice about how that very thing could be snatched away in a moment.
Recently there was a major event in my life, something so scary that it makes you take a step back and realize there is so much you have to be grateful for. Last Thursday my baby boy was in a car accident. He fell asleep at the wheel on his way to an appointment in Bozeman, MT (about 3 hours away). He had just passed through the town of Townsend when he nodded off, he drifted off the road, woke up over corrected and crossed the traffic lane to the other side where the Jeep bounded through the rough ground and the front end smacked into a culvert which catapulted the vehicle up in the air and flipped four times before landing rubber side down. All this was reported by the witness that was right behind him, a stunning scene, more like a Hollywood movie trick than real life.
It wasn't even 9 a.m. and the world, our world changed. We are truly grateful because our baby, he survived without a scratch. My last words before he left was "be careful", he wore his seatbelt. The seatbelt saved his life. And we are grateful. If he didn't wear his seatbelt, if he wasn't in the 'flatter' part between here and there, if there was oncoming traffic, if he didn't land rubber side down, if he was conscious, if he was speeding, if, if…. And yet he made it through with only a concussion and very sore. My Jeep is totaled, but I had full coverage insurance and I'm grateful for that, but nothing matches how grateful that we still have our Baby boy in one piece!
The baby boy has been drugged up pretty well the last couple days, he hasn't had much of an appetite until today, and I'm grateful for that also. So I'm making one of his favorite, pork chops and my Secret Recipe Club assignment Christine's Kitchen Chronicles Strip House Potatoes Romanoff. I am grateful that I woke up at 3:00 am and suddenly remembered that the day I planned to make these was the day of the accident. I thankfully had time to make them today and they would make a perfect accompaniment to pork chops.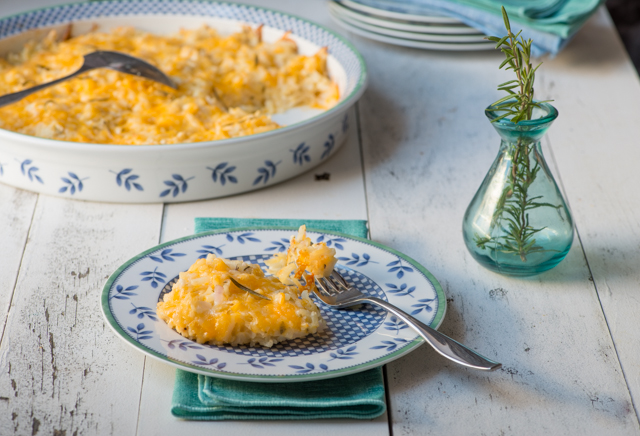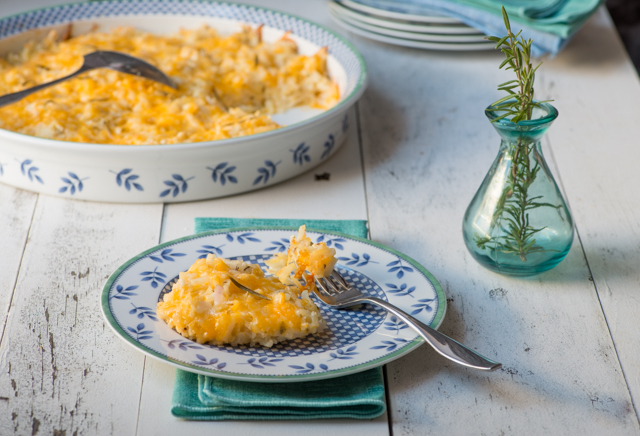 Originally I chose this recipe searching for a new potato side for Thanksgiving. With potatoes, sour cream and cheese, you just can't go wrong (although I was heavily tempted by her caramelized onion mashed potatoes). The original recipe calls for baking the potatoes the night before and letting them cool then shredding them. I simplified this dish by substituting grated frozen hash browns. Using the frozen hash browns meant no more than a 15 minute prep time and a quick bake of 30 minutes in the oven. Christine said she and her husband nearly scarfed the whole thing down by themselves in one sitting and I can tell why!
I added a little fresh rosemary, mainly because I have a trooper of a rosemary plant (it's called barbeque rosemary) although a zone 8-11 plant it seems to be fine in its pot nestled near the house. As it gets colder it'll find a home inside. I also thought the rosemary would be a nice match with pork and add some freshness to the rich potato dish. Right on each account.
Christine comes from a family of Chinese immigrant restaurant entrepreneurs, but she didn't have any interest in cooking. Christine is an engineer, but she would have been a starving engineer if she didn't learn how to cook…thus the chronicles of Christine's Kitchen. Christine has a new baby for which I know she is grateful for, more than many people; please go to Christine's About Me page to find out why she is so grateful to have Alexander.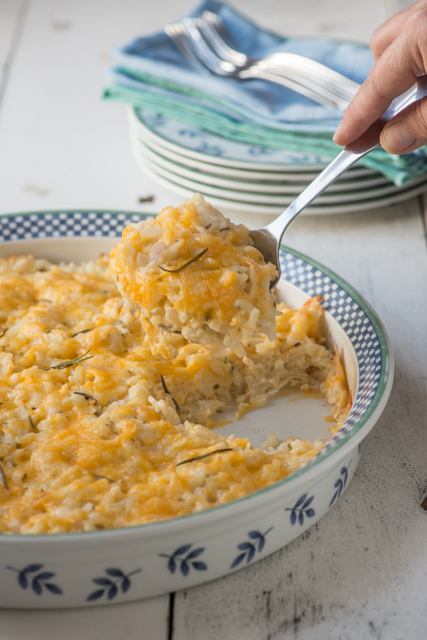 This Thanksgiving when I serve this Grateful Rosemary Potatoes Romanoff dish, we will have more than these potatoes to be grateful for.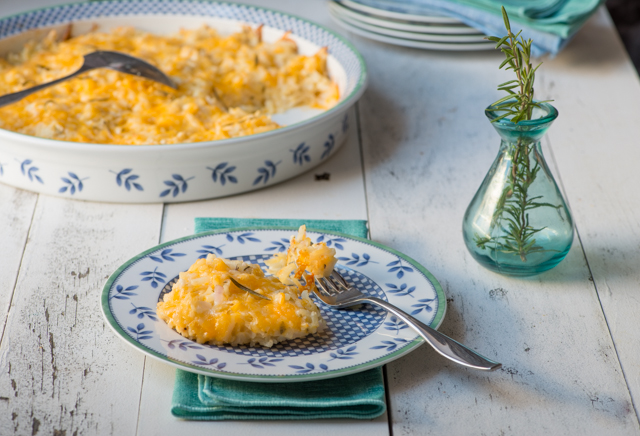 Grateful Rosemary Potatoes Romanoff
2016-06-09 19:39:27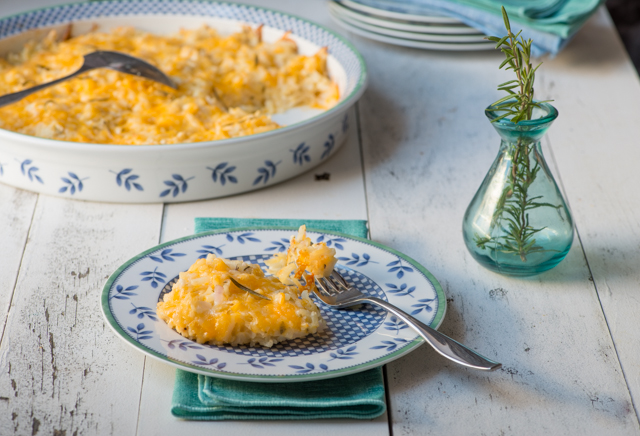 Ingredients
1 bag (1 lb. 14 oz) frozen shredded hashbrowns
1/2 cup minced shallots
2 cloves garlic, minced
1 tablespoon chopped fresh rosemary
2 1/2 cups shredded cheese
1 teaspoon Kosher salt
Fresh ground black pepper
1 1/2 cups sour cream
Instructions
Preheat oven to 350°F.
Place frozen hash browns in a microwave safe bowl. Heat for 5 minutes or until potatoes are mostly defrosted. Add shallots, garlic, rosemary, 1 1/2 cups of cheese, salt and pepper. Gently mix. Fold in sour cream until evenly combined.
Lightly grease a 2 quart gratin dish, add potato mixture. Spread evenly across the dish but do not compress. Top with remaining grated cheese.
Bake on the middle rack for 30 minutes or until the cheese is hot and bubbly and edges begin to brown.
The Kitchen Witch http://www.thekitchenwitchblog.com/
Check out the other great Group C recipes hosted by Debbi of Debbi Does Dinner Healthy.