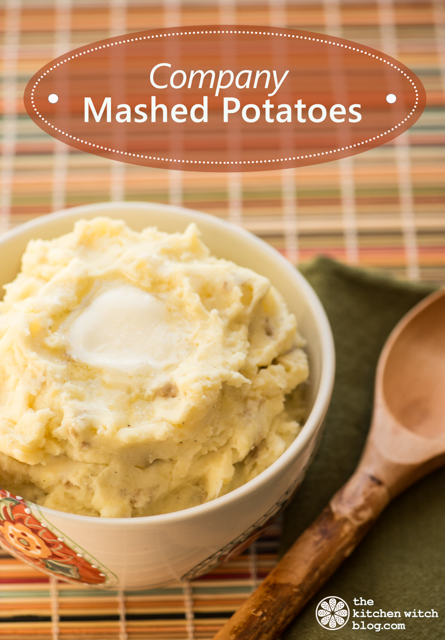 Can you believe that Thanksgiving is but a week away? I'm so very excited for this Thanksgiving! My dearest friend Jen and her boy Jake are driving from Spokane, WA to spend Thanksgiving with us. It is monumental to me; she's as much family as any of my own. Let's see, the last time that I spent Thanksgiving with her was when we were stationed in Germany. I think it was the year 2001, not long after that she reassigned back to the states.
I remember us cooking and drinking wine in my tiny galley kitchen in Herforst, Germany. If anyone knows me, they know I don't always play well with others in the kitchen, especially in small kitchens. I'm a kitchen control freak, I like my guests to show up and I have done everything. When you are a guest in my house you are treated like royalty, unless you are family, then whatever goes and Jen is family.
In my tiny German kitchen we cooked and laughed, relaxing actually. I had much of the cooking done but at that time I had not conquered flour based gravy. Oh I could do cornstarch gravy but my flour based gravies came out lumpy or runny…I just didn't get it.
Of course in Germany there wasn't Food Network or even the internet, no YouTube videos to watch, nada. At that time in my life I relied on those little packets of instant gravy mixes as back up. Jen taught me how to make gravy, starting with the simple roux and adding the liquid nice and slow. If it's too thin because we didn't measure, no worries, she'd shake up that flour and liquid and slowly add it until the consistency was just right. I owe all my great gravy to that girl. Not to mention my sanity, she's always been my rock the one I could tell all too and the one that I could count on to be there for me.
Even though the Air Force and our lives have separated us physically we've managed to stay besties for all these years. Sometimes we go months without calling each, our busy lives putting phone calls on the back burner, but once we talked it was like no time had gone by. How did I get so lucky to have a friend like that? And she's coming for Thanksgiving, I'm elated!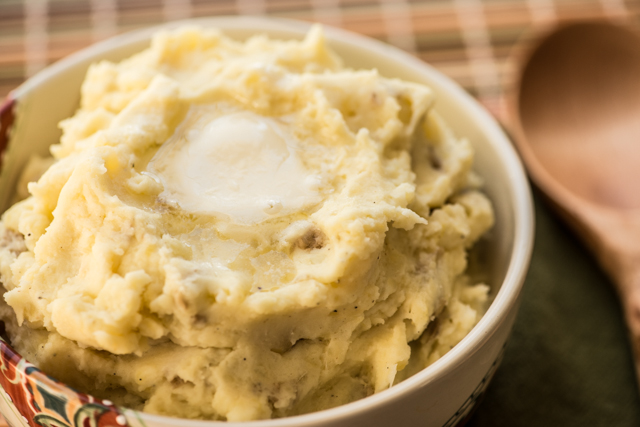 Jen may have been the master of gravy making but I have always been the master of mashed potatoes. And these company mashed potatoes are the king of all mashed potatoes. Last year I shared some of these potatoes with a neighbor. Just recently she confessed to me, that when her husband was in Afghanistan and she only had 15 minutes to talk with him, she started their conversation with "I just had the best mashed potatoes ever". That's how good my mashed potatoes are, forget the 'I love yous'…you have to know about these mashed potatoes! I make many versions of mashed potatoes, but these are the ones that I make for company and special occasions. The no holds barred, use real butter and cream mashed potatoes, and yes, it makes a difference.
If you are looking for that something special dish for the holidays, the one that people talk about year after year, this is it.
We're only a week out from Thanksgiving, have you bought your turkey yet? If it's a frozen turkey you need to get it asap and start defrosting it.
Here are some thawing tips:
Refrigerator Thawing:

Thaw breast side up, in unopened wrapper, on a tray in the refrigerator.


Allow for at least 1 day of thawing for every 4 pounds of turkey.

Cold-Water Thawing:

Thaw breast side down, in unopened wrapper, in enough cold water to cover it completely.


A bathtub or cooler works well for this method


Change the water frequently to keep the turkey chilled.


Estimate a minimum thawing time of 30 minutes per pound for a whole turkey.

Don't forget food safety!

Food Safety Tips:

Keep cold food below 40 degrees and hot food above 140 degrees.


Thaw your meat on a tray in the refrigerator or in cold water with the breast side facing down. Once thawed, prevent uncooked juices from dripping onto other foods in the refrigerator by placing packaged meats on a separate tray or in a sealed dish.


Cook fresh meat as soon as possible, but no later than the Use-By date on the package. Fully cooking meat destroys bacteria that could cause food-borne illness.


Store raw meats away from the cooked meats, as well as away from fresh fruit and vegetables, to prevent cross contamination from occurring.


Store cooked meats in the refrigerator as soon as your meal is over. The maximum time limit for keeping cooked meat at room temperature is 2 hours.


When transporting cooked meat from your home to a party or another location, remember to keep it cold in a cooler or similar vehicle.


Experts recommend using two cutting boards, one strictly to cut raw meats and the other for vegetables and cooked foods. Cutting boards should be washed thoroughly in hot, soapy water after each use and allowed to air dry or be dried with clean paper towels.


Wash hands, work surfaces, and utensils touched by raw meat and its juices with hot, soapy water.


Use a meat thermometer to determine turkey's doneness. If you don't have a meat thermometer to measure the internal temperature of the stuffing in the turkey, the stuffing should be cooked separately. To find a meat thermometer that meets your kitchen needs before your meal preparation begins, order online or pick-up at nearly any store that sells kitchen items (including grocery stores).


Use cooking methods that allow the turkey to reach an internal temperature of 140 degrees in less than 4 hours and a final temperature of 180 degrees in the thigh. If stuffed, the stuffing should reach 165 degrees. Avoid using a low roasting temperature or partial cooking method.


Store turkey, stuffing, gravy, broth, and other leftover cooked foods in separate containers in the refrigerator within 2 hours of cooking. Remove turkey from bones before storing.

Turkey Safety Tips:

Thawed turkey may be kept in the refrigerator up to 4 days before cooking.


Use paper towels, not cloth, to wipe off turkey and clean up juices.


Combine stuffing ingredients and stuff turkey just before roasting, not the night before.


Always cook turkey to a minimum of 165°F as measured with a meat thermometer. We recommend white meat be cooked to 170°F and dark meat to 180°F for best eating quality.

Sources:
Butterball and the National Turkey Foundation

For additional help call 1-800-BUTTERBALL (1-800-288-8372) or call me (618-920-7222)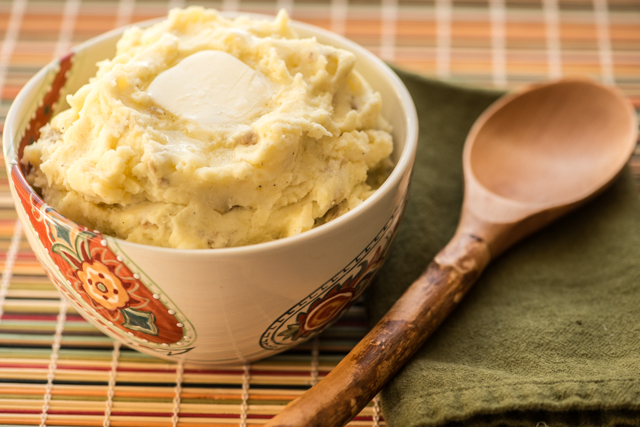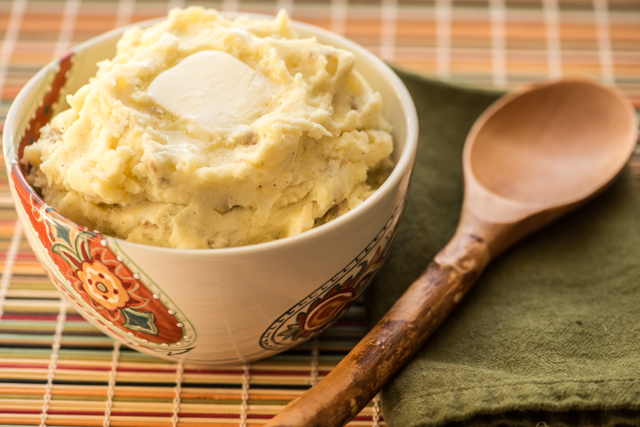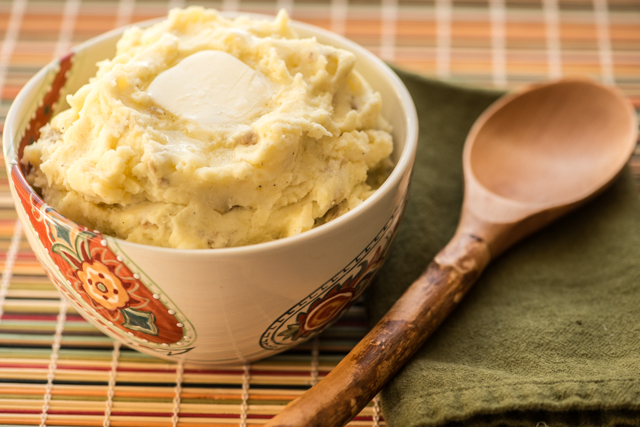 Company Mashed Potatoes
2016-06-09 19:36:06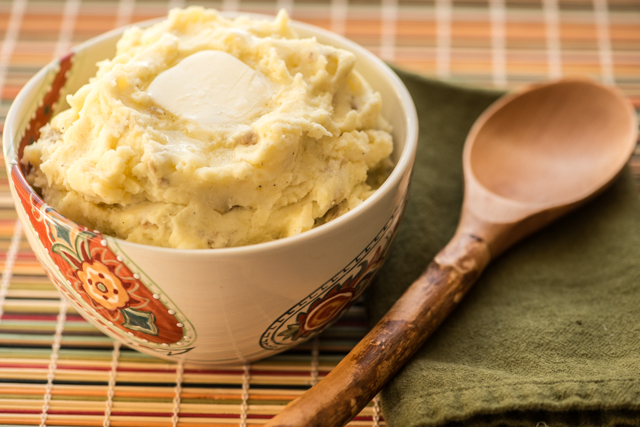 Ingredients
5 pounds Yukon gold potatoes, peeled, washed and quartered
½ teaspoon kosher salt
¾ cup butter, softened (divided)
1 (8 ounce) package cream cheese, softened
½ cup heavy cream
1 head roasted garlic, lightly mashed
1 teaspoon Alpine seasoning or other seasoning salt
Pepper to taste
Instructions
Place cut potatoes in a large pan and cover with water, add salt and bring to a boil. Reduce heat and simmer until potatoes are fork tender, about 15 to 20 minutes. Drain the potatoes and return to the pot over very low heat.
Add, ½ cup butter, cream cheese, cream, seasoning salt and roasted garlic. Using a potato masher, mash all the ingredients until smooth and creamy. Add more cream if necessary, taste for seasoning and add salt and pepper to taste.
Place potatoes in a greased 2 quart pan and dot with remaining butter. Bake at 350°F until butter is melted and top turns a light golden brown approximately 30 minutes.
The Kitchen Witch http://www.thekitchenwitchblog.com/