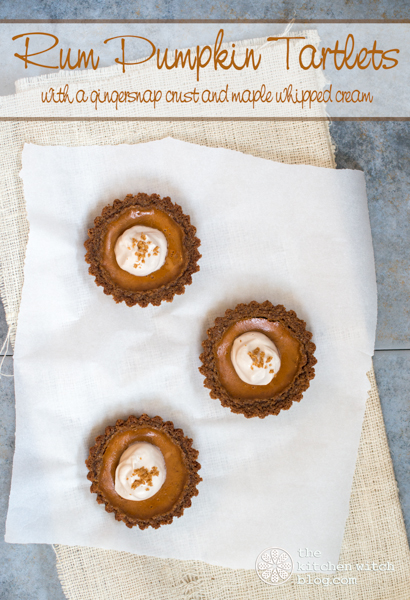 Necessity is the mother of invention. I had several necessities that needed to be taken care of. I had a holiday get together with the River City Harvest Community Gardening board and I needed to bring some food. I had pumpkin puree that needed to be used. I had a 1 pound bag of ginger snaps that had been taking up space since last Christmas and I had brand spanking new mini tart pans. By new, I mean that they were purchased maybe two years ago? So long ago that I don't remember; the packaging had not even been cracked.
Necessity is the mother of invention. It was necessary that I rectify this problem immediately, especially using the tart pans. When I purchased them I dreamed of making shortbread crust tarts with lemon curd. I dreamed of tea parties with adorable little tarts. My mind was filled with the all the possibilities these precious little tart pans held. I tucked them away and soon the dreams of tarts faded, locked up in a dark cupboard, waiting and waiting. Recently in a mad search for something else (of which I cannot remember), I came across these perfect little tart tins, sealed in their package. It was like being on an Egyptian archaeological dig and discovering a tomb that had never been opened, oh what treasure!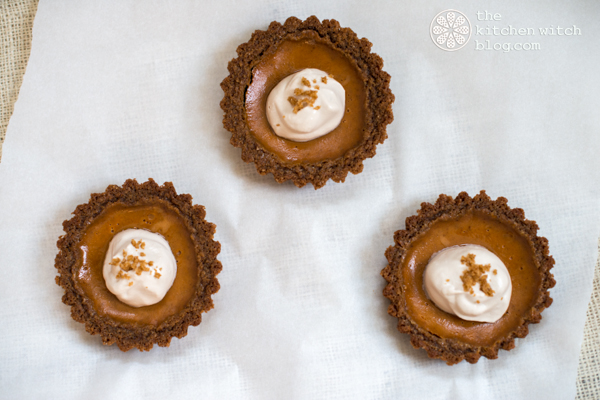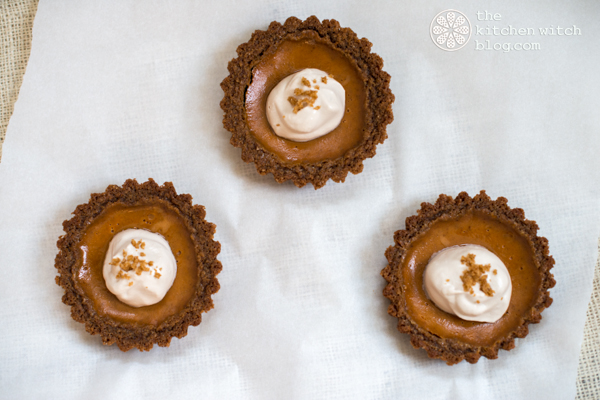 My mind was once again flooded with all the recipe hopes and dreams that I had for these little tins, they are just too cuuute! And then a heavy sigh, for I am a dreamer and schemer. I am full of more ideas and want to dos, than energy, time, or money will allow. Suddenly those tins and my recipe dreams represented me, in, well, a mini tart pan. How many ideas and dreams I have had and tucked away either forgotten or life simply got in the way of. I moved those cute little tart pans from my baking cabinet to a drawer that I constantly used, a reminder that a mini tart awaited somewhere for me. Like most ideas, they need to be in the front of your brain, written down, posted, and talked about, anything to keep them from fading (especially as you age…).
Necessity is the mother of invention. Suddenly it became urgently necessary that I use my tart pans, unused items = wasted dreams/ideas. The ignition for this fire was the holiday get together, a place where a tart would shine on the table, be admired for its mini adorable-ness. The time had come! Although I had not initially imagined a mini tart with a gingersnap crust, a rum and pumpkin custard filling topped with a maple whipped cream, the idea magically flowed into me. A tart for the season.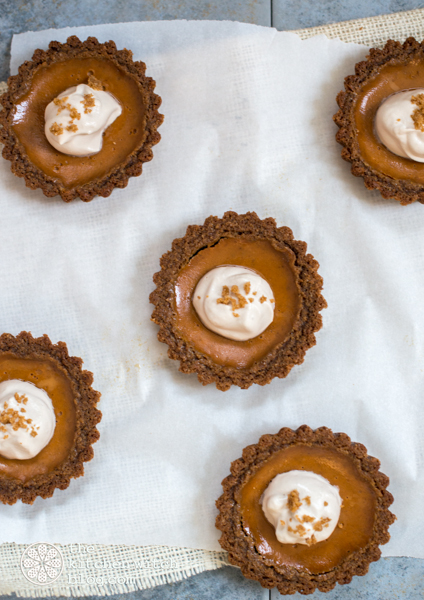 Sometimes ideas and dreams get so big and inflated in our heads that the reality ends up being disappointing, not in this case. Maybe because the tart dreams got tucked away and only recently resurfaced, never given the chance to become bigger than the reality? Maybe it was just because I have dabbled in these flavors before like my pumpple pie or the maple rum cupcakes with candied bacon, that the tarts became an immediate success. Perhaps it was beginner's luck, that I was new to the little tarts and took my time, enjoying pressing the crust into each and every one; carefully measuring the filling, checking my baking time diligently, and patiently waiting for them to cool completely before tapping them out.
Dreams shared are dreams enjoyed. I took immense pleasure in sharing my tarts with my RCH board members and they also took immense pleasure in my sharing. The crust was crispy, almost caramelized; the filling was creamy and spoke of pumpkin pie but had the adult rum kick and then it finished off with a touch of maple in a super light and fluffy whipped cream, a tasty dream shared is definitely a tasty dream enjoyed.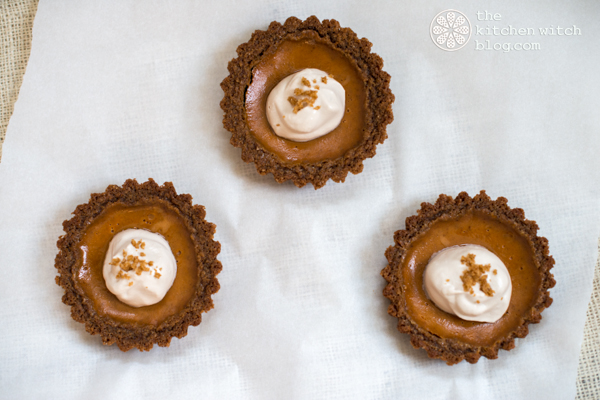 Rum Pumpkin Tartlets with Gingersnap Crust and Maple Whipped Cream
2016-06-09 19:16:44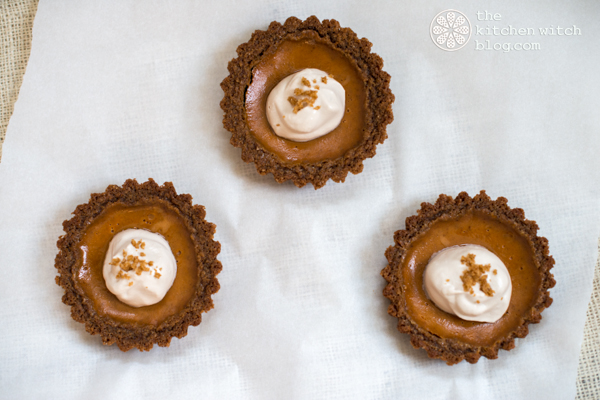 Crust
3 cups gingersnap cookie crumbs (pulverize cookies in a food processor)
4 tablespoons sugar
3/4 cup butter, melted
Filling
3/4 cup granulated sugar
1 teaspoon ground cinnamon
1/2 teaspoon salt
1/2 teaspoon ground ginger
1/4 teaspoon ground cloves
2 large eggs
1 can (15 oz.) 100% Pure Pumpkin
1 can (12 fl. oz.) Evaporated Milk
1 shot dark or spiced rum or 1 teaspoon rum flavoring
Whipped Cream
1 cup heavy cream
2 tablespoons granulated sugar
1/2 teaspoon maple flavor
Instructions
Preheat oven to 350°F.
In a large bowl whisk together the gingersnap crumbs with the sugar. Pour the melted butter into the mixer and stir till well blended. Divide the crumbs out between 12 tartlet pans. Press the crumbs into the bottom and sides evenly.
For the filling: In a large bowl whisk together the sugar, cinnamon, salt, ginger and cloves. In a separate bowl mix the eggs, pumpkin, evaporated milk and rum. Pour the dry ingredients into the liquid and continue mixing until homogeneous.
Fill prepared tartlet pans with pumpkin mixture, approximately 1/3 cup each. Place tartlets on a rimmed baking sheet and bake for 30 minutes or until the filling is set. Do not overbake. Let cool completely before removing from tart pan.
For whipping cream: Add cream, sugar and maple flavoring to a very cold mixing bowl. Mix on high speed until stiff peaks start to form, about 2 minutes. When tarts are cooled, top with a dollop of whipped cream.
The Kitchen Witch http://www.thekitchenwitchblog.com/