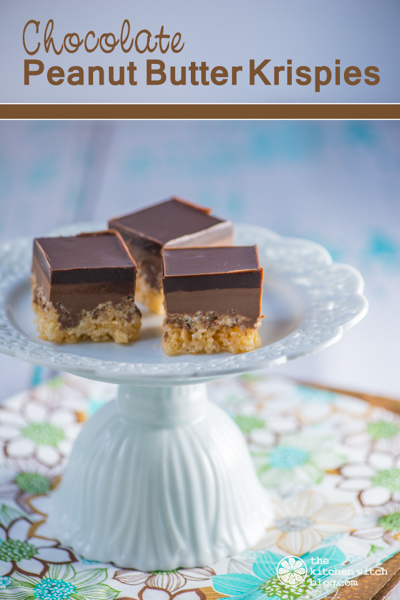 It's my favorite bloggy time of the month, Secret Recipe Club reveal. Every month I can't wait to find out who my secret blog is going to be, and then I stalk all their recipes and going through the process of which one to make. This month when I got assigned to Liz from That Skinny Chick can Bake, I knew it was going to be especially Important for me to pick the perfect recipe. Some of you already know that I'm opening up a café, it's called Café Paris. It's located in the historic Paris Gibson Square Museum of Art. The menu will change weekly, basically you get what I ever I prepare for your meal, included are your choice of beverage and a small dessert. I'm definitely more of a savory cook than a sweet cook which means that I need dessert ideas, the easy, make ahead, makes large amounts, tasty desserts. How serendipitous that I would be assigned Liz's blog! Knowing peoples affinity for chocolate and peanut butter I honed in on this Chocolate Peanut Butter Krispies bar. It met my criteria of easy, make ahead, doable in large batches and bonus…it's no bake! As far as tasty goes, I took samples to my Friday Downtown Chicks meeting and it got a resounding thumbs up and please make it for the café. Our bartender came over (we usually meet someplace where we can get a drink…it's Friday afternoon after all), he listened to the praises about the treats and wondered if there was pot in them, I had to inform him "no". He looked a bit disappointed so I assured him that they would make an excellent 'afterwards' treat. That brought a smile to his face and next thing I knew he was filling a to-go container with nearly all the leftovers.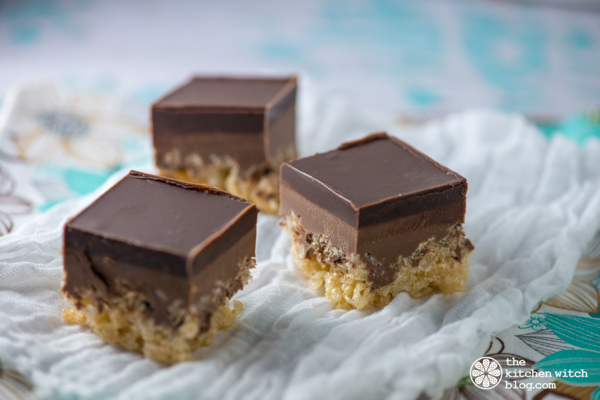 I took Liz's advice and double the batch, plus I wanted to test a larger batch. I did substitute chocolate chips for chopped chocolate (lazy cook that I am), I modified the amounts of milk chocolate and peanut butter slightly. The doubled recipe called for 10 ounces of milk chocolate and a bag of milk chocolate chips is 11.5 ounces…oh so close! Not wanting 1.5 ounces of chips hanging around I added the remainder small amount and increased the peanut butter by 1/4 cup to balance it out. I've provided my larger version of the recipe, for the original smaller version hop over to That Skinny Chick can Bake. Although this was easy to make I wished I would have pressed my rice krispie crust down more. I followed Liz's advice for clean cutting and ran my knife under warm water and wiped it between each cut, my cuts were pretty clean but I think my water needed to be a bit warmer. Regardless, it was a super helpful tip! Thank you Liz for dessert inspiration. These bars will be on the café menu for sure and probably make a showing for the Super Bowl.
GO SEAHAWKS! Icouldn't resist…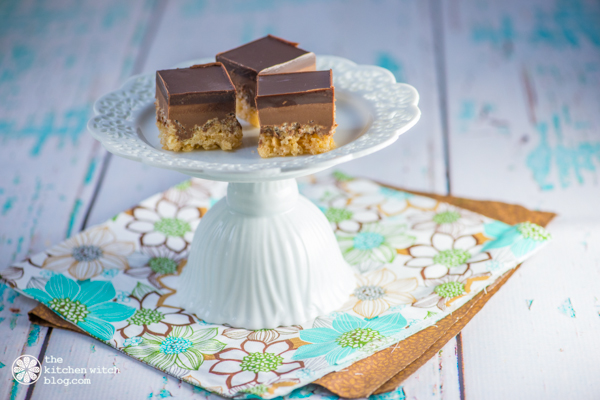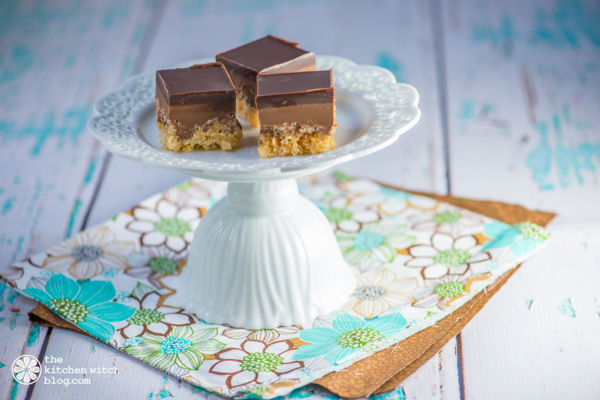 Here's a styling tip: Have a limited number of dishes but want more variety? Make your own cake stands by inverting a dish and setting a plate on top of them. In this case I used a footed bowl and a pretty plate, both from Pier One. I've also used mugs, just turn the handle to the back.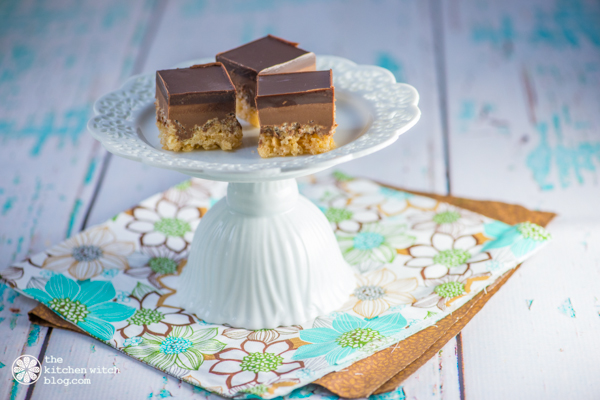 Chocolate Peanut Butter Krispies
2016-06-09 14:31:47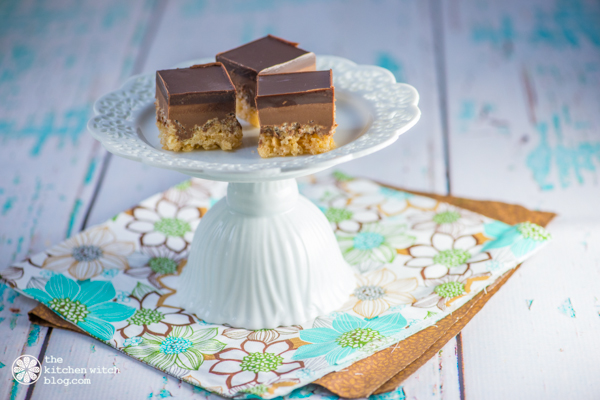 Krispie Layer
3 1/2 cups Rice Krispies cereal
1/4 cup water
1/2 cup sugar
6 tablespoons corn syrup
6 tablespoons melted butter
Milk Chocolate Peanut Butter Layer
1 (11.5 ounce) bag milk chocolate chips
2 1/4 cups creamy peanut butter
Dark Chocolate Layer
8 ounces semi-sweet chocolate chips
2 tablespoons light corn syrup
1/2 cup (1/2 stick) butter, cubed
Instructions
Line a 9x13 pan with non-stick foil or spray regular foil with non-stick cooking spray.
Pour the water into a small sauce pan, carefully add the sugar and the corn syrup to the center of the pan (be careful to avoid the sides). With a wooden spoon or silicone spatula, gently stir mixture to blend.
Cover over medium-high heat until a slow boil is reached. Cook until the mixture reaches the soft ball stage (235°F to 240°F). Ideally a candy thermometer should be used.
Remove mixture from heat, stir in the butter then pour the mixture over the krispie rice cereal. Quickly mix to coat all the cereal. Firmly press mixture into the prepared pan with a wooden spoon or silicone spatula. Set aside and let cool to room temperature.
Make the chocolate peanut butter layer. In a large microwave safe bowl, add the milk chocolate chips and peanut butter, Heat in a microwave, stirring every 30 seconds until completely melted. About 2 minutes total. Spread the mixture over the krispie crust. Chill for 1 hour.
Make the dark chocolate layer. In a larger microwave safe bowl, add the semi-sweet chocolate chips, corn syrup and cubed butter. Melt in the microwave, stirring every 30 seconds until smooth and creamy, about 90 seconds. Spread evenly over the peanut butter layer. Chill for 1 hour or until the layer hardens.
Cut into squares with a warm knife wiped clean in between each cut.
Notes
Cook's Tip: To get a smooth peanut butter and chocolate layer, after spreading mixture gently shake dish back and forth to release air bubbles and create a glassy smooth surface.
The Kitchen Witch http://www.thekitchenwitchblog.com/
Check out all the other SRC Reveals!