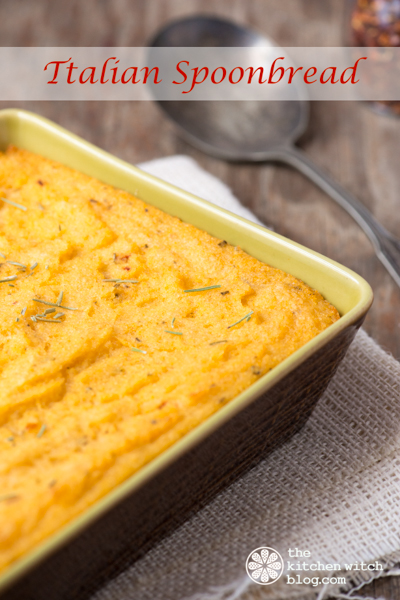 How did I get so lucky? I can't believe that for the second time in my Secret Recipe Club that I've been assigned to Chelsy's Blog Mangia! I had several recipes 'secretly pinned' to try, one of them was non-food but a 3-ingredient Coconut body scrub (first I need to find coconut sugar), and I have my eye on Orange Olive Oil Banana Bread with a Citrus Glaze (honestly if I had ripe bananas on hand that's where this girl would have gone).
Wanting to keep with that Texas girls lineage I chose her concoction, her "blew me out of the water. Literally. So much so that I didn't even know what to call it at first" Sweet and Spicy Parmesan Spoon Bread. While reading her post I was tempted to make the "NASA inspired compact bowls of oatmeal" a.k.a. Oatmeal Cookies just so I could eat them for breakfast since her dad dubbed them compact oatmeal bowls…totally makes sense to me.
In the end dinner was more important that a NASA inspired breakfast so I stuck with the spoon bread plus I made these Double Chocolate Almond Joy Cookies the last time I had her blog…no more cookies Rhonda. I tweaked the recipe a bit to speed up the front end of the process. I did this by substituting the cornmeal for a quick cooking polenta…ha, even more Italian…which meant that I had this spoon bread 'batter' in the oven in less than 5 minutes! I switched the ground red pepper for red pepper flakes so we'd get that pop of spice as a random surprise, I added salt and subbed dried rosemary (from my garden) for fresh. Lastly I baked it in a 1 quart casserole to get that deep Southern style spoon bread affect.
Spoon bread or spoonbread? Does anyone know which is more correct? Did you know that spoon bread was originally a Native American dish called Awendaw or that in Kentucky they have an annual Spoonbread Festival? If you've never heard of spoonbread or don't know what it is it's actually more of a savory pudding than a bread although there are souffle like versions of it also, some are creamy and some are more cornbreadish. I kept mine to the creamier side so my llamb shank ragu that I planned on serving it with would melt into it.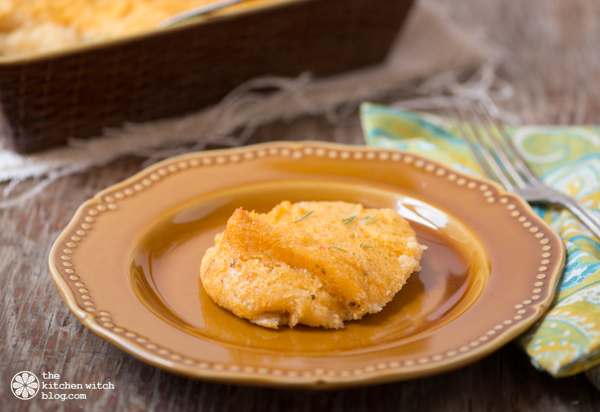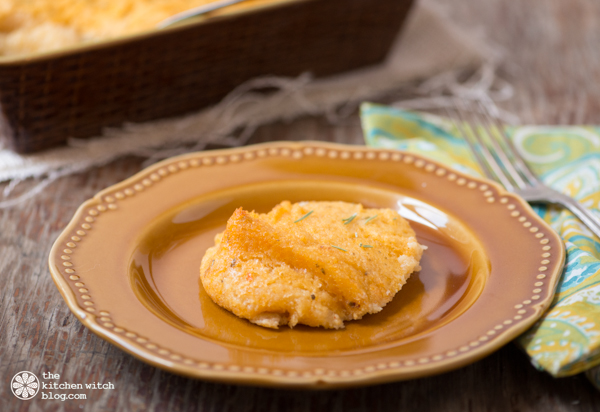 Spoon bread or spoonbread, Native American or Southern or Italian it doesn't matter because what this dish is, It's fantabulous! First off, even before it's baked you could just spoon the polenta into your mouth and be happy with the cheesy spiciness of it. Baking it gives it a whole different texture, one that will be perfect for my ragu of lamb shank that will be topping it. A perfect winter's meal!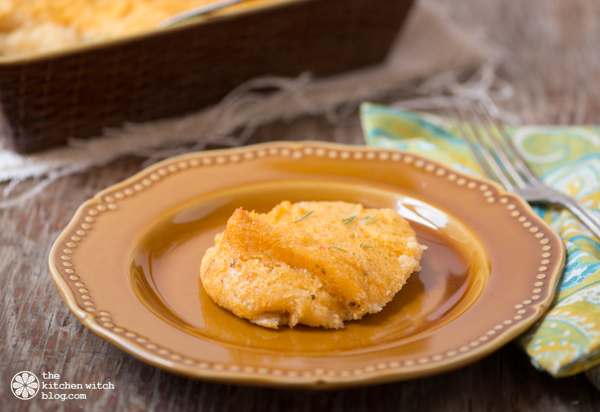 Italian Spoonbread
2016-06-09 14:13:12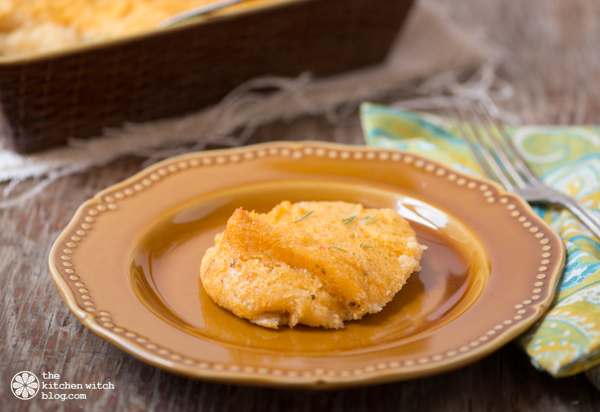 Serves 8
Ingredients
1 3/4 cups instant polenta
6 cups water
1 teaspoon chili powder
1 teaspoon crushed red pepper flakes
1 tablespoon dried rosemary, finely chopped
2 teaspoons salt
1 cup grated parmesan cheese
3 tablespoons butter
Instructions
Preheat oven to 375°F.
In a large sauce pot bring water, chili powder, crushed red peppers, rosemary and salt to a boil. Slowly whisk in instant polenta. Continue whisking until mixture has thickened and the polenta has absorbed the water, about 2 minutes. Note: do not leave unattended as polenta boils it bubbles and spits like hot lava.
Remove from heat and stir in butter and parmesan. Pour into a greased 1 1/2 quart casserole.
Bake 40 to 50 minutes or until set and the top is lightly browned.
Allow to cool for 10 minutes before serving.
The Kitchen Witch http://www.thekitchenwitchblog.com/
Make sure to check out the rest of this months SRC reveals: