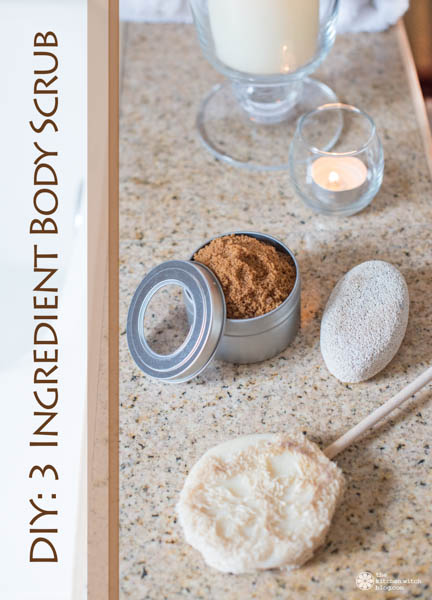 Two weeks ago I was assigned Mangia! For my Secret Recipe club assignment. I mentioned that a couple of things caught my eye. One in particular was Chelsy's 3-Ingredient Coconut Body Scrub. I didn't make it because I didn't have coconut sugar and, well, it really isn't a food recipe (even though it's completely edible). During my next shopping trip at our natural food store I found coconut sugar…yay! Time to get my scrub on.
I was really excited to make my own scrub, I had run out of my commercial one and didn't want to buy any when I found out it is so easy to make. Not only that, it's made with ingredients you can pronounce. It's also made with ingredients that have a naturally long shelf life which means I can whip some of this scrub up as often as I need it. Seriously with this cold dry weather in Montana I need it way more than I want to need it!
Chelsy's formula used coconut sugar, coconut oil and vanilla. I made a couple of adaptations…actually I changed 2 out of the 3 ingredients, which technically is a total make-over but she was my inspirations so I give her all the kudos. I used the ½ cup coconut sugar, I like the texture and firmness of it and smell. Rather than the 2 tablespoons of coconut oil I used almond oil.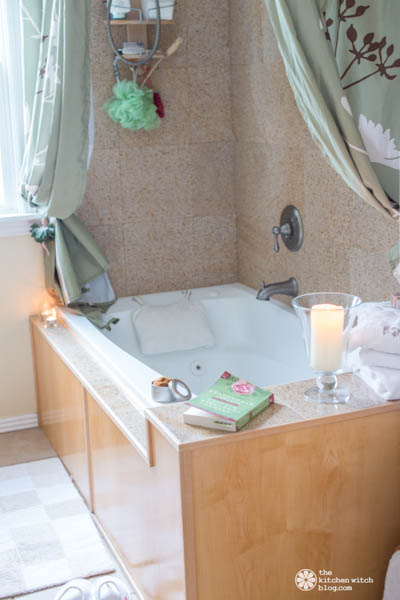 Almond Oil is very healthful for the skin, it is a rich source of Vitamins A, B and E, it is perfect for sensitive skin because it is mild yet it is powerful on extremely dry and/or irritated skin. It has also been shown to reduce dark under eye circles and delay signs of aging. It removes impurities and dead skin cells which is why it is often used in scrubs. If you have psoriasis or eczema almond oil can help relieve and reduce the symptoms especially when mixed with essential oils of chamomile, lavender and vitamin E oil. For more information on Almond Oil for the skin checkout New Health Guide Almond Oil for Skin.
I also skipped the vanilla which would probably make me hungry all day and replaced the extract with essential oils. I chose ginger and lime. I love the crisp and refreshing smell of ginger and the invigorating smell of lime. I also thought that coconut, ginger and lime just seemed like natural pairings. The ginger essential oil is good for digestive issues, since I suffer acid reflex ginger was a good choice for me. Also I knew the Hawaiians commonly use ginger in their shampoos and massage oils (have you seen their hair and skin? Gorgeous!). The lime essential oil is good for the skin, can help brighten a pale, dull complexion by removing the dead skin cells and it is also capable of tightening skin and connective tissue (source: Modern Essentials, A Contemporary Guide to the Therapeutic Use of Essential Oils, fifth edition, 2013 Aroma Tools).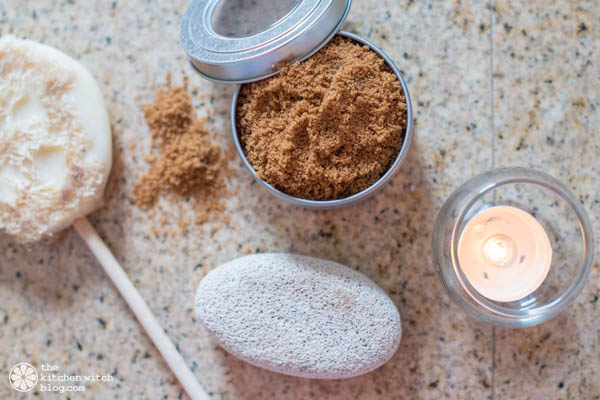 You can replace any of the essential oils with oils of your choice (most natural food stores/health stores carry essential oils). For example use lavender to create a relaxing scent, add geranium oil for the skin or rose oil (it's supposed to be an aphrodisiac). It's so simple to do, I'll never buy a scrub again.
Note: If you use essential oils please store in a glass or metal container as some essential oils (particularly citrus) can break down plastic. Before using any essential oil check to make sure that it is safe to use topically as is or if needs to be diluted. For some oils it is recommend that you avoid sunlight for several hours after use.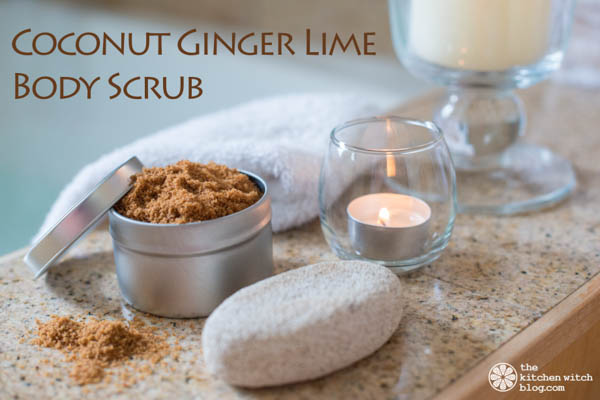 [amd-zlrecipe-recipe:156]
Disclaimer: Any advice relating to health or medical matters reflects the private opinion of the person giving this advice. It is not medical advice and Rhonda of The Kitchen Witch Blog claims no medical authority or expertise whatsoever; this also applies to herbal and other alternative treatments, and dietary, fitness and nutrition-related advice of all kinds. Rhonda takes no responsibility for any consequences resulting from following such advice. Please do not rely on the information of this website as an alternative to medical advice from your doctor or other professional healthcare provider. If you have any specific questions about any medical matter, you should consult your doctor or other professional healthcare provider. If you think you may be suffering from any medical condition, you should seek immediate medical attention. You should never delay seeking medical advice, disregard medical advice or discontinue medical treatment because of information on this website. (Source)