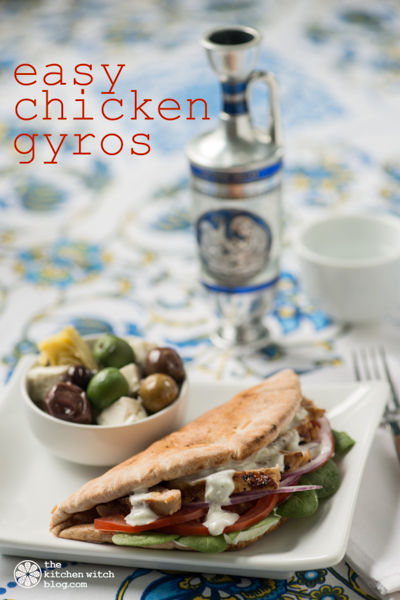 What a week the last week has been. It was Western Art Week here in Great Falls, I served up a special BBQ Brisket menu, taught a Sushi rolling class and catered at the Portal Art Gallery for 75+ people. Thank goodness when I got my Secret Recipe Club assignment, I was right on the ball, picked something out, cooked, photographed and got the post all written. I had so much to do and I wanted to make sure that I was ready for the 3rd Monday of the month.
I was thinking that far ahead… I had been craving Greek food like a mad dog so as soon as I saw that Amy from The Savvy Kitchen had a recipe for a Chicken Gyros I was a gonner. I even veered from my own self imposed rule of choosing a heritage type recipe. Considering that Amy is Italian and I love Italian food, I surprised even myself. But what are you to do with a craving but satisfy it?
Oh yeah, I was on top of it! Come Monday morning I went to add my link like a good girl and, whaaaat????? Link not active for another 6 days!? Huh, it is the 3rd Monday right? Right! Another look at the SRC page and I realized that we weren't posting until the 23rd, how'd I miss that memo? So post comes down and now I had nothing for that week ready. Ugh, I thought I was on ball and now I'm missing a weeks post…sheesh. Can someone please do a brain transplant for me?
Amy's blog is filled with mostly low-carb, low-calorie and gluten-free recipes. This chicken gyros recipe is definitely on the healthy side (to make gluten-free skip the pita and use a lettuce wrap). Better yet it is on the most delectable side, and *gasp*, my baby boy said it was the best chicken gyros I've ever made. I would have been upset with him if I didn't totally agree. Even Amy gave it a * on her recipe list which equals a personal favorite.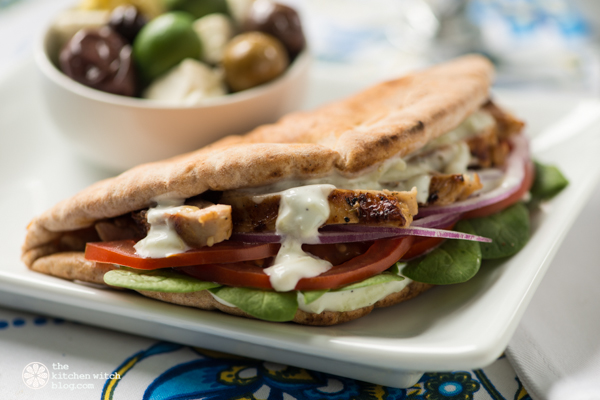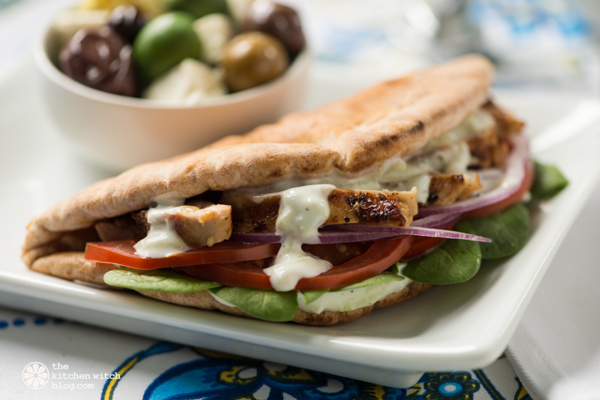 I didn't veer far from the original recipe, however I did use chicken thighs versus breasts (cheaper and moister), I marinated them whole and cooked them on grill. I was also celebrating an unusually warm day and was happy to be out grilling, sigh, hurry up spring and get here! I only made 1/2 the sauce which was just right for us. I served up a side of a Greek salad and finished the night off with an Orange and Tart Cherry Baklava (recipe coming next week).
Amy has a lovely site, an easy to navigate recipe list (thank you Amy I so appreciated that), you all should make a point to stop by and visit!
It's been awhile since I gave any photography tips, so here's a long overdue trick I should have shared. Often when photographing a plate and a napkin food photographers like to tuck the napkin (or cloth) partially under the plate. It helps give texture and interest to the photograph. The problem is that the plate gets a little wonky so it ends up looking like you have a crooked picture when in fact you don't. My fix: I take a small piece of paper, junk mail or whatever is within my reach, fold the paper to the same thickness as the napkin.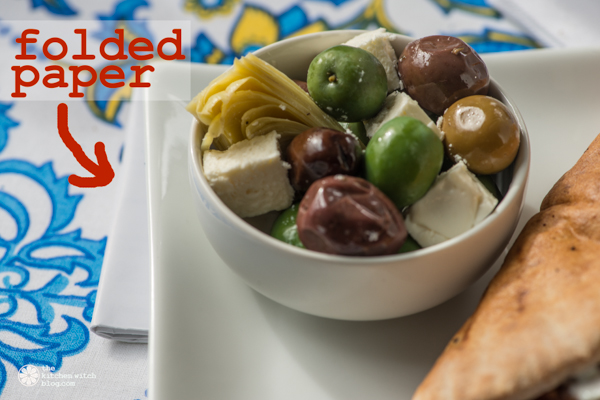 I tuck it back behind where you can't see it.
Here's a bonus tip, sometimes buns, breads, tortillas etc. have a mind of their own and don't stay where you want them to. Try using a toothpick to secure it in place. You can arrange it so it can't be seen or use a photo processing program to remove it (that's what I did). Ah the magic of food photography, isn't it fun!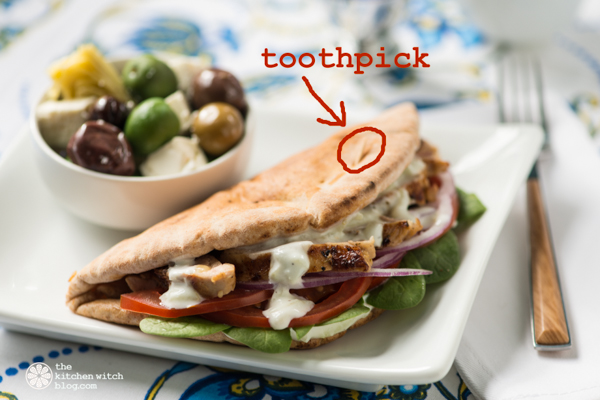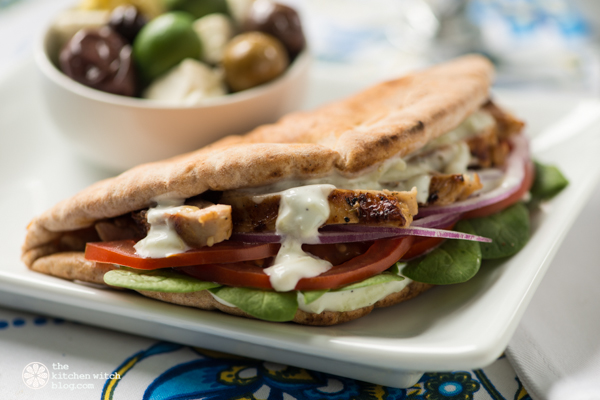 Easy Chicken Gyros
2016-06-09 14:01:26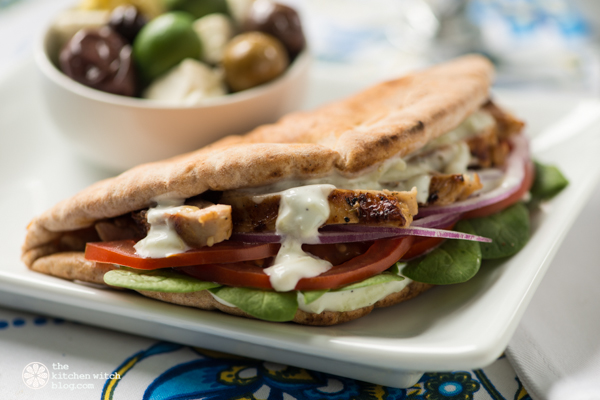 Serves 6
Tzatziki sauce
1/2 cup plain Greek yogurt
1/2 regular cucumber, peeled and seeded
1 tsp. minced garlic
1/2 tsp. white wine vinegar
Salt and pepper
Squeeze of fresh lemon juice
Extra virgin olive oil
For the chicken
2 tsp. minced garlic
Juice of 1 lemon (2-3 tbsp.)
2 tsp. red wine vinegar
2 tbsp. extra virgin olive oil
2 heaping tbsp. plain Greek yogurt
1 tbsp. dried oregano
Salt and pepper
1 1/4 lbs. boneless, skinless chicken breasts or thighs
The works
Pita bread, warmed
Spinach leaves
thin sliced onion
thin sliced tomatoes
feta cheese (optional)
black olives (optional)
Instructions
Grate the cucumber, place in a paper towel and squeeze out the excess moisture. Mix the yogurt, cucumber, garlic, lemon juice, vinegar, olive oil and salt and pepper. Refrigerate for at least 30 minutes to let 'bloom'.
For the chicken, in a zipper top plastic bag, mix the garlic, lemon juice, red wine vinegar, olive oil, yogurt, oregano and salt and pepper. Add chicken and let marinate for 1 hour in the fridge or 30 minutes at room temp. Turn your grill or grill pan on high. Grill the chicken until cooked through about 7 to 10 minutes. Let chicken rest 5 to 10 minutes.
To assemble gyros: thinly slice the grilled chicken, layer sauce, spinach, chicken, tomatoes and onions. Top with more sauce, feta cheese and black olives if desired.
The Kitchen Witch http://www.thekitchenwitchblog.com/
Don't forget to check out our other SRC reveals. And thanks always to Debbi our very helpful Group Leader, she's the best!