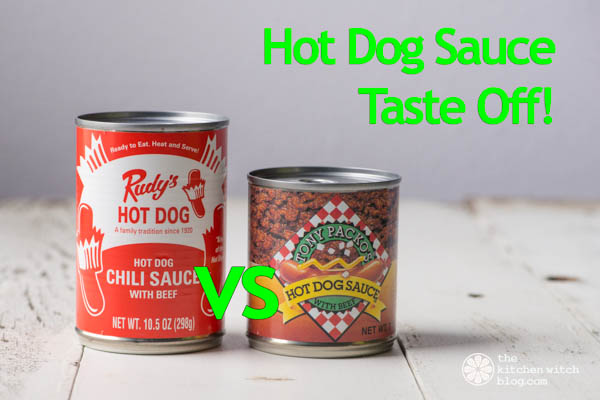 When the F-15 jets left Great Falls we thought that meant that McGyver's job had left too. In a sense it did, as in there isn't a job here for him anymore. Fortunately he still had time on his contract so his company is using him to provide IT/CISSP assistance at different bases. Atlantic City, Texas, Fresno and everyone's favorite tourist destination Toledo Ohio. It was just a few weeks ago that McGyver found himself in Toledo, home of the Mud Hens minor league baseball (they'll get no ribbing from me, our minor league team is the Voyagers and our mascot is a green baseball headed alien…) but more importantly it's the home of Klinger (Jamie Farr) from one of our favorite series M*A*S*H. If you've ever watched M*A*S*H, you may have remembered an episode where Klinger talks about Tony Packo's hot dogs.
After a little reading I found out that Tony Packo's was mentioned in five separate M*A*S*H shows, one of which they got the hot dogs shipped over. McGyver couldn't let an opportunity like this go to waste. He made sure to get himself a nice classic https://www.tonypacko.com/ hot dog with their famous sauce, and he enjoyed every bit of it. Whilst in Toledo, McGyver learned of another legendary hot dog place called Rudy's Hot Dog. Well fair is fair so McGyver stopped by Rudy's to see what the other hotdog joint had to offer. McGyver quickly fell in love with Rudy's also, so now what?
Being the smart man that he is, McGyver picked up a couple of cans of Rudy's Hot Dog sauce, went back to Tony Packo's and bought a couple of cans of their hot dog sauce and brought them home to his family, and mainly of course for culinary curious wife. We wasted no time digging into them, we had a hot dog and movie night all was good. We made comparisons, talked about each one and picked our favorite (which wasn't easy I tell ya). To be fair though, we decided that we should have a second taste off to be sure. Shoot we couldn't just let those cans of goodness sit around, now could we?
After my first piggy episode, I thought that this would make a great post, I mean, you never know when you might end up in Toledo, right! Before we dig in, I found out a little bit about both of these hot dog places. Rudy's was actually the first business, it was founded in 1920 by Uncle Rudy Poturedes initially as a hot dog stand and now a chain of six restaurants. After Uncle Rudy passed away in 1960 the Dionyssiou brothers took over (you can see Greek influence on their menus). Rudy has been a long standing iconic business in Toledo, not changing much, as a matter of fact they pride themselves on the fact that the Rudy's "retro" nostalgia will always remain. For the full history click here.
Tony Packo's story is a little different, he and his wife got a loan from relatives in 1932 and opened a sandwich and ice cream shop. Once prohibition lifted in 1933 Tony added beer to his establishment. Tony was a Hungarian-American and lived in a Hungarian neighborhood in Toledo, therefore when he created his own hot dog, it was deemed a Hungarian hot dog. Tony quickly rose to success and by 1935 they were able to buy their own building where Tony's is still today (with some more additions). The real fame came, not surprisingly, through the M*A*S*H connection. Tony's isn't just famous for their dogs, their buns are famous too. That started in 1972 when Burt Reynolds was persuaded by letter to eat at Tony Packo's. While there Burt autographed a hot dog bun and started a new trend at Tony's. Now they have many celebrities, including presidential candidates, which have participated in the 'bun signing'. For more history click here.
Are you ready to ruuuummmmbbbbble? Let the taste off begin!
Immediately, with the cans side by side, you can see that there is a difference in size…does size matter? Each can serves approximately the same number with the same size serving. Apparently in this case size does not matter.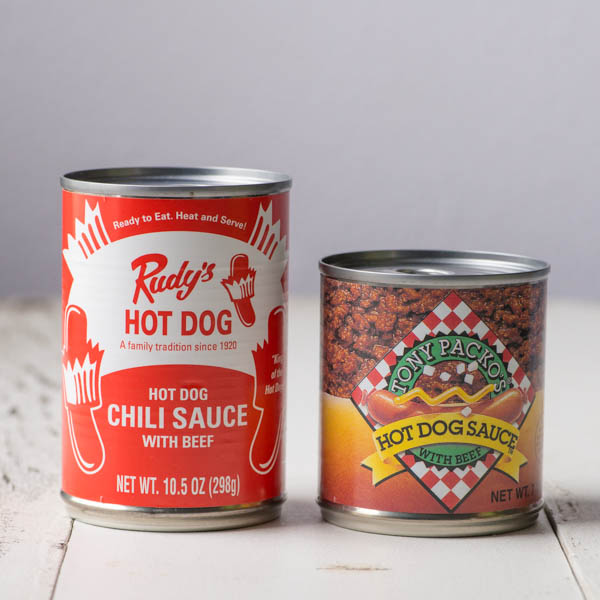 I opened each can and poured or scooped them into a bowl. My first reaction was that Rudy's was by far more appetizing looking. I wasn't ready to make a judgment yet, I know that these sauces are served warm and many foods look more appealing once warmed.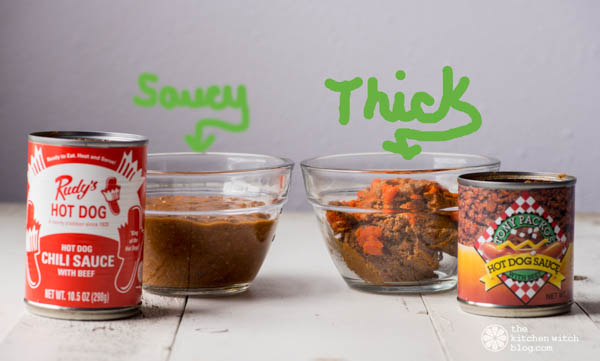 Tony's sauce was no exception. Once warmed it loosened up and could easily be spread on a hot dog.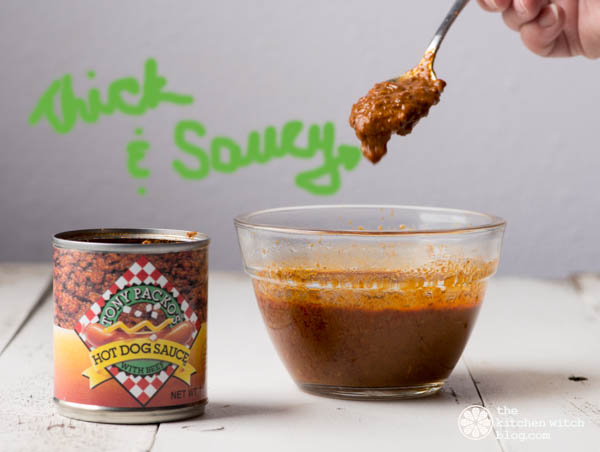 As far as the hot dog itself goes, I did not have a Hungarian hot dog, or a Rudy's dog so I selected what I thought would best honor these sauces and chose a skinless hot dog made by Nathan's Famous. I hope the Hungarian and Greek's don't mind me using a hot dog created by a Polish immigrant (talk about the melting pot of America). I felt it was the best choice since these hot dog sauces/hot dogs are really "Coney Island" style, which is exactly how I served them. First I boiled the hot dogs and then I steamed the buns to give them a more authentic taste and texture.
Check out my brilliant make-shift bun steamer! I placed a cooling rack over the boiling water/hot dogs, I put the buns on the rack, slightly open and then made a foil tent to trap the steam. It worked perfectly! (photos taken with iPhone)
Both websites and their menus listed the hot dogs to be served with yellow mustard, diced onion and their hot dog sauce. I wanted to do this exactly right so I followed their photos and placed the mustard on first. But I couldn't hold back the food photographer in me…I placed the onions on top just because it looked prettier. I'm sure it was still fine.
I began by tasting the sauces first on their own and then experiencing them with the hot dog. After I made my notes I consulted McGyver and the Baby boy for their opinions. I've outlined them below.
        Tony Packo's Sauce                Rudy's Sauce
Color:                     Paprika    *                                          Brown
Viscosity:              Thick/stay in place*                     Thinner but not too thin
Texture:                Coarse and grainy                           Coarse and meaty*
Flavor (alone) Tony's:    Strong chili taste initially followed by a bit of spice followed by a bit of spice and a paprika finish
Flavor (alone) Rudy's: Meaty flavor with a mild chili taste and a  tomato-ish finish*
Flavor (w/dog) Tony's:    Acts as a flavor enhancer,  the spice is less noticeable but  still zippy, brings out the meatiness of the dog, marry's well with the mustard and onions*
Flavor (w/dog) Rudy's: Classic Coney dog flavor, slightly messy, the hot dog  takes forefront in flavor. Pairs  well with the mustard and onions, finishes with a beefy flavor
*indicates our preferences
And the winner is……
Tony Packo's Hot Dog Sauce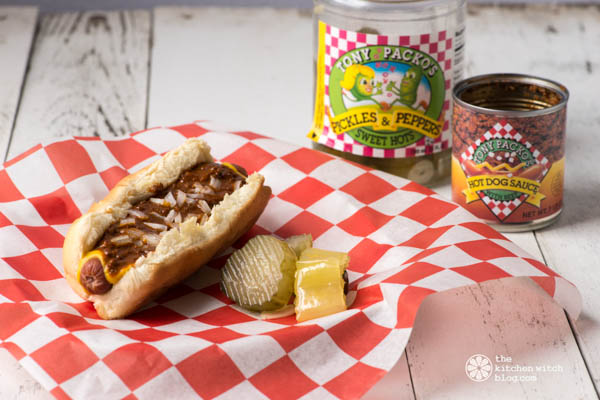 Overall the family favorite in flavor, color and viscosity was Tony Packo's especially since we prefer our food a little on the spicy side, it also had a more unique flavor, that something special that you would only find in Toledo.
If your family prefers a milder spice, than Rudy's would be the better choice as it was certainly very tasty.
On the technical side here are there ingredients:
Tony Packo's: beef, water, chili spice (chili pepper, spices) textured vegetable protein (soy flour, caramel color), sugar, salt, modified corn starch, garlic, soy lecithin
Rudy's: Beef, water, seasoning (salt, spices, paprika, chili pepper, onion, and garlic) modified food starch
Nutritional Value (2 tablespoon serving):
Tony Packo's: 90 calories, 8g fat, 140mg sodium, 2g carbohydrates, 4g protein
Rudy's: 45 calories, 3g fat, 180mg sodium, 1g carbohydrate, 3g protein
Based on the labels alone I would have been more drawn to Rudy's, I like their smaller more natural ingredient list and it's less caloric and has less fat. But then again, who's eating a hot dog to be healthy?
On another note when McGyver had mentioned to one of the Tony Packo's staff that he was buying their sauce and had already bought Rudy's because his wife was a food writer/blogger the girl got very excited and gifted us a jar of their "Sweet Hots".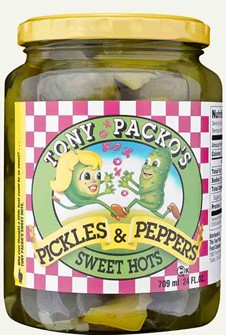 I tasted these bad boys and fell in love with them immediately! They were the perfect blend of sweet and spicy, I love that there were peppers and garlic in the jar and that the pickles were thick cut. As you can see from my previous picture that over half the jar is gone…I can't help myself they are delicious. Although I was gifted a jar of these pickles, the opinion is unsolicited and is all mine. I honestly wished I had more of these. This will be my pickling challenge this year…to create my own version since I don't have a Tony Packo's in my neighborhood.
If you are interested in trying the hot dog sauces or other products both Tony Packo's and Rudy's products can be ordered via their websites.