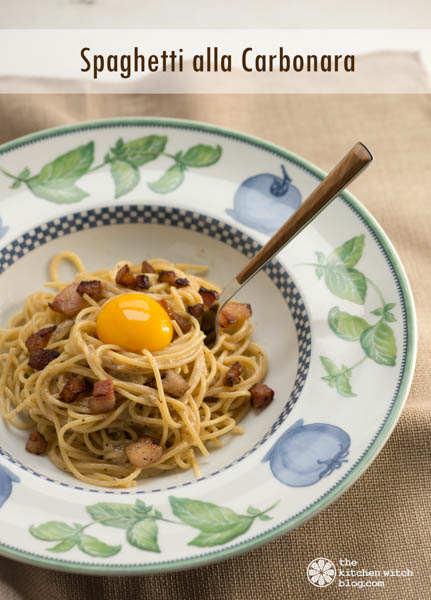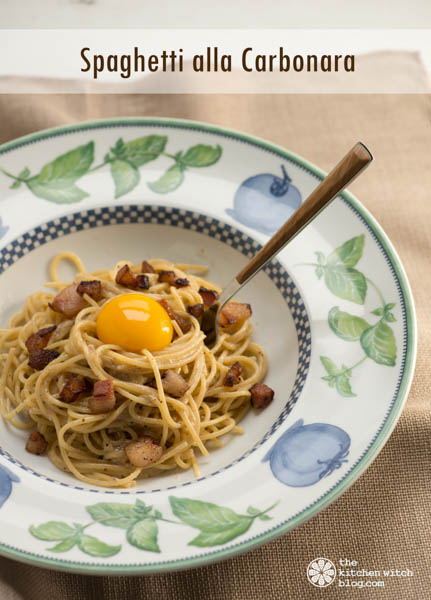 This never happens, ever. I got my Secret Recipe Club assignment this month and within 30 seconds I had a recipe picked out. Just.like.that. I was assigned Kate's Kitchen, as I scrolled down her page I saw this egg yolk nested in spaghetti and the word guanciale jumped out at me. Done. That's it. That's what I'm making.
Why this recipe? 1. The first time I've ever had real spaghetti alla carbonara was in France, I didn't actually order it, my daughter did. We were living in England at the time, we were in France, on vacation and headed to Disneyland Paris. We stopped at a bistro (I actually think it was some kind of chain restaurant) and set about ordering food. Leah was almost 11 years old and not super food adventurous yet, she also didn't read/speak French. She did recognize the word Spaghetti and asked me about it. I happily explained to her that she would love spaghetti alla carbonara, it was pasta in a cream sauce with bacon! Who wouldn't love that! When she was served her spaghetti I thought that she was going to gag right there at the table. She didn't get this creamy alfredo style spaghetti with bacon, she got this pile of pasta with a raw egg yolk on it…gross (at least to her it was). I wasn't sure how to handle this, I encouraged her on by saying once you break the yolk and mix it in maybe it won't be noticeable. She dutifully tried that but just couldn't get past the fact that there was a swirled raw egg yolk in her pasta…and where was the bacon? Needless to say we ended up exchanging dishes and I ate her carbonara, it was wonderful even if it was French carbonara and not the real thing. Of course later on I learned that was the real deal and the cream style version was a fake, it was the American version.
2. The second reason was guanciale. I just so happened to have about 5 pounds of guanciale in my freezer. A special treat indeed, especially living in Montana. I've never seen it anywhere. Not only that I can't even make it myself! Guanciale is cured pig jowl. This wonderful tasty part of the pig is very similar to the belly. Because of that guanciale is similar to pancetta and can easily be swapped for one another in recipes. Making guanciale is actually quite easy to do yourself, if you can get pig jowl. Unfortunately (at least in Montana) you can only use head meats it if the hog is killed with a stun gun versus being shot. And my local pig supplier doesn't use a stun gun so I'm out of luck. That being the case, when McGyver went on a recent trip to St. Louis, he asked me if I wanted anything, I asked for only one thing, guanciale. When we lived in the St. Louis area we used to hop over to the Hill and visit Volpi to get our salumi and guanciale, although I love living in Montana I do miss some of the amenities in St. Louis. Guanciale is an unusual thing to be packing home and the TSA found it odd and had McGyver inspected, of course he brags that the TSA inspected him because of his 5 pound 'meat'…and they were impressed.
The recipe was pinned on my secret Secret Recipe Club board and within days I had made the dish. The real Spaghetti alla Carbonara. I did a little research about this dish and learned that it was a dish of the Roman peasants. It is made up of very simple and common ingredients. OliveOil.Guanciale.Parmesan.Eggs.Spaghetti.Salt&Pepper. That's it. Dried spaghetti is the preferred pasta and guanciale the meat of choice. Shepherds used to pack these items as they wandered the hills of Apennine; as you can imagine these ingredients would last for days and were quite packable.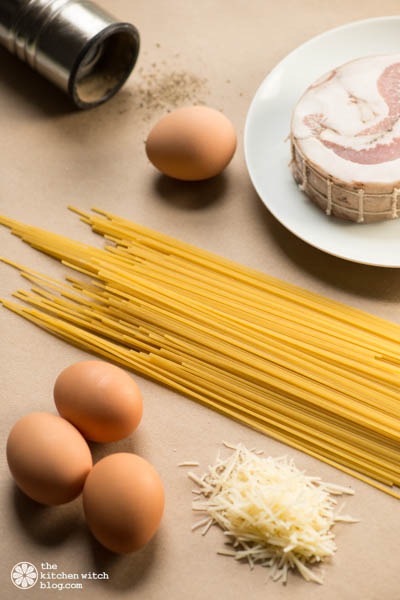 Regarding the egg, I was initially attracted to this recipe because of the raw egg yolk, it made a beautiful presentation and I don't worry about getting sick from raw eggs at all (if you do you can use a pasteurized egg). However I found that presentation aside I didn't really get that creaminess (sans the cream) that I knew to be a signature sign of a good carbonara. I checked a few other recipe sites (the Kitchn, Saveur, Epicurious) and noted that they mixed the eggs and cheese then tossed it with the pasta, all with a warning that you had to work fast or you'll end up with scrambled eggs.
And sure enough my second dish I scrambled the eggs a bit, even with a hustle. Hmmm, problem solving time. The next batch I mixed the egg with the cheese and then tempered the egg, I put a heat safe bowl (stainless) over the warm pasta water (at this point I had already removed the pasta and tossed it in the pan with the guanciale), I added a little pasta water (about 1 tablespoon) and whisked it in, then a little more, probably 2 tablespoons whisked it up and then added another couple of tablespoons of water and bam! There it was, a perfectly creamy not scrambled sauce. I added that to the spaghetti, some salt and pepper and perfection! Bonus, no worries about raw eggs either. This sounds like a lot of work but actually it comes together super-fast; you could seriously have this on the table in 20 minutes.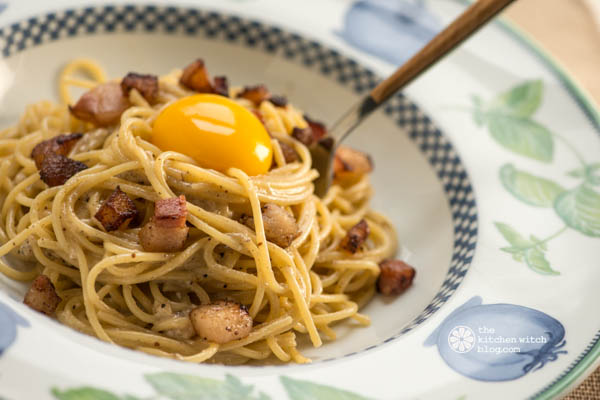 I also strongly recommend that you use fresh grated parmesan and not pre-packaged grated parm. The stuff already grated has a coating on it to keep it from sticking together, this coating also prevents it from melting as nicely as fresh. With a dish of so few ingredients it's imperative to use the best ingredients, it's worth it.
As I am writing this I scrolled through Kate's recipes, feeling guilty for not even considering another dish and I can tell that Kate and I were born with the same taste buds. Cocktails, liquors, ribs, cottage pie (thank you for using the correct terminology), pie over cake, ham, brie and blackberry sandwiches, and just recently Payday Bars (I could go on and on). I definitely be back to drool some more.
Thanks Debbi for being our hostess with mostess for Group C! Check out all the other linkies below.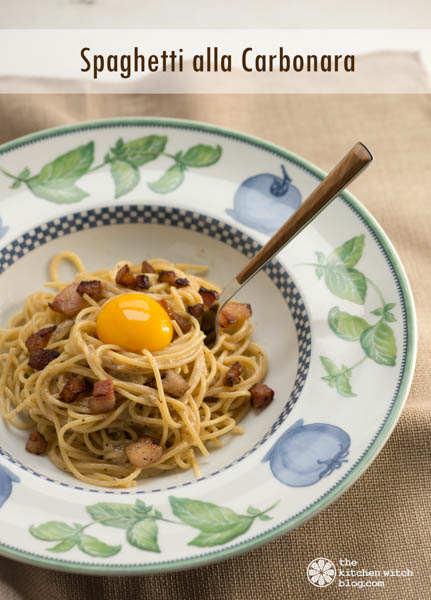 Spaghetti alla Carbonara Recipe
2016-06-08 22:12:37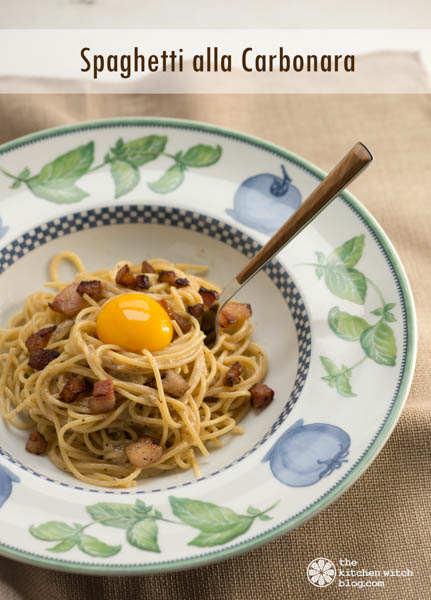 Ingredients
1 pound dried spaghetti noodles
1/2 to 3/4 cup reserved pasta water
8 ounces guanciale or pancetta, diced
1 egg plus 3 egg yolks
1 1/2 cups freshly grated Parmesan reggiano or pecorino Romano or a combination
Salt and pepper
Instructions
Bring a large pot of salted water to boil. Cook spaghetti noodles to al dente (refer to package directions for times).
While the pasta is cooking, in a large skillet over medium heat cook the guanciale till it renders some fat and becomes lightly browned, about 5 to 6 minutes. Remove from heat if it is done before the pasta. Using a small strainer, fish out the pasta, add pasta to the guanciale and toss to coat, turn heat down to keep pasta warm. Set aside 3/4 cup of pasta water.
In a heat safe bowl large enough to fit over pasta water pot, whisk together eggs and cheese. Add 1 to 2 tablespoons of pasta water, place over steaming pot and whisk together, continue adding water and whisking two tablespoons at a time until cheese has melted and the sauce is smooth and creamy.
Pour sauce over pasta and guanciale, salt and pepper to taste, toss well to coat pasta, serve immediately.
The Kitchen Witch http://www.thekitchenwitchblog.com/