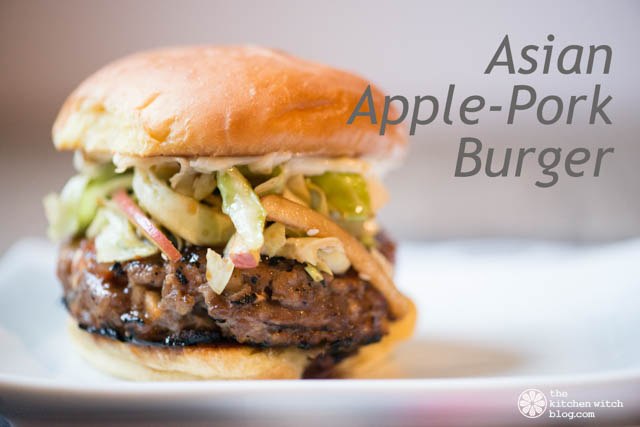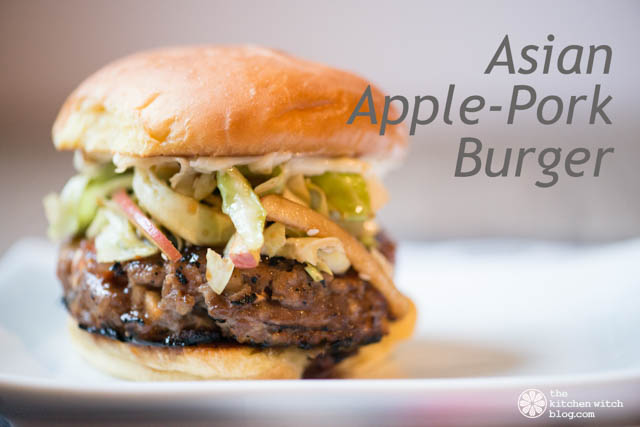 Every month I go through the same thing, I receive my Secret Recipe Club assignment. The goal: choose a recipe from a secretly assigned blog, make it, photograph it and write a little about it, then reveal your secret assignment on a scheduled post day. A Secret Santa club for food bloggers. Only with Secret Santa, you struggle once a year to make that perfect gift selection. With SRC, I struggle every month culling down a long list of mouth watering, tummy grumbling, creative cooking, inspiring recipes.
To help myself I've tried to impose some rules, first look for heritage/family recipes and/or look for recipes that utilize ingredients I need to use/have on hand. In this case, when I was assigned funky and fun Sashi's blog "Get off the Couch and Cook" had a third component that helped me pick out my super secret recipe.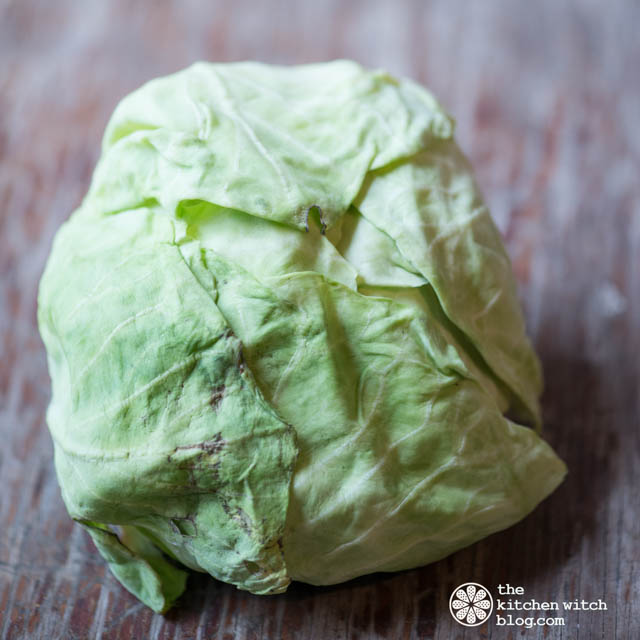 I had this late and fairly small and sorry head of cabbage that I grew that I needed to use ASAP, criteria #2 met (bonus I had local organic ground pork in my freezer). Now here's the shocker, and anyone who reads my blog knows that this is truly a shocker…I heard that Asian foods are going to be a HOT trend for 2015 (proof of it is here and here). That's right, me, the make the 5 minute artisan bread for the first time, years after it was the rage; me, who didn't even taste her first leaf of kale until a couple of years ago (and now grows it), that's right, me the reluctant band-wagoner is ahead of the forecasted trend…on purpose! (and me, evidently the over comma user and run on sentence writer…)
Which is actually ironic because Sashi, is anything but trendy. As a matter of interest she is the antithesis of trendy. She's not an eater of fast foods or convenience foods, but she is into reasonably quick meals, she's also not a health food purveyor but she is an advocate for whole unprocessed foods. For an artist she's a refreshing bit of good commonsense in the food world. And I totally dig that (and her pizza ring).
Sashi's Pork Apple Burger already had an Asian flair but when I mentioned to my Baby boy that I was making pork apple burgers, his faced screwed up and an ewww escaped from his mouth. So I said "what if I called it an Asian Apple-Pork Burger", his eyes lit up and I think I saw a little drool drip out of his mouth. He then gave it a double thumbs up when I said I was topping it with an Asian slaw (he is my cabbage lover). Maybe that's why Asian is trending, it automatically makes a dish sounds better, giving it a mental umami.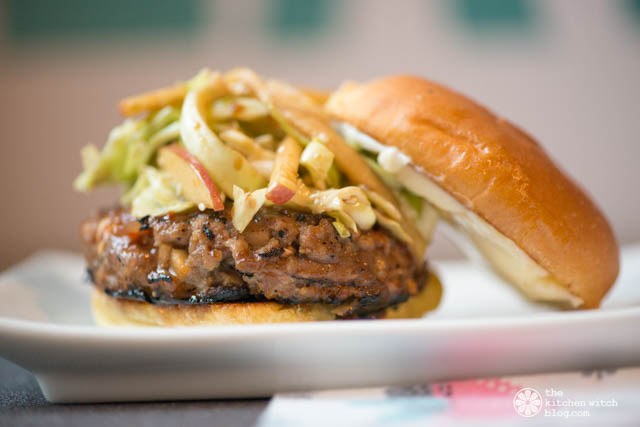 I recently watched Hungry Games on Food Network that described a burger as an umami explosion in the mouth. Umami, a Japanese (asian) word meaning 'a pleasant savory taste' and also touted as the '5th taste' is the perfect description of this burger!
I upped the Asian-ish of this burger by adding a little hoison sauce and using fresh ginger, to the original recipe. I tossed the cabbage and apple slaw in a simple Asian dressing with a little bit of sesame seeds for a nice nutty flavor and then I spiced up the spread of sweet chile sauce by mixing in a little siracha with it. Oh yes, it's an umami explosion in the mouth, juicy, sweet, savory, spicy and crunchy, very trendy don't you think?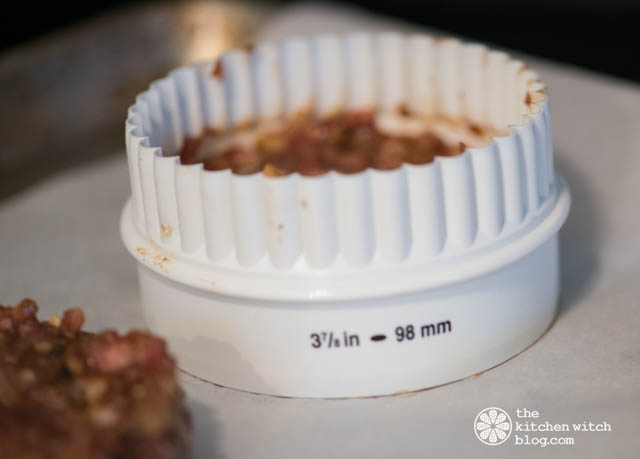 A couple of notes: for the perfect sized burger to bun ratio, I use a 3 7/8″ biscuit cutter to size my burgers. I get 4 burgers out of 1 pound of meat…a classic quarter-pounder seems to be just right with a regular sized bun. I recommend cooking the burger in a non-stick fry pan (I like to use ceramic coated) and flipping the burger frequently. Flipping it frequently will not only make it juicier but it will help prevent it from getting too charred, with hoison and apple in the meat we've upped the sugar and need to be careful that it doesn't burn (a little char is perfect for me).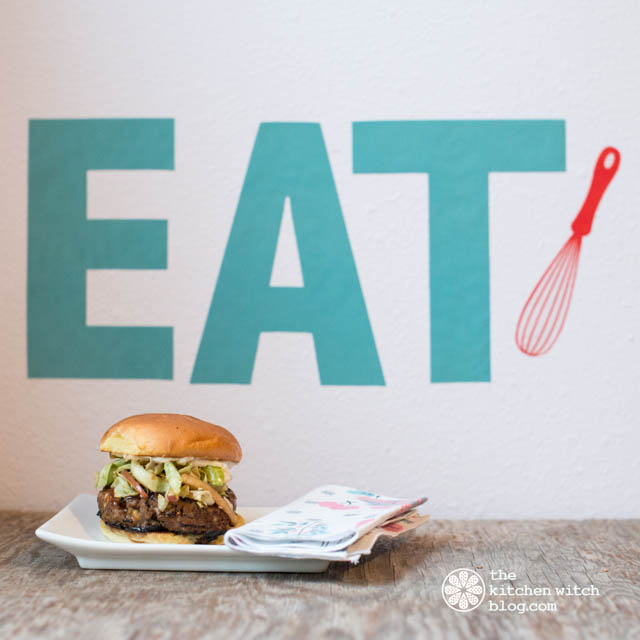 If you want to experience an umami explosion in your mouth, get ahead of the trend and sink your teeth into an Asian inspired Apple-Pork Burger.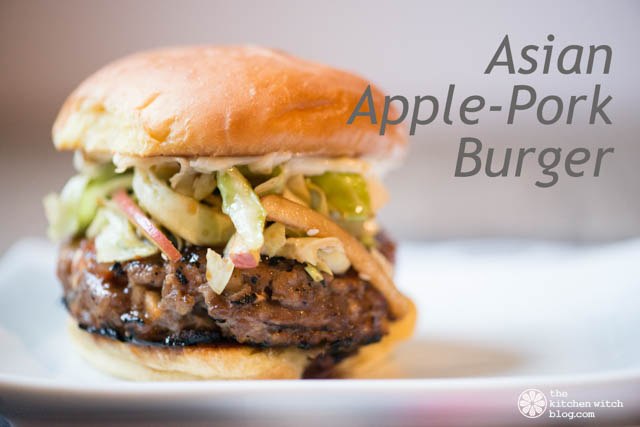 Asian Apple-Pork Burger
2016-06-08 19:54:06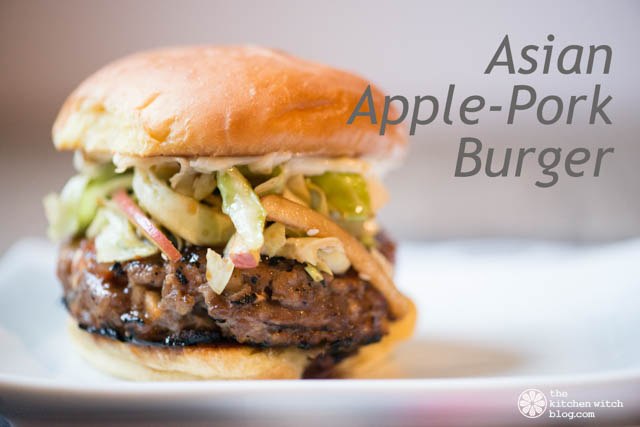 Burger
1 pound ground pork
1/2 large apple, chopped
1/4 soy sauce
2 tablespoons hoison sauce
2 tablespoons sweet chile sauce
1/2 tablespoon siracha
Mayonnaise
4 hamburger buns, toasted
Slaw
1/4 cup soy sauce
1 clove garlic, minced
1 1/2 tablespoon oil
1 tablespoon honey
1 teaspoon sesame seeds
2 cups shredded cabbage
1/2 large tart apple, julienned
Instructions
For the burger meat: in a medium bowl mix the ground pork, chopped apples, hoison, ginger and soy sauce until thoroughly blended. Shape into 4 patties. Cook over medium heat in a non-stick frying pan, flipping every 15 seconds until cooked through. Remove to a plate and let rest a minimum of 5 minutes.
In a small bowl mix together the siracha and sweet chile sauce (use more or less siracha depending on the heat level you prefer).
To make the slaw: in a small bowl whisk together the soy sauce, honey, sesame oil, garlic, oil and sesame seeds. In a large bowl toss together the cabbage, apples and dressing.
Build the burger: spread a little mayonnaise on the bottom and tops of the bun (this will keep it from getting soggy). Place burger on top of bottom bun, spread with the sweet chile/siracha mix, generously top with slaw and the top bun.
The Kitchen Witch http://www.thekitchenwitchblog.com/
Make sure to check out all of the other SRC reveals!