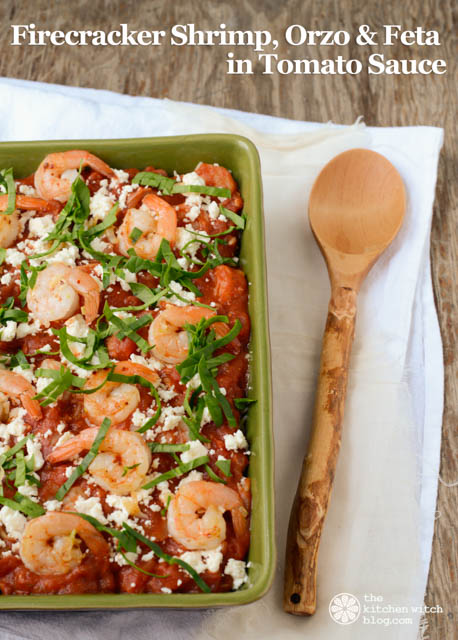 Some dishes are just so good, simple ingredients yet immensely satisfying. When they are easy to make and serve up many portions it just seems like a bonus. I cook and photograph for a living. I cook a lot, I cook for other people a lot, I menu plan, shop, cook and teach a lot. I love every minute of it, however it's nice to make a meal at home that is easy and provides several days of leftovers…so I can truly take some cooking time off (I never want to cook so much that it turns into a chore).
I am so grateful for my Secret Recipe Club assignment this time. For those of you not familiar with this fabulous little blogging/cooking club: Each month we are assigned a blog, we cook and photograph one of their recipes (in secret of course) and then reveal on the same day. It's my favorite-ist club, even when I'm insanely busy I take time to do my SRC assignment.
This month I was assigned Our Eating Habits, a site where Jamie shares all her families, you guessed it, eating habits. She loves new recipes, restaurants, etc. a true food adventurer. With small children though, they aren't quite as adventurous. The dish that McGyver chose (yes I let him pick once in awhile…you know, after I've narrowed down the choices to what I want to make) was Shrimp with Orzo. In this post Jamie is excited that the shrimp take a back seat to the pasta and sauce and that her girls (not so much the seafood lovers) actually enjoyed it.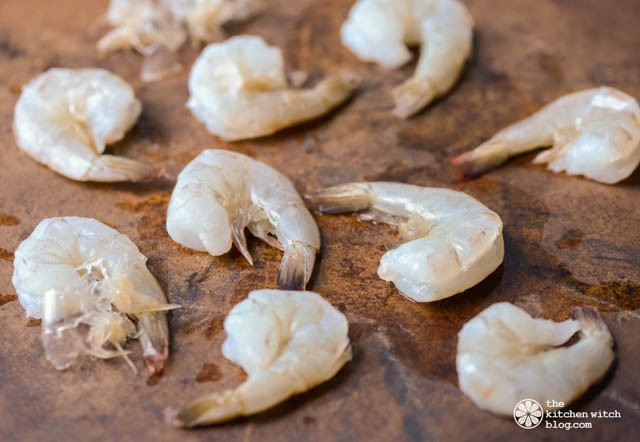 We're seafood lovers here and we don't have any little kids in the house anymore so I put the shrimp in the spotlight and spiced it up. By adding crushed red pepper it gave this dish just the kind of gown-up kick we like.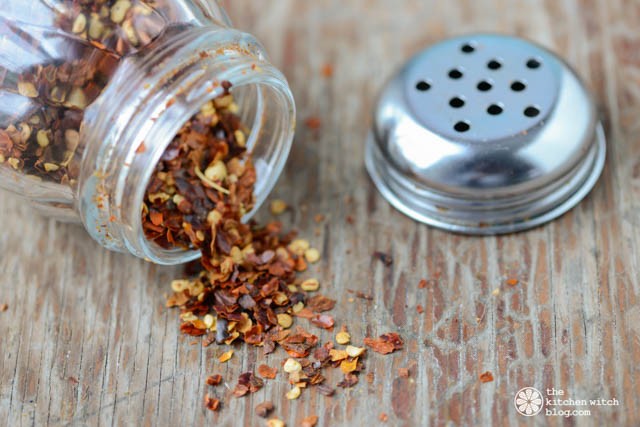 Can you believe that I still had a little garlic and onion left from my garden! That's what happens when you cook somewhere else, a lot. My other grown-up addition, onion and doubling the garlic. Oh how we love gaaarlick…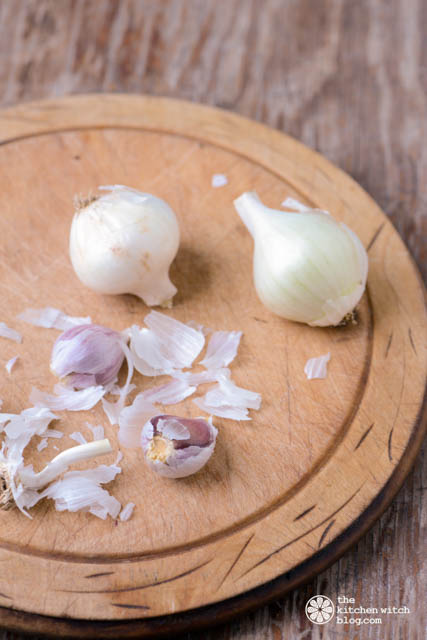 I made a couple of other slight modifications to the recipe, substituting fresh spinach for frozen and mixing up some of that wonderful salty feta in with the pasta, creating creamy cheesy tidbits throughout versus just sprinkling the top.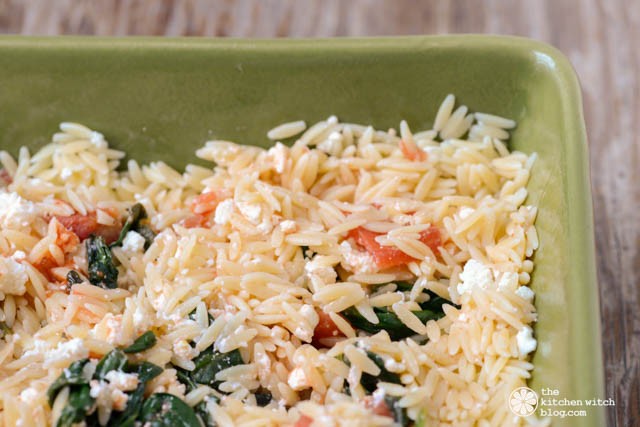 I do recommend removing the tail from your shrimp…I didn't because they are so beautiful with the tail on, but in a practical sense digging through the molten hot lava sauce to get the tail off your shrimp wasn't my best idea ever. I was merely thinking of the photograph…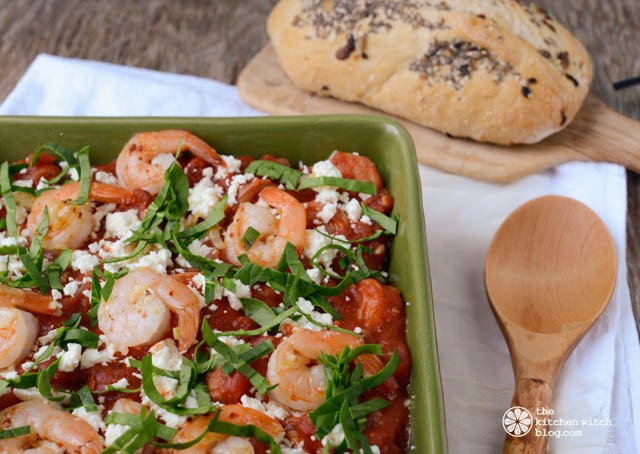 For photographing purposes, I'd keep a handful of shrimp put off to the side with the tails on and just add them to the top of the casserole. Because this casserole (which all casserole type dishes are horrible to photograph) was basically all red and white, I used some fresh spinach as a garnish. I cut them chiffonade style to add color and an interesting texture. Here's a useful tip: under bake or don't bake your casserole for the photos. In this case I didn't bake it, it would have lost some of it's intense color contrast and even the spinach, if added later would have started wilting from the heat.
Bonus, I could photograph with some nice light and refrigerate and then heat just before serving. Hmmm, serving a hot meal that I photographed…not normal I tell ya.
This truly is a great dish, it posses all the elements we love, and I got a little cooking time off, thanks Jamie!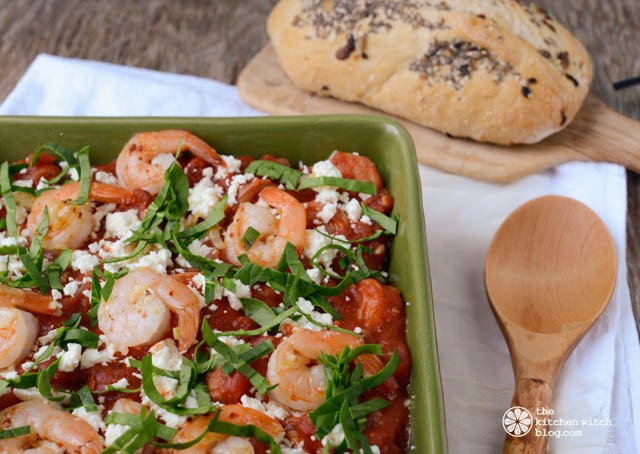 Firecracker Shrimp, Orzo and Feta in Tomato Sauce
2016-06-08 19:42:07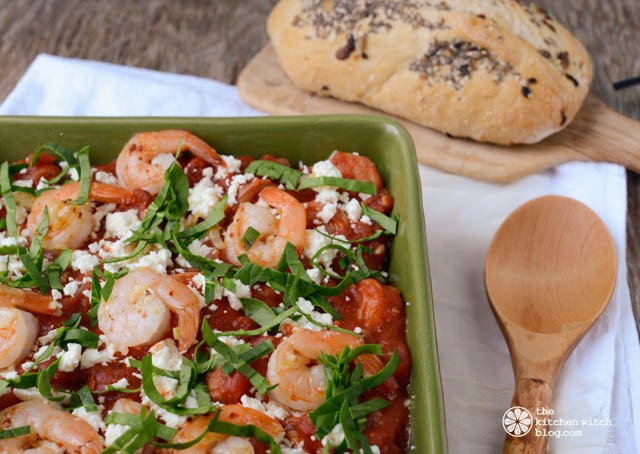 Ingredients
2 cups orzo, cooked al dente
2 tablespoons Olive Oil, divided
10 ounces fresh baby spinach
1 (14.5 ounce) can diced tomatoes
1 (28 ounce) can crushed San Marzano tomatoes
1 small onion, diced
2 to 4 cloves garlic, minced
1 pound jumbo shrimp, peeled completely and deveined
1 teaspoon crushed red peppers
1 teaspoon oregano
1 cup crumbled feta cheese, divided
Salt and Pepper to taste
1/2 cup spinach leaves chiffonade for optional garnish
Instructions
Preheat oven to 350°F.
Lightly grease a 9x13 casserole dish.
In a large saucepan heat 1 tablespoon olive oil over medium high heat, add spinach and and wilt, add diced tomatoes, orzo and 1/2 cup feta. Mix thoroughly then pour into prepared pan.
In same sauce pan heat remaining tablespoon of oil, add onion and cook until tender and translucent, add garlic and cook for 1 minute more, add shrimp and crushed red peppers, saute until shrimp just starts to turn pink.
Add crushed tomatoes and oregano, heat through. Taste for salt and pepper, adjust accordingly. Pour sauce and shrimp over orzo, sprinkle with remaining 1/2 cup of feta and bake for 15 minutes or until shrimp is cooked through.
Garnish with spinach chiffonade if desired.
The Kitchen Witch http://www.thekitchenwitchblog.com/
For all my group C peeps, I won't be participating in February because I totally forgot to fill out my form, and I'll be gone in March. I'll be back in April.
Make sure to check out all the other reveals: