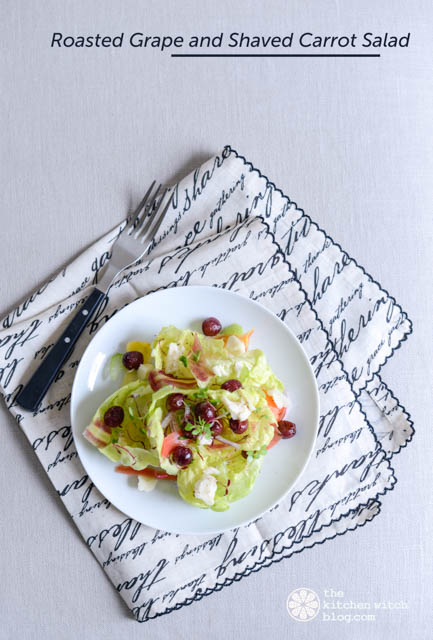 I was contacted by Bertolli to see if I would like to review their new cooking sprays, I was more than happy to try them out (anyone who reads my blog knows this is not my norm). Disclaimer: I was not compensated in any way for this post, the products were sent to me (they are the only thing I get out of this) to review. All the opinions are expressly mine.
Now that the formalities are done, we can talk about this delicious salad and what I thought of the sprays. Bertolli has 3 new sprays, an Extra Virgin Olive Oil perfect for salads, Extra Light Olive Oil perfect for cooking and frying and Classico perfect for roasting or when you want a light flavor.
I tested all three according to their recommendations, which is conveniently printed on the front of the can. Immediately I liked the shape of the can and found it very comfortable to hold, the slimmer top works well for small hands. I also like the angle of the spray button, very easy to use. Two of the three cans emitted a nice even light spray, however the Classico's spray came out more like a stream, I'm not sure if that is intentional or if it is a defective nozzle. Fortunately I was using the Classico to coat a baking tray so it didn't make a difference in this case.
I have used the EVOO spray on every salad since I got it, I can tell already that this will be the first can to be emptied. It makes a nice light coat on the greens, just enough for flavor but saves you calories! I used the Classico to roast my grapes, other than the nozzle spray issue, it performed perfectly. The grapes were roasted at 350°F; the oil did not smoke or burn.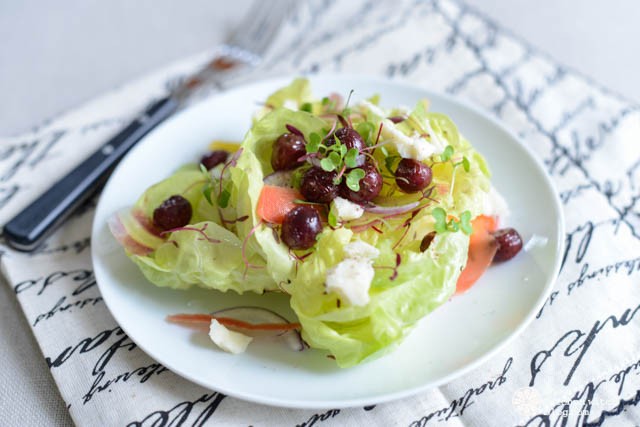 I am a salad freak so I have used it in another salad, sprayed with the EVOO, drizzled with red wine vinegar and topped with my homegrown sprouts, some Indian dal snack mix and cilantro…sounds weird but it was delicious.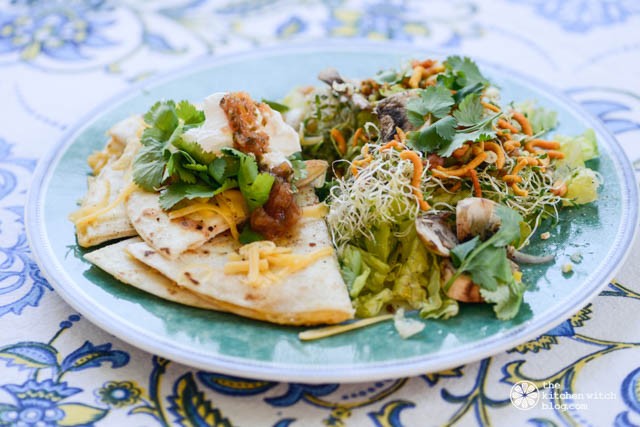 For the same meal (been cooking for one lately) I tested the Extra Light OO spray for making quesadillas. Again no performance issues, it was able to take the high heat without smoking or burning resulting in a perfectly toasted quesadilla. After this one was gone, I promptly tested it one more time just to make sure it wasn't a fluke.
Overall I was very pleased and happy to see a spray who's only ingredient list was Olive Oil! If you like the convenience of a cooking spray but worry about what goes into it or GMO's, Bertolli's new Olive Oil sprays are a perfect option.
My roasted grape salad turned out so well that I just had to share the recipe with you. The use of cabernet finishing salt and some Cougar Gold cheese* made this salad extra special, you can easily substitute just about any salt and any sharp cheddar or a feta cheese. The salad is sweet and tangy, light and crisp and a perfect way to finish off those last few wrinkly grapes…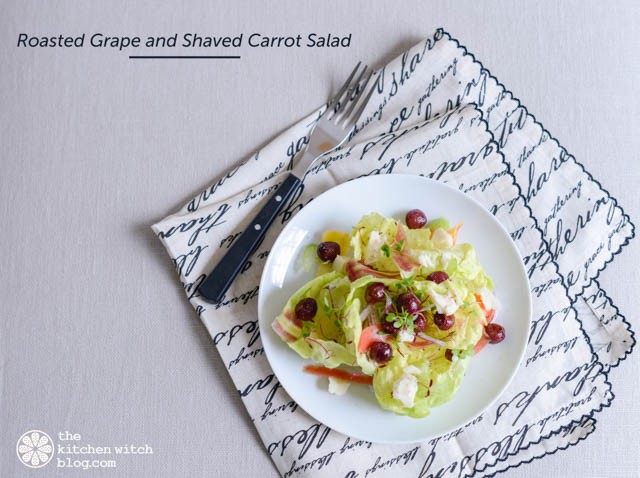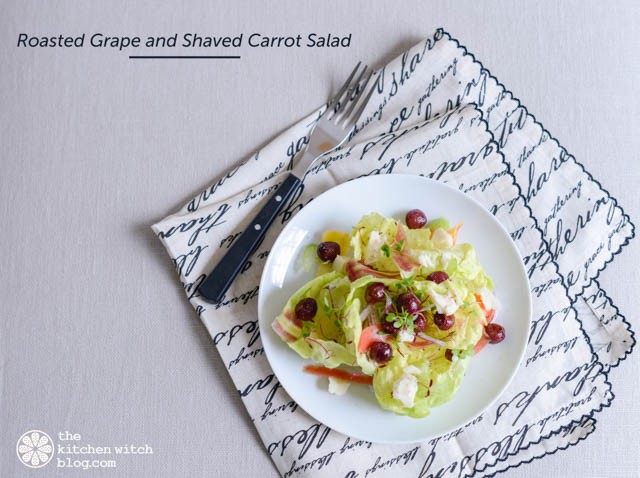 Roasted Grape and Shaved Carrot Salad and a Bertolli review
2016-06-08 19:30:13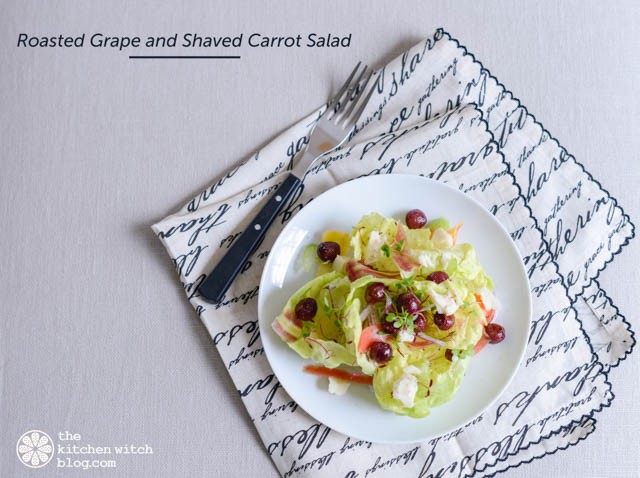 Serves 4
Ingredients
1 pound grapes
Bertolli Classico Olive Oil Spray
1 head butter leaf lettuce
2 carrots, shaved
1 small shallot, thinly sliced
2 ounces sharp cheddar cheese or feta crumbled
microgreens (optional)
Bertolli Extra Virgin Olive Oil Spray
White Balsamic Vinegar glaze
Cabernet salt (or other) to taste
Fresh cracked black pepper
Instructions
Preheat oven to 350°F.
Spray a rimmed baking sheet with Bertolli Classico Olive Oil spray, place grapes on sheet and roll around to coat. Bake 15 to 20, stirring every 5 minutes until grapes are swollen but haven't burst. Remove from oven and let cool.
On individual salad plates, divide lettuce between four plates evenly, top with shaved carrots, shallots, grapes and cheese. Evenly coat salad with Bertolli Extra Virgin Olive Oil Spray and drizzle with white balsamic vinegar glaze. Finish with salt and pepper and top with micro greens if desired.
Notes
To make carrot shavings: scrub carrots clean. Using a good vegetable peeler, make long peels following the length of the carrot. Repeat until there isn't enough carrot to peel (eat remaining chunk). Plunge carrot shavings into an ice bath for at least 5 minutes, hold in water till ready to use. This will make the shavings extra crisp. If you want the carrots to curl, roll up the shaving and secure with a toothpick before place in the ice bath and refrigerate for 2 to 3 hours.
The Kitchen Witch http://www.thekitchenwitchblog.com/

*if you've never had the pleasure of having the cheese produced by Washington State University I recommend that you rectify that immediately. you can order the cheese from their website http://cougarcheese.wsu.edu/. My daughter Leah is a proud graduate of WSU and brought me some cheese (she knows how I adore it).