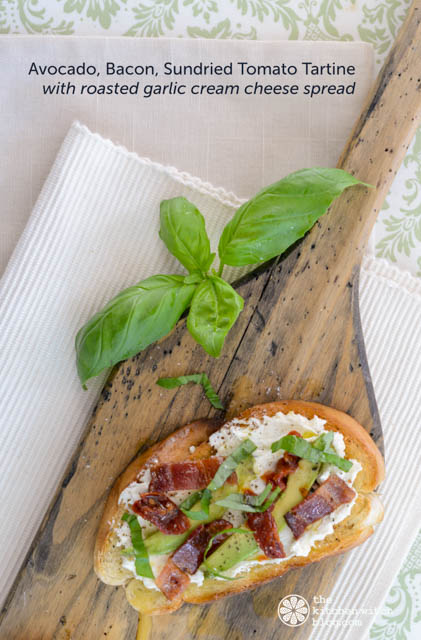 My Secret Recipe Club hiatus is over and I am so glad to be back. Not only am I back, but I am back with one amazing dish from Authentic Suburban Gourmet. For those of you not familiar with SRC, it's a bloggy club where we are assigned another blog, stalk them for a month and make one of their dishes. Then we reveal who we've been secretly stalking and one of their recipes we've tried. It's fun in a totally not creepy way.
Anyone who lands on Lisa's blog would immediately fall in love, stunning photos and recipes abound! One of the things I enjoyed most about Lisa's blog was her 'Friday Night Bites'. I could literally live off of small bites, I'd rather have variety than quantity, especially good quality.
Lisa's original recipe for Avocado, Bacon and Tomato Tartine was more of a play on a BLT, with a garlic aioli, bacon, tomato and avocado. I took my cue from her but did my own little thang.
It began with replacing the roasted garlic mayo with roasted garlic cream cheese spread (cheese if my favorite food…)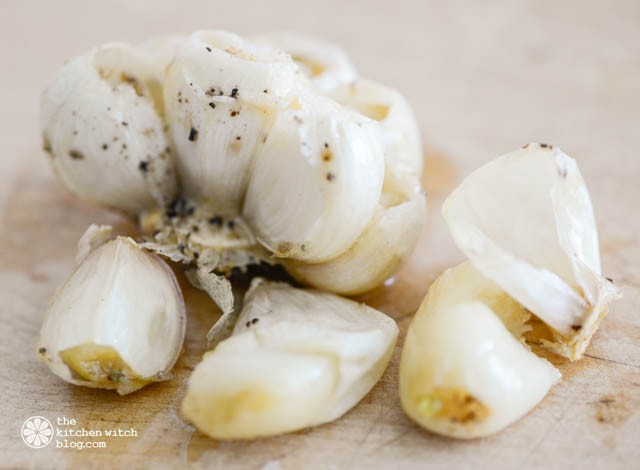 I lurve roasted garlic! (the garlic was locally grown)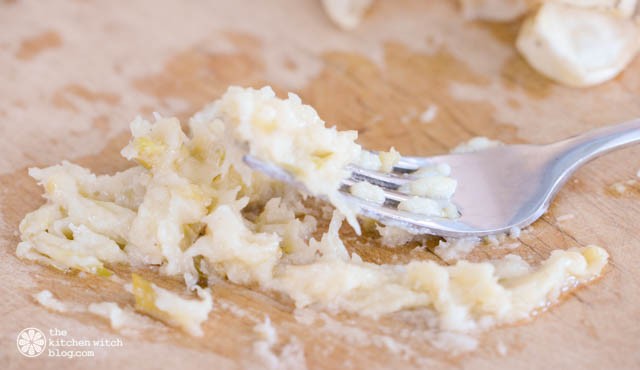 Spring has sprung and my chives were taking off, I snipped some and added it to the cream cheese mixture.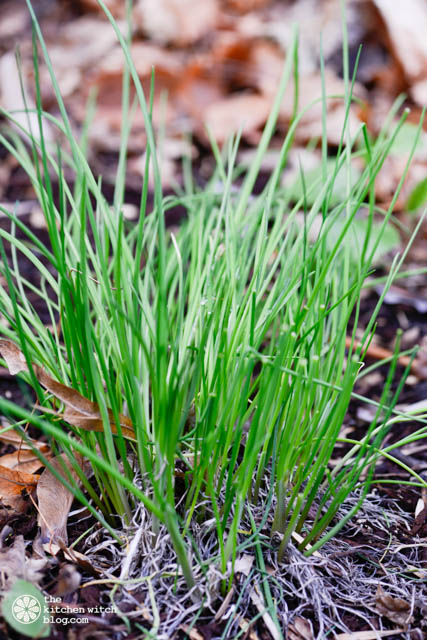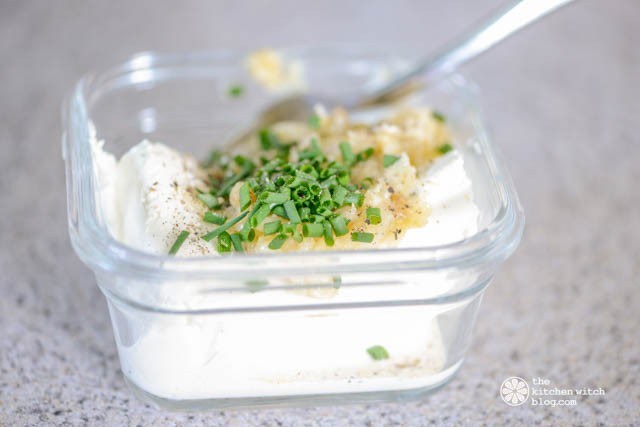 During my walk about in the garden I couldn't resist snapping pics of a few flowers, it's what camera people do…
The bacon and avocado remained the same, however tomatoes are still iffy this time of year so I used up some of my home grown sundried tomatoes.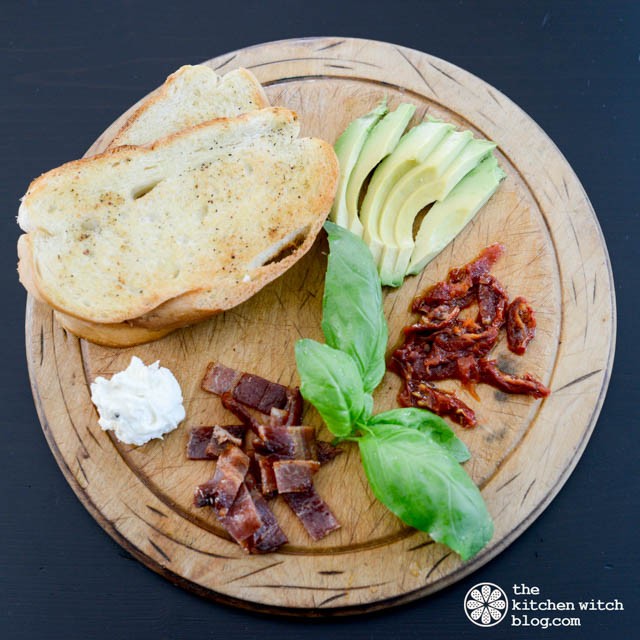 Then finished the whole bit off with some fresh basil, a drizzle of olive oil and some salt and pepper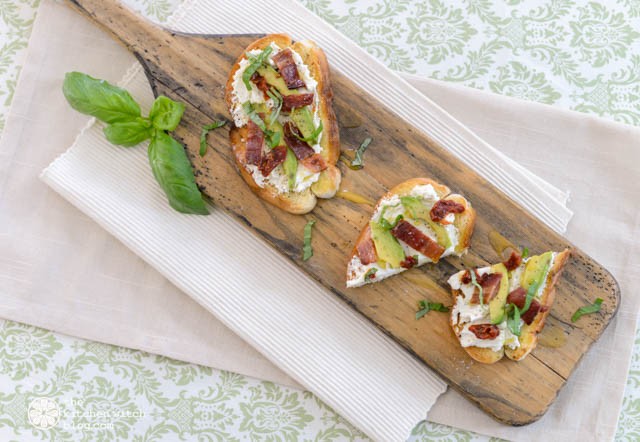 I loved this so much, I'm serving it for lunch on Tuesday with a Cream of Asparagus soup.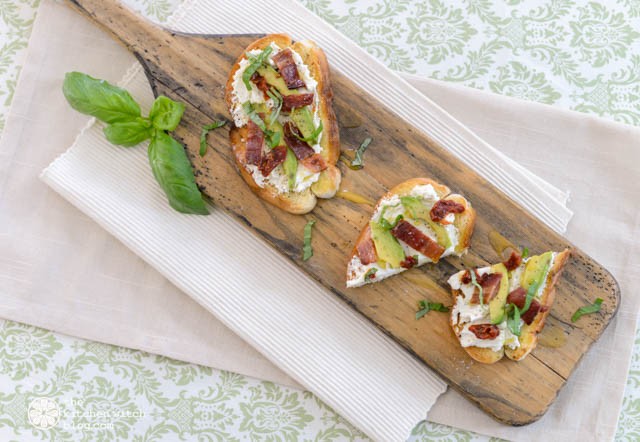 Avocado, Bacon, Sundried Tomato Tartine with Roasted Garlic Cream Cheese Spread
2016-06-08 15:53:50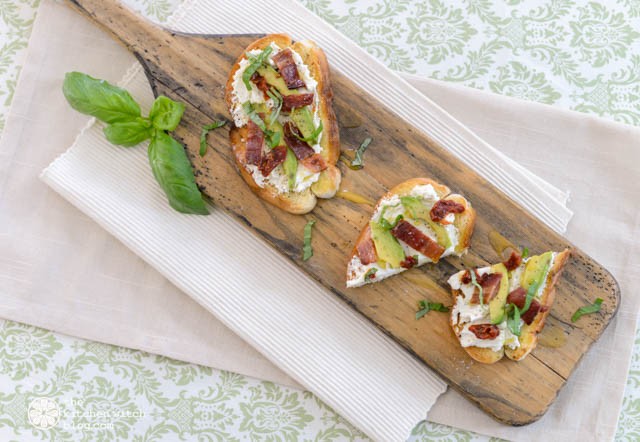 Serves 8
Ingredients
1 (8 ounce package cream cheese), softened
1 head garlic, roasted and mashed
2 tablespoons milk or cream
2 tablespoons chives
Salt and pepper
8 slices French bread, about ¼" thick
2 tablespoons Lesovos Greek Olive Oil, plus extra for drizzling
Black Magic seasoning or Alpine seasoning
4 slices bacon, cooked and chopped
1 avocado sliced
8 sundried tomato halves, softened in hot water, sliced
Fresh basil, chiffonade
Instructions
Preheat oven to 400°F.
In a medium bowl mix together the softened cream cheese, the mashed roasted garlic, milk, chives, salt and pepper until well blended set aside.
Brush each slice of bread with olive oil on both sides, sprinkle a little seasoning on top, bake until toasted and light golden brown, about 7 to 10 minutes.
Spread cream cheese on bread, top with avocado, bacon, and sundried tomato. Garnish with chiffonade of basil, drizzle of olive oil and salt and pepper.
The Kitchen Witch http://www.thekitchenwitchblog.com/

If you haven't already, check out all the other great Group C reveal posts for this month.