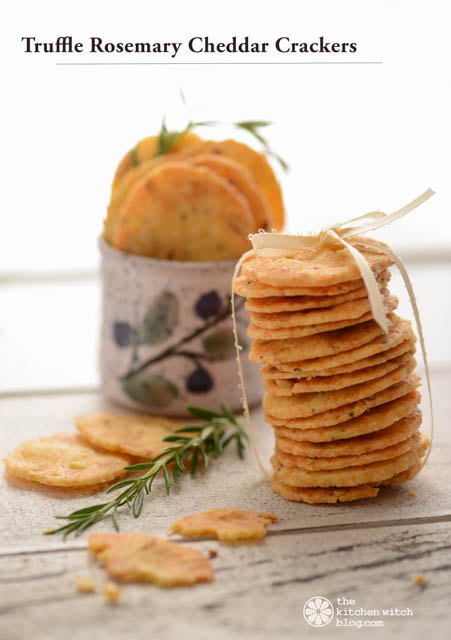 It's Secret Recipe Club time, something that I look forward to every month. Unfortunately this will be my last month. As much as I enjoy being assigned another blog in secret and then revealing what recipe I made, I have been struggling with getting my posts done, or even posting on time. My schedule has filled to the point that just doesn't allow me to blog and post as frequently as I'd like too!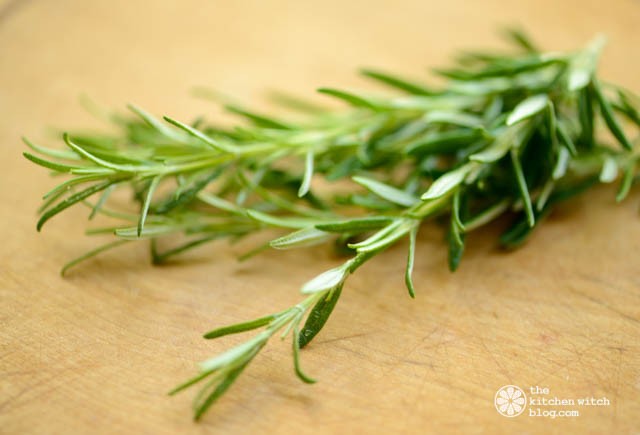 For my last SRC hoorah I've been assigned Dessert before Dinner. Stephanie (who happens to share the same name as my sister) blogs about a variety of recipes, she's from Northern Virginia (I used to live in VA many moons ago…), is married and has a sometimes "asshole" cat. That comment put a smile on my face and I knew if we ever met, we'd probably get along.
With this being cabin season, I'm always looking for some portable food, so these Cheddar Rosemary Walnut Crackers caught my eye. They would be perfect for snacking on during the 3 hour drive up to the cabin. Plus I'm growing some luscious looking rosemary that told me it's just dying to be a cracker.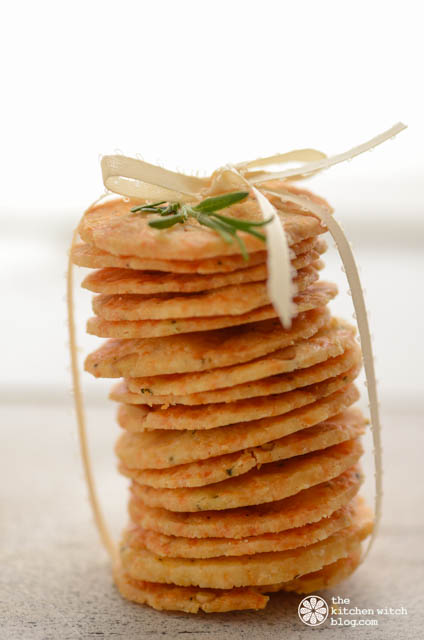 These were so easy to make, the hardest part was waiting an hour before I could bake them! I did jazz them up a bit by subbing the regular salt with truffle salt and swapping out the walnuts for toasted pine nuts, and I used sharp cheddar. I also found that it was much easier to mix and knead by hand than with a spoon.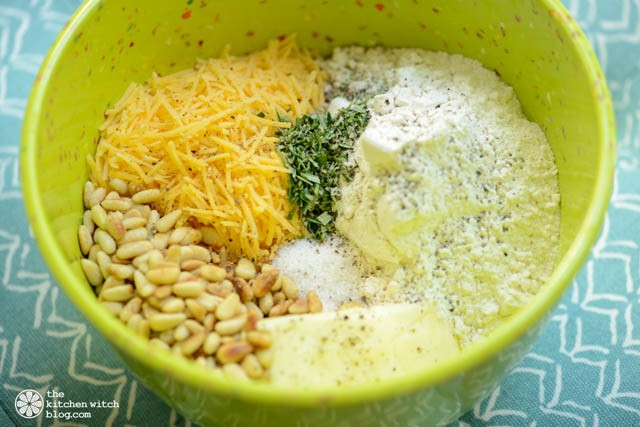 I took Stephanie's words of wisdom and cut them super thin, about an 1/8″, it really makes a difference between a crispy cracker and one that is more biscuit like. I did attempt to use a mandolin slicer and it worked for awhile, but gripping the dough with my hand started to heat it up and melt it, so back to a knife I went.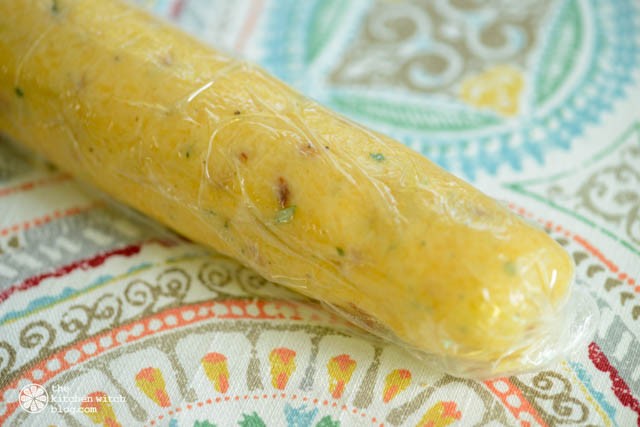 I do recommend if your house is warm, keeping the dough in the refrigerator between batches.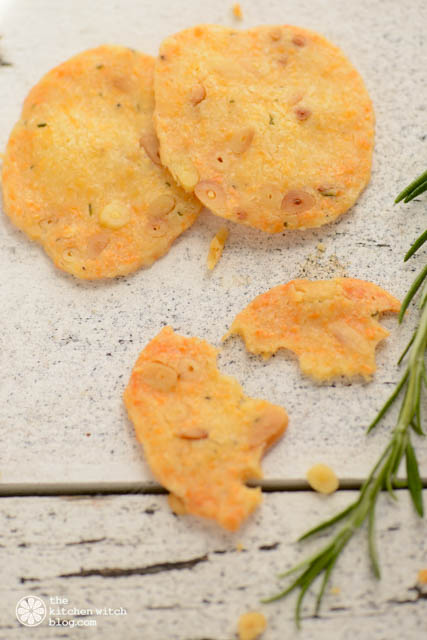 These are soooo easy, it would be handy to keep a batch of dough in the freezer ready to thaw and bake. I got about 100 crackers from just the one batch!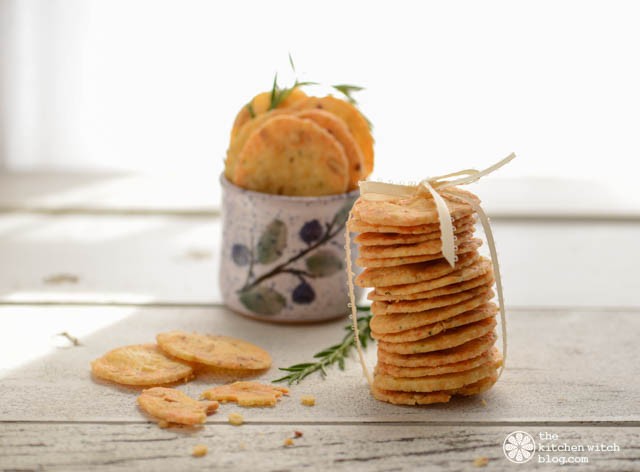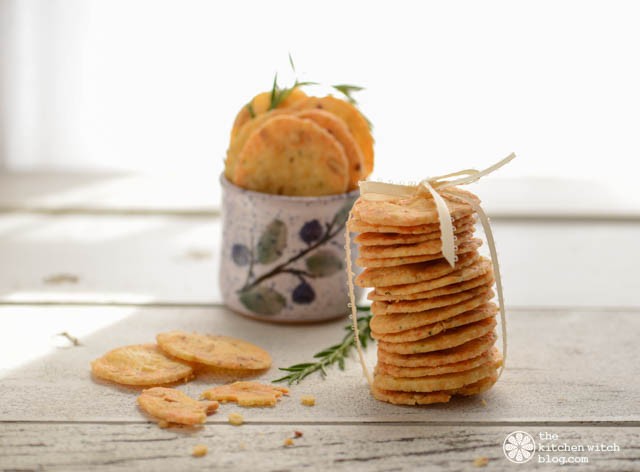 Truffle Rosemary Cheddar Crackers – Secret Recipe club
2016-06-08 14:13:42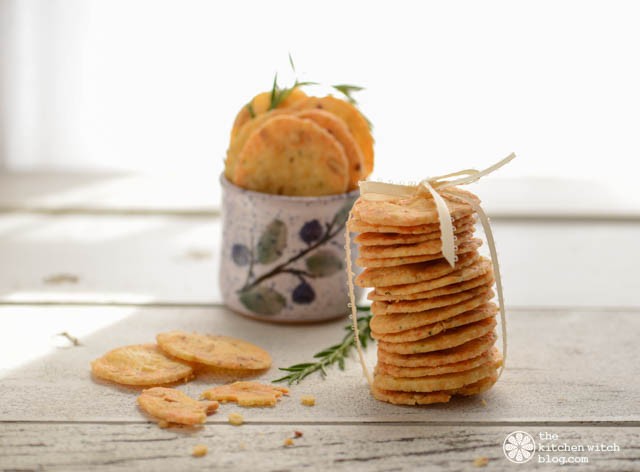 Ingredients
1/2 cup unsalted butter, softened
2 1/4 cup sharp cheddar cheese
1/4 cup all-purpose flour
3/4 teaspoon truffle salt or 1 teaspoon kosher salt
1/2 cup pine nuts, toasted
1 tablespoon chopped rosemary
Fresh ground black pepper (I was fairly generous with it)
Instructions
Mix together all ingredients in a medium bowl until uniform. I found this easiest to do by hand, it'll take 2 to 3 minutes to incorporate all the ingredient into a dough.
Form a log with the dough and wrap with plastic wrap. Twist the ends of the wrap by holding the dough log in the air and flipping it around, this will help make an even and smoother log.
Freeze dough for one hour or refrigerate overnight.
Preheat oven to 325°F.
Line cookie sheets with parchment paper. Thinly slice dough (1/8" seems to work best), place on parchment lined cookie sheet just far enough that they aren't touching. Bake 10 to 14 minutes, rotating half way through.
Let cool completely, store in an airtight container or freeze.
Adapted from dessert-before-dinner.blogspot.com
Adapted from dessert-before-dinner.blogspot.com
The Kitchen Witch http://www.thekitchenwitchblog.com/
Even though I won't be a part of SRC, I'll still be lurking around.
Thanks Debbi for putting up with me, you've been a fabulous Group C leader, and so patient!
Please take the time to check out all the other fabulous recipes from Group C.