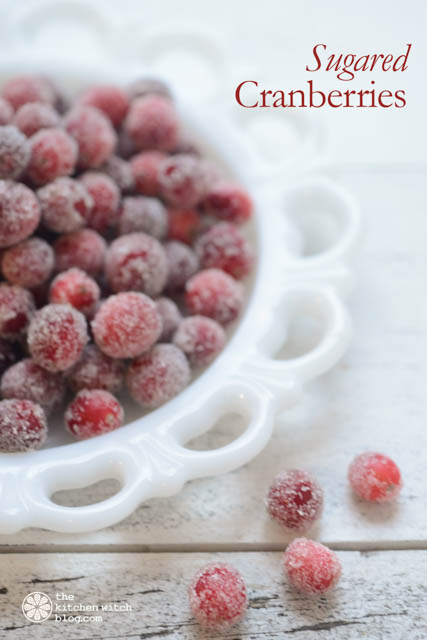 Gimme some sugar…some sugared cranberries that is. Sometimes some things are truly simply and in that simplicity they are also truly delightful. Like sugared cranberries. There's only three ingredients, if you count water as an ingredient.
They are as lovely to look at as they are tasty to eat. Coated in a simple syrup then rolled into a bed of granulated sugar the cranberries take on the look of a berry coated by winter's frost. Iced to perfection, but no worries about immediate melting here, sugared cranberries are meant for the indoors.
Sure they are beautiful, but to eat? They are reminiscent of Craisins with the sweet tart flavor profiles. It's in texture that it greatly changes. The sugar immediately coats your tongue for that wonderful sugar jolt. Then your teeth sink into the cranberry and it's tartness explodes in your mouth at once confusing and pleasing your palate. Is this sweet or tart? You'll find that they have a pleasant gritty chew and are quite addictive.
What to do with these beauties? Set out a plateful at your next party and watch them disappear. They make a spectacular garnish. I recently used them as a garnish for a Cran-Cherry Strudel. Even better I used them as a garnish for a Sparkling Cran-Ginger Rummy Cider in an upcoming issue of Signature Montana (I'll share the link once it goes online).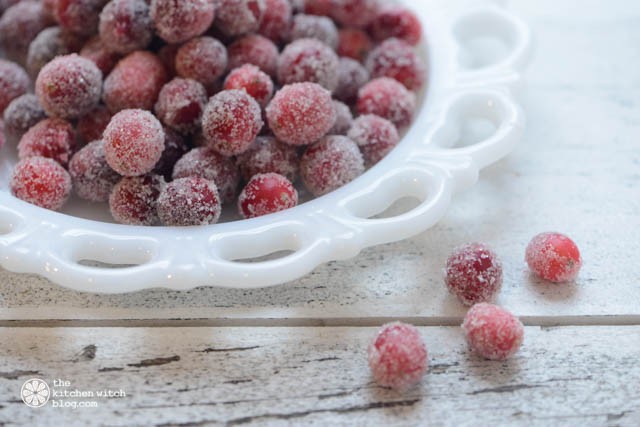 Make sure to store these (if you have any leftover) without a lid or covering, kind of like their frosty twins heat and humidity can cause the sugar to melt!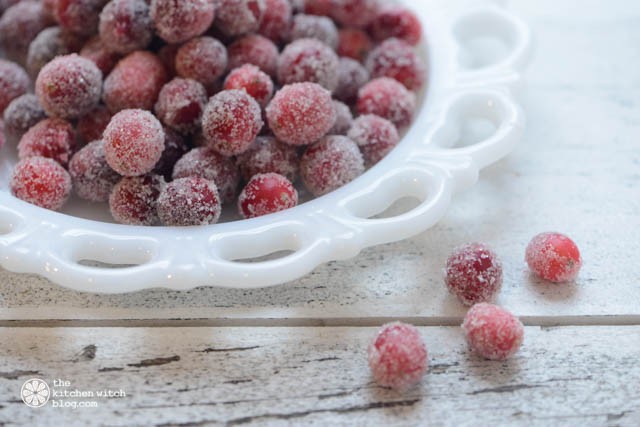 Gimme Some Sugared Cranberries
2016-06-08 14:00:18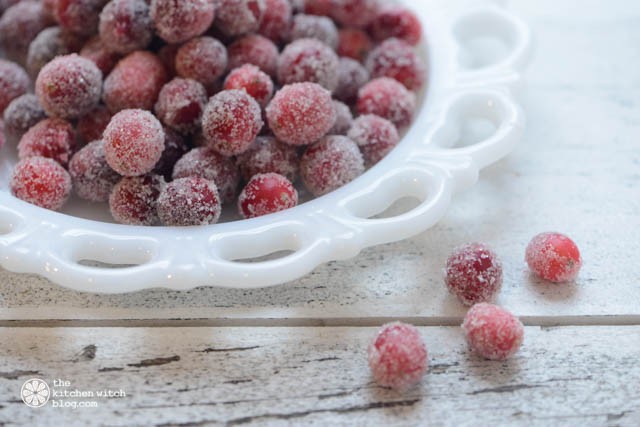 Ingredients
1 (12 ounce) package organic cranberries
1 1/2 cups organic sugar divided
1/2 cup water
Instructions
Place Cranberries, 1/2 cup sugar and 1/2 cup water into a large saute pan. Gently dissolve the sugar over medium heat, stirring occasionally.
Once sugar is dissolved and berries are completely coated, transfer to to a cooling rack (you'll want a pan or a liner underneath to catch the sticky drips. Let dry completely, about 1 hour. The berries will still be slightly tacky.
Pour the remaining sugar into a bowl, toss the cranberries in the sugar, rolling them around to become completely coated. Again, return the cranberries to the drying rack and let dry about 1 hour.
Store in an open container, or very lightly covered. Humidity is the enemy!
The Kitchen Witch http://www.thekitchenwitchblog.com/