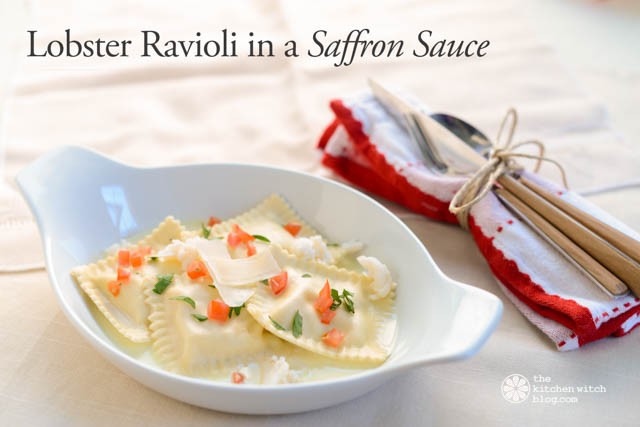 First off, if you've made a resolution to lose weight, stop reading right now!
For the rest of you…on with the post.
I'm spoiled and my waist shows it. I'm a live to eat person and find very few things more enjoyable than a good meal. I eat well…often. However, even for me certain foods are a treat. Food that is held in high reverence. Food that you feel is justifiably expensive. (I am yet to be convinced that coffee beans from monkey poop is worth the extra cost…just sayin'.)
And for a land locked seafood lover, lobster is at the top of 'expensive, but totally worth it, food luxuries'.
Then there's this other little luxury, saffron. Ounce per ounce it just doesn't get more costly then this little gem, going for wholesale prices starting around $500 a pound, wowsa. Believe it our not, I scored a .26 ounce bottle of it at Ross's for only $6. This was real no kidding saffron from Spain (90% of saffron comes from Iran – for reals).
It seemed like it was time to marry up my good fortune of having both lobster and saffron. While Googling some recipe ideas, I came across one that was published in the Seattle Times a few years ago by , I knew I had my winner.
Lobster and Saffron, boy do I go over the top…but maybe not enough, how about some more lobster with the ravioli?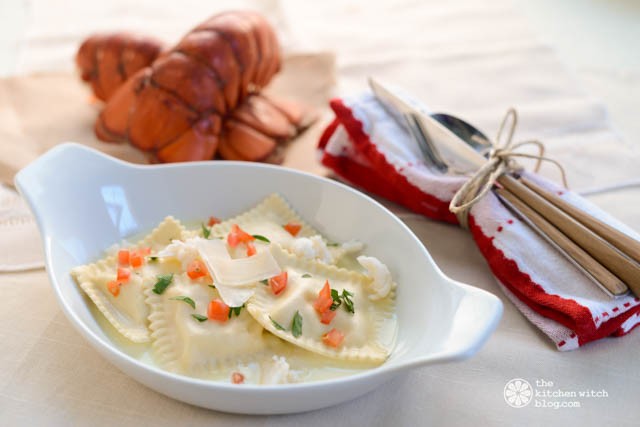 Don't you want to eat dinner at my house?
But wait, I just couldn't stop there, how about lobster ravioli in a saffron sauce, with two 8 ounce lobster tails aaaaand lobster bisque?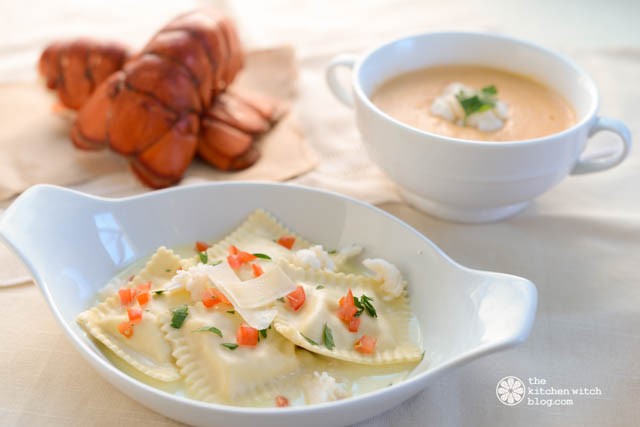 Don't you want to eat dinner at my house every night!
This lobster extravaganza came from lobsteranywhere.com, nope I don't get paid to promote them I just love em'. (And sometimes Joe sends me some lobster love gratis, what's not to love about that).
I get my lobster rav's from lobsteranywhere.com so I'm just including the saffron sauce recipe, which would be great with any seafood/pasta combo. If you use half and half and thin the sauce down, it makes a wonderful broth!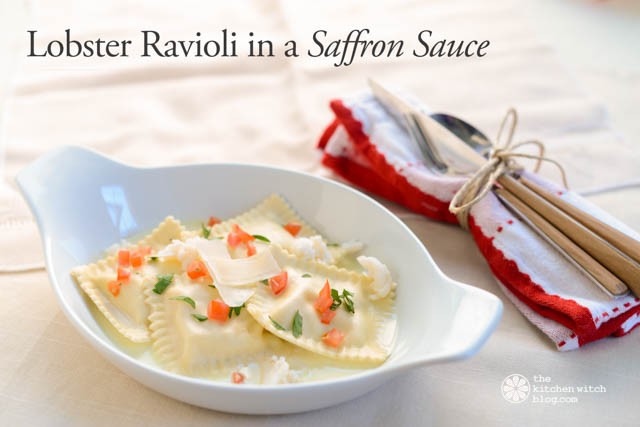 Lobster Ravioli in a Saffron Sauce
2016-06-08 12:31:09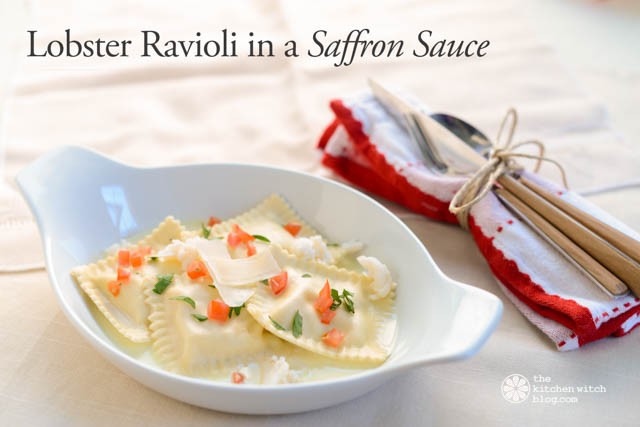 Ingredients
1 1/2 quarts (6 cups) chicken or vegetable broth, unsalted or low sodium
1 shallot, very finely diced
2 to 3 threads saffron, chopped or crumbled
1 cup heavy cream or half and half
1 stick unsalted butter, chilled
Kosher Salt and Fresh Black Pepper to taste
1 pound lobster ravioli, cooked al dente and thoroughly drained
Fresh parsley, chopped
1 small tomato, finely chopped, optional
Shaved Parmesan or Asiago cheese, optional
Instructions
Bring the broth to a low to medium boil in a saucepan. Add the shallot and saffron. Keeping broth at a low to medium boil, allow it to reduce to about 1 1/2 cups. Stir in the cream and reduce sauce to your desired consistency. Add the butter a tablespoon at a time, whisking to incorporate.
Toss the pasta with the sauce to thoroughly coat. Garnish with parsley, tomatoes and cheese and serve immediately.
Notes
Because this broth reduces so much make sure to use no sodium or low sodium broth otherwise you'll find it becomes way too salty once it reduces.
Adapted from Recipe adapted from Linda Cicero, printed Seattle Times April 28, 2010
Adapted from Recipe adapted from Linda Cicero, printed Seattle Times April 28, 2010
The Kitchen Witch http://www.thekitchenwitchblog.com/