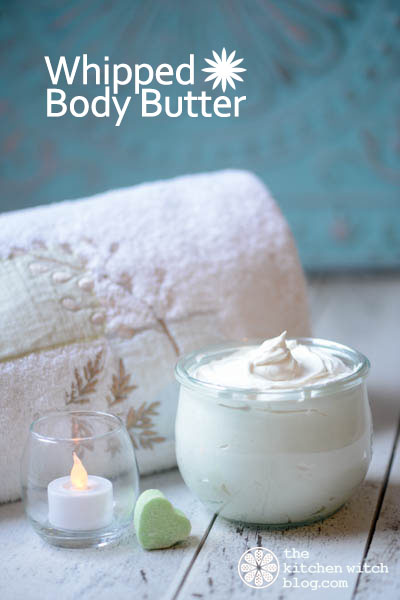 I made a goal of trying to blog more, still having a hard time etching out the time.  This girl has a hard time saying no and seems to like to torture herself with the overfull plate. So here I am putting up a post, the first, in well, too long and it's not even food!  Now ain't that something.  But I'm doing this for by bestie, Jen.
It was her Birthday last month and I sent her a homemade package of soap in knitted wash-bag (it's cool, it'll even hang in the shower or tub, in all one deal), some foot bombs and my favorite whipped body butter.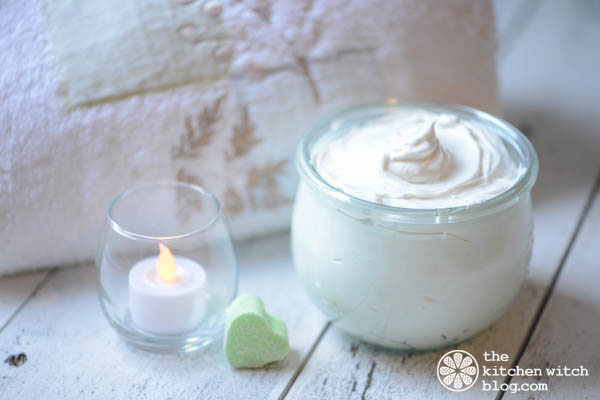 She loved it so much, she had a friend who tried it and loved it so much that they begged for the recipe.  Since I'm probably not going to go into the body products business (who can beat Lush anyways?), and since I'm a sharing kind of gal, I'm posting the magic formula.
Cracked skin? Dry patches? Itchy dry skin? They will disappear, no really they will…well if you use the body butter they will.  This wonder of a lotion starts out liquid and then gets whipped to this fluffy, creamy, and duh, buttery texture. It goes on like gloss, as the body butter hits your body, it melts into your skin.  Immediately after you'll have slippery shiny skin, don't worry, just a couple minutes and another magic trick happens: it disappears.
So slap on the lotion after your shower, then moisturize your face, brush your teeth, put your contacts in or whatever while this skin juice soaks in and does it's thing.
Have really really dry skin, try adding calendula or turmeric.
Want it to smell all nice, girly or manly? Add fragrance.
Like a little color add natural mica powder.
Did I mention that this is all natural? Nothing you can't pronounce. Makes it totally worth making on your own.  Oh and it's only a fraction of the cost of commercial products!
If I think about this I'm not just doing this for Jen but all of mankind who suffers dry skin!
Where to get all these supplies?  I purchase mine at Bulk Apothecary or Smile Amazon.  No I am not affiliated with Bulk Apothecary, but I would like to give a shout out for Smile Amazon.  Did you know if you shopped through Smile Amazon they donate part of the money to a charity of your choice? It's true, doesn't cost you a dime and if you are a prime member it's good there too.  So why not order through Smile?  Now a small pitch, if you don't have a charity River City Harvest is always in need (it's our community gardens program here).
If you have time check out River City Harvest, I did our website all by myself (I'm kind of proud of it too, can you tell?).
Coming soon, another non-food recipe, DIY Beard Balm.
[amd-zlrecipe-recipe:191]