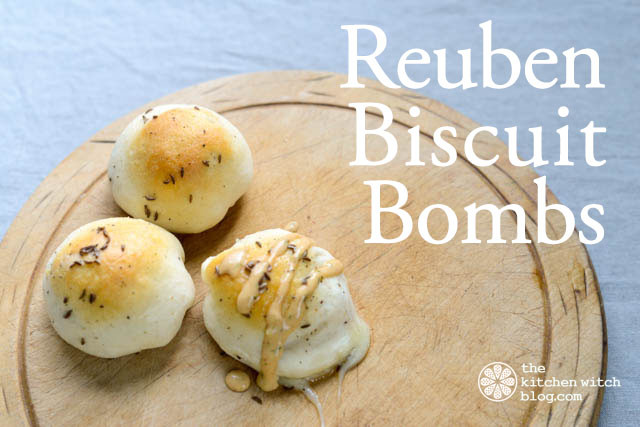 Did everyone have a great St. Patrick's Day? I spent it all alone, well mostly alone, I did have my doggies. Oh but that deter me, nope not one bit. You see I love me some Corned Beef and Cabbage. Alone or not I cooked it up and ate it…not all of it of course. Which got me to thinking about leftovers. I've done hash, soups, sandwiches, etc.
Then I remembered these little gems that I had made for the Superbowl. I took some photos and planned to post, buuuut it didn't happen soooo I thought these little guys would be perfect for some corned beef left over. For mine I used deli pastrami but corned beef left over would have been better.
Oh wait, I didn't explain what biscuit bombs are. In case you don't Pinterest or do any social networking, you probably don't know that biscuit bombs and canned biscuit dough stuffed with, um, stuff. I've seen all types, they are all delicious looking and easy to make!
For mine I had some sauerkraut in the fridge that was my inspiration. Since left over corned beef would be a pain to slice as thin as the deli's I'd switch up and go with sliced swiss cheese and a baton of corned beef.
Here's how they roll, or biscuit…
They get baked off then doused with some melted garlic butter, sprinkle them with caraway seeds and serve with Reuben sandwich dressing. This is the one that I made: Zingerman's Russian Dressing (it's the best).
Control yourself with the corned beef and make some bombs.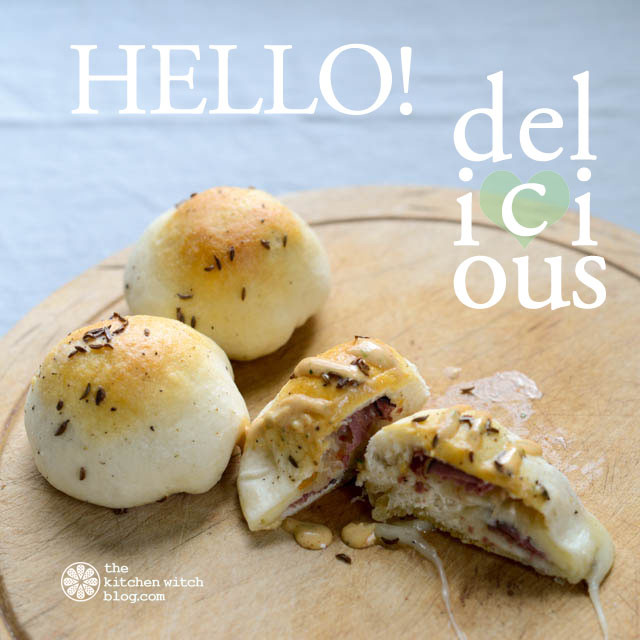 Bombs away………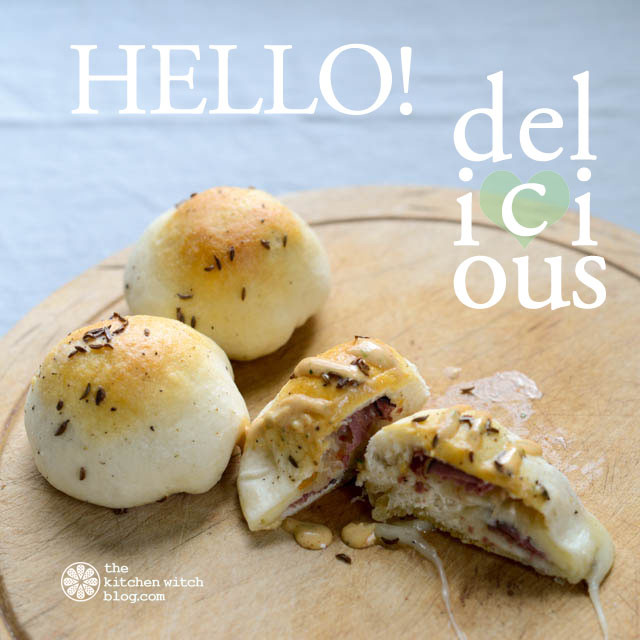 Reuben Biscuit Bombs
2016-06-08 12:19:44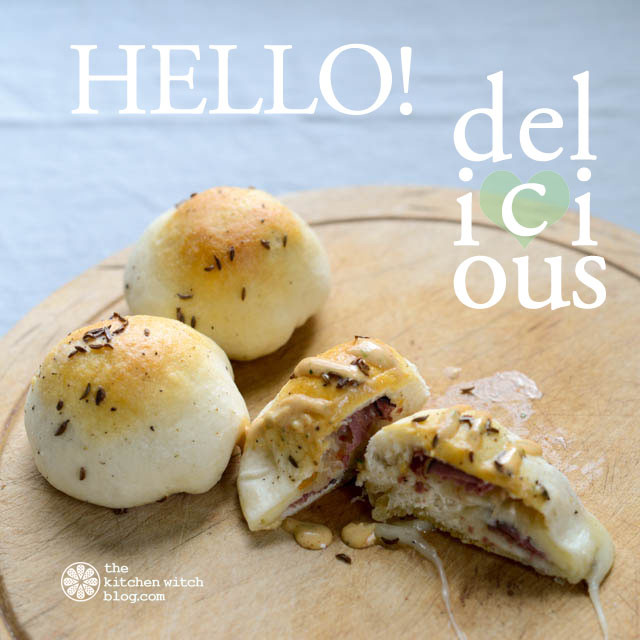 Ingredients
2 cans Pillsbury Country Style Biscuits (other ones can be used to make bigger bombs)
8 ounces Swiss Cheese cut into 1" batons
20 slices Corned Beef or pastrami
1/2 cup sauerkraut, drained
2 tablespoons melted butter
1/2 to 1 teaspoon garlic salt
1 teaspoon caraway seeds
Russian Dressing (see above link)
Instructions
Preheat oven to 375°F.
Lay a piece of deli meat out, place about 1 tablespoon of sauerkraut across the end (short side to short side), lay the cheese baton on top. Roll the pastrami up. Once a log is created, cut into fourths, or about 1" cubes.
Flatten a biscuit out, place a cube of the filling in the middle. Fold dough over top, place on an ungreased cookie sheet seam side down (leave space between biscuits). Continue until all the biscuits are stuffed.
Bake 12 to 15 minutes or until golden brown. In a small bowl mix butter and garlic salt brush on rolls, sprinkle with caraway seeds. Serve with sauce.
The Kitchen Witch http://www.thekitchenwitchblog.com/