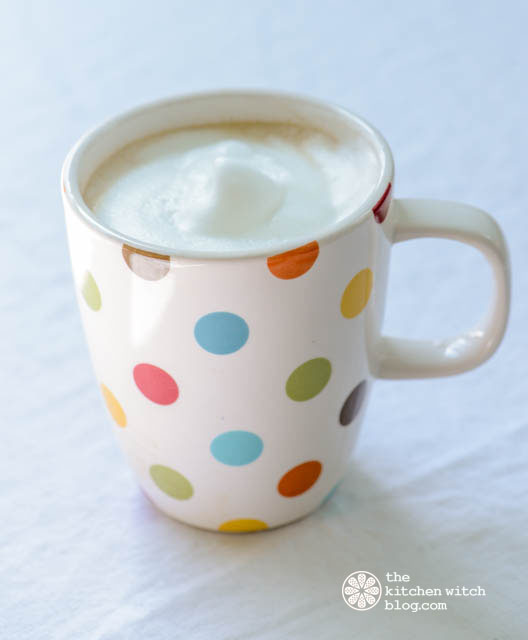 I mentioned in my last post (BIY Bone Broth) that I had some more product reviews coming up.  This time it's a new coffee maker.  I'm sure that many of you are familiar with the Ninja's line of blenders, well know known especially among smoothie lovers. What attracks people to Ninja's is not just how powerful they but their price point. Let's face it, you want see a Vitamix in most people's kitchen…and do you really need to spend that much?
I'm digressing…Ninja has come out with a brand new and innovative coffee maker, it's part of their Auto IQ™ line.  One that I was very excited to see because it is so versatile. So versatile that they call it a 'coffee bar'.
Here's what it comes with:
I was so excited to try this, we've been using a Keurig and there is a little guilt factor using the K-cups (yes I know there are reusable pods…way to lazy for that); the Ninja Coffee Bar has the ability to brew single cups.
I really dig that, especially since McGyver travels so much and I usually only have 1 cup.  It also comes with a gold filter, hurray a reusable filter that even my lazy ass doesn't mind rinsing out (plus my plants and worms are happy to have some coffee grounds again).
I chose the classic brew, you can also choose a rich brew, Iced Coffee brew (cool) and a specialty coffee brew.
With the classic brew you will get a 9.5 ounce serving, that is a lot.  Okay not so much that it's a lot, it just doesn't leave room for some goodies, not even a splash of cream.
You can't call a coffee maker a coffee bar unless you have some milk frothing to go along with.  I tested out the frother, which looks similar to a coffee press.  I filled the frother with about a 1/2 cup of whole milk, nuked it for 30 seconds and started pumping away.
The directions said you can pump up to 30 times, so I did and what I got was ahhhmazing!
Now that's what I'm talking about, a good milky head that has to be spooned on. Yeah, I know where your dirty little mind has gone…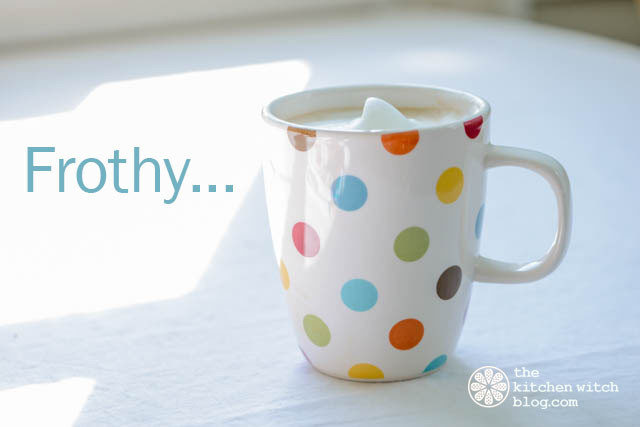 Of course we tried the carafe also.
This coffee bar, is like someone thought, "what are all the ways a family would like to have coffee?" and then packaged it all up in one!
Here's the run down, let's start with the things that I thought were worth noting:
Versatile – from single brew to half or full carafe
Adjustable coffee strength, including iced coffee
Programmable for delay brew
Attractive enough design, love the shape of the carafe
Easy to use, McGyver didn't even need directions
Reusable gold filter
The filter holder is attached
Visible water fill tank
Drip stop option and a blinking light that let's you know you are on drip stop
2 part measure, one for singles and one for carafes
100 recipe cookbook…nicely done!
4 brewing size options and strengths
Smart-goes to keep warm when carafe is selected
Comes with a travel mug and straw, however other mugs fit
Milk Frother: easy to use, easy to clean, heat resistant band for handling
Comes with tips and info like which mugs/cups make your coffee go cold
The carafe pours nicely
There's a special setting for cleaning (haven't tried it though)
It'll run you about $149 at Wally world, but it has the potential of saving tons on similar commercial coffees, or owning multiple machines
There were a couple of things that I would improve upon, for the most part they are minor.
Classic brew cup setting is too much, no room for milk or syrups
A full brewed mug means that there is splashing during final brew that needs to be cleaned up
For best control you need to hold the lid of the milk frother while pumping
It's on the large side, but certainly smaller than other makers
There are plastic parts, cheaper feeling but the maker wouldn't be remotely affordable otherwise
The coffee is great but not for high end coffee snobs, it is a drip coffee maker, it'll have some limitations
I think the Ninja Coffee Bar is the perfect brew system for a family like my step-daughter and my son-in-law.  Matt needs a carafe of coffee everyday, preferably strong brew. Matt travels a lot.  Janet needs the 1/2 carafe on weekends but weekdays would love the single serve settings.  Both would love to brew directly into travel mugs. Both are adamantly against using a Keurig.
If versatility and low waste are high points in the coffee department for you whilst getting a solid good cup of coffee, I don't think you could do better than the Ninja Coffeebar.
Necessary disclaimer: I did not get paid to review this product, however the product was sent to me to review.  The opinions are all my own (aren't they always…) and in no way influenced by the fact that I got this really awesome coffee maker bar.
I do have another product to review, I'll be sharing a recipe with that one. Plus I'm devising a grown-up only coffee drink that will use the coffee bar and what's coming up.
Has anyone else used this?  What are your thoughts on it?