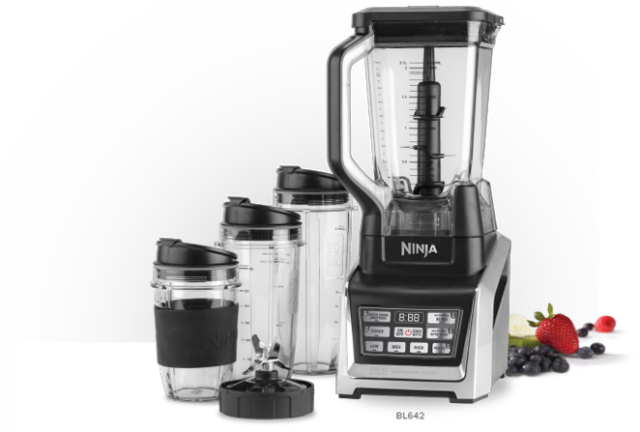 It's Saturday morning the sun is shining, may garden needs weeding, my lawn needs mowing and my house needs cleaning. Fuck it, I made a resolution to do more blogging and I'm sticking to it.  Especially since I have so many posts to do! I've traveled to LA for the IACP conference, went to San Antonio during Fiesta and headed off to Austin to for the Food & Wine festival (which was cancelled) and then I'm off again this coming week to Seattle for the Nordic Food Conference.
Before I take off for the day (tonight I'm cooking a French Dinner for 20 as a fund raiser for our Urban Art Project), I thought I'd enjoy my cuppa and let you know how the Ninja Auto IQ works.  The folks at Ninja were kind enough to send me their Ninja Coffee Bar (which we actually love) and their Ninja Auto IQ Duo Blender. I'm not getting paid to do this review so the opinions are all mine (necessary disclaimer).
The idea behind the duo concept is brilliant, it's magic bullet meets big girl blender/food processor.  The blender comes with the glasses and drinking tops for smoothies that fit right onto the base, and a small blender attachment with a wicked looking double blade, plus a double blade for dough blending.
At 1500 watts this blender has some power! It has an average size foot print so it won't take up much room on the counter.  You could conceivable use it as your blender and food processor, eliminating those appliances that build up. The function is fairly intuitive. Start, pulse, etc. It has two unique settings just for smoothies; one is extract to use when blending leafy greens like kale and spinach and the other is a standard blend.  I tested both (see the video below for the blend mode) and it worked fabulously.  I used two recipes from the recipe book that is provided.
First we tired the Top O' the Mornin' smoothie.
Let's see how it does live on video (okay this is my first home video post and I did nothing fancy at all…who has time for that?) You'll get the point regardless.
You definitely won't be sneaking in any smoothies without someone knowing or waking up the house hold.  That being said it's a powerful machine and blended the crap out of the ingredients.
We also made the Sweet Spinach Detox smoothie (sorry no photos), the extract setting ensured there weren't any stringy bits at all.  Actually it was my favorite of the two.
Next I tried it as a food processor.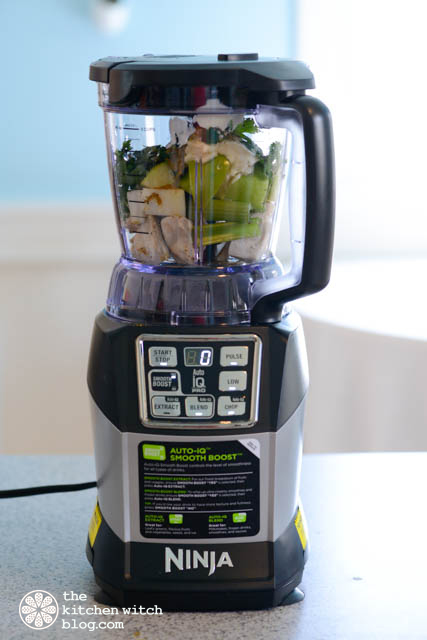 I adapted a recipe from the recipe book and followed their directions for cutting size and order placement in the blender/processor.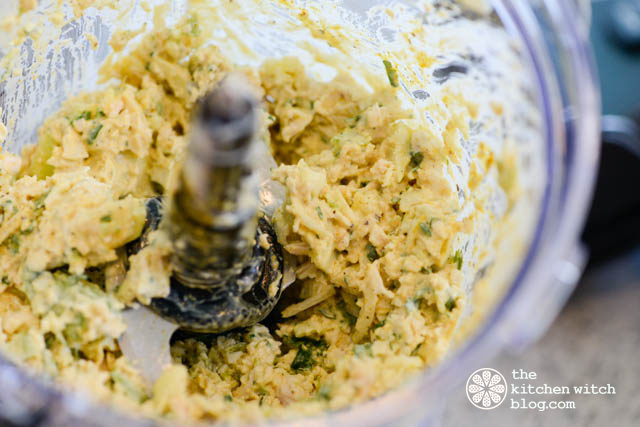 It didn't look too bad although to cut up the celery and apple I really had to keep pulsing and ended up with my chicken being much smaller than I wanted.
As you can see I found large chunks not cut up, in fact I found several.  This was resolved by cutting the chunks into smaller pieces than directed. Pulsing the tougher to chop ingredients a couple of times first then adding the softer ingredients.
I've tried using the blender to do more processing, including making dough for corn tortillas and was disappointed each time. It's fine for some small chopping but honestly the Ninja does best with what Ninja does, making smoothies.  It'll remain on my counter since McGyver is a big smoothie fan and this makes it super easy and cleanup is easy also.