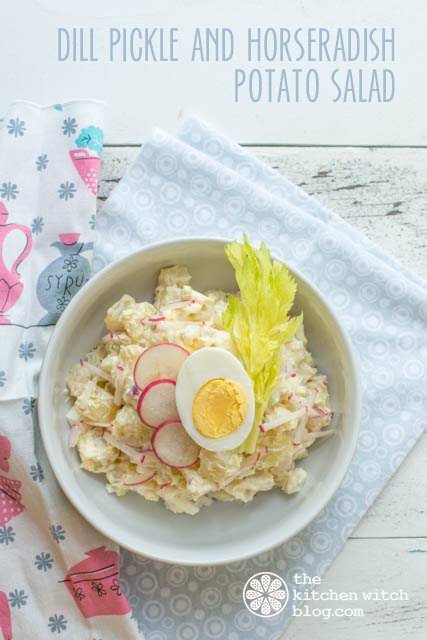 At home we just call this "Jen's Potato Salad". Jen is my bestie, next to McGyver she is my soulmate. How lucky I feel to have a friend that I can share, unabashedly everything.
Besides being a great confidant, she's a pretty awesome cook too. When we were stationed together in Germany she made her signature potato salad and it was love at first bite. Although we don't live close together anymore, whenever I visit she knows that her potato salad is a must make for me.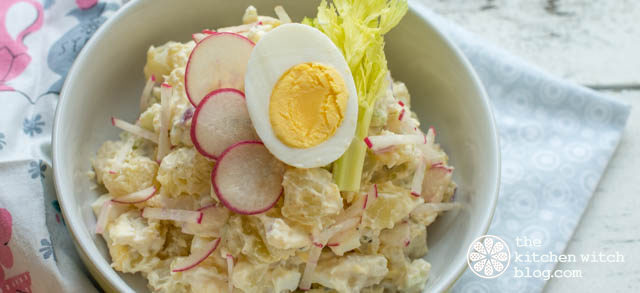 It's so good though that I can't wait to only have it when I see her. Today I'm making my Aunt Lou's BBQ beef brisket and had a hankering for potato salad and I couldn't think of a better one than Jen's.
In this version I've put my own little spin on it. We were actually talking on the phone as I made it and she asked "you didn't put onion in it did you?", I did. Jen doesn't much care for fresh onion in her potato salad so she uses onion powder but she told me that this recipe was her grandmothers and she always used sweet onion. When her mom makes it she uses green onion (I had to confess previously I had also).
Unwittingly I had reverted to her grandmother's version although I used red onion. Then I decided to add some radish to it, just because I had some. And ain't that the beauty of a recipe?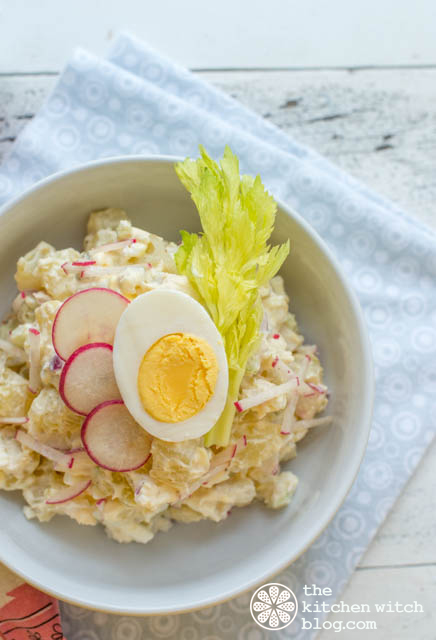 What I love about this potato salad is that it satisfies my love of tart and somewhat pungent foods. The dill pickle gives such a nice tang and the horseradish is a slap to the ol' taste buds. Really makes it a great accompaniment to beef or nicely grilled and greasy brats.
I've scaled the recipe down to a mere serving size of four (or one if you left me to it…).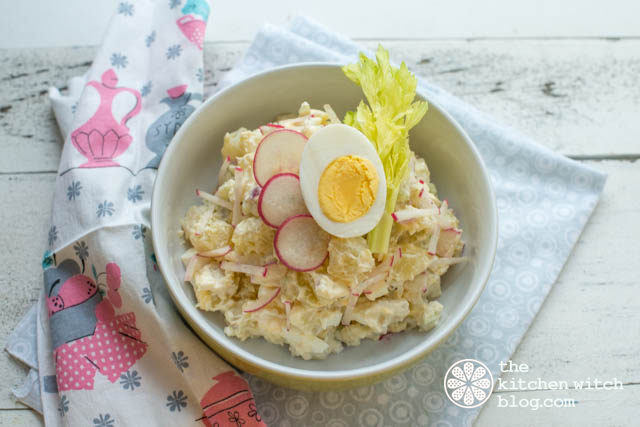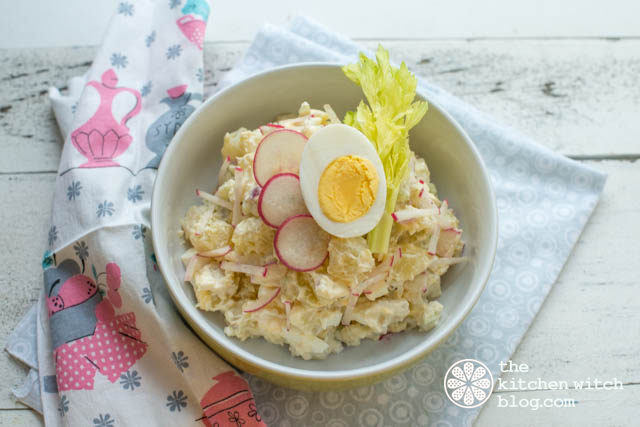 Dill Pickle and Horseradish Potato Salad
2017-01-15 16:25:57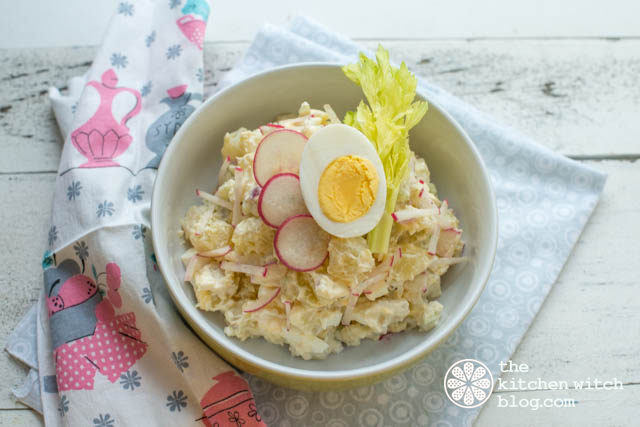 Serves 4
Ingredients
4 yukon gold potatoes, peeled and cubed
2 hard boiled eggs, chopped
1/4 cup chopped celery
1/4 cup chopped red onion
2 radishes, chopped (optional)
2 tablespoons chopped dill pickle
1 to 2 tablespoons dill pickle juice
1 to tablespoons horseradish
1/2 cup mayonnaise or more
Salt and fresh ground black pepper to taste
Instructions
Place potatoes in a medium pot, cover with water and bring to a boil. Reduce heat to simmer and cook until tender, about 15 minutes. Drain and refrigerate.
While potatoes cool, prep celery, onion, pickles and radishes.
In a medium sized bowl, toss together potatoes, celery, onion, pickles and radishes. Add mayonnaise, horseradish, salt and pepper. Taste for seasoning.
If you like a creamier salad add more mayonnaise but not so much that it over powers the rest of the ingredients.
Refrigerate at least one hour to allow flavors to blend.
The Kitchen Witch http://www.thekitchenwitchblog.com/