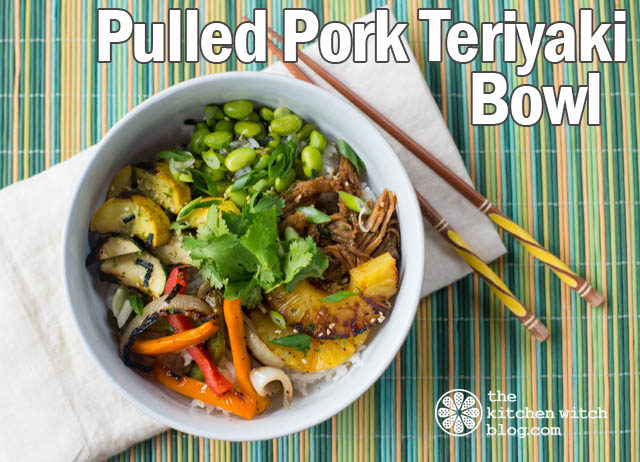 We just had a Teriyaki Madness chain open up here in Great Falls and everyone loves it! I have to say I thought it was pretty decent myself. However, I'm a do it yourself gal in the kitchen and when you cook up almost 8 pounds of pork shoulder, grill 5 pounds of squash, 12 mixed bell peppers and 4 onions for an article you're doing for The Great Falls Tribune, the teriyaki bowl practically makes itself.
While I was grilling all those veg, I threw on a can of sliced pineapple. Definitely headed to teriyaki town.
I set out to make this a healthy-ish bowl (brown rice would have been better). Only 1/8th maybe 1/4 of the bowl is pork, the rest is full of fruit, vegetables and beans. With all these flavors going on, you don't need a lot of meat. As a matter of fact I could have omitted it and been just fine. Then again I had a shit ton of pork to use.
You can use a jarred teriyaki sauce, like Kikkoman's reduced sodium Teriyaki Sauce & Marinade or you can make my go to Teriyaki Sauce (I really need to update those photos…).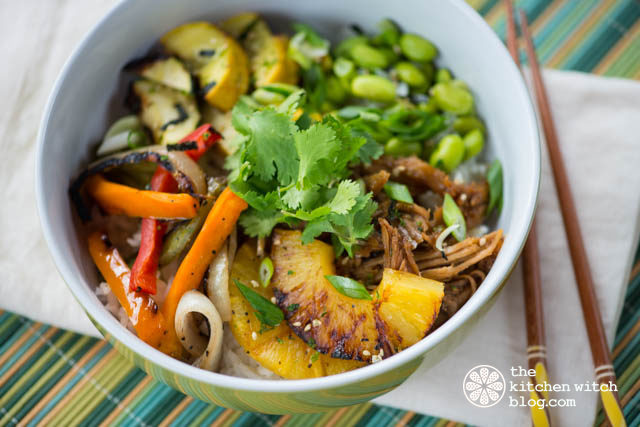 This recipe is more about an assembly of ingredients that I like to cook ahead and freeze, hence the large quantities!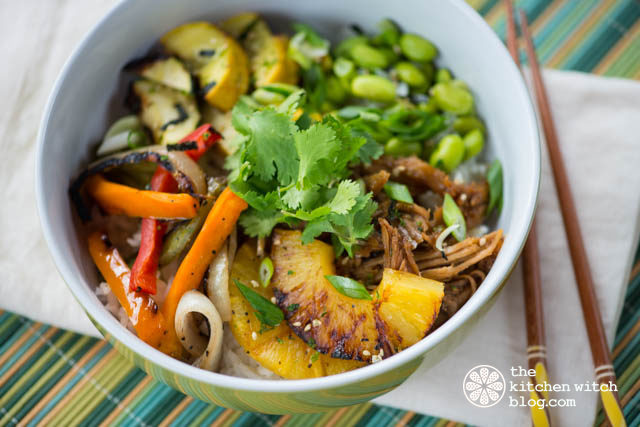 Pulled Pork Teriyaki bowl
2017-06-19 16:13:25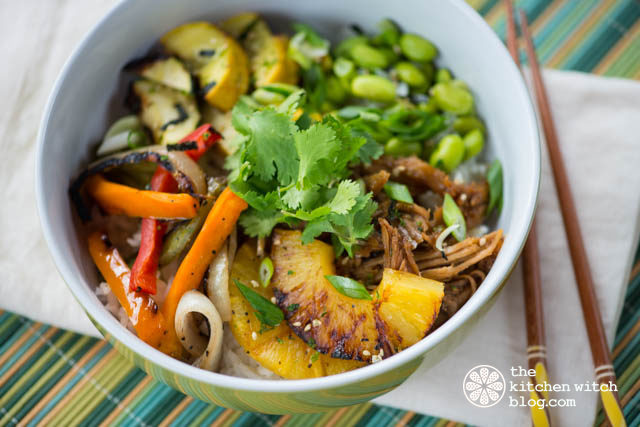 Serves 4
Ingredients
2 cups cooked Rice
1 cup pulled Pork
1/2 cup Teriyaki sauce (or more if you like it saucy)
1 cup grilled peppers and onions
1 cup grilled zucchini and yellow squash
4 slices pineapple, grilled
1 cup shelled edamame, warmed
1/4 cup sliced green onions
1/4 cup chopped cilantro (optional)
Furikake seasoning (optional)
Instructions
In a small pot, mix pulled pork and teriyaki sauce, gently warm.
For each bowl, place 1/2 cup rice in bowl, top with 1/4 cup teriyaki pork, 1/4 cup grilled peppers and onions, 1/4 cup grilled squash, 1/4 cup edamame and 1 pineapple slice, halved.
Garnish with green onions, cilantro and furikake. Serve with extra sauce.
The Kitchen Witch http://www.thekitchenwitchblog.com/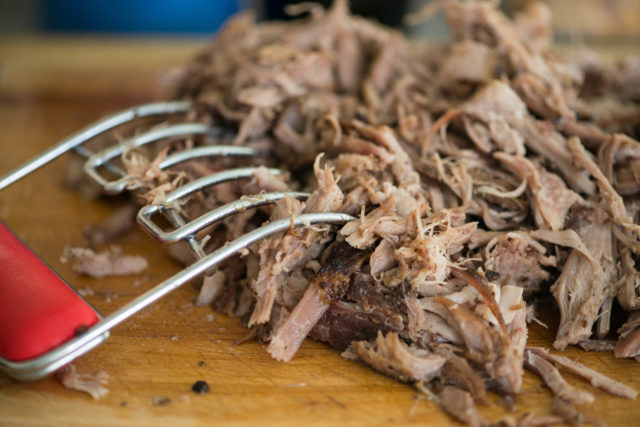 Pulled Pork
2017-06-19 16:18:45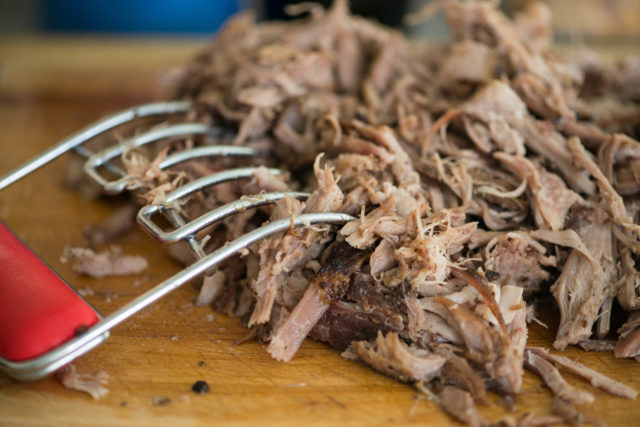 Serves 30
This pork is made with a wet marinade, plan to prepare it the night before. Although the pork could be cooked in the oven, using a Crockpot is even easier.
Ingredients
1 (7 to 8 pound) pork shoulder
2 tablespoons Black Magic seasoning or Alpine seasoning
1 Tablespoon garlic powder
1 Tablespoon Onion powder
1-2 Tablespoon coarse ground black pepper
1 Teaspoon celery salt 2 Tablespoon Liquid Smoke
1 Tablespoon Bragg's Amino Acids or soy sauce
Instructions
Use a disposable foil pan or line a roasting pan with Aluminum foil. Unless using a crock pot. Place roast inside.
In a small bowl mix dry ingredients, stir in liquid (it will look like wet dirt). Spread marinade all over pork (I use gloves to prevent my hands smelling like liquid smoke). Cover with foil, marinade over night.
Preheat oven to 250°F and cook uncovered (or cook on low in Crockpot) 8 to 10 hours, or until tender and easily pulls apart. Let rest 10 minutes, then using two forks or BBQ Claws shred meat. Bag and freeze in 8 ounce or 1 pound portions.
The Kitchen Witch http://www.thekitchenwitchblog.com/