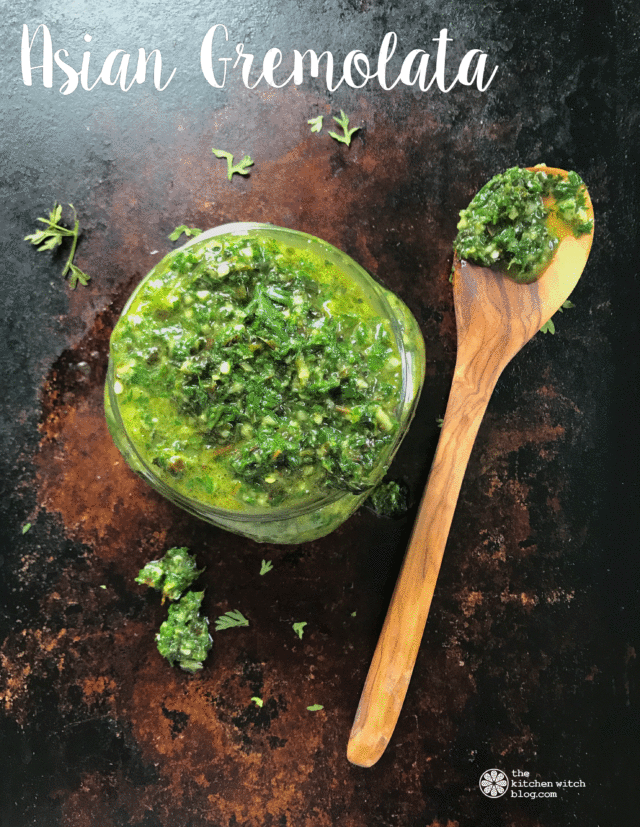 Usually a dish just names itself but I'm afraid that this little condiment/sauce suffers from an identity crisis. It looks like gremolata/pesto/chimichurri, it possesses some of the elements of all. However it is not of Italian decent yet it is of Italian influence. I guess I could describe this as truly a fusion.
Thai basil, garlic, ginger and fish sauce give this a very distinct Asian flavor. The carrot tops, well they were fresh and local, so beautiful that I couldn't let them go to waste. Much more beautiful than my end of season Thai Basil.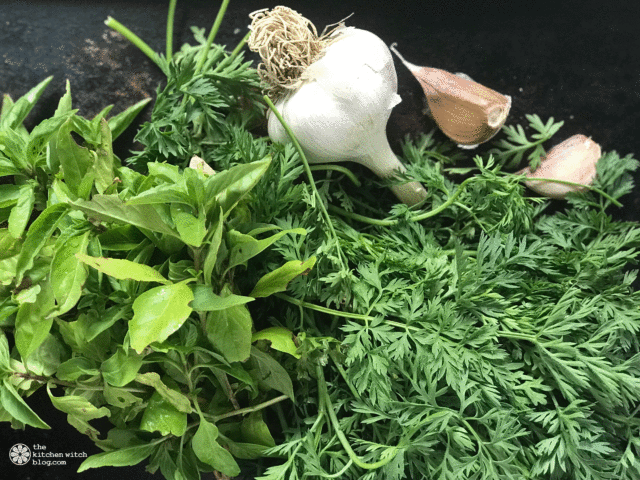 That darn little leaf eater got to my garden this year, it's probably part of the sauce now, bwahaha…
With an imminent freeze coming, it was imperative that I do something with the basil! Good lord knows I can't let anything go to waste. Since I didn't have time to make Pho I had to use my little noggin to figure out what to do with the basil. Carrot top pesto had been rolling around my head ever since we started getting carrots in our CSA but I didn't get around to making it, just fed it to my worms.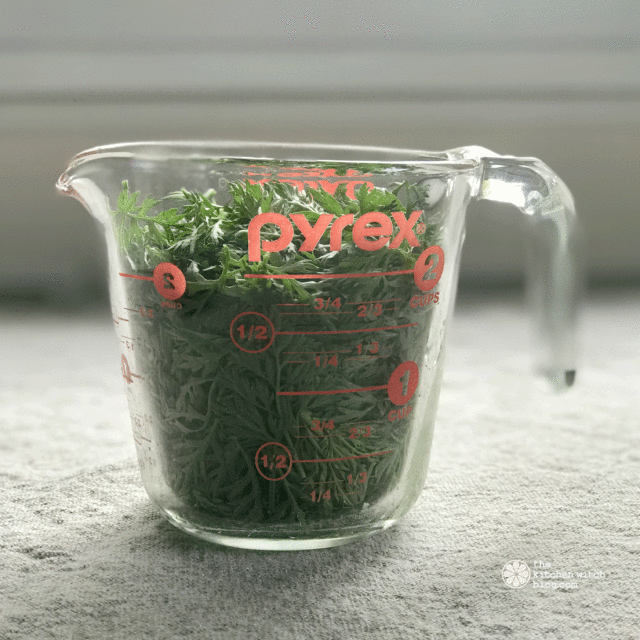 With the idea of pesto but the Thai part had me thinking Asian, I decided to experiment. I had fresh garlic also from my CSA and some Serrano peppers from my garden. I use fish sauce in my Thai cooking add a little ginger and viola, it's an Asian gremolata/pesto/chimichurri.
Actually I settled on calling it a gremolata. A classic gremolata uses parsley (carrot top), lemon zest (ginger), garlic and anchovies (fish sauce). With the addition of Serrano's it also reminded me of chimichurri which uses crushed red pepper flakes and naturally the basil reminds me of pesto.
If you make it you can call it what ever you want, or change it up to match how you use it.
Here's some ideas:
use on shrimp/fish tacos
toss with some pineapple or mangoes for an Asian/Hawaiian style salsa
use it as a marinade
add some vinegar and more olive oil and use as a salad dressing
try it with pork
toss with rice noodles, add chopped peanuts for that pesto feeling
add to noodle bowls or Pho
Mix with sour cream and some lime juice for a little Asian crema/dip (I did this for my shrimp tacos–yum)
Toss with some roasted veg
That should get you started!
Here's a little foodie tip: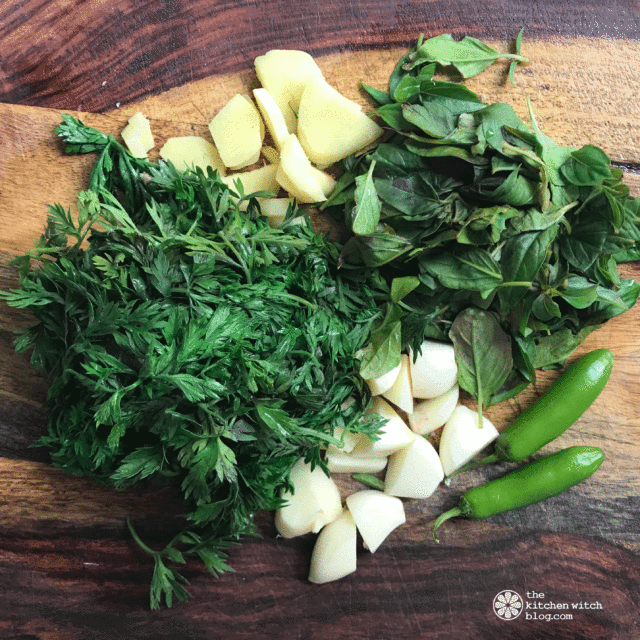 If you blanch the herbs for a few seconds in hot water it'll make them bright green and lovely!
I have a confession to make. I wasn't going to do a blog post on this. I had just created this recipe; I really didn't test it over and over like I usually do. Yep, it's a virgin recipe. Something I don't normally do, but I nailed this one! It's too good not to share. I did write down all my measurements (except the olive oil) while I was doing this and I took the photos with my iPhone (mostly because it's my new personal challenge to make compelling photos using the awesome camera in my phone).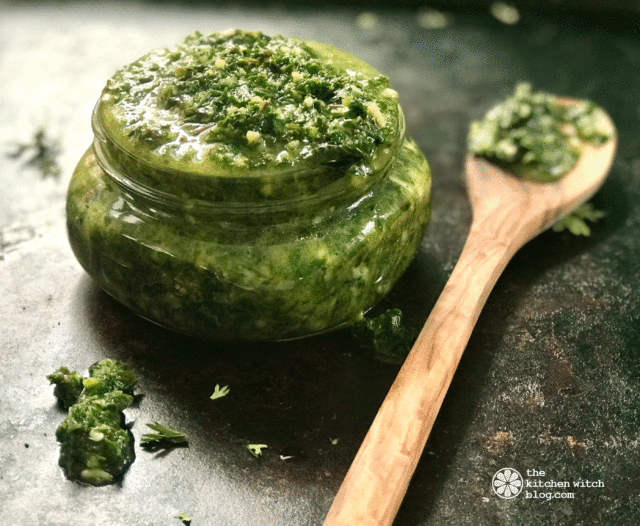 If you make this, I'd love to get your feedback. This recipe is also vegetarian, vegan, paleo, keto, gluten free friendly, and with all that garlic and hot peppers you know it's good for you too.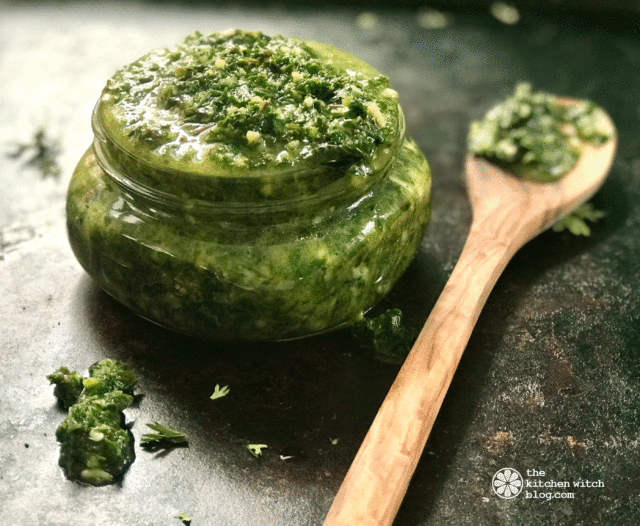 Asian Gremolata (pesto/chimichurri)
2017-10-03 18:34:44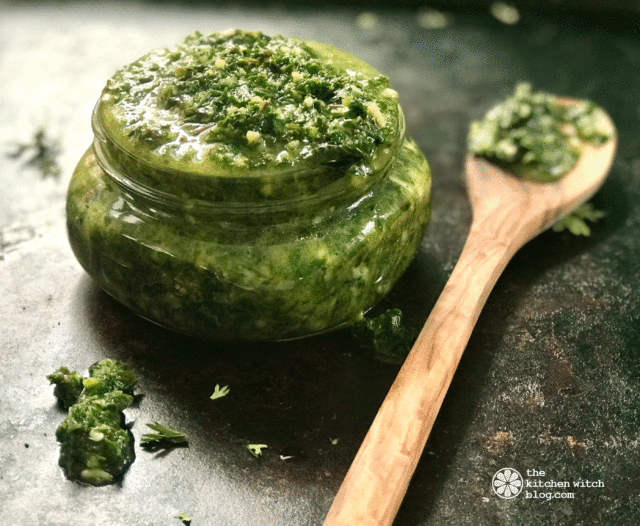 Ingredients
1 bunch carrot tops, stems removed, about 2 cups packed
1 cup Thai basil leaves
1 inch piece of ginger, peeled and rough chopped
4 large cloves garlic, peeled and rough chopped
2 teaspoons fish sauce (or more to taste)
1/2 cup (approximately) good quality extra virgin olive oil
Instructions
Blanch carrot tops and basil by placing in a bowl and pour boiling water over them. As soon as they turn bright green drain.
Place all ingredients in the bowl of a food processor. Pulse 4 or 5 times, then turn on. Drizzle olive oil in until a loose sauce is formed. About 1/2 cup was enough. Taste for seasoning.
Store in an airtight container in the refrigerator or freeze (an ice cube tray would work nicely for this)
Notes
Please note that this recipe does NOT use salt, the fish sauce is very salty. If you think the sauce is "fishy" enough but not salty enough add salt, otherwise you can add more fish sauce in very small increments to get desired umami flavor.
The Kitchen Witch http://www.thekitchenwitchblog.com/