Mmmm, mmmm, good, that's what chicken noodle soup is!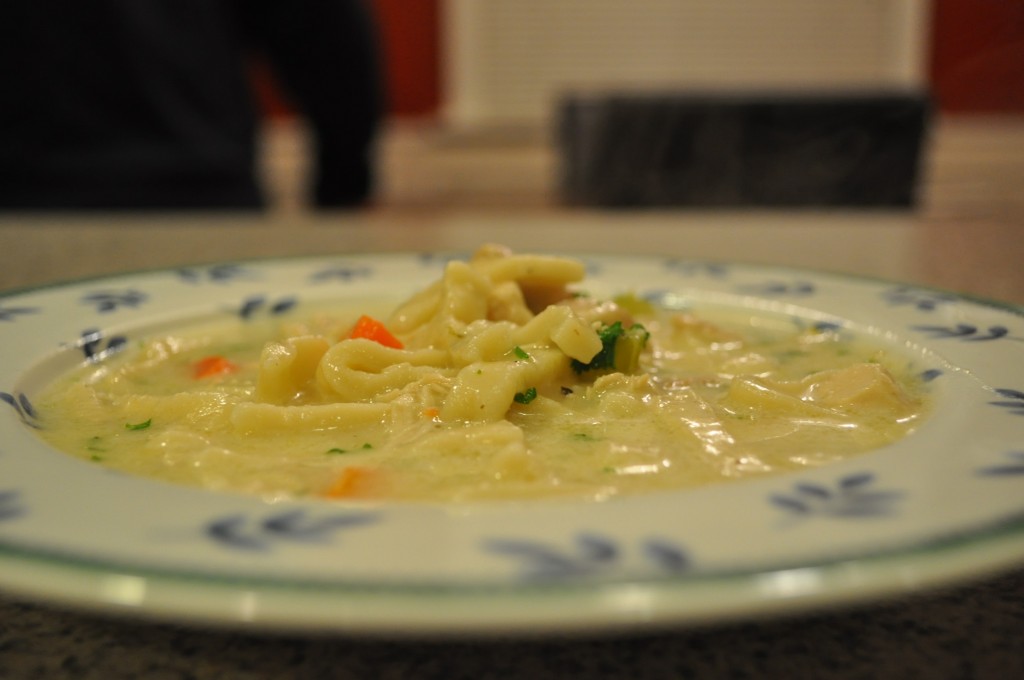 CREAMY CHICKEN NOODLE
Stock
1 roasted chicken, picked clean, reserve meat, discard skins
1 onion, quartered
3 cloves garlic, halved
2 carrots
3 stalks celery
Sprigs of Parsley
10 Peppercorns
2 Bay leaves
3 Chicken bouillon cubes
The Soup
2 cups chopped chicken
3 carrots, peeled and sliced
2 stalks celery, sliced
3 heaping tbs flour
1 cup cream
16 oz of frozen noodles
1/4 c chopped fresh parsley
Salt and pepper to taste
optional: more chicken bouillon
Directions
It begins with the stock.  I had a part of a leftover roasted chicken from the night before.  I love reinventing leftovers!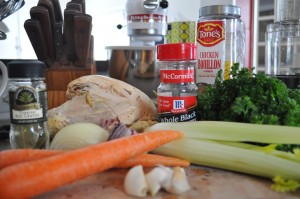 Also included in the stock crew, 1/2 white onion and 1/4 of a red onion (cause I needed to use them, soon), 3 cloves garlic, 2 carrots (unpeeled), some sorry looking celery, curly parsley because that's all my grocery store had.  Ten or more peppercorns, 2 bay leaves and 3 chicken bouillon cubes.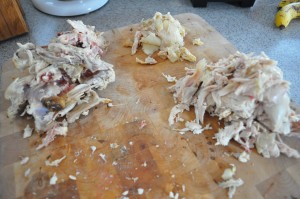 Separate the meat from the bones.  Make a separate pile for the skin.
You can discard the skin, but if you have faces that look at you like that, you will probably save it for them.
Quarter the onions, halve the garlic (you can leave the skin on), halve the carrots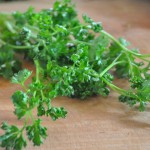 Cut up the celery so it will fit in the pot, leave parsley whole, place peppercorns in a tea strainer.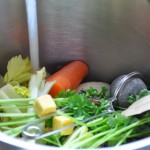 Add bouillion, fill the pot with water, 1-2″ above the chicken parts.
Bring to a boil and then simmer for at least 45 minutes.  Then strain the broth through a colander or fine sieve.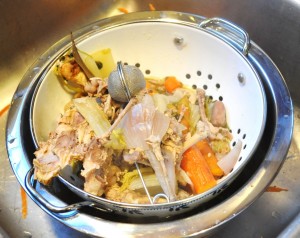 Do you hear Taps?  They gave all they had, there is no life left to the solids.  A moment of silence, before we discard them, please.
Put the broth back in the pot.  Put it back on the burner too.
Hopefully you were smart enough to prep the carrots, celery, parsley and chop the chicken while the broth was simmering.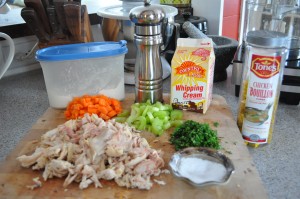 Mise en place
Add, chopped chicken, carrots (not pictured), celery, stir, bring to a low boil, and cook until the carrots are tender, about 7-10 minutes.
Mix 3 heaping Tbs of  flour and 1 c. cream in a jar and shake the bejeezes out of it.  If you are weak like me, pour it through a strainer prior to adding it to the soup.  This will make the soup thick and creamy.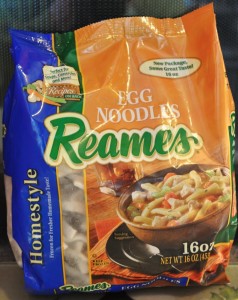 Thanks to Ree Drummond's site www.thepioneerwoman.com I discovered these most fabulous noodles.  Add 1 package to the soup, cover and simmer for about 15 minutes.  Add salt (or more bouillon) and pepper to taste, then finish off with fresh chopped parsley.
Wow, that's it, my first foodie post.  Obviously I was very excited to have a new camera.  Not only was I excited, so was my baby.  We took so many photos that it took me forever, okay, not forever, but seemingly forever to post.  Do not look forward to as many photos in the future, it will not happen, I have a life, I must work ridiculous hours, I will not have time to play bloggie…unless I'm super successful and can retire and blog full time.  And the chance of fantasies coming true?  Same as winning the lottery when you don't buy tickets!