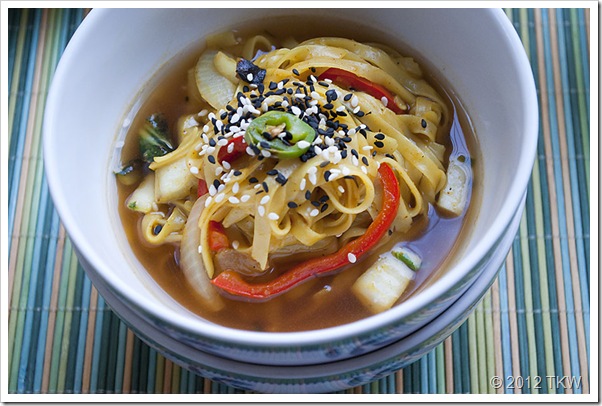 I may have scaled back on my blogging but I just couldn't scale back on The Secret Recipe Club, you know because clubbing is so much fun

It had to happen, at some point, I was going to be assigned a Vegan blog. I was pretty sure that I wouldn't have an issue, but the family…well, as along as I didn't get weird on them they probably would be okay.
Actually I've had a vegetarian blog, Thrifty Veggie Mama and made bean burgers that McGyver and the I really enjoyed. So the leap to a Vegan meal I thought would be easy enough…my only rule was that I wasn't going to buy anything that I most likely wouldn't use again.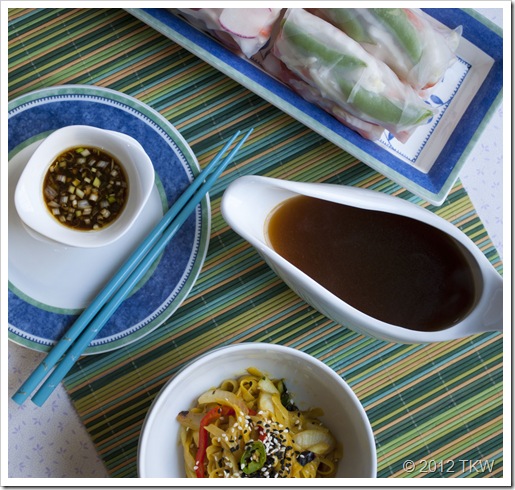 Which Vegan blog did I get? The wonderful We Heart Vegan. In the "About" section, Brittany and Julie started the blog so that everyone would have access to cheap and wonderful vegan foods. They believe that you should
live life to the fullest by treating our bodies with respect, love and care
Brittany goes on to share her journey into the world of Veganism, it wasn't a choice made because of animals, she made the choice to be healthy and to prevent disease. Living the vegan lifestyle is simply applying the things that she is learning in college (food & nutrition). I love that, educated decisions are the best.
Although this is a "we" blog, I suspect that Brittany is the main force behind it???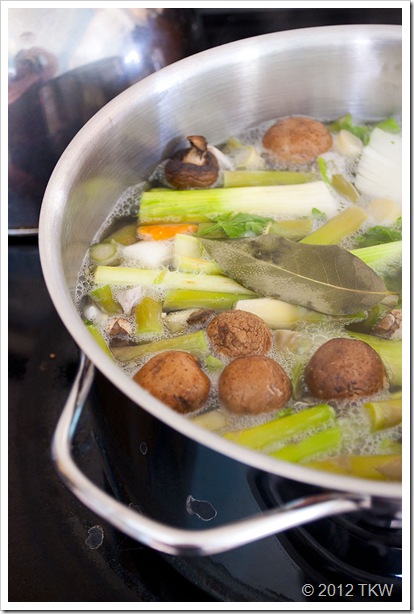 After scouring their site, I landed upon a recipe that I knew from the moment I read it, would be the perfect recipe for this non-vegan family! It was spicy, noodle-y and called for grilling! I decided to make their Noodle Bowl with Grilled Baby Bok Choy.
Like any blogger worth their salt, I made some minor modifications. First off I went all out and made homemade veggie broth (did I make y'all proud?), then I upped the grilling ante and grilled bok choy (not baby), red peppers (for color), the onions, garlic and a serrano pepper (to replace the red curry paste).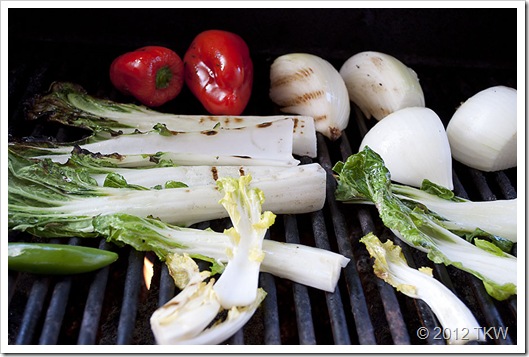 I did skip the addition of the nutritional yeast since I didn't see that as a big part of my culinary future and I substituted the bean noodles for some rice sticks I had on hand…sticking with the vegan thing though. And to complete my meal I made veggie spring rolls with a soy dipping sauce. Kind of a soup and salad meal.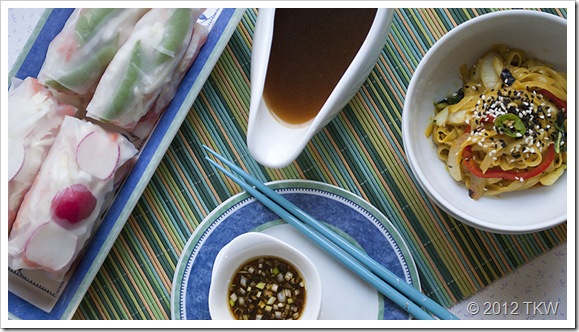 The verdict? Didn't miss meat, dairy, nothing. We didn't feel deprived at ALL. As a matter of fact, this spicy noodle dish was so good that McGyver took it to work and got rave reviews! At the end of their post they mentioned that 1. they should have made the bok choy smaller, so I cut mine up smaller and 2. that they wanted to make it again, but as a soup.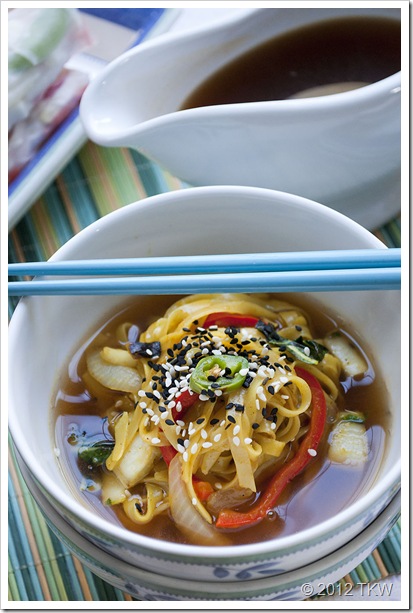 Brittany and Julie, I made the noodle bowl and served the hot veggie broth on the side for the diner to make their choice. Girls, you were right, super good as a soup. We'll probably never convert to veganism, but I don't think we'll ever turn our nose up at vegan food if it's this good!
Spice warning! Wow was our Serrano pepper spicy!!!! Make sure you test your pepper before you use it. I actually didn't even eat one because it spiced up the noodles just right for me without biting into one….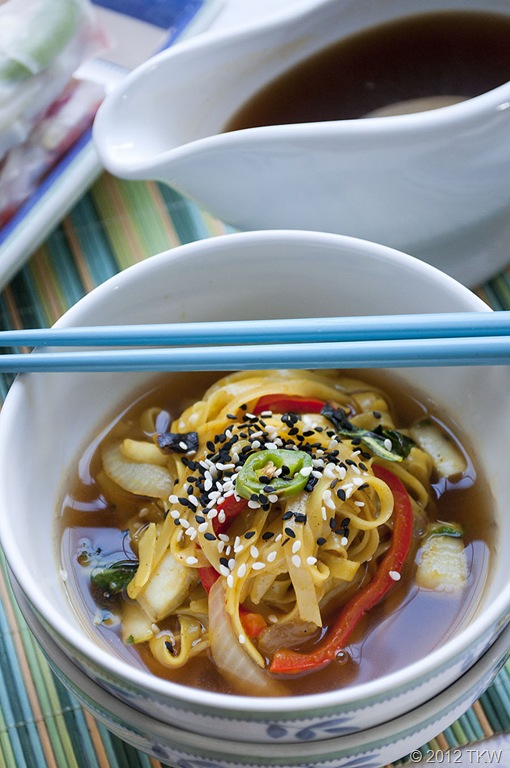 Spicy Noodle Bowl
2016-06-11 13:21:04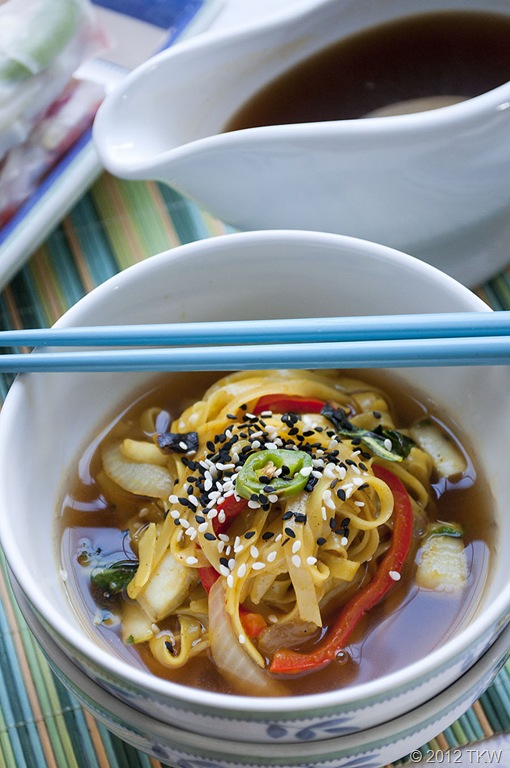 Ingredients
Olive oil
1 pound (or more) bok choy, washed and dried, ribs seperated
2 small red peppers
1 onion, halved and peeled
1/2 head garlic (cut cross wise, use the "non-pointy" half)
1 Serrano pepper
1/4 teaspoon red pepper flakes
1 teaspoon curry powder
1/4 teaspoon. turmeric powder
1/2 teaspoon onion powder
1/2 teaspoon garlic powder
1/2 teaspoon mustard powder
1/2 teaspoon ground ginger
Fresh ground black pepper to taste
2 teaspoon. soy sauce
6 cups + 1/3 cup vegetable broth, divided
1 package (13.2 ounce) rice sticks, soaked for in warm water for 45 minutes and drained
regular and black sesame seeds for garnish (optional)
Instructions
Heat a grill or grilling pan on high. Light coat the veggies with olive oil, grill the veggies until lightly charred, let cool. Once cool enough to handle, chop the bok choy and garlic, slice the peppers and onions.
In a wok or large pan toast all the dry spices over medium high heat until aromatic, about 30 seconds. Add the soy sauce and 1/3 of the vegetable broth. Add the noodles, add more broth 1/3 cup at a time once absorbed until noodles are done (about 1 cup). Add all the veggies at once, stirring frequently until until heated through. Garnish with regular and black sesame seeds and extra broth on side if desired.
The Kitchen Witch http://www.thekitchenwitchblog.com/

Thanks Angie from Big Bear's Wife for being the wonderful hostess of Group C. Also Amanda of Amanda's Cookin' for cookin' up the idea you've built a great community! A little SRC news, Amanda is passing the torch on to April of Angel's Homesteading, yay for Angel, it's great to have you at the helm. For more SRC reviews check out the linky below.