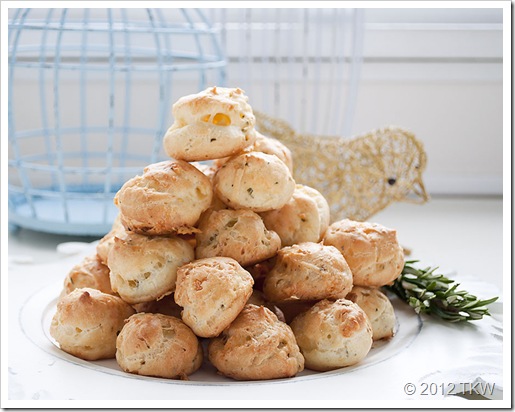 It's hard to believe that it's time for the Secret Recipe Club reveal. Each month passes by faster and faster! If you haven't heard of SRC before, it's a way for other bloggers to secretly cook another bloggers recipe and then post about the experience. Amanda from Amanda's Cookin started it, there are four groups and each group has a host, mine is the charming Angie from Big Bear's Wife.
I really enjoy it, not only because I actually make time to cook another bloggers recipe, but I take the time to get to know them. The hardest part, is lurking on their site and not making too many comments for fear that they'll clue in who it is.
This month I was assigned The Pink Apron. Kelly started her blog in 2008, she is passionate about her food and about the story behind the food. I knew Kelly and and I were of one heart when I read that she loves cheese (anyone who hangs around here knows that I'm a cheese FREAK). To quote Kelly:
If I had to pick only one food to live off of for the rest of my life it would be cheese. I've even decided that if I ever get married I want a cake made of stacked wheels of cheese. (I know my mom thinks this is crazy, but I am serious.)
Kelly, I don't think you are at all crazy, plus I bet if you saved the top layer (with the right kind of cheese) in a year it would probably taste better than some frozen stale cake. Kelly doesn't just love cheese, she makes her own! She even has a cheese certificate from Boston University.
Naturally I had to choose a recipe from her site that included cheese. I choose the gougères (pronounced goo-ZHAIR) for a couple of reasons. I had my very first taste of gougères in San Francisco 2 years ago at the Foodbuzz festival and was beside myself! A perfect bite sized cheese puff, cheesy yet not heavy, I could have ate them endlessly. I haven't had them since…
Plus gougères require a pâte à choux (pronounced paht-ah-SHOO & sometimes spelled with 'au'), something I've never attempted before. Frankly it's quite intimidating, I've read and heard about many a pâte à choux based recipe that went flat, or the eggs weren't tempered right and cooked. A choux contains only butter, water, flour, and eggs. In lieu of a raising agent, it employs high moisture content to create steam during cooking to puff the pastry. Pâte à choux is also used to make churros, éclairs, profiteroles, beignets and crullers.
Even though I'd never made gougères before, I got a little brave and incorporated two of my favorite flavors inspired by breadsticks that I love, rosemary and roasted garlic. I wasn't sure how the moisture in the roasted garlic would affect my choux, but I tried to use a little cooking logic based on some troubleshooting advice I read (see below). I reduced the cheese mixed in the choux to 1 cup, and used the other 1/2 cup to sprinkle on top (there's no way I was about to reduce the amount of cheese used).
If I could, I would pat myself on the back! They weren't nearly as difficult as I thought. I did go online and pick up a few pointers since I had no experience. David Lebovitz was partially my guide, he had this to say:
The puffs are best served warm, and if making them in advance, you can simply pipe the gougères on baking sheets and cook right before your guests arrive, or reheat the baked cheese puffs in a low oven for 5-10 minutes before serving. Some folks like to fill them, or split them and sandwich a slice or dry-aged ham in there, although I prefer them just as they are.

A bit of troubleshooting: The most common problem folks have with pâte à choux, or cream puff dough, is deflated puffs. The usual causes are too much liquid (eggs), or under baking. Make sure to use large eggs, not extra-large or jumbo, and use a dry, aged cheese, if possible. And bake the puffs until they're completely browned up the sides so they don't sink when cooling. If yours do deflate, that's fine. I've seen plenty of those in France, and I actually think the funky-looking ones have a lot of charm—and you're welcome to quote me on that.
Mine didn't deflate! Thank you Kelly for being a cheese soul freak like me and inspiring me to stretch my wings a bit and make something entirely new. Kelly has a zillion other great recipes, please stop by and check The Pink Apron out. And make sure to check out some of the linkies from my fellow SRC members.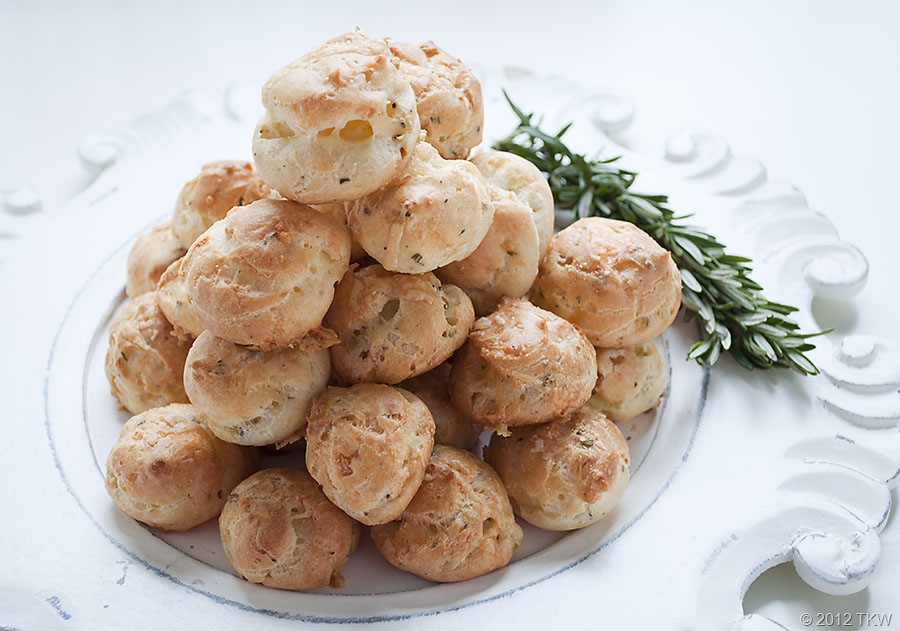 Rosemary and Roasted Garlic Gougères
2016-06-11 13:45:41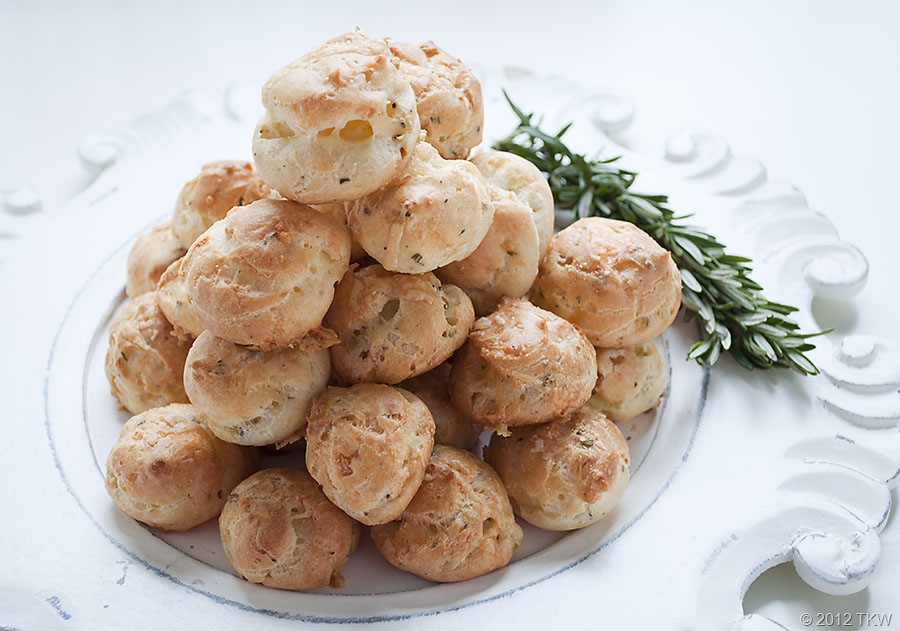 Ingredients
1 cup water
1 stick (8 tablespoons) butter, roughly chopped
1 cup all-purpose flour
4-5 large eggs (I used 4)
1 1/2 cups finely grated Gruyere cheese, divided
2 tablespoons finely grated Parmigiano-Reggiano
1 tablespoon minced rosemary
1 head roasted garlic, peeled
3/4 teaspoon Kosher salt
1/4 teaspoon freshly ground black pepper
Instructions
Place your racks in the upper and lower thirds of your oven and preheat to 375 degrees F. Line two baking sheets with parchment paper and set aside.
In a large saucepan, combine water, and butter over medium high heat. Continue to cook, stirring, until butter has melted and mixture has come to a boil.
Reduce heat to medium low and add flour all at once, using a wooden spoon, stir vigorously until the mixture pulls away from the sides of the pan, about 30 seconds. Continue to cook and stir for an additional 1 1/2 minutes to remove more moistures. Remove from the heat and allow to cool slightly for about 3 1/2 minutes.
Add your eggs, one at a time, beating each egg into the mixture until it is incorporated. The batter will appear to separate at first, but will then come together in a dough. Continue adding the eggs one at a time until the dough is glossy and just stiff enough to hold peaks, but pliable enough to fall softly from a spoon. This may or may not require the last egg, so monitor your dough accordingly.
On a cutting board, with the edge of a chef's knife, smash the roasted garlic with the kosher salt to form a paste, add to the choux. Stir in 1 cup of the cheese, pepper, and rosemary until well incorporated.
Fill a pastry bag (or zipper lock bag with a snipped corner) with the dough and pipe 1-inch rounds onto your baking sheets, approximately 1-inch apart. Continue until you have used all the dough. Bake in the oven, switching positions of your sheets half way through, until the gougères are puffed, golden, and crisp, about 30 minutes. Serve warm.
Adapted from The Pink Apron & The Gourmet Cookbook
Adapted from The Pink Apron & The Gourmet Cookbook
The Kitchen Witch http://www.thekitchenwitchblog.com/