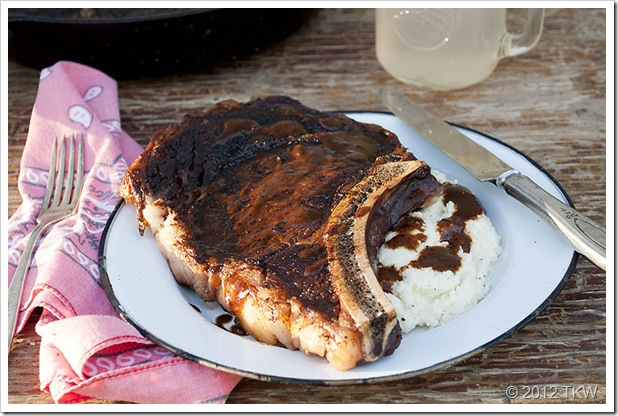 Last Saturday I posted my Daring Cooks Challenge dishes with promises that I would post this very manly recipe and another dish this week. For this part of the challenge my mandatory ingredients I selected were: Instant coffee, cauliflower and goat cheese.
The goat cheese and cauliflower were a perfect foil for the rich rib eye, the flavor was slightly pungent with plenty of garlic. Now the steak, let me just share with you some comments made by McGyver.
Mmmm, babe this is soooo good.

I can't stop eating this. I think this is the best steak you've ever made.

This is the best cowboy steak I've ever had.

If you opened a restaurant you'd have to put this on the menu.

If this was on a menu at a restaurant, it would become the signature dish.

People would drive miles to eat this steak.

I can't believe how good this steak is!
Do you think he liked it? Let's just say, he's still talking about it. If that isn't testimony enough, I don't know what is. Naturally it started with the steak. Nothing fancy just a grocery store bone in rib eye…a big un. The secret was 'wet' aging it. A few days before I cooked it, I sprinkle kosher salt liberally all over it and put it back in the fridge uncovered, turning it occasionally.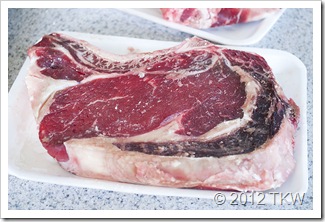 Notice the color change in the meat? Looks similar to a dry aged meat. Normally Cowboy steaks are cooked directly over the fire but I choose to use a cast iron pan (they certainly cook them that way also). Why? Although I wanted that nice smoky hardwood flavor, I wanted to make a red eye gravy out of all the tasty pan drippings. Yes, folks I made the right decision (see comments above).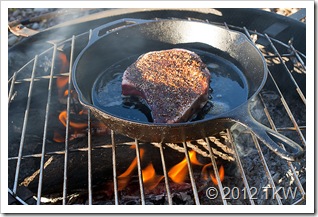 Black and White Wednesdays are back! "Celebrate, celebrate, dance to the music"…sorry I was having a Three Dog Night moment there. If you remember, Susan from The Well Seasoned Cook used to host a weekly culinary black and white photo event. Well, Susan wasn't the "well" in her seasoned cook name, she's been under the weather and needed to work on getting better.
Now she's back and feeling better than ever and so is BWW. If you'd like to know more about it you can go here.
My submission for this week….I just imagine that if a cowboy were to take a picture of his food, this is how it would look.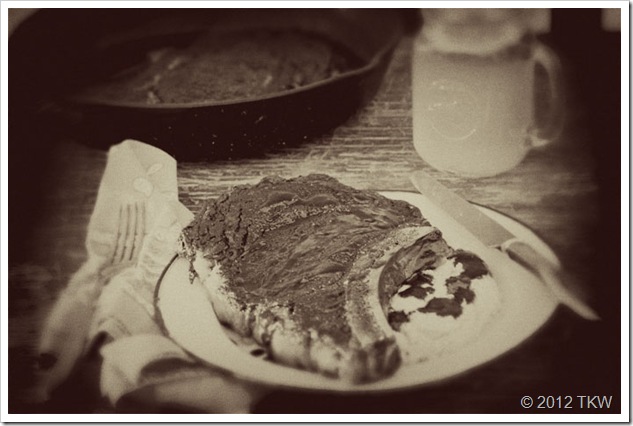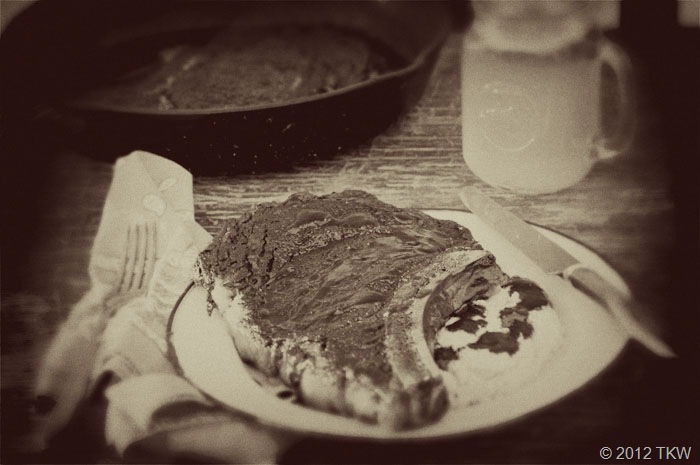 Cowboy Steak and Red Eye Gravy
2016-06-11 20:35:51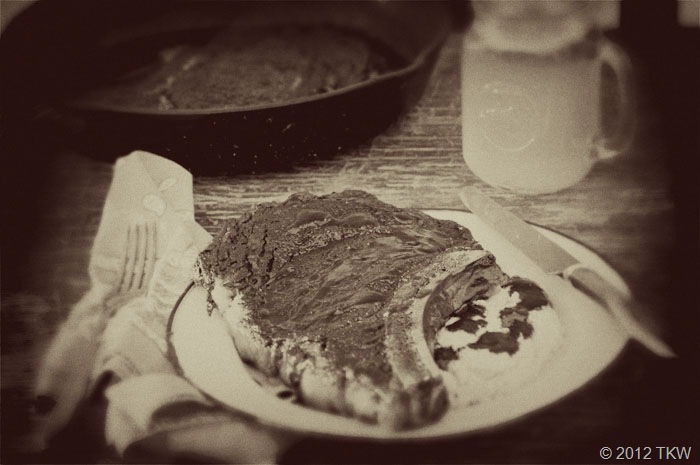 Steak
2 large rib eye steaks
Kosher salt
2 tablespoons instant coffee
1 tablespoon chile powder
1/2 teaspoon smoked paprika
1/2 teaspoon oregano
1/2 teaspoon cumin
1 tablespoon kosher salt, plus 1 teaspoon
1/2 teaspoon black pepper
1/2 teaspoon ground coriander
1/4 teaspoon cayenne pepper (or more to taste)
1 tablespoon canola oil
For the Gravy
1 tablespoon all purpose flour
1 cup beef broth
1 tablespoon instant coffee
2 teaspoons tomato powder
Instructions
Up to three days in advance, liberally sprinkle steaks with kosher salt and refrigerated uncovered, turning occasionally. For the rub, in a small bowl mix the spices, 30 minutes prior to cooking, take steak out of the fridge and liberally cover with chile rub.
Heat a cast iron pan over medium high heat, add oil. Cook steaks until desired doneness, set steaks aside and let rest. Drain all but 1 tablespoon of fat from the pan, add flour and stir vigorously scraping up any stuck on bits, until flour is hot and bubbly. Dissolve coffee and tomato powder into the beef broth, slowly pour the broth mixture into the pan while continuously stirring. serve gravy over steaks.
Notes
Prep time does not include wet aging steaks. If you do not have tomato powder, substitute a teaspoon of tomato paste.
The Kitchen Witch http://www.thekitchenwitchblog.com/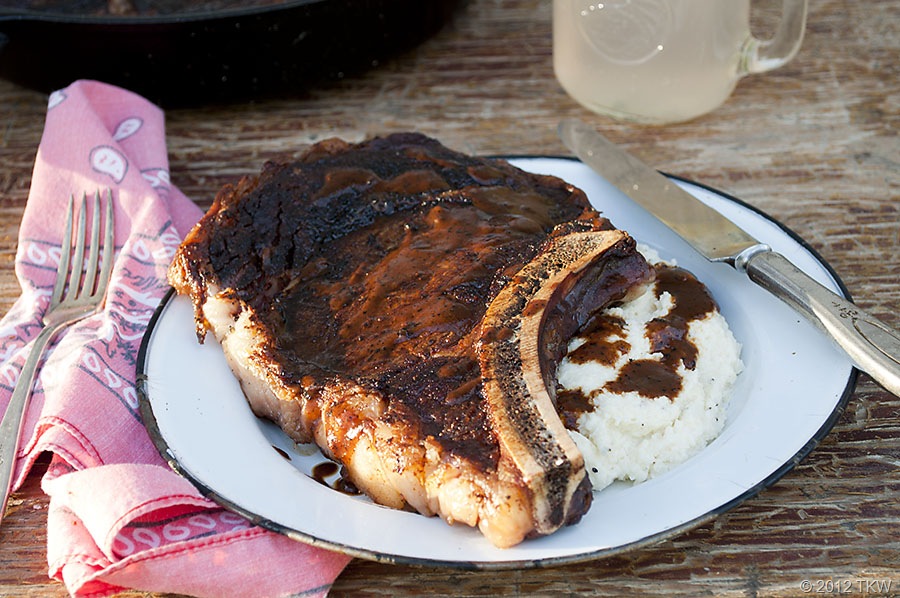 Roasted Garlic Cauliflower Goat Cheese Puree
2016-06-11 20:39:45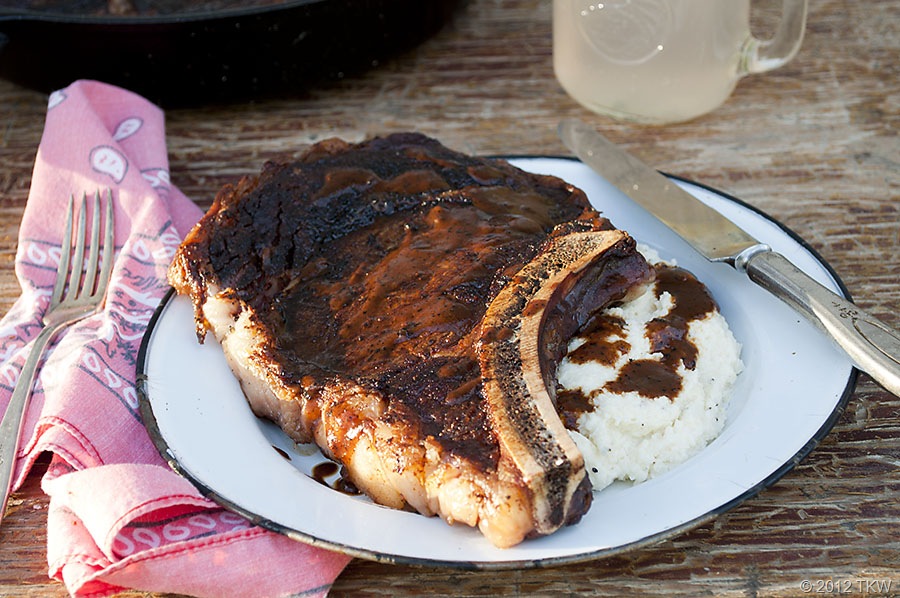 Ingredients
1 large head of cauliflower, cleaned and cut up
1 head roasted garlic, peeled
2 tablespoons cream
2 tablespoons melted butter
4 ounces goat cheese
salt and pepper to taste.
Instructions
In microwave steamer bag or microwave safe bowl, steam cauliflower for 5 minutes or until it's tender. To a food processor add the cauliflower and remaining ingredients, pulse several times 3 to 5 times and then puree. Add more cream if you like a thinner puree.
The Kitchen Witch http://www.thekitchenwitchblog.com/

Informal Cookery Definitions A to Z
Burgundy. Region of France known for it's wine (of the same name) and cooking.
Butter. Sweet or sour cream that has been churned until it is smooth and solid with al the whey removed.
Types of Butter: Most creamery butter contains salt. sweet creamery butter is made with sweet cream rather than sour and has salt. Sweet butter is the same as unsalted butter. Whipped butter has are or gas beaten into the butter to make it light and airy.

Clarified Butter: Is made by melting butter over low heat and straining off any of the clear liquids and milk solids. It reduces the burn point of butter.

Brown Butter: brown buttered is produced my melting butter over low heat until it turns a golden brown, in French it is called Beurre Noire.
Buttermilk. It is the milk remaining in the churn after butter has been removed. However, commercially it is prepared differently by adding lactic-acid culture to the milk.