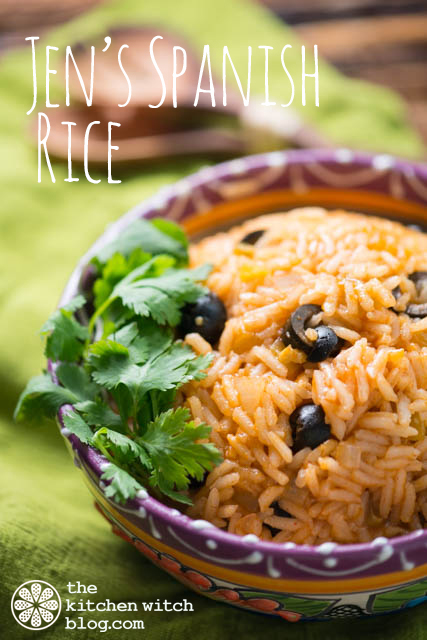 Sometimes you have to look back to realize that you've come along way! This recipe was one of the first I posted. And boy howdy have I come a long way.
On the plus side, I wasn't very wordy, really had no personality in any of my posts, I was justa sharing recipes that I thought were good. I still think the recipes are good, some even grrrreat!
Undoubtedly my photography sucked. No need to mince words. It was what it was, I was new, I was eager and I was having fun.
Then I got to check out other blogs, deflate my balloon. I was envious of their photos. I knew how I felt when I say a pretty and oh so drool worthy photo. We eat with our eyes first, and that includes photos.
So I'm updating this post.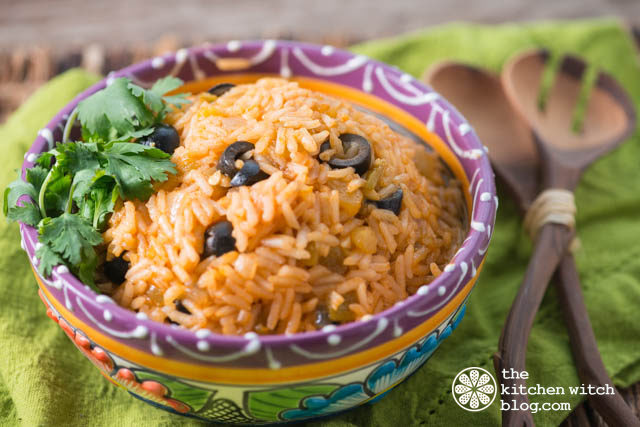 Years of blogging, studying, going to photography school and conferences, etc. I've gotten better. I may not be the best food photographer ever but I've come a long way baby!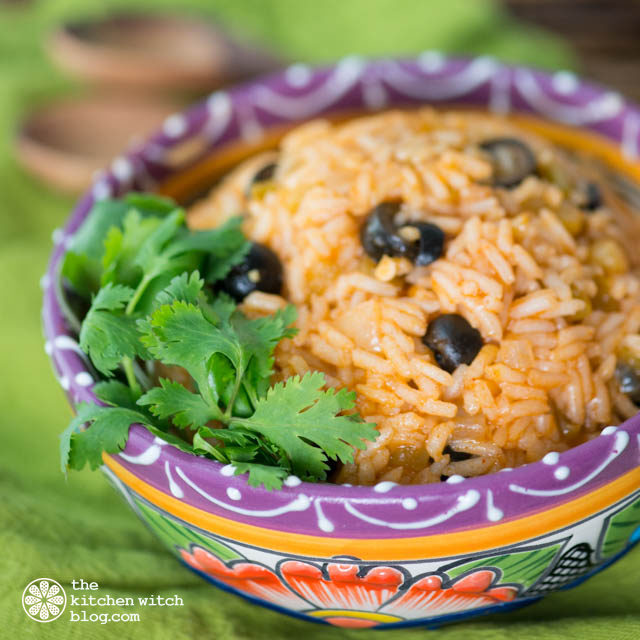 Jen's Spanish Rice
2017-06-06 17:26:09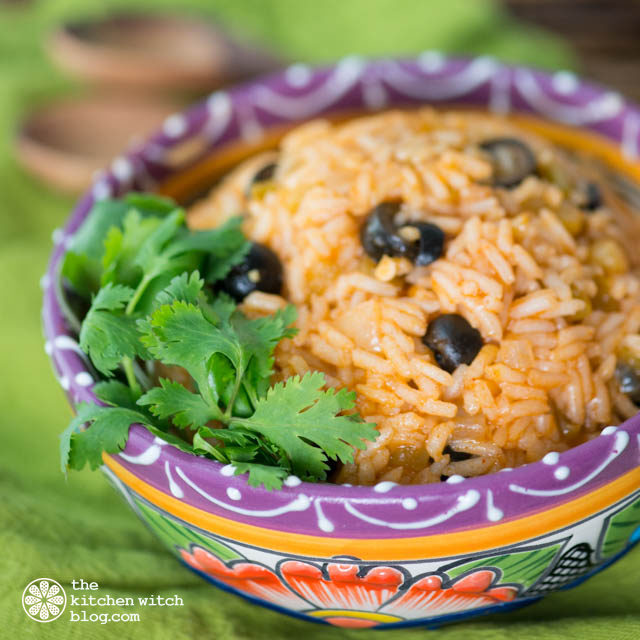 Serves 4
Ingredients
1 tablespoon Olive Oil
1/2 medium onion, diced
2 cloves garlic, minced
1 cup long grain white rice, rinsed
Water to cook rice (consult your packaging)
1 (10 ounce) can Enchilada sauce
Other add ins: sliced black olives, canned chopped green chiles, diced peppers, etc.
Instructions
Heat a large frying pan (that has a tight fitting lid) over medium heat. Add olive oil and onions. Saute until onions and just tender (they will be slightly translucent), about 3 minutes.
Add rice and garlic. Cook, stirring frequently until rice is opaque, a solid white color.
Add water, bring to a boil, cover and reduce heat to a simmer. Simmer for 15 minutes.
Remove from heat. Stir in enchilada sauce, green chiles and black olives and whatever else if desired.
Recover and let sit for 5 minutes.
Serve immediately.
Notes
This rice freezes really well. I like to make a double batch and freeze in vacuum seal bags. Later I just reheat in hot water directly in the bags!
The Kitchen Witch http://www.thekitchenwitchblog.com/

Original post with minor modifications (i.e. even my recipe writing sucked)

In honor of my best friends Birthday (February 8th) I had to feature a dish that she taught me to make. It is so simple that you'll never need to buy a pre-package mix of Spanish rice again.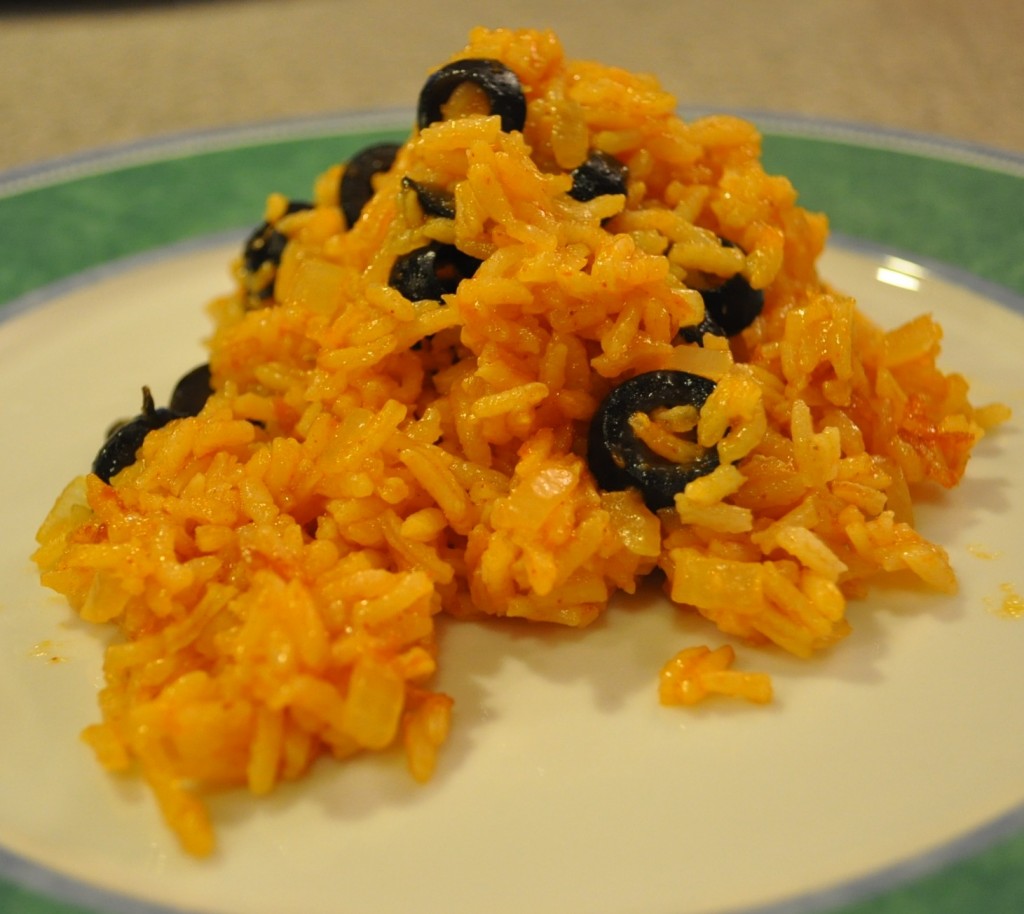 Ingredients
1 tbs olive oil
1/2 medium onion, diced
1 cup long grain rice
2 cloves garlic, minced
water according to rice package
1 can enchilada sauce
1 small can sliced black olives
Optional: diced green or red peppers, 1 small can chopped green chiles, diced pimento, chopped jalepeno, etc.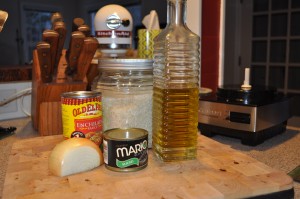 Directions
In a large non-stick frying pan, heat olive oil over medium heat. Dice the onions.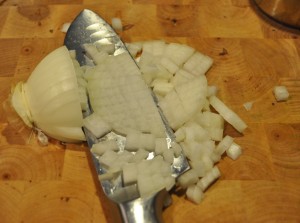 Add to the hot oil and cook until translucent, then add the rice and garlic, cook until the rice becomes opaque (solid white).
Add the water, bring to a boil, reduce heat and cover, cook for 15 minutes.
B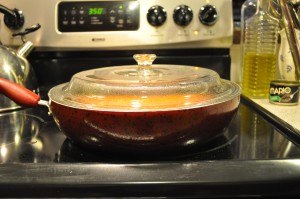 Add the enchilada sauce, green chiles, black olives and what ever else you'd like..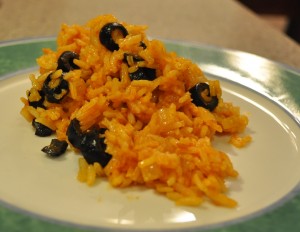 Still well, recover and let sit for 5 minutes. Serve immediately.
Happy Birthday Jenny-poo!