Thanks Angie for requesting this one, it gave me an excuse to have one on a Sunday Night.  Not that I need an excuse, but it helps me rationalize.  This is my all time favorite cocktail, it's simple but sounds exotic.  McGyver turned me onto this when we started dating.  Of course he had no idea that it would turn out to be my go to drink.
Ingredients
1 shot of Rum
Cola, diet cola, etc.
1 Lime wedge
Tall glass full of ice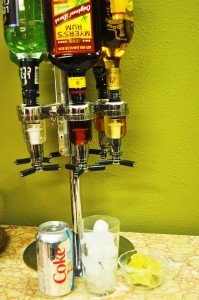 I have this really cool server that premeasures your alcohol.  This is my second one, the first one was cheap, too cheap and broke almost immediately.  This one we purchased from Wine Enthusiast but I don't think they carry it anymore.  I guess that makes sense since they aren't called the Alcohol Enthusiast.
Directions
Pour (fill) glass with 1 shot of rum, I personally looove Meyers dark rum, it add richness and depth to the cocktail.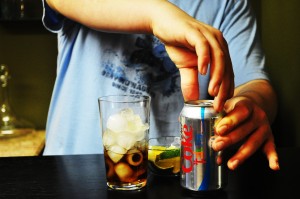 And if you are a bad Mom you recruit your underage Baby Boy to help demonstrate how to make one.
Pour your cola (in my case diet cola…need to save calories where I can)
Squeeze a lime into it and stir.
And the best part, sit back, relax and enjoy.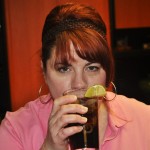 Please note, the wicked cute hair do, also if you haven't noticed already, my hair matches the wood on our wall unit.