I said it before and I'll say it again, I really am not a baker. Actually I'm not that much into sweets. There are a few exceptions, I do love dark chocolate and I love Tiramisu. It is by far my favorite dessert! But then again, cheese is my favorite food and it contains cheese. Whenever I have to bring a dessert, it's almost always Tiramisu. Maybe because the name is translated as "pick-me-up" , who wouldn't want a dessert that picks them up? It also has a reputation as an aphrodisiac, however I can confirm that it is not true.
Tiramisu is creamy and sweet but not to sweet, it's a perfect end to a meal, or for breakfast or for lunch, well any ol' time if you ask me.
Let me tell you, I worked and worked on developing an easy and tasty recipe. It just had to be done. After many attempts, this was the one that turned out perfect evey.single.time. Perfect recipe for a perfect dessert.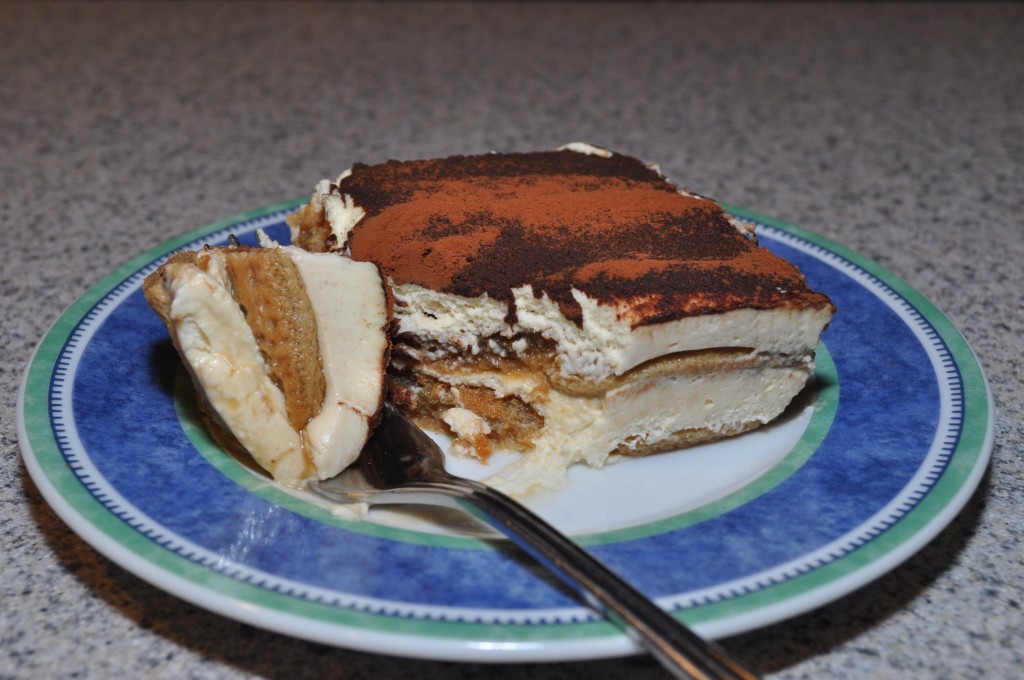 Ingredients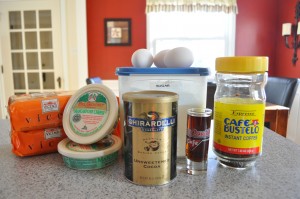 48 savoiadi (lady fingers–not the soft kind)
2 8 oz containers marscarpone cheese
3 eggs
3/4 cup sugar
10 cups espresso or coffee, cooled
1-2 shots of dark rum or other alcohol of your choice such as amaretto
powdered plain cocoa
Directions
Separate the yolk and the whites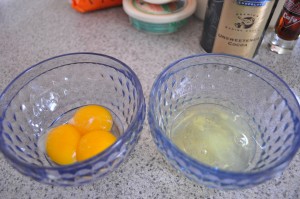 Whip the eggs whites until soft peaks form, place in another bowl and set aside.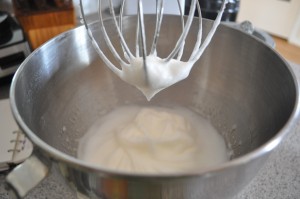 Beat the egg yolks with the sugar until frothy
Stir in the marscarpone. Marscarpone? What the heck is that? It's similiar to cream cheese, it's a soft creamy Italian cheese.
You can find it in most grocery stores now (if they have it here, they probably have it everywhere).
But just in case you can make it yourself at home, I just might try that someday, someday….
Beat until creamy.
and those whipped egg whites.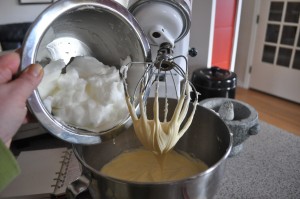 then the liquor (you can use rum flavoring or such if you prefer)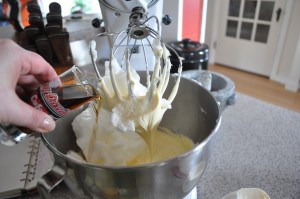 Ready, set,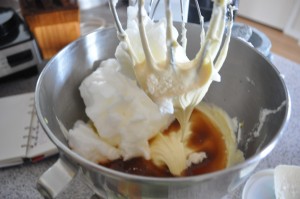 GO!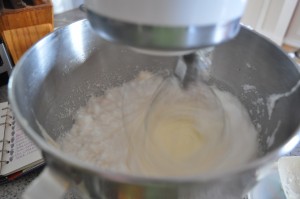 mix until blended, ain't it purty!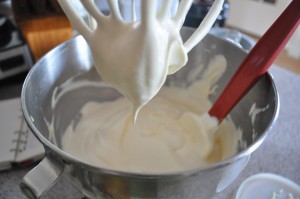 Soak you lady fingers in the coffee. Now this is the tricky part. Depending on the brand you may soak a quick 10 seconds or up to 30 seconds.
Just don't soak too long or they will turn to mush, you've been warned!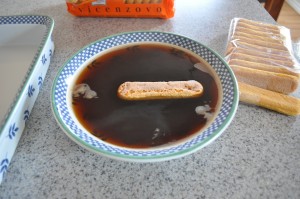 layer the bottom of a 9×13 pan with the coffee engorged lady fingers (I think this is the "pic-me-up) part.
Place half of the cheese mixture on to the bottom layer (this might be the aphrodisiac part…see, it even looks like a heart)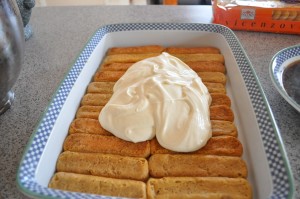 cover up all those ladies.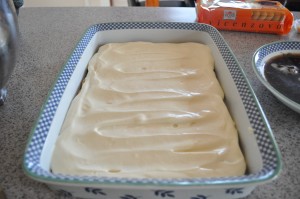 Start the process over again, kind of like making a lasagne?
Till it's all gone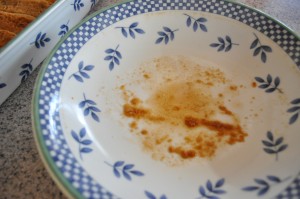 Well, it's almost all gone. I have two lone soldiers left, but don't worry I have a cup of tea waiting for them.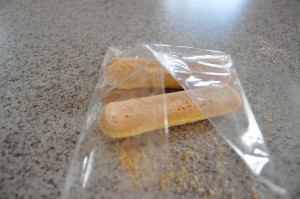 Now for the second half.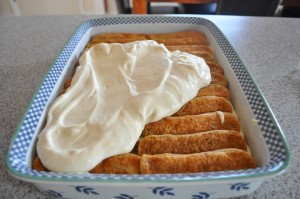 Spread it evenly over the second layer of ladies.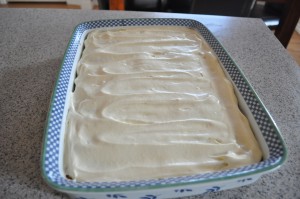 And now for the finishing touch.
Sprinkle cocoa powder over the top, make sure to cover every little bit, don't worry about the mess, we must have cocoa everywhere.
Here she is, my favorite dessert. Jealous?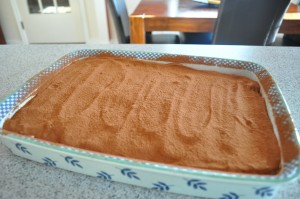 Magic Tiramisu
2016-09-15 09:32:43
Serves 12
Ingredients
48 savoiadi (lady fingers--not the soft kind)
2 (8 oz) containers marscarpone cheese
3 eggs
3/4 cup sugar
10 cups espresso or coffee, cooled
1-2 shots of dark rum or other alcohol of your choice such as amaretto
powdered plain cocoa
Instructions
Separate the yolk from the whites. Place whites in a mixer bowl fitted with the whisk attachment. Whip until whites form soft peaks. Set aside. In another bowl, beat egg yolks with sugar until frothy and creamy, the mixture will become pale yellow.
Stir the marscarpone into the egg yolk mixture until well blended. Fold in the egg whites and liquor if using and blend until well combined.
Soak the lady fingers one at a time in the coffee. This is a quick process, soak just long enough that the outside becomes a little spongy but the inside is still firm. DO NOT OVERSOAK! Place lady fingers in the bottom of a 9x13 pan until the bottom layer is completely covered.
Spread one half of the marscarpone cheese mixture over the soaked lady fingers. Repeat soaking lady fingers and layering on top of cheese, spread remaining cheese mixture over 2nd layer of lady fingers.
Finish by heavily dusting entire top with cocoa powder. Refrigerate 6 hours or overnight.
Notes
Plan ahead for this dessert, it needs to be refrigerated for 6 hours, preferably overnight.
Do not use fresh lady fingers, use only the crunchy kind (if not you will have a soggy mess).
The Kitchen Witch http://www.thekitchenwitchblog.com/