Hey folks, don't make too much fun of me….Yes I know Zucchini is spelled wrong in the title…see my spell checker doesn't check the title, apparently neither does the computer operator.  I was "viewing" my post after publishing it and wow!  First thing I saw was a painfully obvious spelling error.  Okay so no problem, I immediately go back into my editor and change it and update it.
I think to myself, ha, no one reads this anyways so I'm sure I changed it in plenty of time.  Much to my frustration, the title changed in my view but each time I visited the site it was still there, mocking me, telling me I am a nimkumpoop, did I spell that right…is that even a word?  I'd look it up but I can't spell.
Please don't let your children read this, I wouldn't want them to be influenced.  Erase it from your mind and see what it's supposed to say, please could you do that for me?  Thank you kindly, I know you got my back!
And we return to the original post…
I love zucchini, it seems to have some kind of magical property where it's like a sponge and absorbs the flavors it's cooked with.  This is a total change of how I felt about it when I was younger.  When I was younger the only way to get me to eat zucchini was grated or minced, disguised as something more appealing like lasagne or "banana" bread.  I later found out that it was zuccini bread…never made the connection!  Which brings me to another point, the versatility of zucchini.  It can be made into bread, muffins, cookies, cakes, kebabs, lasagne, pasta, it can be grilled, sauteed, broiled, steamed, pickled, fried, holy moly, you get the picture.  Was that a run on sentence?  Or was I just running on?  So easy to do when zucchini is the topic. 
I do apologize for my photos, it was night and I didn't have any good light, none-the-less, I think you can follow along…okay so follow the bouncing ball….I don't have a little bouncing ball for you to follow along with.  It would be cool if I did.  Just having another one of my flashbacks…maybe it is the zucchini/kid topic?  Maybe I'm just certifiable! Okay not maybe, definitely; it's a genetic thing, I can't help myself.
Because the family loves all things lemony and loves thyme, they are really the star in this show.  The zucchini is nearly the host to the lemon and thyme.  It's a good thing that the zucchini has no problem being in the supporting role.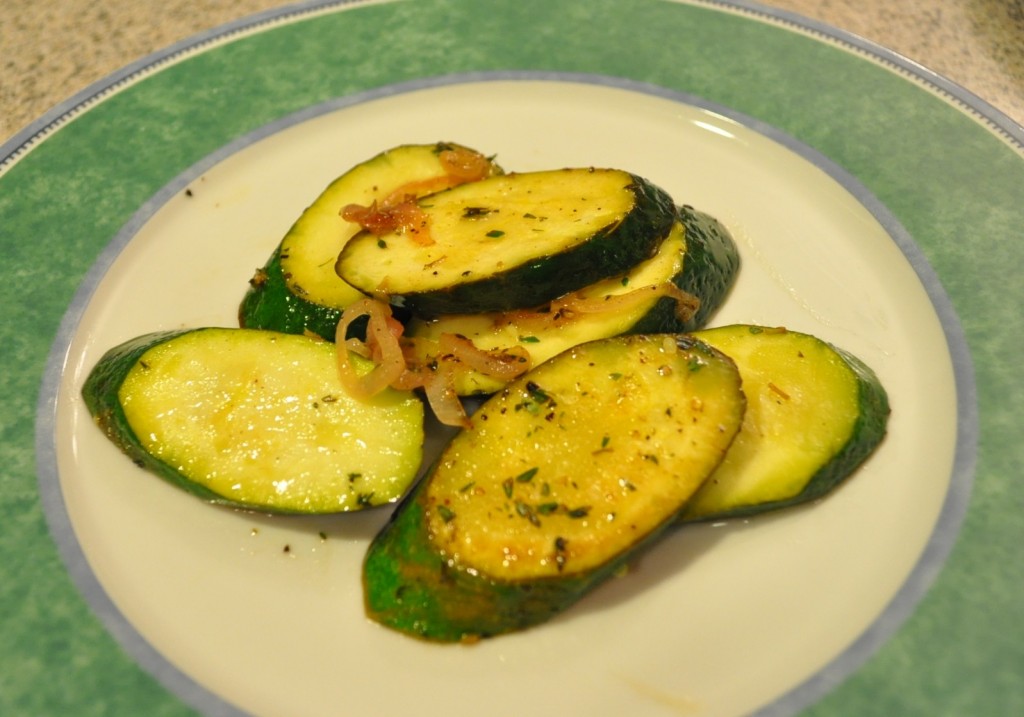 Ingredients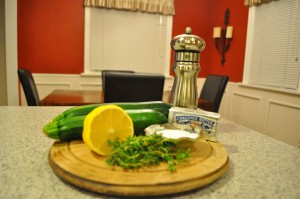 2 medium zucchini
2 shallots
2 Tbs butter
1 Tbs Thyme (cause I love thyme!)
2 tbs lemon juice
Kosher Salt & Fresh Ground Pepper to taste
Directions
Cut zucchini on a diagonal.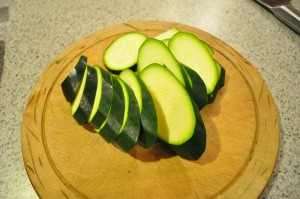 Thinly slice the shallots.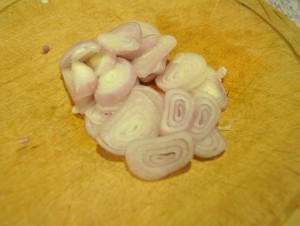 Melt the butter over med to med-high heat in a large skillet.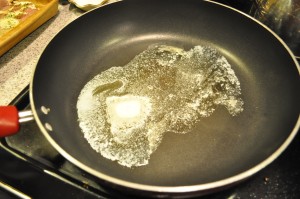 Add the zucchini and the shallots.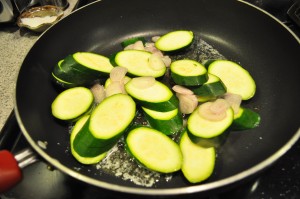 Chop the thyme.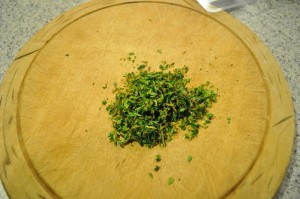 When the onion is translucent and the zucchini gets a nice golden color add the thyme and the lemon juice.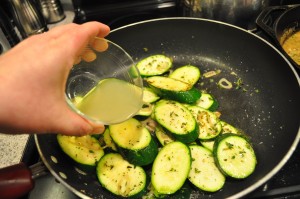 Generously salt and pepper.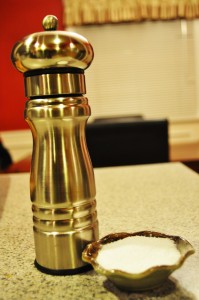 Serve immediately.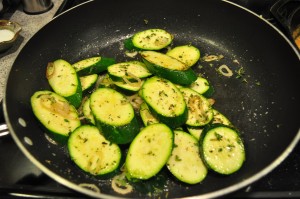 Now I must go and eat my zucchini like a good little girl!