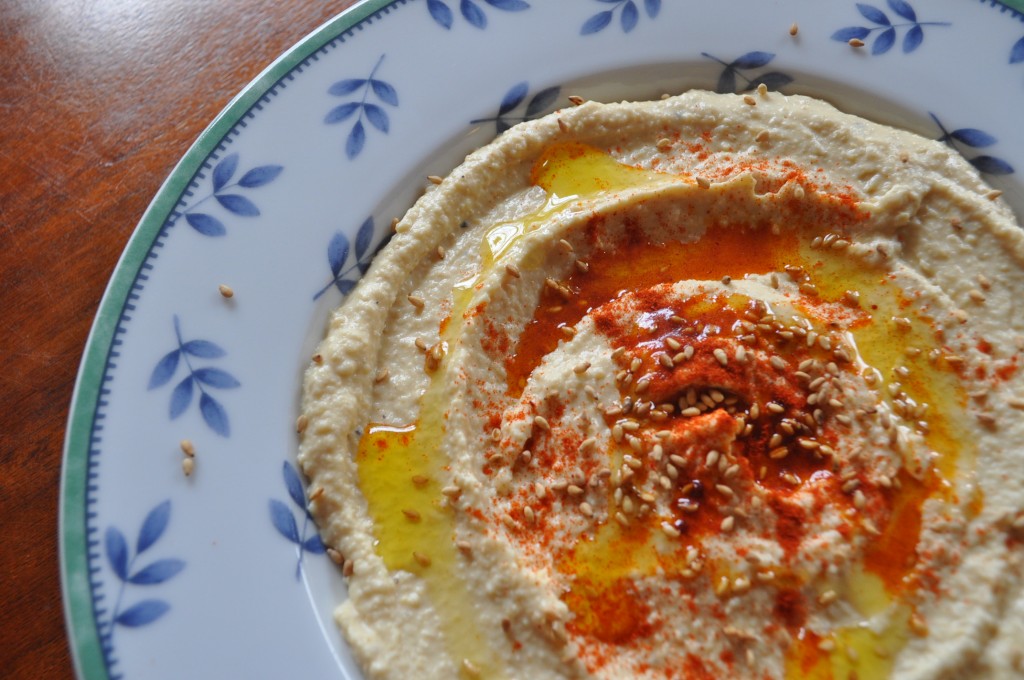 It just seems like the nicer the weather gets, the busier we get.  Especially here in Montana where the nice season is short.  You want to take advantage of every nice day you possibly can.  For example today McGyver cleaned out the garage, Ryan mowed the lawn and I cleaned house.  Well, that's not exactly how one pictures spending a beautiful spring day, but we have Scouts tonight and we have our daughter's wedding in Las Vegas next weekend, so we needed to get the dirty (now clean) deeds done.
With not much time, it's so great to have something that can be whipped up easily.  Nothing like having something to nibble on while you are dashing about like crazy people.  Hummus has become so popular that you can get it at any grocery store, even out here in the wild west.  Problem is, it costs up to $5.00 for a small tub.  In less time then it takes to go to the grocery store and for a whole heck of a lot cheaper, you can easily make your own.  Once you get the basic recipe down you can start adding a variety of ingredients to change it up once and awhile.  Plus this dip is great for entertaining.
Ingredients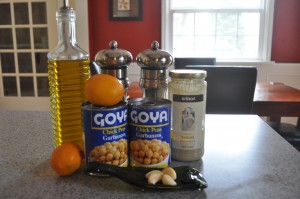 2 cans Garbanzo (chick peas) beans (reserve liquid)
4 – 6 tbs lemon juice
4 cloves garlic
2/3 cup tahini
4 tbs olive oil
1 1/2 tsp salt
fresh ground black pepper to taste
Directions
Drain the garbanzo beans, reserving the liquid.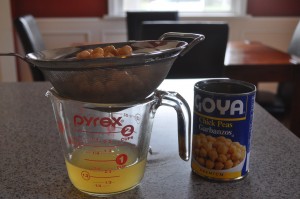 Place the beans into a food processor.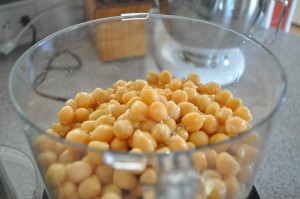 Add the whole garlic cloves.  See how easy?  No chopping!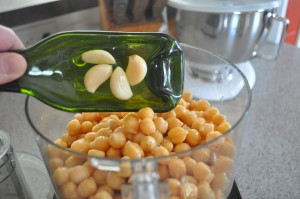 Here's the hardest part, squeeze the lemons, and add the juice to the beans and garlic.
Or you could add store bought lemon juice.
Tahini is a ground sesame paste, it's like old fashioned peanut butter, the oil will separate.
Make sure you stir it up really well.
Add it to the beans, garlic, and lemon juice.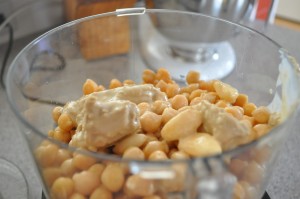 Next, the olive oil.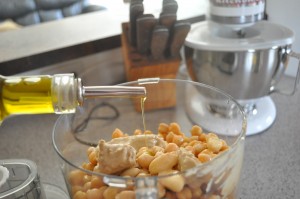 Salt and Pepper.
Cover, and turn on.  While the processor is working it's magic, slowly add the reserved garbanzo bean liquid.
Check it often for consistency.
That's it, really, that's all there is to it!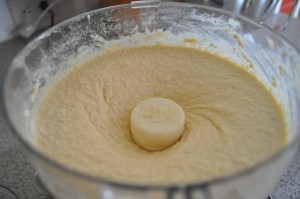 Except for me, because I had some roasted garlic puree left over.
Hmmm, roasted garlic hummus, perfect.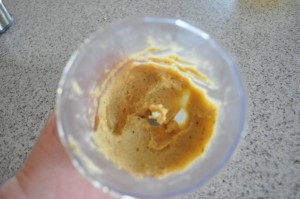 Must taste before serving.
Delish!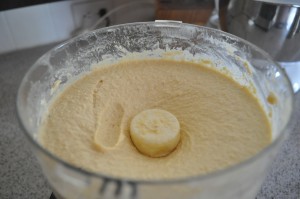 I also decided to top it with a drizzle of olive oil, smoked paprika and some toasted sesame seeds.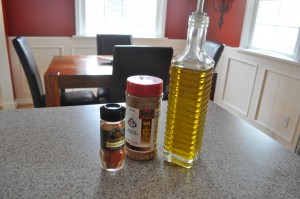 Served with fresh veggies, oh that looks so good.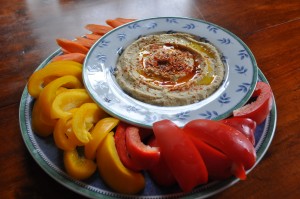 I can't wait, I have to try it.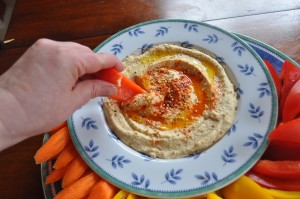 My mouth is watering.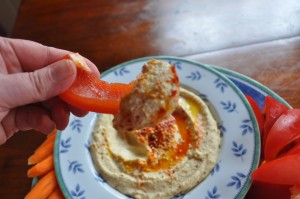 Nom, nom, nom.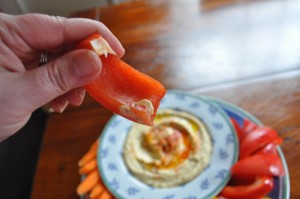 So good, must have more.
#1 rule of dipping – Do Not Double Dip.
So I do the flip and dip.
Other side, no witchy germs in the dip!
(Don't worry, I only flip and dip at home)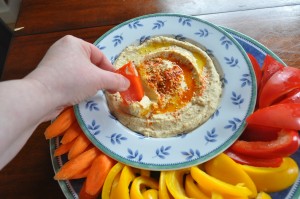 And another bite for me, all me, and I'm not sharing.
Just kidding, you are all welcome to come over and try some, but I'm not promising there will be any left over.