We found out last Wednesday that the roads were clear up to our cabin and our "outside" contractor had finished up his work from last summer.  The Baby boy was also away on a float trip down the Smith River so McGyver thought we should head up and "cabin camp" overnight.  I was excited to see the progress since I missed out on our last failed attempt.  Only one small problem, I haven't been grocery shopping in 3 weeks and I was working the worst shift ever, so shopping was pretty much out of the question.
Here in laid the challenge.  Create a menu for 2 lunches, 1 dinner, and 1 breakfast without buying a single item.  I pondered a bit on Thursday about what I might create, but didn't really make a concrete plan.  In all honesty, procrastination does wonders for brilliant last minute ideas.  On Friday morning I was up early taking the Baby Boy to school, came home rummaged through the freezer, the mostly bare pantry and definitely bare refrigerator.  Between procrastination and minimal ingredients to choose from we ended up eating very well. 
In 2 1/2 hours prior to work, I prepped all the meals, got ready for work, dealt with my concrete guy who redid our sidewalk and back walkway, vacuumed the house, made my bed and cleaned my cooking mess up.  Yes, I still made it to work on time!  Now why am I not that efficient all the time?  Oh yeah, I'm lazy…such a crux to bear!
The Menu
Saturday
Lunch
Roast Beef and Cheddar Sandwiches with Steak/Sandwich sauce and Pasta Salad
Dinner
Cowboy steaks with grilled onion, garlic & mushrooms and Steak/Sandwich sauce
Potatoes O'Brien
Sunday
Breakfast
Bacon
Egg & Hashbrown Scramble
Fried Apples
Coffee
Lunch
Leftover pasta salad
Deer salami sticks
Red Pepper & Carrot sticks with Ranch dressing
Beverages
Water
Gatorade (purchased on the way)
Coffee
Wine/beer
Arnold Palmers
We headed up to the cabin (a 3 hour tour, a 3 hour tour…actually it was a 3 hour drive), later then we wanted too, but that's no surprise.
We got to the cabin safe and sound on a most beautiful day.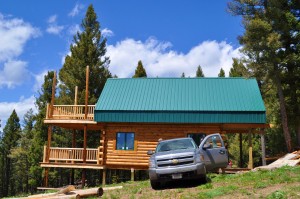 After unpacking some things, lunch was first on my mind, especially since it was about 2:00 pm and I forgot to eat breakfast.
Out of the cooler came a pasta salad made with whole wheat rotini, red pepper, sweet onion, pepperoncini, green olives, the last tomato (on it's last leg) and a little Vidalia onion dressing…and salt, pepper and just a bit of crushed red pepper.
I had bread in the freezer and some deli sliced roast beef, plus a 1″ block of cheese that I sliced and then shredded the remainder for later use.
I whipped up a sandwich/steak sauce, compromised of mayo, horseradish sauce, dill pickle, onion and A1 steak sauce.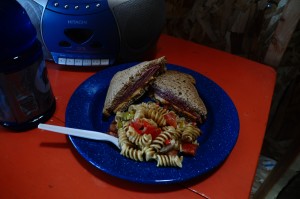 The idea was to turn my plain sandwich into kind of a steak sandwich and then have sauce to smother my steaks if they didn't turn out.  After all there isn't any running out for take out or having pizza delivered if your food is a Flop!
McGyver set up a couple of cots, in what will be the bedroom, when we get it finished.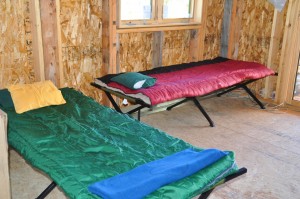 Afterwards we went on a small hike.
It was short and a nice little trip down the mountain…only a few feet.
I really enjoyed it.
Then we had to go up.
And then I started gasping for air, my heart was pounding in my throat.
I was huffing and puffing, my calves were screaming.
Oh look a pretty flower…..
Why you should take a camera on a mountain walk?
So you have an excuse to stop and catch your breath.
"Oh, I'm sorry honey, I just wanted to take some pictures of the fauna, you know, for identification purposes"
"You know, in case we ever have to survive, I need to know the medicinal plants and edible plants, I'm sure it's important"
"Oh no honey, you go ahead, I want a picture of you walking up to the cabin with the dog"
Gasp, heave, suck wind, cough up a lung…"I'm coming…"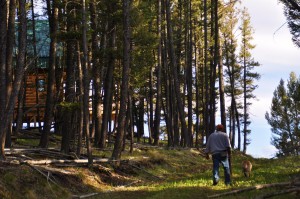 After a brisk hike, thirst is quick to follow.  Fortunately I was able to have some Arnold Palmer's on hand (next post I'll share my recipe).
Also fortunately, McGyver had an empty "growler" (1/2 gallon beer bottle) on hand that I could transport it in.
Perfection!
Even if I could be picky, I'd still pick this beverage to quench my thirst.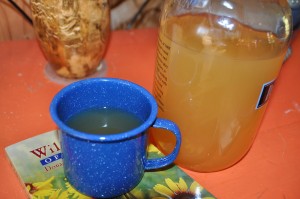 I have to share this lamp with you.
Because I love this lamp.
Yes, it is a bowling pin.
McGyver, when he was just a wee Cub Scout, worked real hard with his dad and turned this old bowling pin into a lamp.
Please note, to steady the base they use a plastic lid, probably off a margarine container.
Makes me love it even more, but not enough to have in my house ….that's why it's at the cabin.
But I love it, I really do!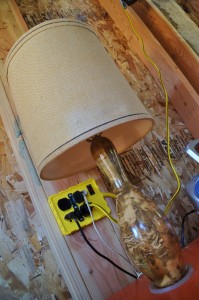 A while back I had purchased a cheap fire-pit for us to have up at the property.
I am paranoid about fires, it's my biggest fear in life.
Next to having my head covered, and looking like a retiree from Florida.
Other than that, I'm really scared of out of control fires…so I wanted a containment container thingy for the fire to keep it controlled so it won't go wild and so I won't be burned in my sleep so I could leave the fire burning and go to sleep…
Sheesh, I need so help, anyone know of a good counselor?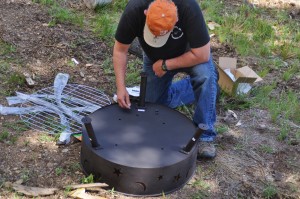 Poor McGyver, nothing but work for him.
He put together the fire pit and a tripod with another adjustable hanging grill.
He moved logs to make seating and even found a somewhat sturdy bench that could act as my prep table.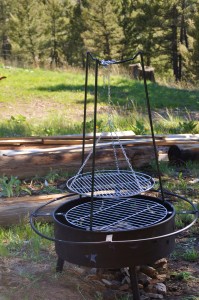 I brought a non-stick pan and covered the plastic handle with foil so it wouldn't melt.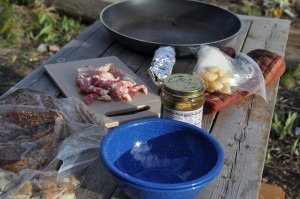 I started off with cooking some bacon (thanks to a well stocked  home freezer).
McGyver stoked up the fire as needed.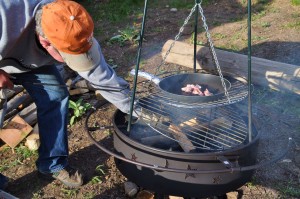 The bacon, onions, garlic and jarred mushrooms (thank goodness for my last little bit of food in my pantry), cooked until the onions caramelized. 
Then I put them to the side in a seperate bowl.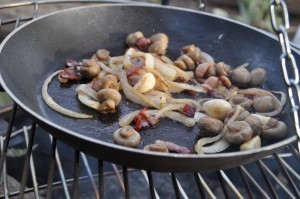 Next I cooked more bacon.
You can never get enough of bacon!
Then I added my prepped potatoes.
Which included two very sorry looking russet potatoes that I had nuked and diced.
Part of my one onion and part of my one red pepper.
Some salt and pepper, plus a bit of surviving fresh rosemary minced up.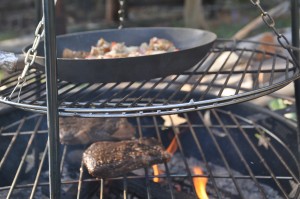 The steaks (two cheap sirloin steaks that I got on sale and froze), were pre-seasoned simply with some Montreal Steak Seasoning, were placed directly over the fire.
I need to state here, I have never cooked anything over a campfire except marshmallows and hotdogs on a stick.
I've always had briquettes.
This was a first for me (which is why I prepared a sauce to smother them just in case).
 Cowboy style steaks, at least here in the wild west, mean a steak cooked on a wood burning flame.  Any other way and they are just BBQ'd or grilled steaks.
Towards the very end I put my bowl of onion topping and the potatoes on the bottom to get them nice and hot.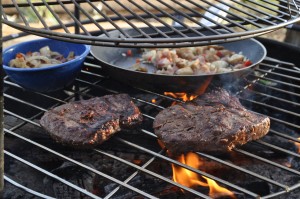 All of it fit into my pan for easy transport to the inside of the cabin.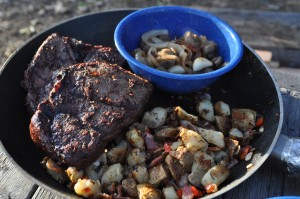 People, we only had plastic ware, that's right a flimsy plastic knife.
I could have skipped the cooked onion mixture and the sandwich/steak sauce.
This steak was delish! Tender and delish!
Don't get me wrong, the onion mixture and sauce were great.
But the pure tasty goodness of a steak cooked over an open fire….it just doesn't get better!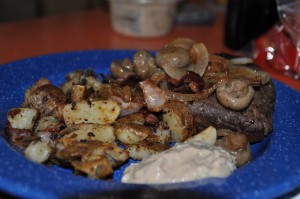 I want to reiterate, that my sandwich/steak sauce was spectacular!
McGyver was beside himself when he tasted it on the roast beef sandwich…where it belonged.
Once I can duplicate what I did, I will be sharing with you all.
Meanwhile McGyver did the dishes (told you he did all the work).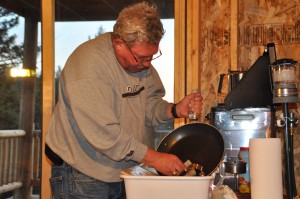 And I tortured myself with looking at this view.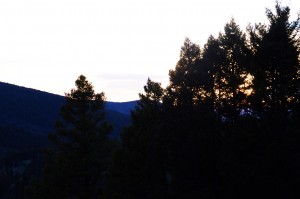 Afterwards we drank our wine and sat out by the fire as the sun set.
Do you feel at peace?
Just looking at the picture calms me.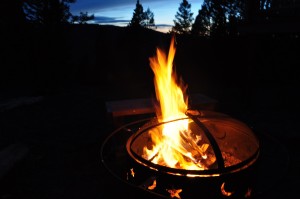 The next morning, after waking up to slightly achy bones (I'm not as young and resiliant as I used to be).
I got the bacon and coffee started.
McGyver was still kind of snoozing since the puppy dog insisted on climbing into his sleeping bag and made for a disruptive, although cuddly sleep.
I used our propane stove/oven set-up.
I wasn't about to start a fire.
I wasn't about to wake McGyver.
I could easily turn the propane bottle to on…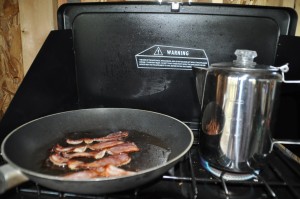 Next I cooked some frozen hash brown potatoes in the leftover bacon grease.
Yeah, for bacon grease.
Then added some chopped red pepper, onion and rosemary.
I had a mixture of leftover egg beaters and a couple of eggs that were seasoned with seasoning salt and pepper.
I warmed my canned fried apples in a bowl…cuz that's what I had.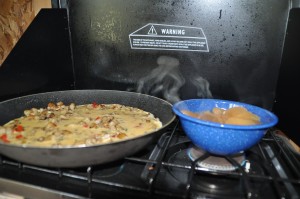 Top the scarmbled egg mix with some cheese, and a hardy breakfast good enough for anyone.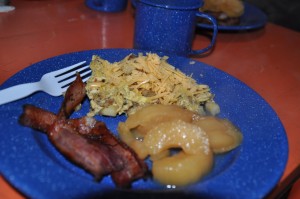 While we were eating breakfast this one found someplace to stick her little snout.
Don't you just want to kiss her?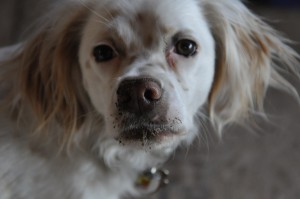 After breakfast and packing up, we headed down to the creek on the property.
Normally this time of year, it looks like a real creek, unfortuantely by August or September, it looks more like a trickle then a creek.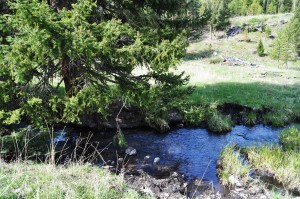 No matter to the dogs, they frolicked and frolicked.
And I thought…I didn't bring a towel…oh the upholstery in the truck….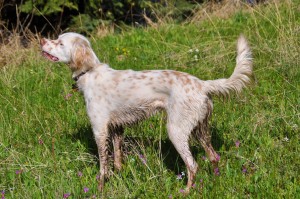 They are also experts at finding every cock-a-burr on the property.
Is there a groomer nearby? (click photos to embiggen and enjoy the full intensity)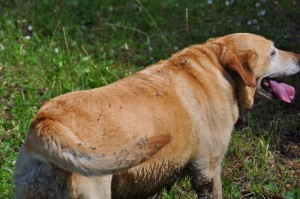 We meandered back up to the property (read: I huffed and I puffed and I nearly died on the way up).
After a long hike…and it was, it was time for a little lunch before we got down to some serious business.
Leftover over pasta salad, sliced veggies with ranch and deer salami sticks. 
The Arnold Palmer is for McGyver…I need the Gatorade, it can't replace my breath but it can help replenish me.
I need replenishing…Gartorade take me away!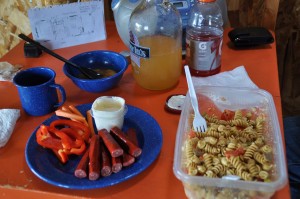 This is our neighbor Jeff, he lives here year round.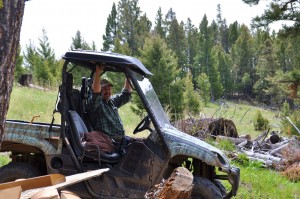 All year, every day of the year.
He snowmobiles down the mountain in the winter to go to work.
He's a real mountain man.
He is also a drywaller.
He is also going to finish the inside of our cabin.
He is my favorite…for now.
This is Jeff and Paulette's palce.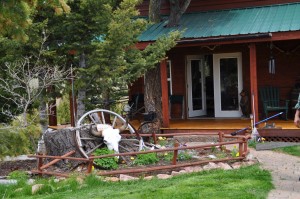 Can you believe they live 6,000+ feet up in the rocky mountains?
Everyday?
Not just the summer?
They are my heroes, of course I don't want to live up there in the winter, but I admire the people who do!
After some negotiating, talking, planning, replanning and $$$ exchanged, we headed back down the mountain.
This caught my eye…
Not sure if you can see the sign, it's located bottom 1/3 from the left.
It says "No Hunting".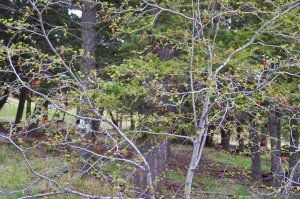 If you zoom a little to the right you see two Mule bucks, mocking you.
I think they can read.
They must know, why else would they give me that look and not even flinch as we drove up?
As we got closer?
As the dogs freaked out?
Shhhhh, be weary quiet, I'm not hunting….hahahah.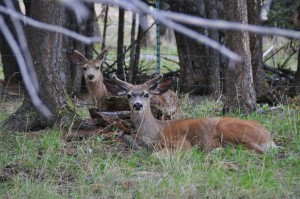 I think the cabin looks great, looks like we got it made, but then there is this….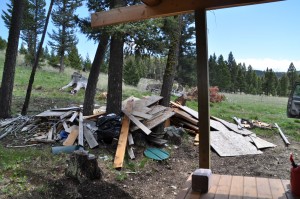 Piles of crap, that's the only thing to call it, we have piles of it!
Is the cabin a place to relax or just another place to work?
And Hillary, I know you think I'm too girly to rough it….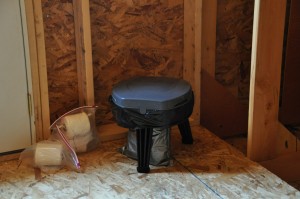 I didn't quite have to use the outdoors for everything, but this was my toilet.
This plactic tripod seat was my luxury.
I was grateful for it every time I used it, considering the alternative.
So a few words from this wanna-be glam girl and inside camper head, even if you appear to be girly, it doesn't mean you can't hang with nature (well, not as long as you have TP)!