Yesterday I woke up late, but I had prepared my breakfast and lunch, laid out my clothes and accessories.  I was prepped, so when I woke up late, I was able to get ready in 8 minutes and still make it to work on time.   This morning was different.  I woke up with an hour to get ready.  But last night I was lazy, I didn't prep anything for the next day.  Results:  Showered, dressed, make-up, took care of dogs and played with them, and then time started to close in on me.  Holy Toledo, where did it go?  I quickly prepped my lunch but had to grab something from the freezer to take for breakfast.  Fortunately I had prepped sometime before.
For breakfast, a couple of sausage biscuits.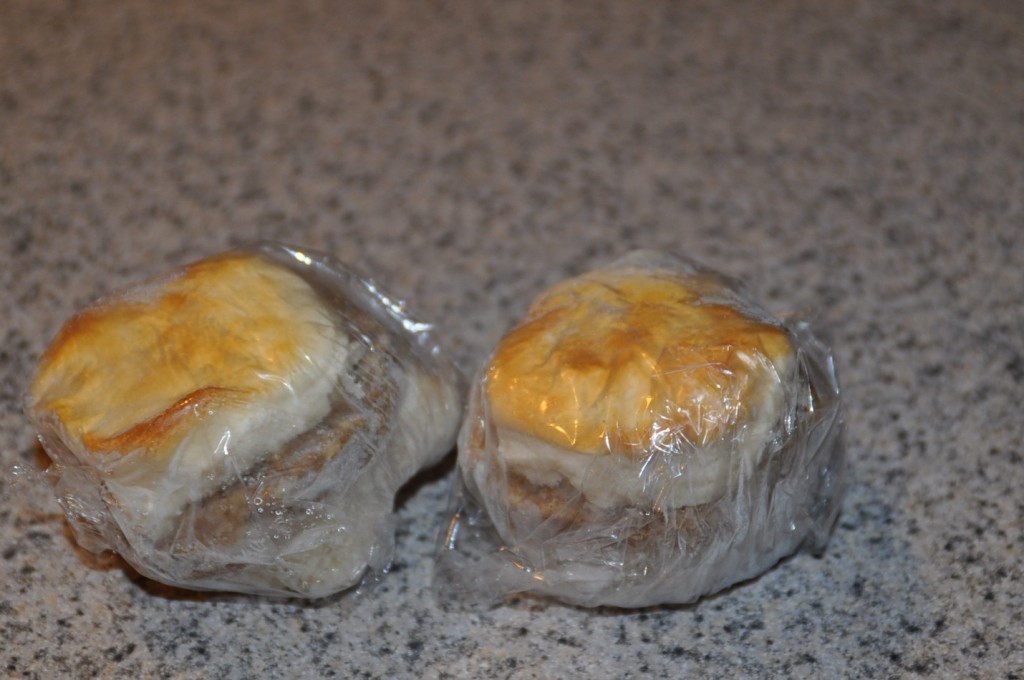 For lunch I polished off the rest of the cantaloupe.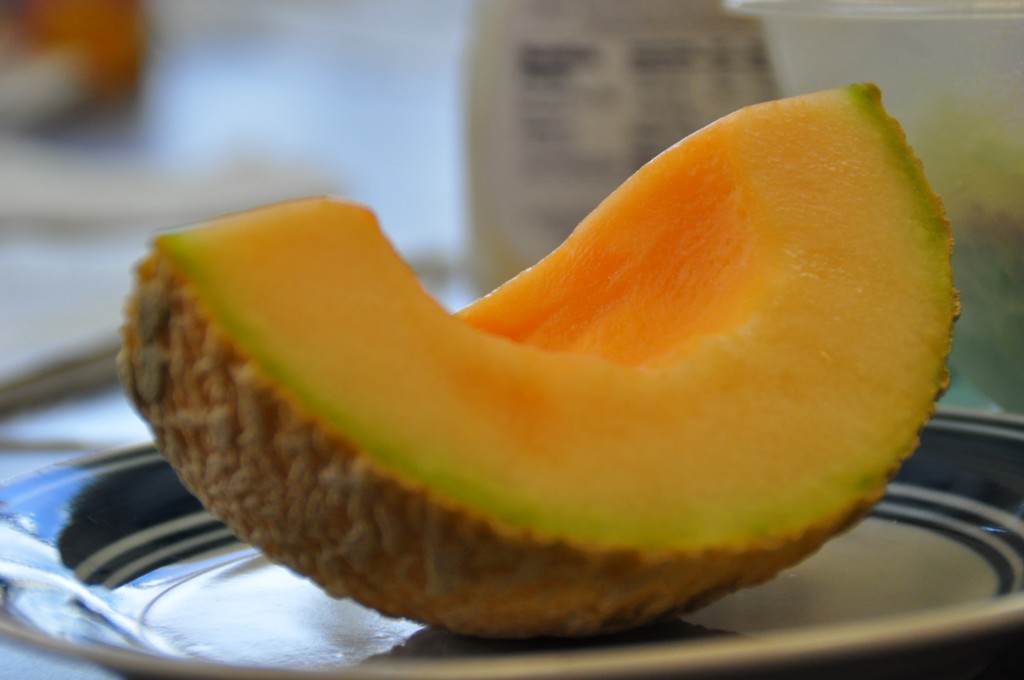 And had a greekish salad for lunch.
Made with lettuce, tomato, green onion, radishes, kalamata olives, feta cheese and a peperoncini.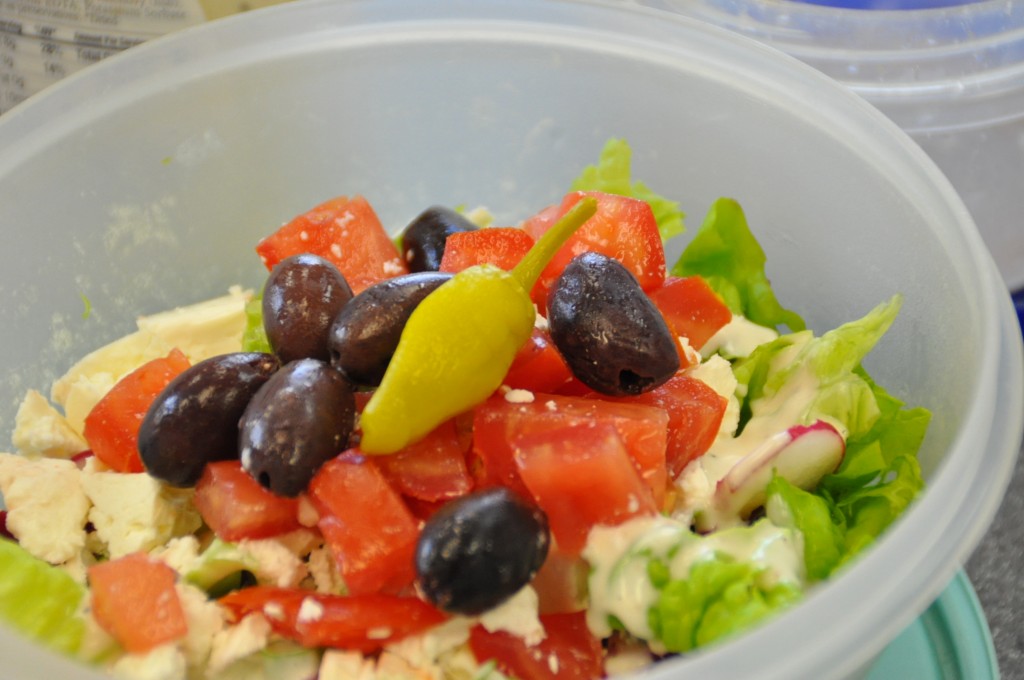 Helpful hint if you pack a salad for lunch, pack the wet ingredients in a separate container.  Your salad will stay crisp and fresh.
Dinner wasn't exactly creative, but I polished off the mashed potatoes by making a potato pancake.  Steak again, with a little bit of my leftover mushroom and onion mix.  To give the steak a different flavor, I made a sauce of horseradish cream and A1 sauce, very delish.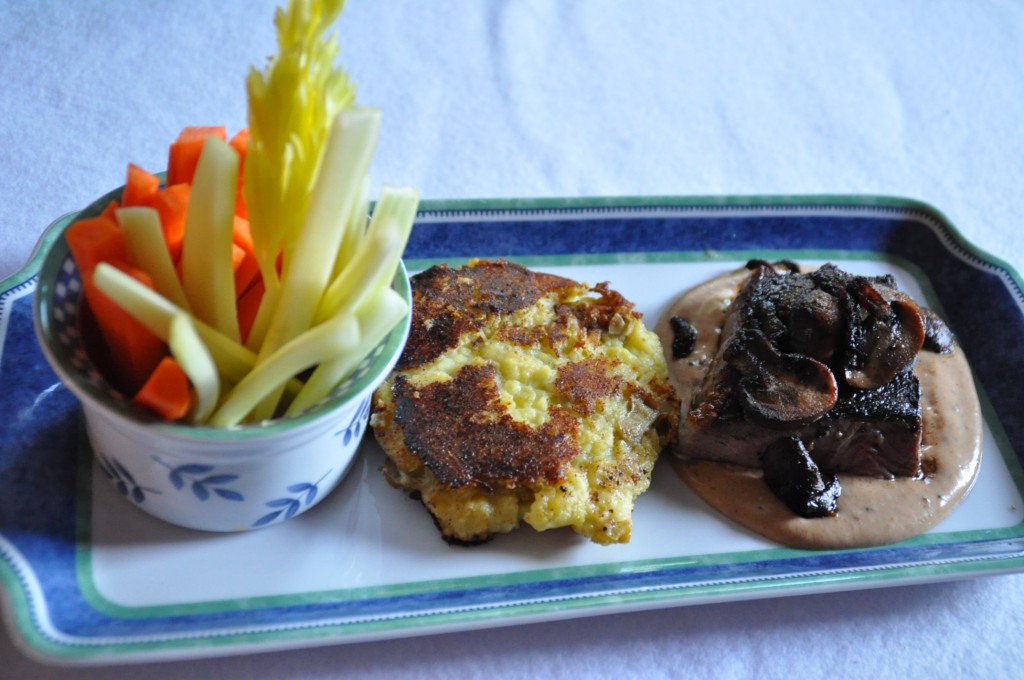 I cut up the remaining carrots and celery and made a ranch dip with some of my sour cream.
 I didn't eat all the veg, so expect to see this with lunch tomorrow.
Here's the latest on what I have left to consume:
Proteins
Starch
Fruit & Vegetables
Other

2

 1 Lemon Rosemary Pork chop

1

 

1/2 c leftover mashers

½ 1/4 cantaloupe

3

 

1.5 oz Antipasti mix (mozzarella, olives, tomatoes, etc)

12 10

6

3 oz grilled T-bone steak
2 lbs russet potatoes

1

 

3/4 lime

1

½

Tbs roasted garlic paste

5

4

2 eggs

4

3

2 large flour tortillas

6 3 oz pkg baby spinach

½ c plain Greek yogurt

½ c egg beaters

 

½

 

1/4

1/8 head leaf lettuce
3 4oz serv. Lime yogurt

1

3/4

1/2 lb sharp cheddar
 

½

1/4 head radicchio

8

7

5 oz sour cream
¾ lb pepper jack cheese
 

1

1/2 jalapeno
2 c Fat Free ½ & ½

3

2 oz feta cheese
 

6 oz  mushrooms

2

1 Tbs cilantro compound butter

2

1 oz Pecorino Romano
 

½  grilled artichoke

½ c lemon juice
 
 

3

2

1 ½

1 tomatoes
 Single serving packaged guacamole
 
 

2 carrots

 
 
 
7 4 celery stalks
 
 
 

2 1 1/2

1 sweet onions
 
 
 

1211

9 radishes (apprx.)
 
 
 

4

3

2 1/2

2 lg green onions
 
 
 

2 cobs grilled corn 

 

Corn Relish

 
 In case your wondering, I'm already prepped for tomorrow.