At last I have had a perfect morning this week.  By prepping everything the night before I was able to get ready for work with leisure, I even watered my plants before work (which gave me time to mow the lawn after work).  It also gave me time to make a childhood favorite breakfast.  Although not complicated, it does take more then a minute in the microwave.  As you can see, I even had a little time to read the paper.
My favorite way to have eggs is over easy.  I love a runny yoke, and I love to dip my toast, bacon, hash browns, or whatever in that beautifully runny yoke.  So an "Egg in a Nest"  is the perfect fusion for having your runny egg yolk and toast wrapped cooked into one.  I've heard this called by other names, but growing up it was always "Eggs in a Nest", so it will always be that for me.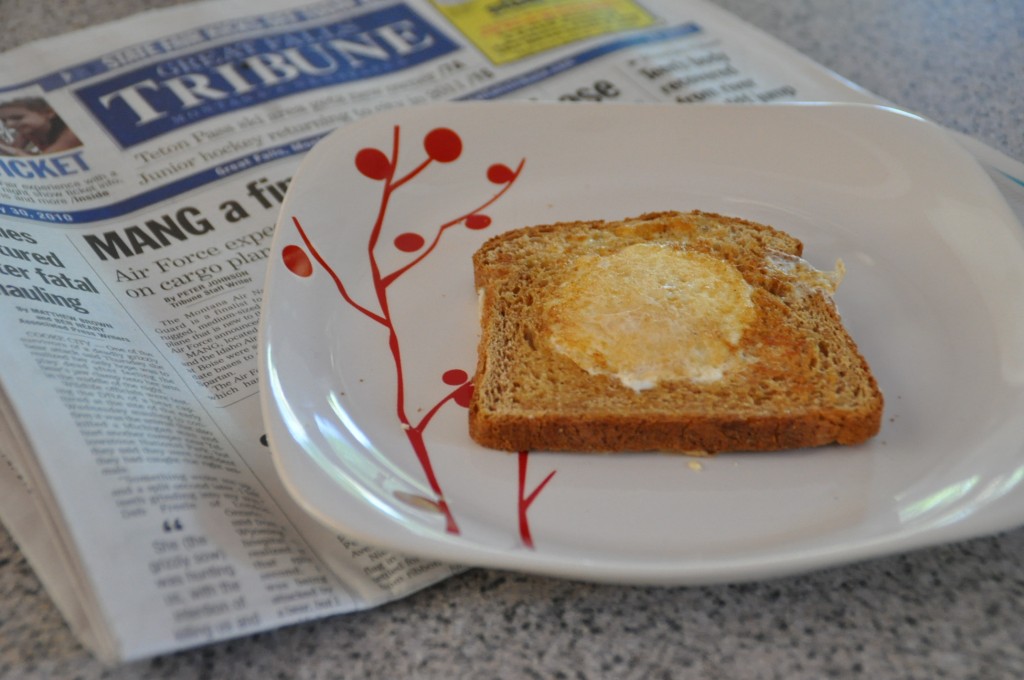 As you can see, this was a much greater success than my soft boiled egg from the other day.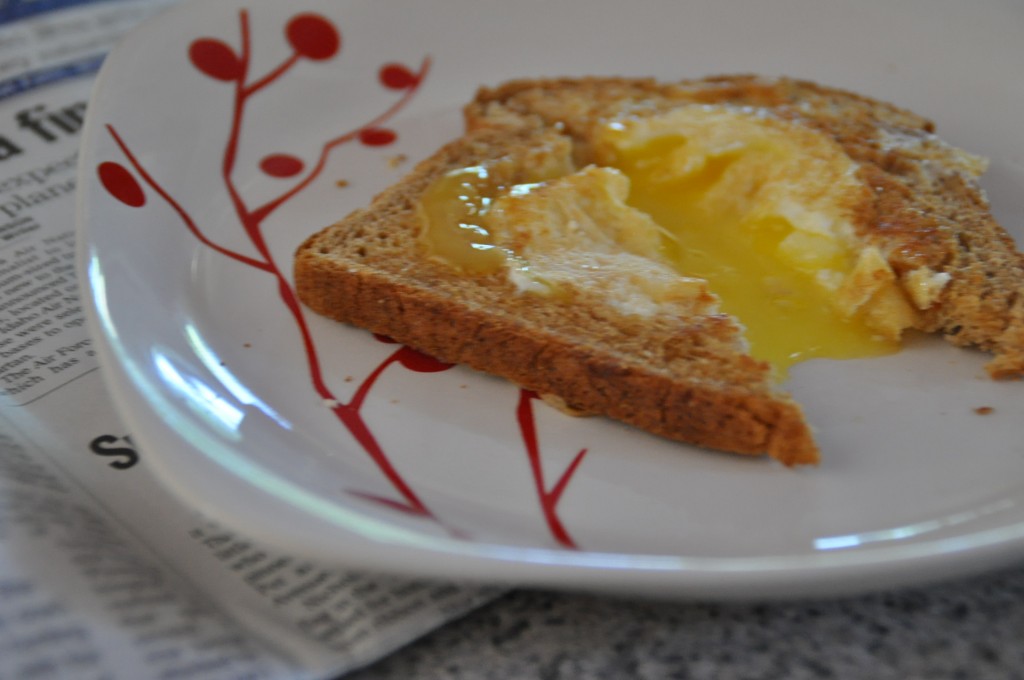 Definitely slim pickins by now, but I managed a 'mater sandwich, leftover carrot and celery sticks with the ranch dip, and a yogurt.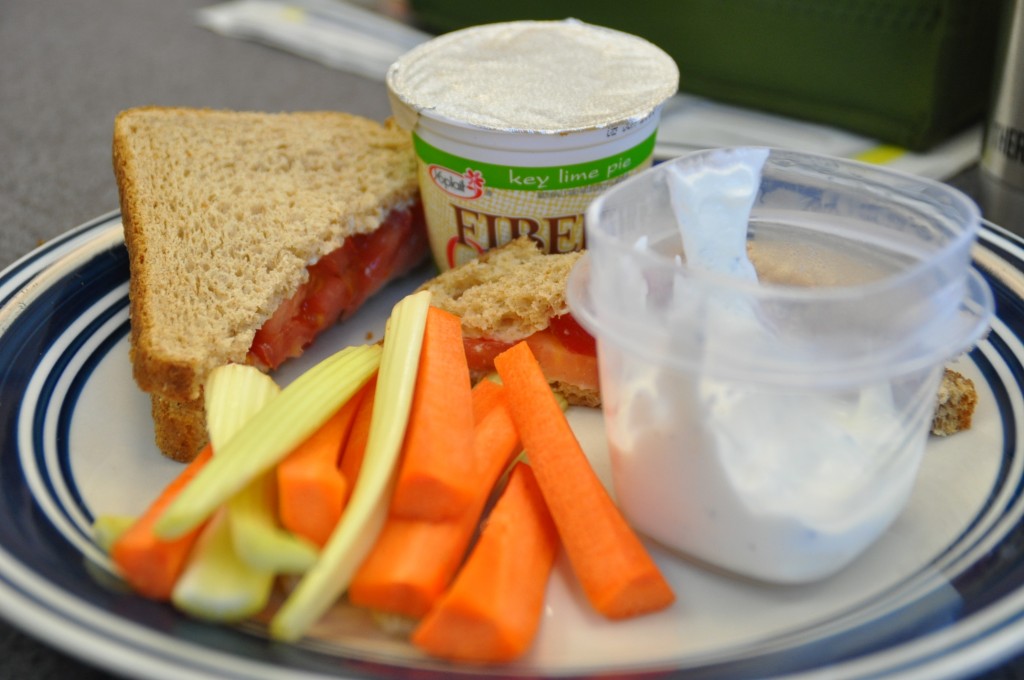 After mowing the lawn, taking out the garbage and doing some laundry (I had to prove to the men that I can take care of myself), I really wasn't in the mood to be overly creative.
I fell back on an earlier dish, a steak quesadilla and a simple green salad on the side.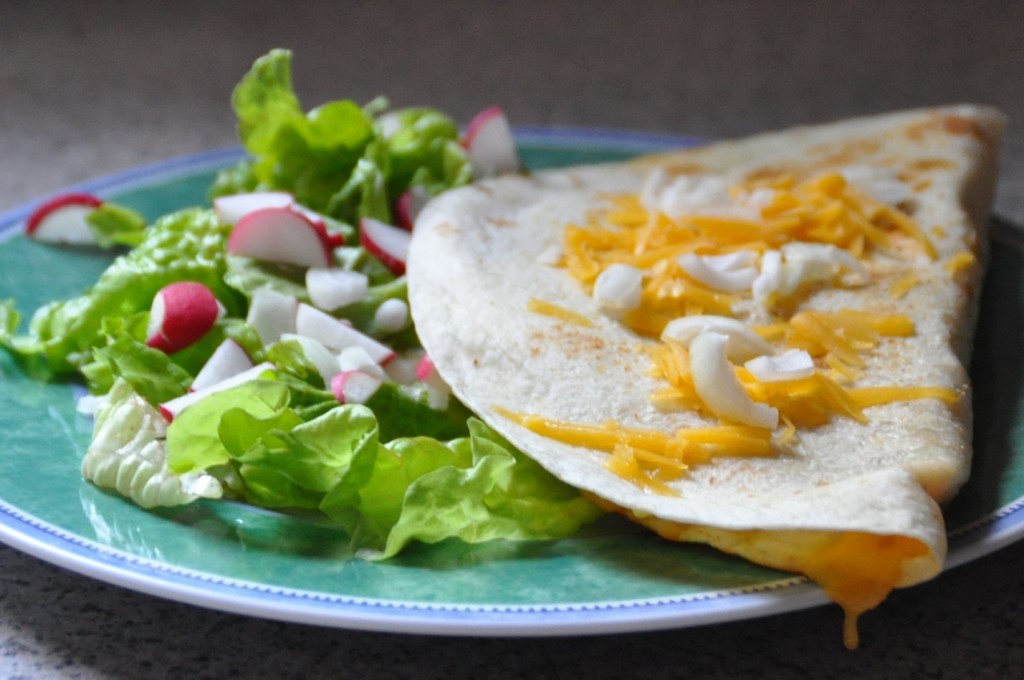 Proteins
Starch
Fruit & Vegetables
Other

2

 1 Lemon Rosemary Pork chop

1

 

1/2 c leftover mashers

½ 1/4 cantaloupe

3

 

1.5 oz Antipasti mix (mozzarella, olives, tomatoes, etc)

12 10

6 3 oz grilled T-bone steak

2 lbs russet potatoes

1

 

3/4 lime

1

½

Tbs roasted garlic paste

5 4 2

1 eggs

4 3 2

1 large flour tortillas

6 3 oz pkg baby spinach

½ c plain Greek yogurt

½ c egg beaters

 

½  1/4 1/8 head leaf lettuce

3

2 4oz serv. Lime yogurt

1 3/4 1/2

  7 oz sharp cheddar
 

½

1/4 head radicchio

8 7 5

3 oz sour cream
¾ lb pepper jack cheese
 

1

1/2 jalapeno
2 c Fat Free ½ & ½

3

2 oz feta cheese
 

6 oz  mushrooms

2

1 Tbs cilantro compound butter

2

1 oz Pecorino Romano
 

½  grilled artichoke

½ c lemon juice
 
 

3

2

1 ½

1 tomatoes
 Single serving packaged guacamole
 
 

2 carrots

 
 
 

7 4 celery stalks

 
 
 

2 1 1/2

1 sweet onions
 
 
 

12119

5 radishes (apprx.)
 
 
 

4 3 2 1/2 2

1 lg green onions
 
 
 

2 cobs grilled corn 

 

Corn Relish

 
 At last the steak is gone, seriously, I don't want any steak for awhile!
At last I have polished off much of my perishables, at least as much as one person could.
Unfortunately, it left me with this…..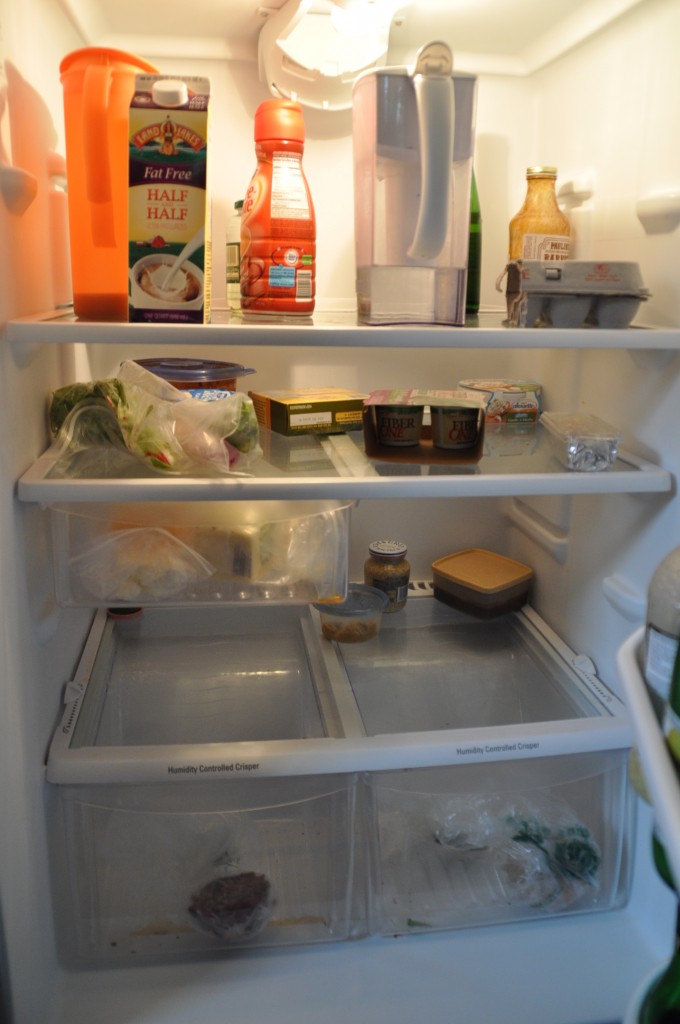 Seems like a good time to clean my refrigerator, but not tonight.
I think I better do some grocery shopping before my men get home tomorrow….
This is my last daily post (at least for awhile), I will be working at the Montana State Fair tomorrow.
Just a side note, I have a lot of respect for my daughter who has been blogging daily for 3 years now.
Her commitment, well, lets just say she's a lot better at commitment then her mama.
At last I am done….for now.