Italian beef. It's not beef from Italy. It's not even a recipe from Italy. It's not some American/Italian Nana's secret family recipe. The only thing that makes this beef Italian is the Italian dressing mix and peperoncinis (actually I was just reviewing my post and noticed that the peperoncinis are imported from Greece). I also don't think the Italian dressing mix is really Italian either, but I could be wrong. I had my first exposure to Italian Beef at a work potluck about 7 years ago. My friend AnaBanana brought it. I loved it! Many good food discoveries come from a potluck (at least I think so). I begged her for the recipe, she grudgingly shared it with. Actually she was more than willing to share, evidently it was no secret, there in the Midwest. Only people like me who aren't from the Midwest don't know how to make it.
It is a great dish for a potluck, it is also a great dish for one very busy foodblogger who has 12 to 14 hour plus days planned all week. I hate it when I'm so busy that my boys don't get a decent meal. They can cook, they both cook well, but given a choice they'd rather forage from the refrigerator or nuke something from the freezer. Then I feel guilty, bad Mom, bad wife….. It's time like these that I turn to my crockpot, count on it to do my cooking and make sure there are leftovers.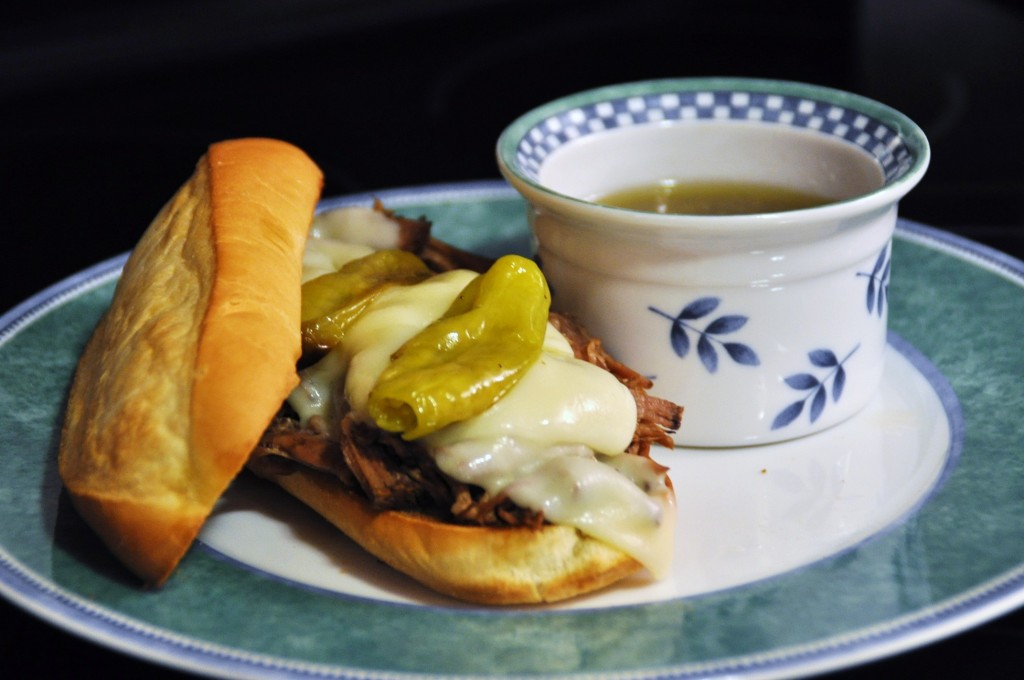 I made a couple of modifications from the original recipe from AnaBanana. I added some beef broth to give the dipping juice better flavor and cut down on some of the acidity of the juice. I like to top mine with some provolone cheese and run it under the broiler for a hot minute to make the cheese super melty. Mmmmmm melty.
You won't need much to get it started. A chuck roast or any other kind, some beef broth, a jar of perponcinis and a packet of Italian salad dressing mix (you could substitute any Italian herb mix of your own).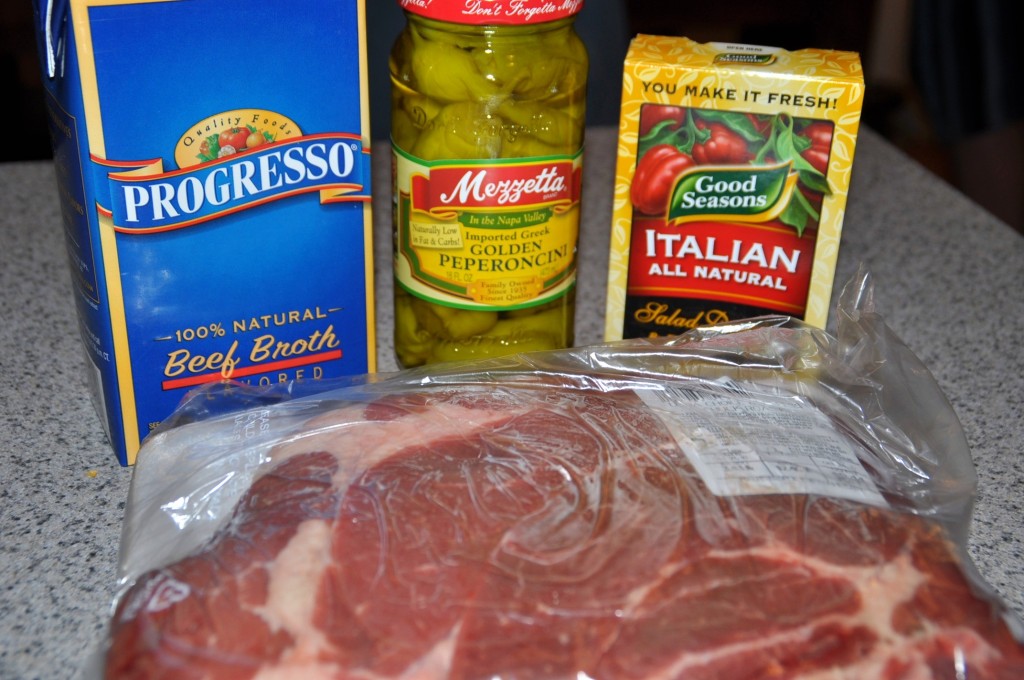 Put it all in the crockpot and cook on low 6 to 8 hours. You don't even have to brown the meat!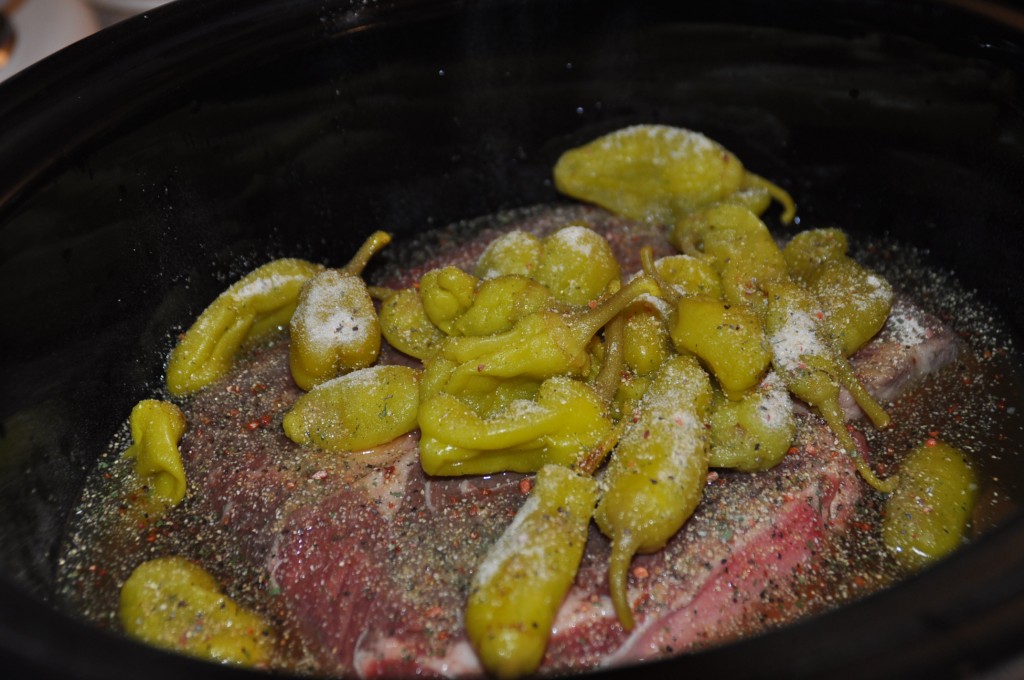 When you come home you will feast your eyes on this!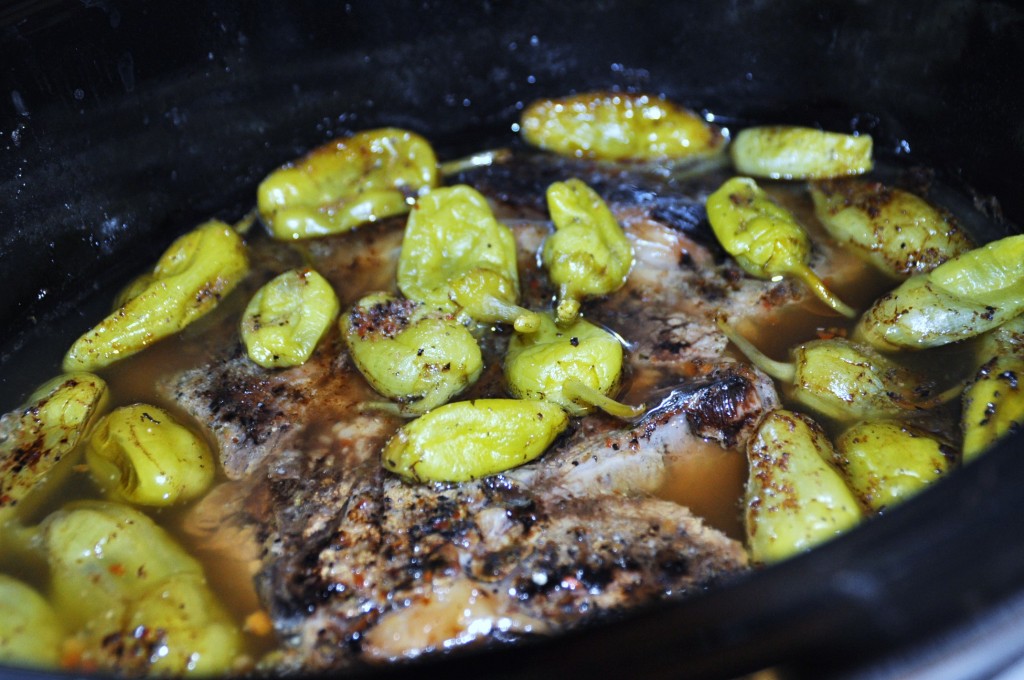 Use two forks to shred the meat. Shred it right in the pot, it's easy, less clean up too.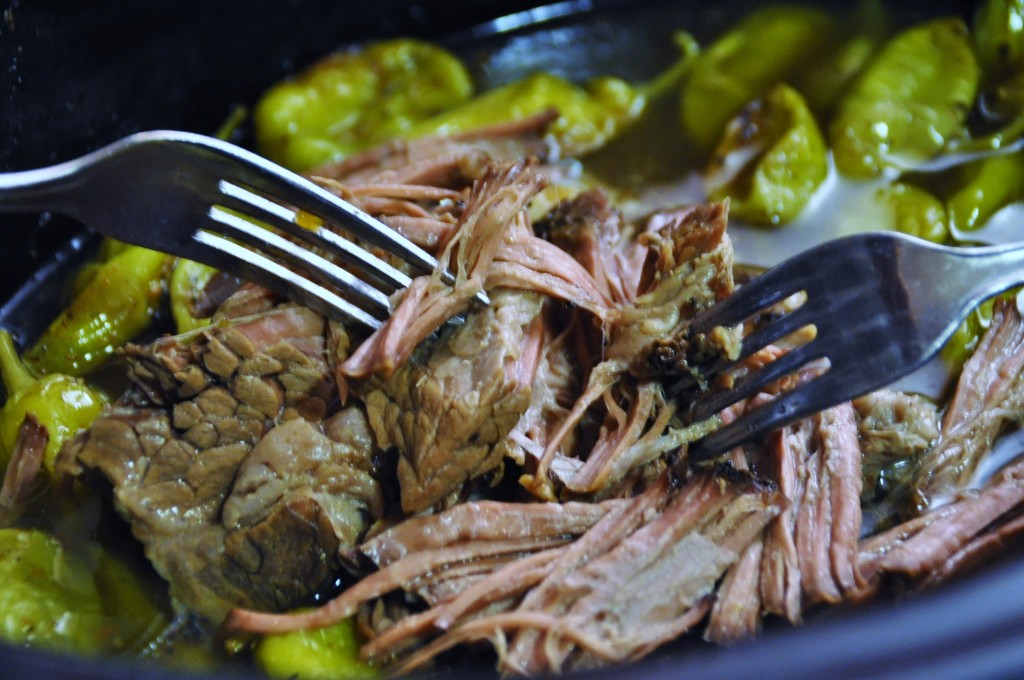 Before serving…it's a good idea to remove the stems from the peperoncini. Unless you like to chew on stems, maybe you need more fiber? Or not.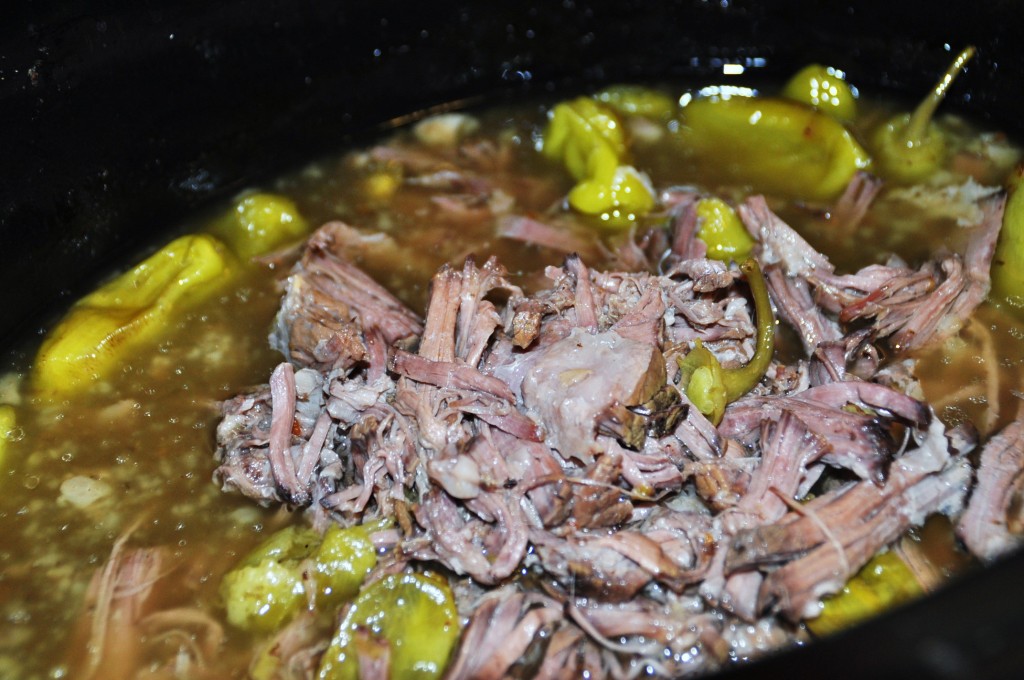 Butter and broil some hoagie buns or french rolls. Load one half with Italian beef, cover with cheese and return to the broiler. Broil until the cheese is nice and melty. Mmmmmmm melty. Top with a couple of peperoncinis and serve with the juice.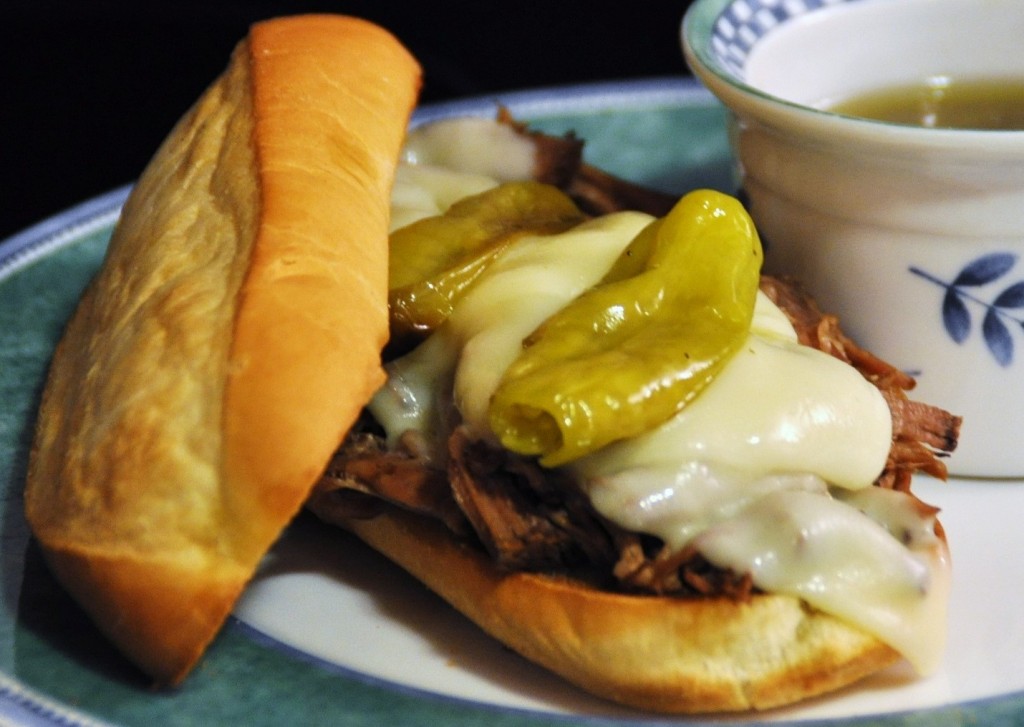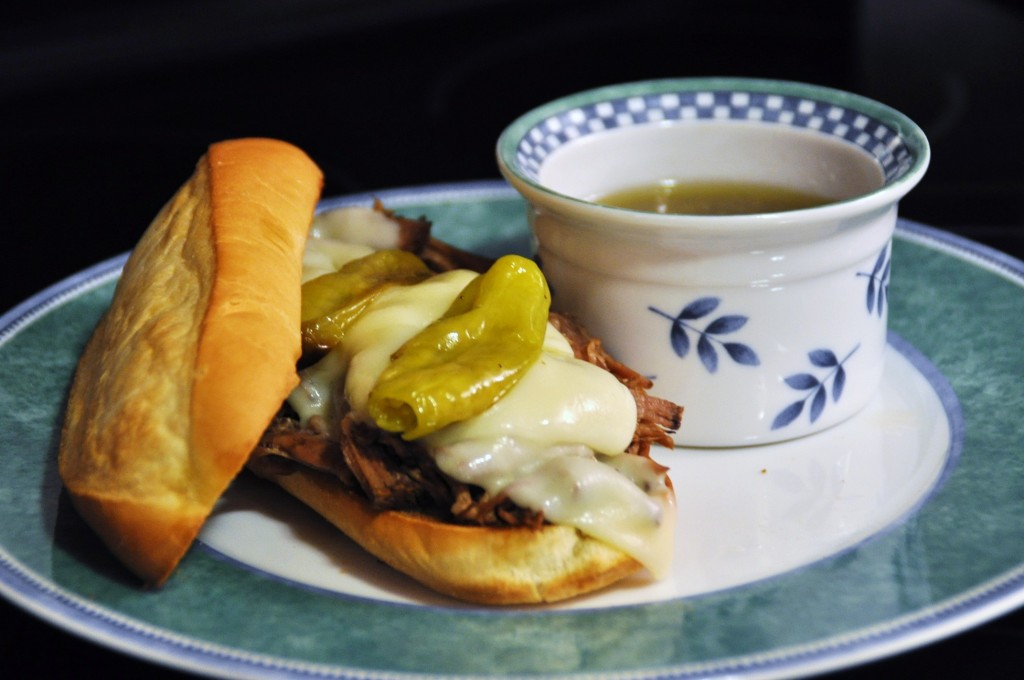 Italian Beef
2016-06-14 11:25:55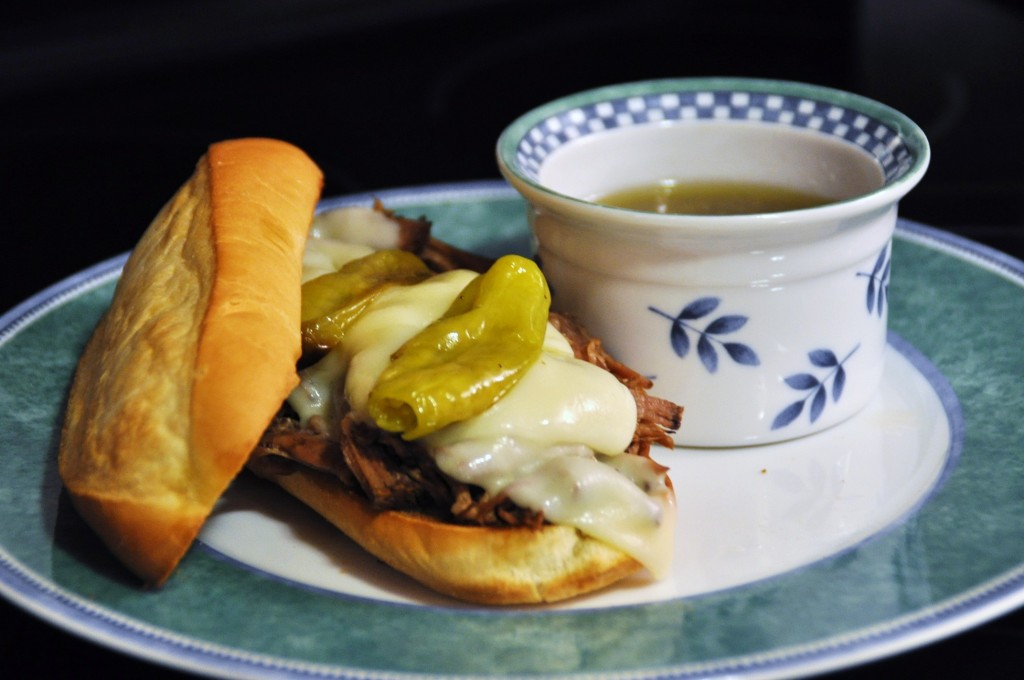 Ingredients
1 beef roast (any kind) up to 4 lbs
1 c. beef broth
1 package Italian Salad Dressing mix
1 jar peperoncinis
Sandwich rolls
Sliced cheese of your choice
Instructions
Put the roast, broth, dressing mix and peperoncinis into a crockpot. Cook on low for 6-8 hours. Shred the meat. Butter and broil the sandwich rolls. Top one half with the beef, cover with cheese and place back under the broiler until the cheese melts. Top with some pepeoncinis and the other half of the roll. Serve some of the liquid on the side for dipping.
The Kitchen Witch http://www.thekitchenwitchblog.com/