As I continue to dig through my photo archives I keep running across dishes that I have made that I haven't posted for one reason or another. This dish was pure inspiration for me, okay maybe not pure…but definitely inspired. I was reading a book that my partner in crime at work had loaned me. The book is titled: Being Dead Is No Excuse: The Official Southern Ladies Guide To Hosting the Perfect Funeral by Gayden Metcalf and Charlotte Hays. Billiam is from Mississippi, his mother gave him the book and then he shared it with me.
The book is rich with life and death stories and humorous anecdotes of funerals in the South, the delta region specifically. I don't care if you are from the South or not, the book is an excellent read and filled with wonderful recipes from Baptist, Methodist and Catholics alike. If anyone has ever lived in the South or had any experience with a southern culture, they know that food is an integral, nay, a necessary part of celebrations, family and funerals. In the book there are many recipes that feature the must have dishes for a proper funeral. In the South, every event revolves around food.
A quote from the book:
"Folks in the Delta have a strong sense of community, and being dead in no impediment to belonging to it. Down South they don't forget you when you up and died—in fact they visit you more often. But there are quintessential rules and rituals for kicking the bucket tastefully, and having a flawless funeral is one of them."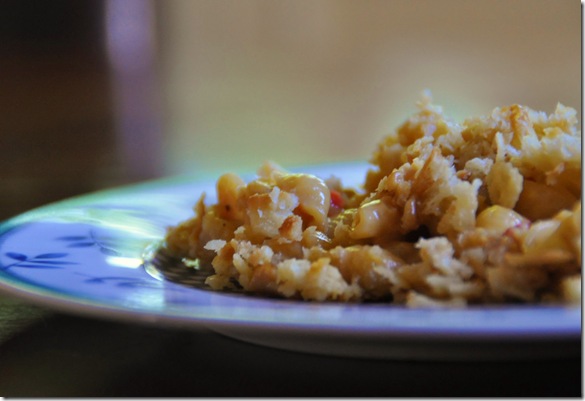 As I read through the book and recipes I was inspired to create some of my own "Southern" flavored inspirations. In one chapter of the book they waxed poetically on pimento cheese. I'm not talking about the Kraft in a jar at the grocery store kind, but really, honest to goodness, pimento cheese. If you've never made your own you should! I decided to take it one step further. Cheese and macaroni. Who doesn't love macaroni and cheese, one of the ultimate comfort foods. I don't think I have ever seen a recipe for Pimento cheese and macaroni…why not?
So I made some creamy pimento cheese, a spread with the ultimate cheesy and creamy goodness spiked with pimento and and in my case, beer. Stir in some cooked macaroni and top with some crumbled saltine crackers (another southern favorite) for a crispy crust and what do you get? Comfort food with a Southern influence. I'm sure this recipe is suitable for any southern funeral regardless of who hosted it.
The ingredients are not complex. You can purchase them at any grocery store, but one thing I insist upon is Velveeta cheese. I know it is only a "processed cheese food product" and not really cheese in the classical sense, but you can't beat it's velvety, creaminess factor. I used my favorite cheddar, Tillamook cheese, and probably the best dark beer I've ever had in my life. Cold Smoke beer, brewed locally in Missoula, Montana. Put all those ingredients together and you will have some of the best pimento macaroni cheese you've ever had in your life.
I made this recipe and was so happy with it, as a matter of fact, I thought I must have had some divine intervention that planted that idea in my head. How creative of me I thought, then I did a Google search and I realized, sadly, that I am not the only person who has come up with the idea, so much for being original. So I didn't post my recipe, till now. After giving it some thought, I decided to post it anyways. After all, how many chocolate chip cookie recipes are out there? Each one a little unique. Checking out the recipes online, mine is just different enough that I thought it would be worth sharing.
Many of the recipes used jarred pimento, zero were baked with a saltine cracker topping and the only one that I thought had a one up-manship on me was Paula Deen's which included some bacon (but didn't include a nice saltine cracker topping or beer). Next time I'll just put some bacon in mine too, top that Paula Deen! Sorry Paula, I just got a little competitive there for a moment, I love ya, I really do.
Here's the ingredients I used: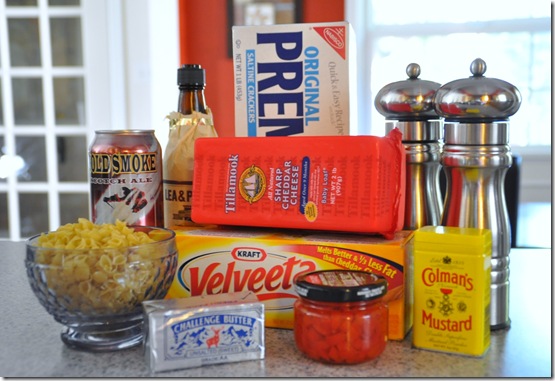 Shred your cheese and cube your Velveeta, it helps accelerate the melting part.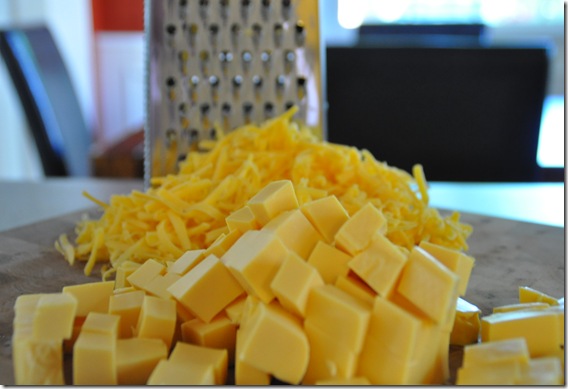 Use a non-stick pan to make the pimento portion, it'll make your clean up easier.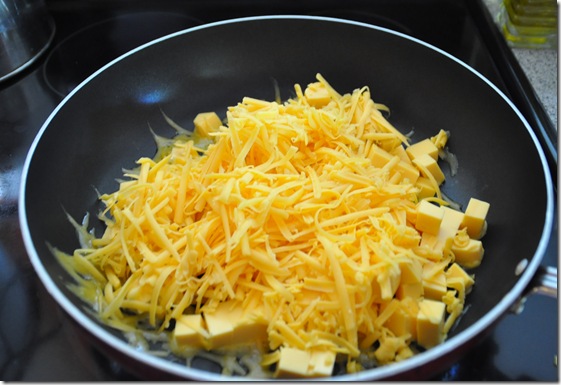 Melt the cheese over medium low heat. Add the Worcestershire, dried mustard (my personal favorite is Coleman's mustard), the beer (only a half cup which means you get to drink the rest), the pimento and some salt and pepper. Watch the salt because our processed cheese food product (Velveeta) is salty.
Once it melts into a creamy goodness add the cooked macaroni (I used shells but feel free to add whatever you have on hand)
I sprayed a 2 quart casserole with Pam and added the macaroni and pimento cheese mixture.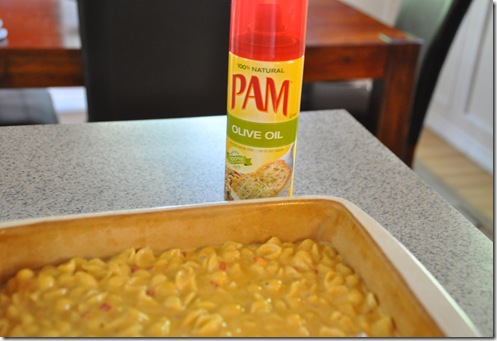 Next I put some saltine crackers in a gallon sealable bag and crushed them. Then I added some melted butter. Yummm, melted butter.
I covered the top with the cracker mixture and baked in 350° oven until it was hot and bubbly.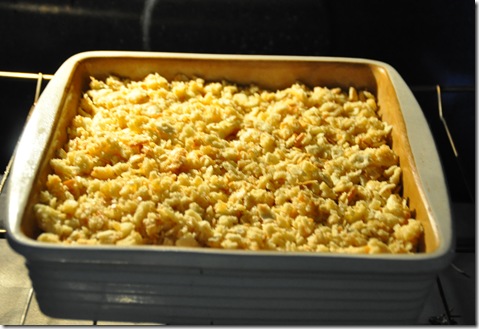 About 30 minutes.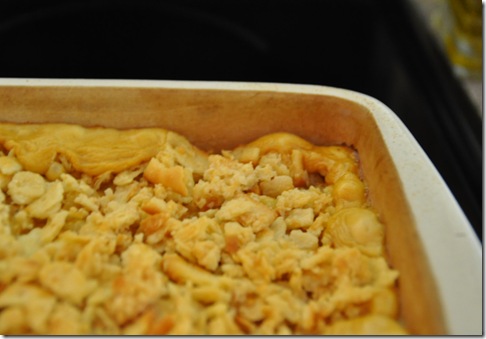 Oh baby, was that good. I brought in a sample to Billiam, my Mississippi boy, and he told me it was worth every bite. So get in tune with that southern bone that I know that you have and whip up some Pimento Macaroni and Cheese. Take it to the next funeral or wedding or family gathering, I guarantee that it will be well received!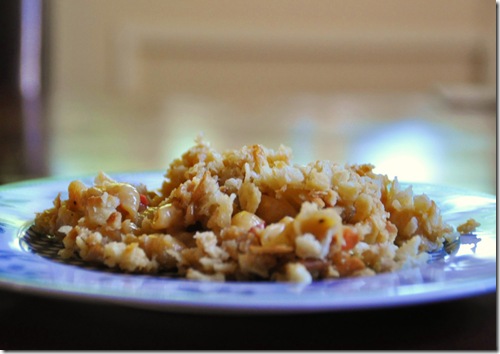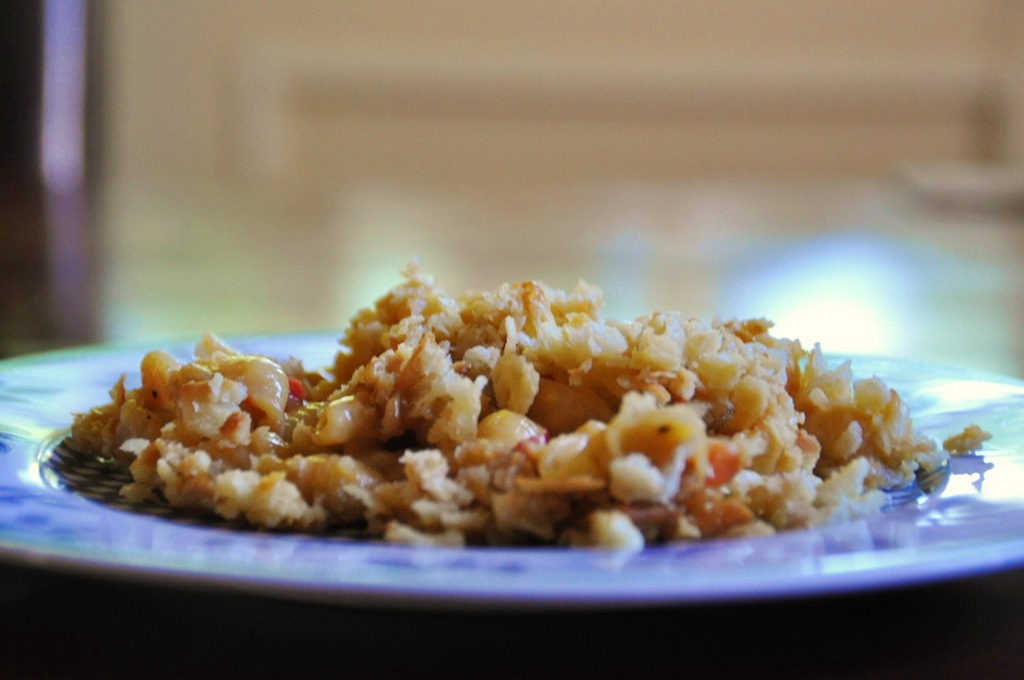 Pimento Macaroni and Cheese
2016-06-14 09:29:26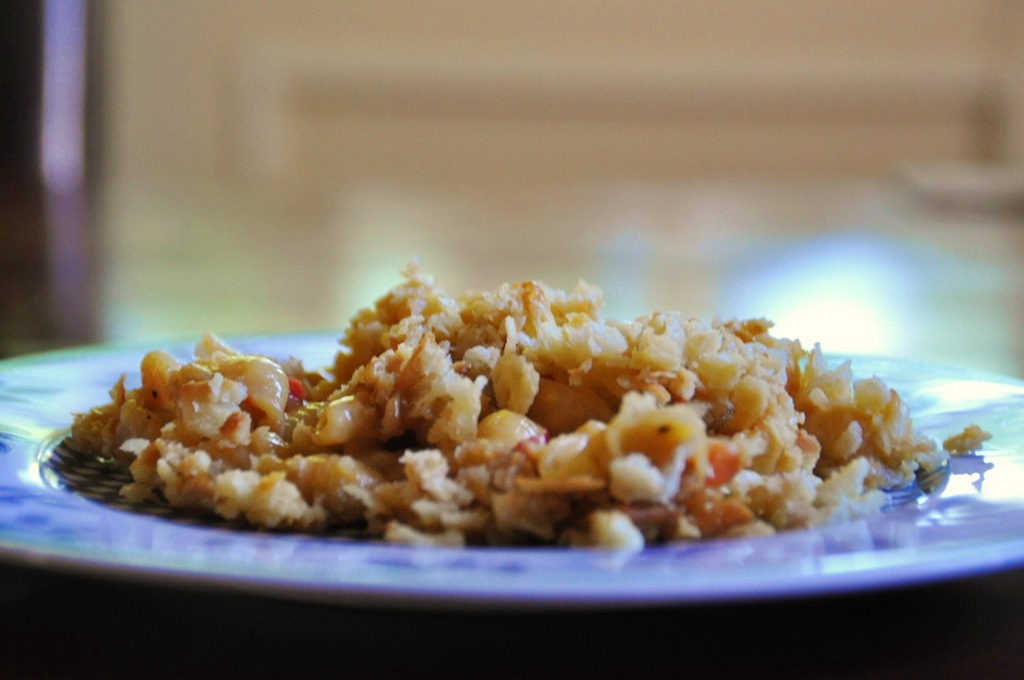 Ingredients
8 oz. dried macaroni, cooked according to package directions
8 oz. sharp cheddar cheese, grated
16 oz. Velveeta cheese, cubed
2 tbsp. Worcestershire sauce
1/2 tbsp. dry mustard
1/2 c beer (preferably dark)
1 small jar pimento
1 sleeve saltine crackers, crushed
1/2 c butter melted
Instructions
Preheat oven to 350°.  Spray or butter a 2 qt. casserole dish.  Over medium high heat in a non-stick pan, heat the cheddar cheese and Velveeta with the Worcestershire sauce, dry mustard, beer and pimento, stirring occasionally.  Once fully melted and blended add the cooked macaroni, stir well to combine.  Pour the macaroni and cheese into the prepared casserole dish.
Crush the saltine crackers by placing them into a zipper top bag and using a rolling pin or other heavy object to crush them.  Alternatively you can put them in a food processor and pulse them, but not to finely.  Mix the cracker crumbs with the melted butter and spread evenly over the top of the macaroni and cheese.  Bake for 30-45 minutes, until hot and bubbly.
The Kitchen Witch http://www.thekitchenwitchblog.com/

Not bad for a non-Southern gal. By the way, if you are looking for a gift for a foodie in your life, or someone who likes to laugh, I highly recommend "Being Dead Is No Excuse: The Official Southern Ladies Guide To Hosting the Perfect Funeral" by Gayden Metcalf and Charlotte Hays.! I was heartbroken when I had to return it (hint, hint).