Something about the holiday times that turns, even me, the non-baker, into a cookie fiend. I rarely make cookies (just ask my cookie deprived family). It's not that I don't like cookies, it's that I do like cookies. I like them just a little too much. They are just too easy to eat. It usually starts with the dough. I can't seem to keep my dirty little hands out of the dough. Obviously, I'm not the only one, or they wouldn't have things like cookie dough ice cream. Or even make cookies that taste like un-cooked cookie dough. Seriously, what kind of genius is that!
Fortunately for my family, the holiday season is here, which means they might get a couple of cookies here and there. They won't get many though. I make cookies, I make a lot of cookies, and then I give them away. After all, it is the season of giving. Plus I'd rather give to someone else's waistline as opposed to mine.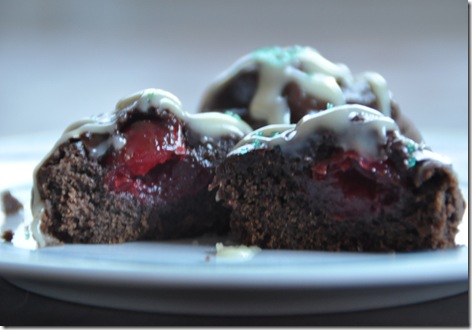 Speaking of giving cookies away, our local teen writers at the Great Falls Tribune is having a "cookie tasting" (read: how to score free cookies) and asked their readers to bring in a dozen of cookies for them to taste. A diabolical plan to be sure. What better way to get dozens of cookies to eat without doing any of the work. Brilliant! Not needing much of an excuse, I capitalized on the opportunity to make some cookies. To my families happiness, I was only giving up one dozen, which left them a dozen to eat. Okay, not quite a dozen, since some of the dough seemed to disappear before it ever made it to the oven.
The cookies are a take on a classic favorite, chocolate covered maraschino cherries. The base is almost brownie like, topped with a maraschino cherry and then covered with chocolate. To give it a more festive appearance, I drizzled them with some white chocolate and then topped them with some green sprinkles. Red, white and green, yep, very seasonal.
I started off by mixing the dry ingredients in a medium bowl.
Being the lazy baker, cook, person that I am, I mixed the sugar, butter, egg and vanilla all at once. I think you are supposed to cream the butter and sugar first, then add a beaten egg and then the vanilla. Whatever, this works too.
I added the dry ingredients, first one half and then the other. The dough was very dry and crumbly. Don't worry, when you grab a handful and press it together, it will form into a little ball. I made a 1" ball of dough for each cookie.
Drain the cherries and reserve the liquid. Place the balls of dough on a parchment lined or greased cookie sheet. Using your thumb, make little wells to hold the cherries.
You can melt the chocolate and cherry juice with the sweetened condensed milk on the stove top, or put it in a microwave safe bowl and melt it in the microwave. Nice and easy!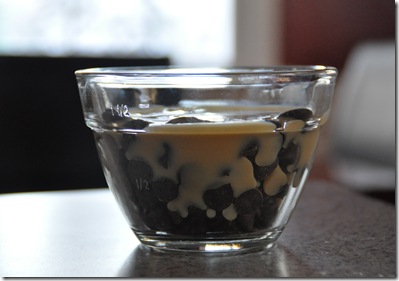 Cover each cherry with the melted chocolate. They look like little chocolate mountains. Bake at 350° for 10 minutes.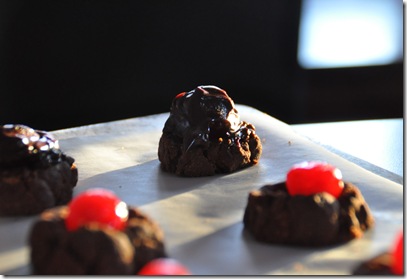 Watch your dog watch everyone else while they bake. It's what I do.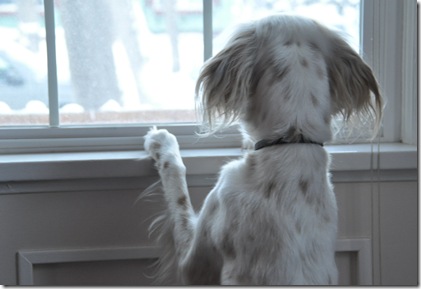 Once the cookies have baked and cooled, melt the white chocolate. Using the microwave or stove top technique, melt the white chocolate chips with the sweetened condensed milk.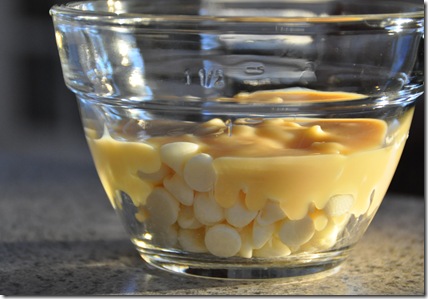 Drizzle the baked cookies with the white chocolate and add sprinkles if desired.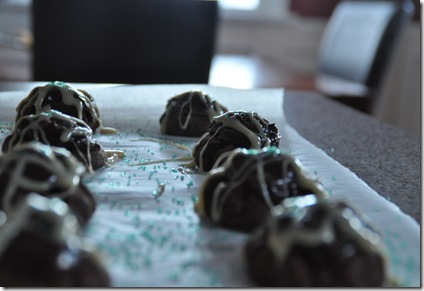 I packaged my cookies up in a nice tray from the dollar store. A perfect way to share, look good and not worry about getting any dishes back!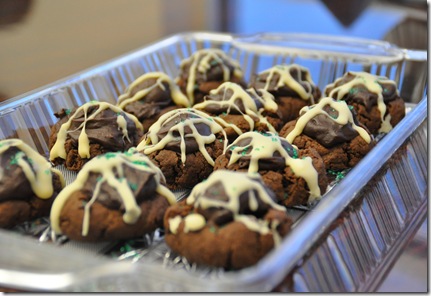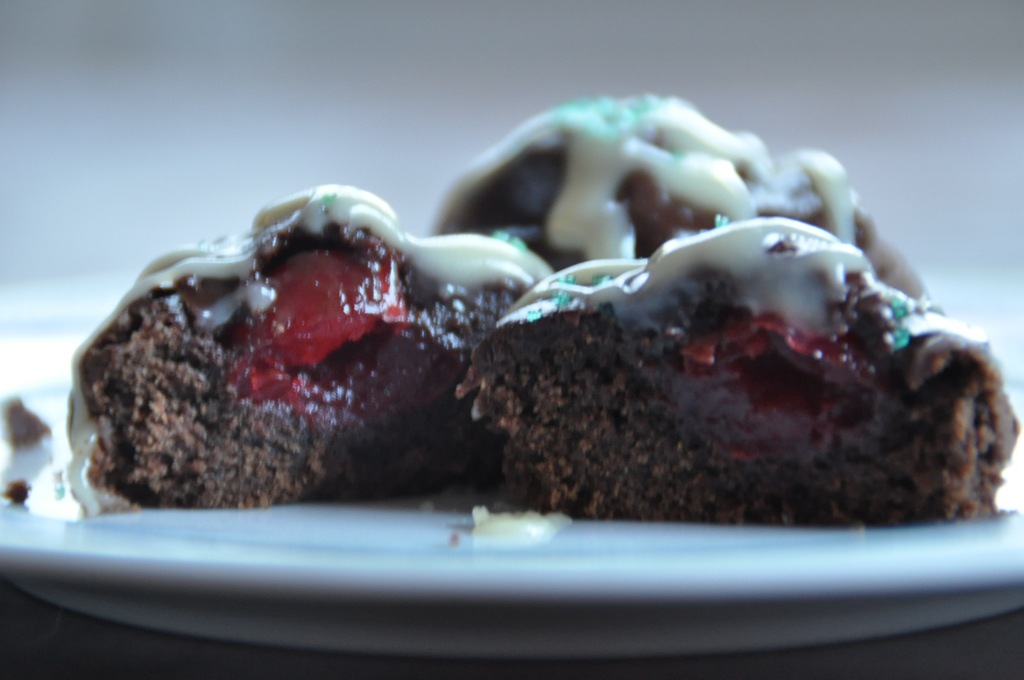 Chocolate Covered Cherry Cookies
2016-06-14 09:23:25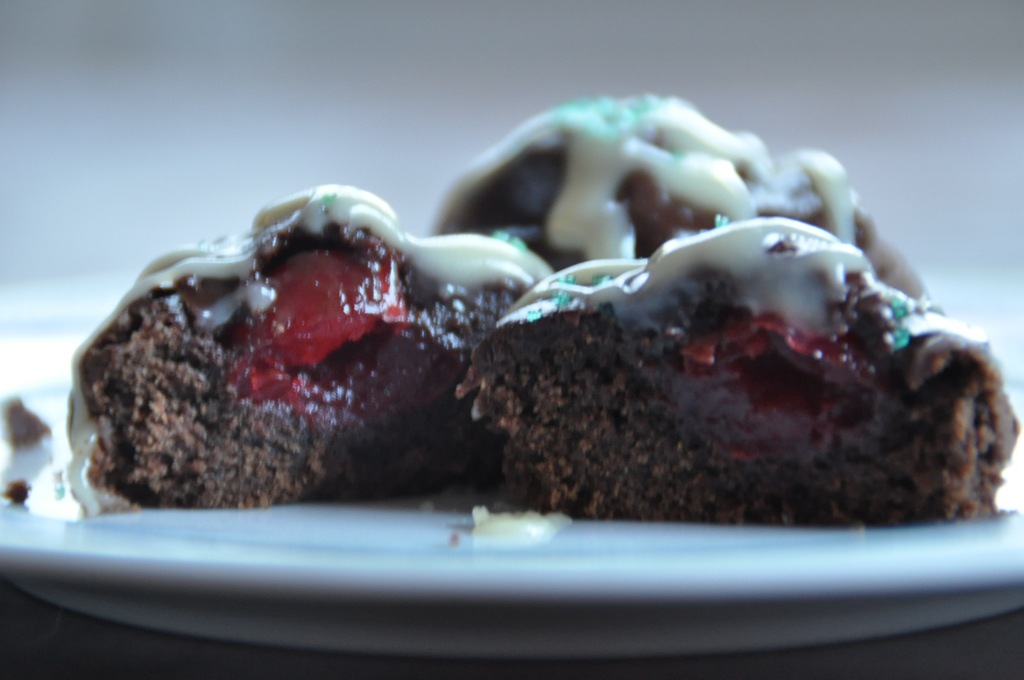 Ingredients
1 ½ cups all-purpose flour
½ cup unsweetened cocoa
¼ tsp. salt
¼ tsp. baking powder
¼ tsp. baking soda
½ cup butter, softened
1 cup sugar
1 egg
1 ½ tsp. vanilla
24 undrained maraschino cherries
1 6 oz. pkg. semisweet chocolate pieces
2 oz. white chocolate chips
½ cup plus 2 tbsp. sweetened condensed milk
Sprinkles if desired
Instructions
In a large mixing bowl combine flour, cocoa, salt, baking powder and baking soda, set aside. In a large mixing bowl, cream butter, sugar and egg, add vanilla and gradually add the dried ingredients. The mixed dough will appear to be very dry.
Shape dough into 1-inch balls; place on ungreased baking sheet or on a parchment lined cookie sheet. Press down center of each ball with your thumb. Drain cherries, reserving the liquid. Place a cherry in the center of each cookie.
In a microwave safe bowl heat the semisweet chocolate pieces with ½ cup of the sweetened condensed milk and 4 tsp. of the reserved cherry juice. Microwave on high for 1 minute and then stir, continue to heat and stir for 30 seconds at a time until the chocolate is smooth and creamy.
Spoon about 1 tsp. of the frosting over each cherry, covering the entire cherry. Bake at 350°F for 10 minutes. Cool completely.
In a heat proof microwavable bowl, heat the white chocolate chips with the remaining sweetened condensed milk in the microwave for 1 minute. Stir the mixture, continue to heat and stir for 30 seconds at a time until the white chocolate is smooth and creamy. Drizzle the white chocolate over the cookies and top with sprinkles.
The Kitchen Witch http://www.thekitchenwitchblog.com/
I'd like to thank Quay Po Cooks for honoring me the Stylish blogger Award. I was truly touched by the thoughtfulness. It's so nice to be recognized by your peers!