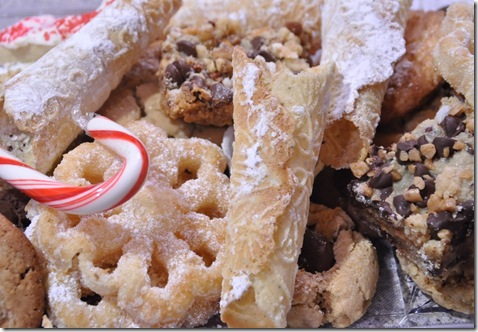 We had our first ever cookie exchange at work. The deal was: bring two dozen cookies, of the same or different kind, you come home with two dozen cookies that someone else baked. Since I'm not a big fan of baking (except doing my duty during the holidays and other special occasions), I was excited for the opportunity to get a variety of cookies for minimal effort. What a deal, plus my family was excited since they were already cookie deprived because I'm a cook and not a baker.
I don't have much patience with baking, all that measuring and mess, but I had vowed to make something unique. I cooked baked up a batch of cookies that used common and readily available ingredients and made them into something special. I took a basic cookie cream cheese cake mix recipe added some rum flavoring with some chopped macadamia nuts and came out with a big winner!
This recipe was so easy! If you need a last minute quick cookie recipe then this is the one. It was a huge favorite especially with the fans who enjoy a soft cookie. The cookie is so soft and moist, it's almost cake like! I think the cream cheese gives it depth of flavor and helps with the texture. Add the rum and macadamia nuts and you start to feel as if you've left the cold winter days and landed in the tropics. I modified this recipe.
It all started with some softened butter and cream cheese blended together.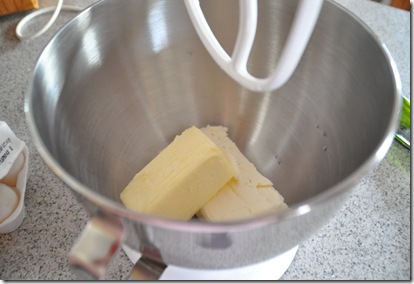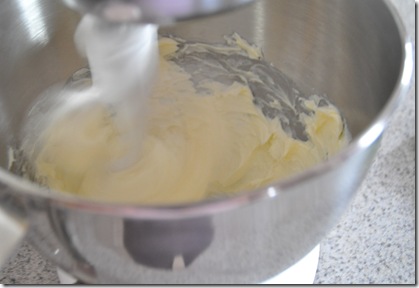 Then along came the egg and rum flavoring.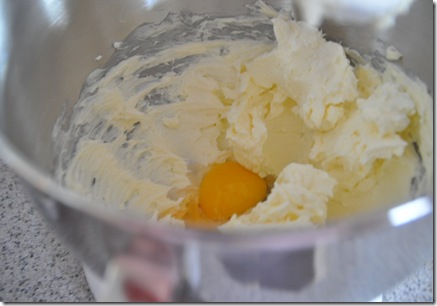 Add the cake mix. I used regular yellow cake mix.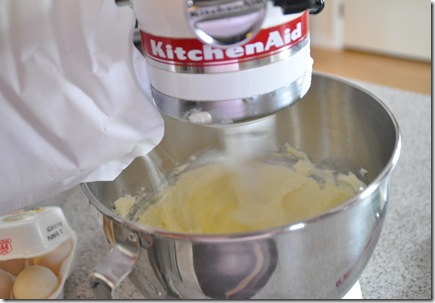 Then mix in the chopped macadamia nuts (which I purchased already chopped).
<p$1$2$3$4$5$6>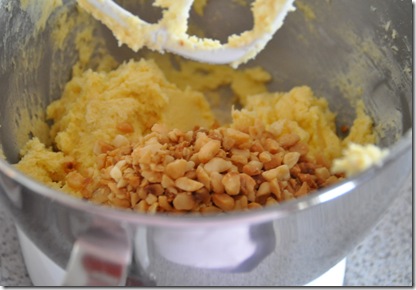 The dough is quite sticky so add it by the rounded teaspoon into the powdered sugar. Roll it around forming a ball and until it is nicely coated.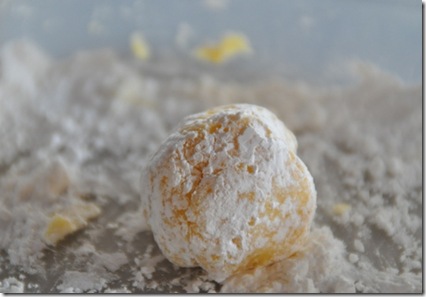 Place the cookie dough balls onto a parchment lined cookie sheet.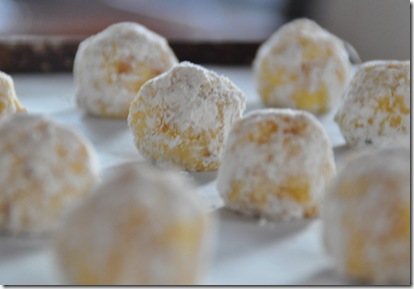 Then bake in a 350 oven for 10 – 13 minutes. Make sure you leave plenty of space because the cookies spread.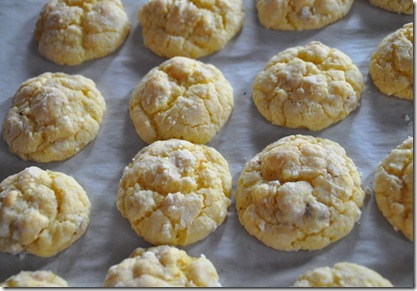 Once the cookies have cooled, dust them with more powdered sugar.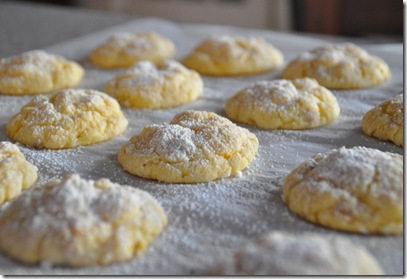 Powdered sugar gives the cookies a snow capped look, perfect for a winter/holiday cookie exchange. Nice-n-easy, cheesy peasy cookies!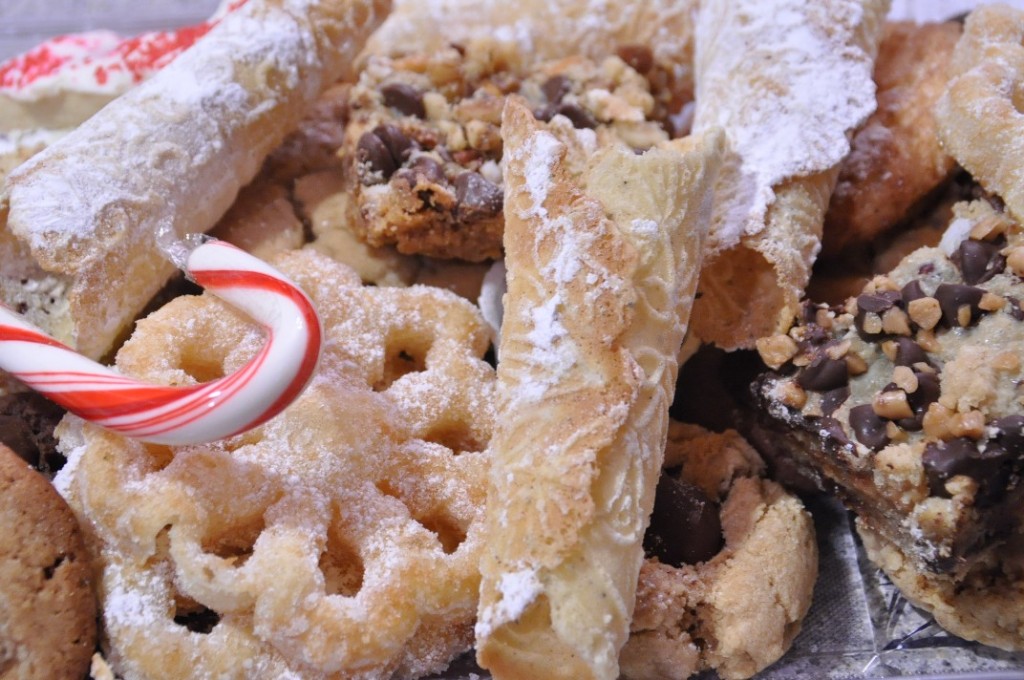 Cream Cheese Cake Mix Cookies
2016-06-14 09:12:33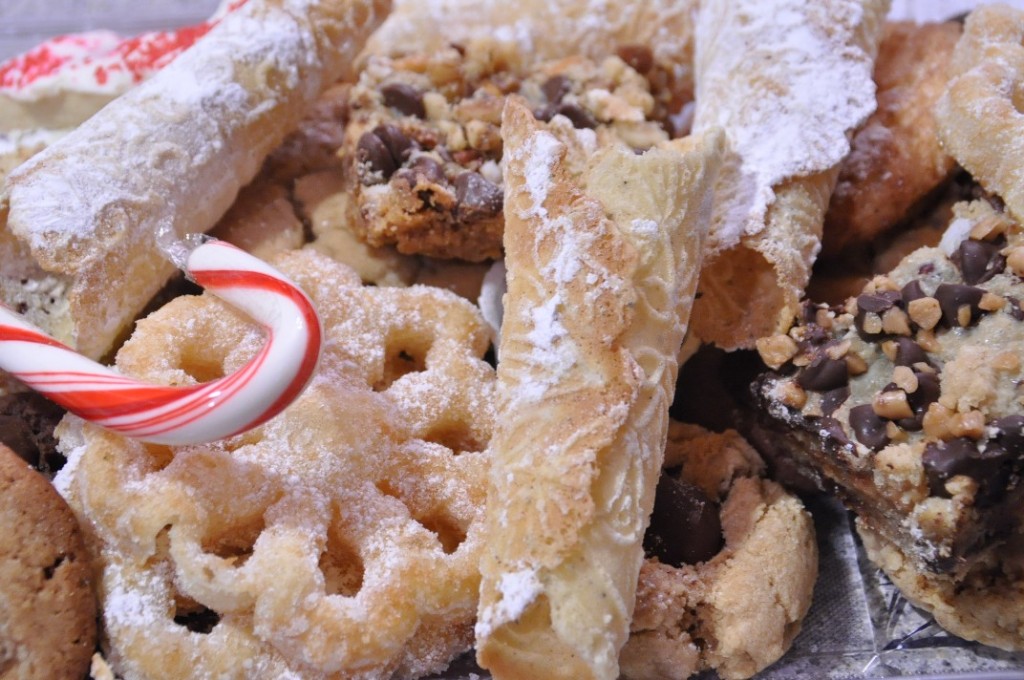 Ingredients
1 8 oz. package cream cheese, softened
1/2 cup unsalted butter, softened
1 egg
1/4 tsp. rum extract
1 (18, 5 oz.) yellow cake mix
1/2 cup chopped macadamia nuts
powdered sugar
Instructions
Preheat oven to 350. Cream cheese and butter with a mixer.  Add egg and extract, mix well.  Add cake mix, mix until well blended.  Stir in macadamia nuts.  roll into 1: balls and cat in powdered sugar.  Bake on a parchment line cookie sheet for 10-13 minutes.  Cool completely then dust with additional powdered sugar.
The Kitchen Witch http://www.thekitchenwitchblog.com/